USA Hosp. Dept.
U.S.A. Hosp. Dept.
Attributed to a Pittsburgh, Pennsylvania Glasshouse
Forest Green
Provenance: Chip Cable Collection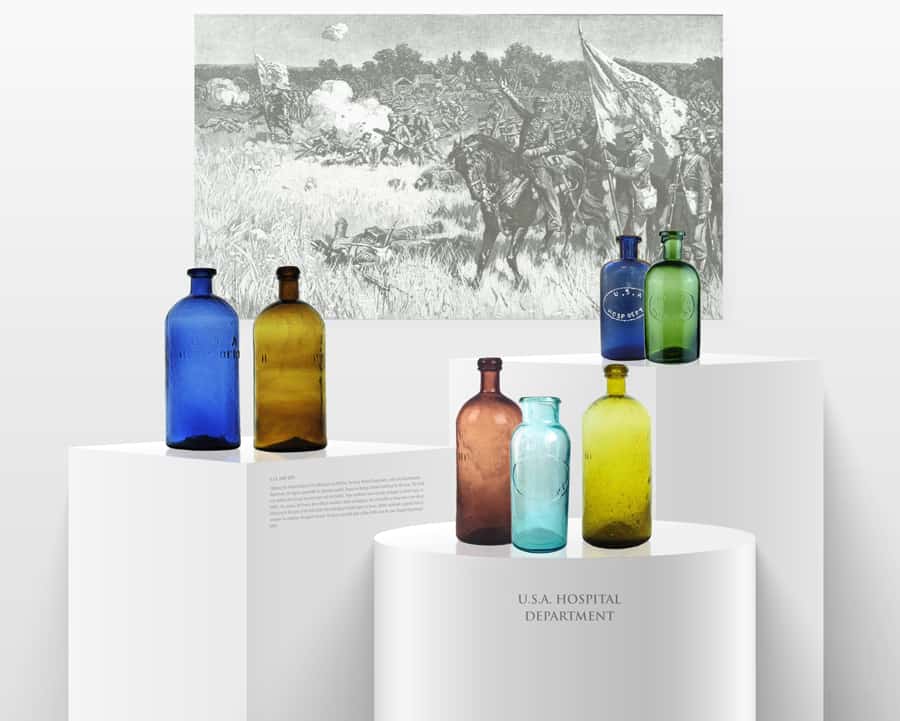 U.S.A. Hospital Department bottles are genuine Civil War bottles. They are highly collectible and can be found in various sizes, molds, and colors. Our 6 1/8 inch tall, round forest green museum example was dug in Pittsburgh and represents one of the smaller sizes. The bottle is embossed on the face 'U.S.A. HOSP. DEPT' within an embossed outline oval. In this pattern, the "U.S.A." curves along the top of the oval in a convex arc and "HOSP. DEPT" curves below in a similar concave arc. The base is smooth and the mouth is applied. The condition is excellent with tiny air bubbles in the glass.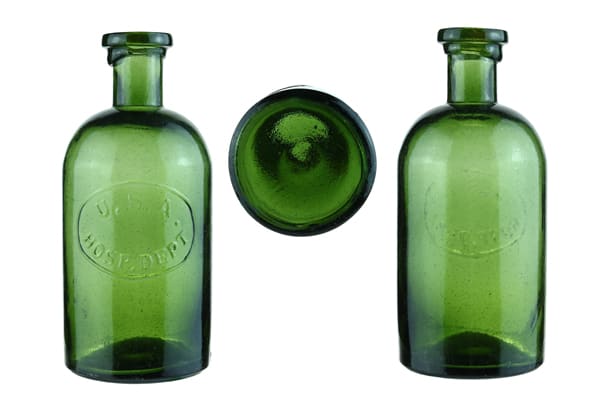 Following the Federal defeat at Manassas and Bull Run, the U.S. Army Medical Department, under the Quartermaster Department, the agency responsible for procuring supplies, began purchasing standard medicines for the Army. The North now realized that the war might last years, not months.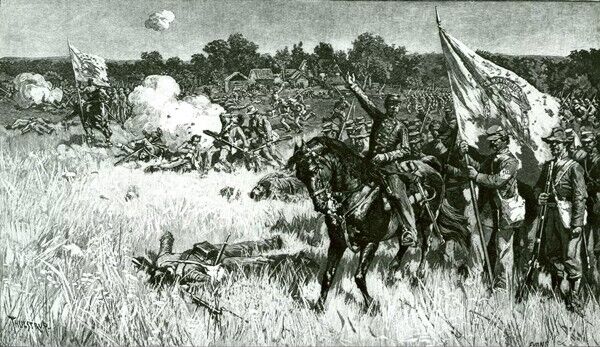 These medicines were typically packaged in several ways: in bottles, tins, papers, and boxes. Army officers seemed to prefer packaging in tin cans and bottles as these were more robust, holding up to the rigors of the field better than packaging in fragile papers or boxes. Bottles would remain a popular container for medicines throughout the Civil War, and the Army used both plain medicine bottles and the rarer Hospital Department bottles.
The stockpile of medical supplies at the main supply depot in New York was small. The War Department lacked adequate funds to buy more supplies at current market prices. Most of the manufacturers of pharmaceutical preparations were unprepared to meet the government's requisitions without delays. To compensate for these deficiencies, Surgeon General William A. Hammond directed in early 1863 that chemical laboratories be established at New York and Philadelphia to prepare extracts and tinctures and for the repackaging of bulk drugs and supplies.
Operations at the U.S. Army Laboratory at Philadelphia began late in April 1863 when it was assigned an allotment of Tarragona port wine for assay, bottling, and packing in wooden boxes. Military medicine prescribed vast quantities of whiskey and wine in regular therapeutics. One shipment received at the laboratory in August 1863 consisted of 250 barrels of whiskey and 1,000 gallons of sherry. Almost simultaneous with the first bottling operations was the manufacture of pharmaceutical preparations. The early items were simple cerate, solution of ferrous tersulfate, ammonia liquor, blue mass, silver nitrate, and various powders.
Hospital Department bottles were manufactured at factories in Pittsburgh, Pennsylvania, and Baltimore, Maryland, although archaeological evidence may point to a third manufacturing plant at St. Louis, Missouri. The principal manufacturer were Pittsburgh glasshouses, with the secondary manufacturer at the Baltimore Glass Works. Examples blown at the Pittsburgh factory exhibit concave, slightly recessed bases with a star design, initials, or a simple dot. Occasionally, some bottles are found with an iron pontil scar. Baltimore Glass Works examples are flat-based and exhibit weak embossing.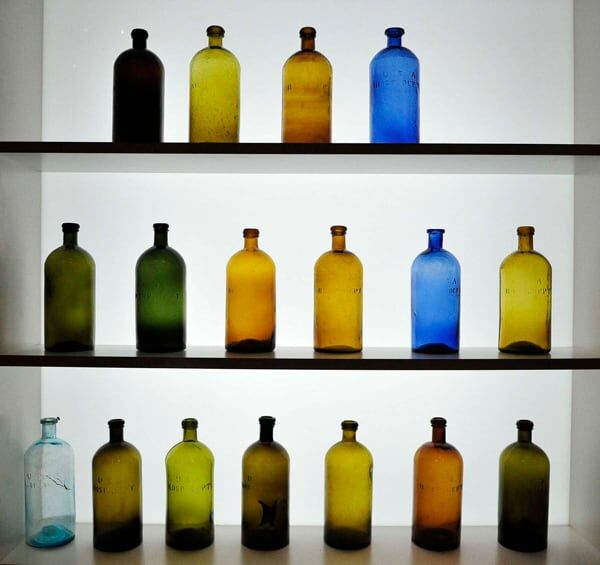 Civil War period bottle embossing styles fall into several major types: (1) Two Straight Lines; the top line is "U.S.A." embossed in raised letters. The second line reads, "HOSP. DEPT" (2) "U.S.A HOSP. DEPT." embossed in an oval. In this pattern, the "U.S.A." curves along the top of the oval and "HOSP. DEPT." curves below (3) "UNITED STATES ARMY DEPARTMENT" spelled out in a straight line (4) "U.S.A." arching over "MED'L DEPT." This typography is the only style incorporating the abbreviation for U.S.A. Medical Department dating from the Civil War era.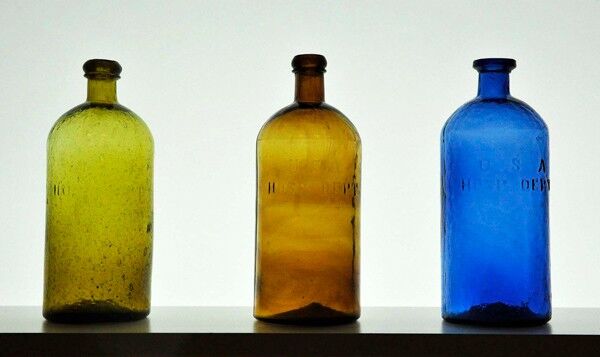 Read more: FOHBC 2016 Sacramento National Antique Bottle Convention & Expo | Sacramento Shootout
Numerous bottle colors exist. The most common color is clear, followed by aquamarine. Rarer colors include cobalt blue, emerald green, apricot, and dense puce. The size of Hospital Department bottles ranges from a 2 ½ inch high oval-shaped vial to a quart-size 9 ¼ inch tall cylinder. Neck styles vary from narrow openings to a wide-mouth bottle probably used for pills. Bottles contain flaws in the glass, resultant of mid-nineteenth century manufacturing processes. Bottles often contain numerous bubbles, sand, and some examples even show a primitive whittled look. Lips are often crude and appear hand tooled.
Archaeological finds confirm that Hospital Department bottles were commonly used after 1863, and many were used on the frontier until the 1870s.
See the second spinning example in the museum of an amber U.S.A. Hosp. Dept bottle.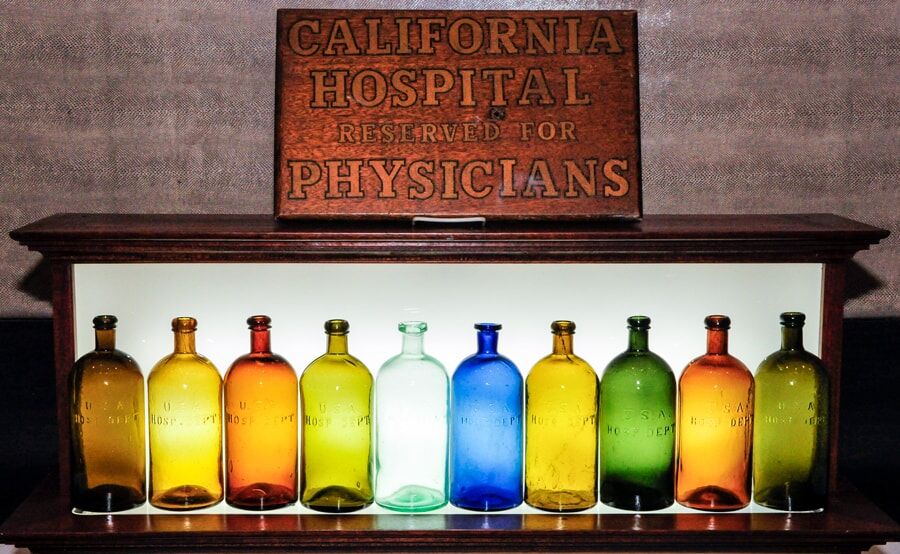 Primary Image: Forest green U.S.A. Hosp. Dept. bottle imaged on location by Alan DeMaison, FOHBC Virtual Museum Midwest Studio.
Secondary Image: Second spinning example in the museum of an amber U.S.A. Hosp. Dept bottle. Imaged by Alan DeMaison at the Virtual Museum mobile imaging station at the Reno 2022 National Antique Bottle Convention. Henry Guillen collection.
Support Image: U.S.A. Hosp. Dept. bottles display – Henry Guillen, Reno 2022 National Antique Bottle Convention. Photograph by Gina Pellegrini.
Support: Reference to U.S.A. Hosp. Dept. by Frank Sternad, January–February 2010, Bottles and Extras
Support: Reference to U.S. Army Hospital Department Bottles by Robert J. Dalessandro, MedicalAntiques.com
Support: Secondary large-size bottle images courtesy of Jeff Wichmann, American Bottle Auctions.
Support Image: Auction Lot 239: "U.S.A. / HOSP. DEPT", probably a Pittsburgh district glasshouse, 1862 – 1870. Bright golden yellow with a slight topaz tone, cylindrical, 4-pc. mold, applied round collar with bevel – "S D S" (on smooth base), ht. 9 ¼", perfect; (note, some in-manufacture crazing lines in the neck mentioned for complete accuracy, but not considered damage). Great color, strong embossing, beautifully whittled, excellent condition. Provenance: Joe Widman collection. – John Pastor, American Glass Gallery, Auction #31
Join the FOHBC: The Virtual Museum is a project of the Federation of Historical Bottle Collectors (FOHBC). To become a member.