Sanford's Premium Writing Fluid
Sanford's Premium Writing Fluid
Blue Black Ink

Sanford Manufacturing Company, Chicago and New York
Stoneware Jug
Provenance: John Hinkel Collection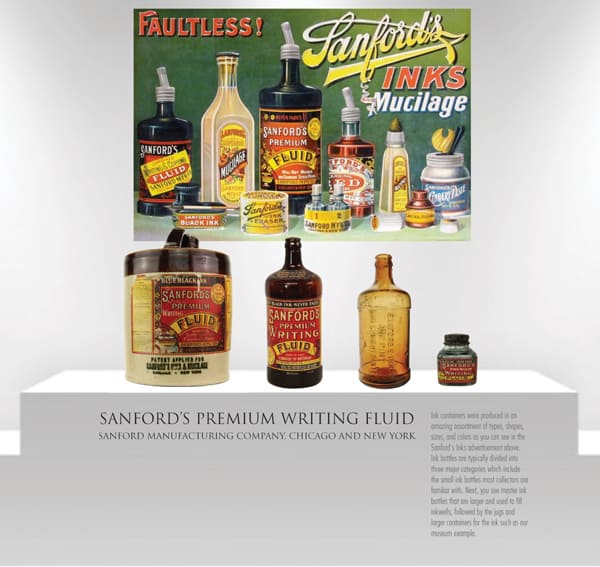 Ink containers were produced in a wide assortment of types, shapes, sizes, and colors as you can see in the museum display above and the Sanford's Inks advertisement below.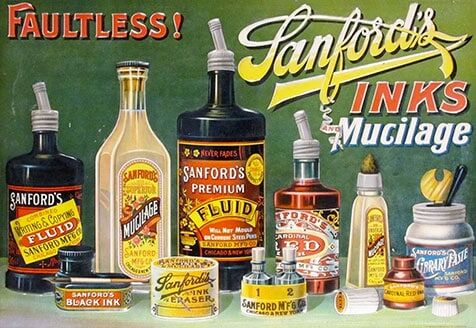 Ink bottles are typically divided into three major categories which include the small fountain pen ink bottles most collectors are familiar with. Next, you see master ink bottles that are larger and used to fill inkwells, followed by the jugs and larger containers for bulk shipping and storage of the ink such as our museum example.
This stoneware jug with a brown glaze top, handle and mouth has a colorful paper label reading "Sanford's Premium Writing Fluid. Blue Black Ink. Never Fades Superior for Fountain Pens. Sanford Mfg. Co. Chicago & New York." A circular message callout on the label reads, "Write's Bright Blue, Changes to a Perfect Black." Flanking the primary label are yellow bands expanding on the product and related products. Screened on the bottom of the jug face in black is "Patent Applied For Sanford's Inks & Mucilage Chicago New York."
In 1857, when William H. Sanford Jr. was 21 years old, he founded the Sanford Manufacturing Company with Frederick W. Redington. They were a supplier and dealer of inks and glues to local Worcester, Massachusetts book and stationery shops. His father, Rev. William H. Sanford formed another company, Sanford & Co. for this retail purpose.
Sanford Mfg. Co. moved to Chicago in 1866 which was five years before the Great Chicago Fire which would destroy Sanford's Chicago location. New facilities were soon built after the devastation of the fire, and operations resumed. The company would become one of America's largest ink manufacturers and suppliers by the end of the Great Depression.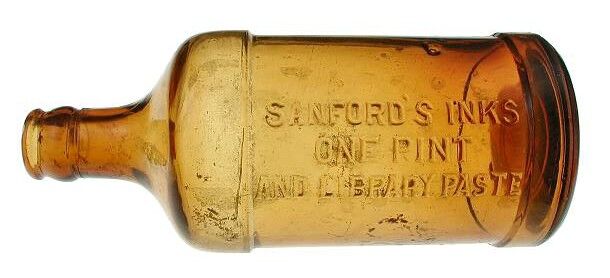 Primary Image: Sanford's Premium Writing Fluid Jug imaged on location by the FOHBC Virtual Museum midwest studio led by Alan DeMaison.
Support: Sanford Ink Company, est. 1857, Made in Chicago Museum
Read More: Hinks Inks – Post 1 "This Guy collects Labeled Inks"
Read More: Hinks Inks – Post 2 "John hINKel"