Bee Hive Trade Mark (Bee Hive with Bees)
Bee Hive Trade Mark
(Bee Hive with Bees)
Probably Toronto Glass Co., Toronto, Canada
Light Lavender Amethyst Midget Pint
Provenance: Phil Smith Collection
This wonderful little midget pint has great eye appeal as it is prominently embossed with a beehive and bees. This jar was probably used for honey or a similar product like corn syrup. Bee Hive jars are usually found in Canada and appear to have been made there. The trademark was registered on March 10, 1902, by the Robert Simpson Company, Limited of Toronto, Canada.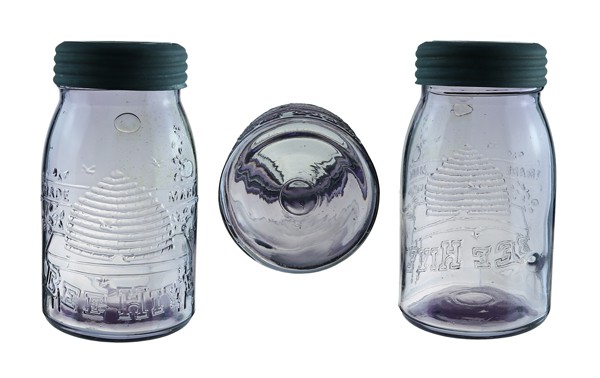 This machine-made jar has a smooth lip, glass insert, and a zinc band closure. The glass color is clear with a distinct lavender amethyst tone. The glass lid is sometimes unembossed but is also found embossed with "T. G. Co." The "o" is raised, small, and underlined. The late glass researcher Tom Moulton attributed these jars to the Toronto Glass Co. The jars can be found in midget pints, quarts, and half-gallons. There are variations with the embossing. The pints are very rare and clear. The quarts and half-gallon are aquamarine.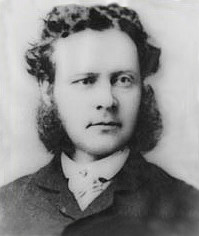 Robert Simpson was a merchant and businessman. He was born in Strathspey, Moray, Scotland, in 1834 to Peter Simpson and Jane Christie Parmouth. His father was a general store owner, and Simpson was trained in the drapery trade in Elgin, Moray, before emigrating to Newmarket, Province of Canada, at the age of 21, where he worked at his uncle's dry goods store. Before long, Simpson started up his own store in Newmarket, Ontario, as the Simpson & Trent Groceries, Boots, Shoes, and Dry Goods (1858–1870) and later as the Robert Simpson Company from 1870 to 1871. Simpson and his family relocated back to Toronto in 1871, and in 1872 he opened a pioneer department store in Toronto that eventually expanded into the major national chain, Simpson's. Robert Simpson died in 1897 and is buried in Mount Pleasant Cemetery, Toronto.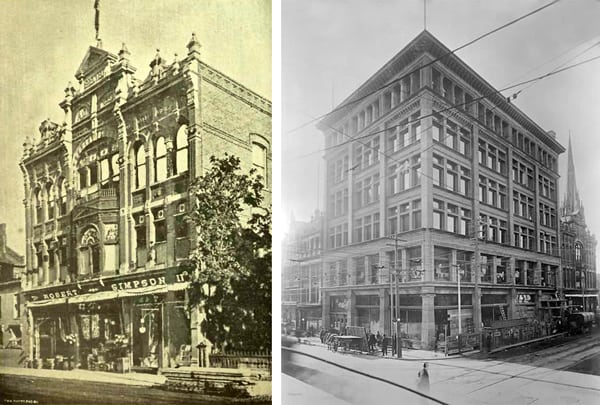 Primary Image: The Bee Hive jar imaged on location by Alan DeMaison, FOHBC Virtual Museum Midwest Studio
Support: Reference to Fruit Jar Annual 2020 – The Guide to Collecting Fruit Jars by Jerome J. McCann
Support: Reference to Red Book #11, the Collector's Guide to Old Fruit Jars by Douglas M. Leybourne, Jr.
Support Images: Auction Lot 027: TRADE MARK BEEHIVE w/ Pictorial HIVE & BEES, Quart, Aquamarine, "TGCo" glass insert and a zinc band closure, sparkling glass, no damage, strong embossing, Base unmarked, early 1900's, a scarce and highly appealing old jar – Greg Spurgeon, North American Glass, August 2013
Support Image: Auction Lot 037: Trade Mark BEEHIVE Pictorial half-gallon, blue-aqua, TGCo glass insert, and a metal screw band, Appearance: sparkling glass, Condition: no damage, Embossing: strong, Base: unmarked, Age: early 1900's, Availability: scarce in this larger size and a great-looking example. – Greg Spurgeon, North American Glass, March 2020
Support Image: Half-gallon in front of snow – eBay.
Support Image: [Left] Robert Simpson store in 1891. [Right] Robert Simpson Company building at Yonge and Queen streets 1895. -Toronto Public Library
Join the FOHBC: The Virtual Museum is a project of the Federation of Historical Bottle Collectors (FOHBC). To become a member.