Barton & Son's Unembossed Target Ball
Barton & Son's
Unembossed Target Ball

E. Barton & Son's, Stourbridge, England

Cobalt Blue
Provenance: Ex: Ralph Finch Collection, American Glass Gallery
The museum example has an interesting story and is rather new to collectors of glass target balls. The previously unknown "Barton Balls" were found in an old storage building under renovation in England in 2005. The storage building was located on the shooting grounds of a well-known English family. The name of the family has been closely guarded and is not available to collectors.
In the find were two target ball variants – one with the normal target ball neck, the other with a wide ground mouth neck. Each of these variants came in two sub-variants. One is cobalt blue like our subject example; while the other is a sand ball with a pebble effect in powder blue. The normal neck balls (Figs. 2 & 4) were found loose and scattered about the building. The ground mouth wide neck balls (Figs. 1 & 3) were neatly packed in straw and contained in two wooden crates. Stenciled on the crates in green were the words "E Barton & Son's Stourbridge, Purveyors of Fine Glass Shooting Targets."
To describe these balls as cobalt blue and pebble blue is not completely accurate. The cobalt balls are islands of dark blue with fine clear raised lines surrounding each island. The sand ball is almost impossible to explain. To describe them as spectacular would be an understatement.
Our museum ball is an unembossed Barton & Son's in a mottled vivid cobalt blue. The 2-¾" diameter ball has a short neck with a ground mouth and is in perfect condition. A great deal of workmanship went into blowing these extraordinary target balls, considered by many to be among the most beautiful.
See another "sanded" Barton target ball in light blue in our museum.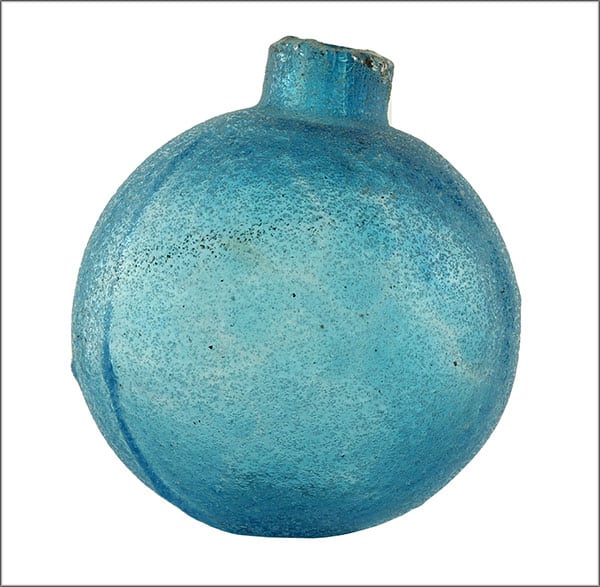 Support: Reference to Barton Balls Exciting Find of Rare Target Balls, Mike O'Malley, FOHBC Bottles and Extras, September-October, 2008.
Primary Image: Barton & Son's Unembossed Target Ball imaged on location by the FOHBC Virtual Museum midwest studio led by Alan DeMaison.
Support: Reference to the American Glass Gallery, The Ralph Finch Collection of Target Balls, Traps and Shooting Ephemera, An Absentee Auction in Six Parts – 2017-2019
Support Primary Image: Auction Lot 699: Unembossed (Barton & Son's) Cobalt Mottled Target Ball, England, 1875 – 1900. Vivid cobalt blue, short neck with ground mouth, dia. 2 ¾", perfect. A small group of these extremely rare, previously unknown, 'Barton Balls' were discovered in 2005, in an old storage building under renovation. The building was on the shooting grounds of a well-known English family. A great deal of workmanship went into blow-ing these extraordinary target balls, considered by many to be among the most beautiful. – American Glass Gallery, The Ralph Finch Collection of Target Balls, Traps and Shooting Ephemera, An Absentee Auction in Six Parts – 2017-2019