Farley's Ink
Farley's Ink
Bethuel Farley, Marlow, New Hampshire
Yellow Olive Amber
Provenance: Michael George Collection
This outstanding octagonal bottle from Marlow, New Hampshire is embossed 'FARLEY'S INK' from shoulder to base on two consecutive panels. This example is the largest of three sizes of the embossed Farley ink bottles. It is pontiled and was blown in a yellow-olive-amber glass and has an interesting tool flared lip. This example was once in the Upton collection. We can date it to the second half of the 1840s through the 1850s and attribute it to Bethuel Farley.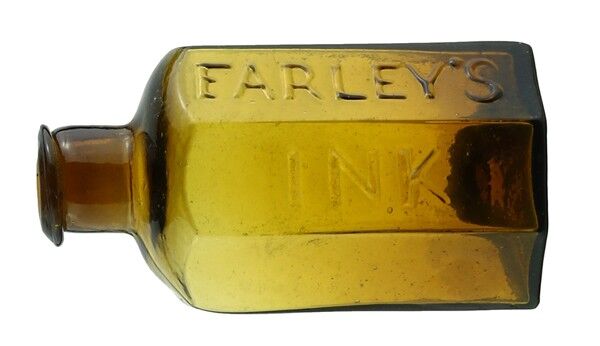 The Farley family can trace their origin back to William the Conqueror who reigned from 1066 until his death in 1087. The original spelling of the Farley name was Ffarlea, being also spelled ten other ways. In 1640, George Farley emigrated from Scotland and landed at Roxbury, Massachusetts, from whom was descended Ebenezer Farley (1762-1835). Ebenezer settled in Marlow, New Hampshire in 1790, coming from Hollis, New Hampshire. He would marry Susanna Jones in 1794 who died in 1864, at the age of 91.
Ebenezer Farley started out as a farmer on some land one-half mile east of the village. He accumulated a lot of property which he eventually passed to his son, Bethuel. Bethuel Farley was born in Marlow, in 1794. He and his son Lucius and grandson Frank would run various Farley businesses and Farley Flavoring Co. for more than 60 years.
Marlow, in the southwest corner of the state, was first granted in 1753 by colonial Governor Benning Wentworth as "Addison", after Joseph Addison, writer and for a time under-secretary of state for England. Addison had signed the appointment papers making the governor's father, John Wentworth, lieutenant-governor of New Hampshire in 1717. As a result of the French and Indian War, few original grantees settled here, so it was regranted on October 7, 1761, to William Noyes and 69 others, the majority from Lyme, Connecticut. The town was named after Marlow, England, located on the River Thames in Buckinghamshire.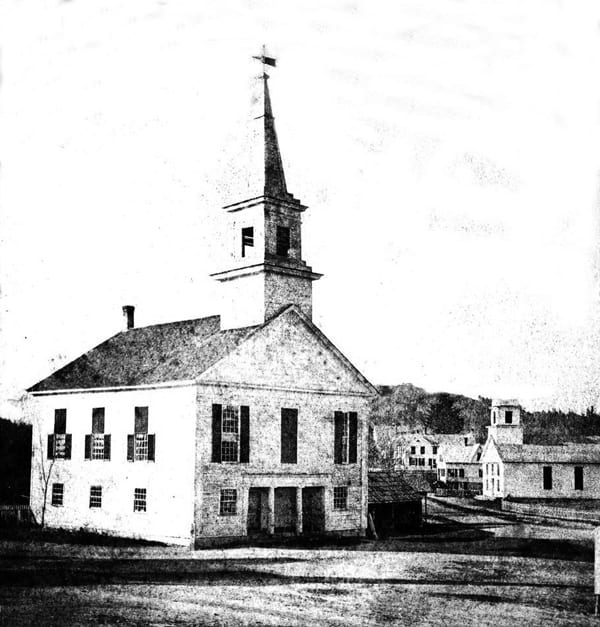 Bethuel Farley's house was built in 1833 and was one of the first in the village of Marlow. The Farley's had other business interests as there are references to the Farley Store, Farley Tanning Operations, and of course, Farley Ink. Bethuel Farley was very active in town affairs, serving as selectman, town clerk, and was representative to the state legislature in 1829. He was appointed deputy sheriff in 1840, holding the position for 15 years, was a census taker for the towns Marlow, Alstead, Chesterfield, Gilsum, Sullivan, Walpole, and Westmoreland in 1840, and was a land surveyor for 50 years. He was also admitted to the Cheshire County bar in 1856 and was a colonel of the 28th Regiment for four years. He was one of the few Masons living in town during the anti-Mason difficulties of 1826.
In 1814, Bethuel married Hannah Way (1796-1839), a daughter of Wells Way. He married second, Susannah P. Pierce, daughter of Ezekiel Pierce of Chesterfield, who bore him two children, Lucius P. (1843) and Dallas I. (1844). Lucius P. married in 1868 Jane R. Knight, and had five children,
Bethuel Farley began manufacturing Farley's Ink prior to 1851 as it won an award at the New Hampshire State Agricultural Society Fair that year. Labels on surviving Farley's Ink bottles read, "Farley's Extra Fine Black Ink. This is a new chemical preparation, by one of the most celebrated chemists in the United States, and possesses the invaluable property of keeping free from mold or decomposition, corrodes metallic pens less than any other, and is not injured by freezing." One of the Farley offerings was given the name "Granite State Ink."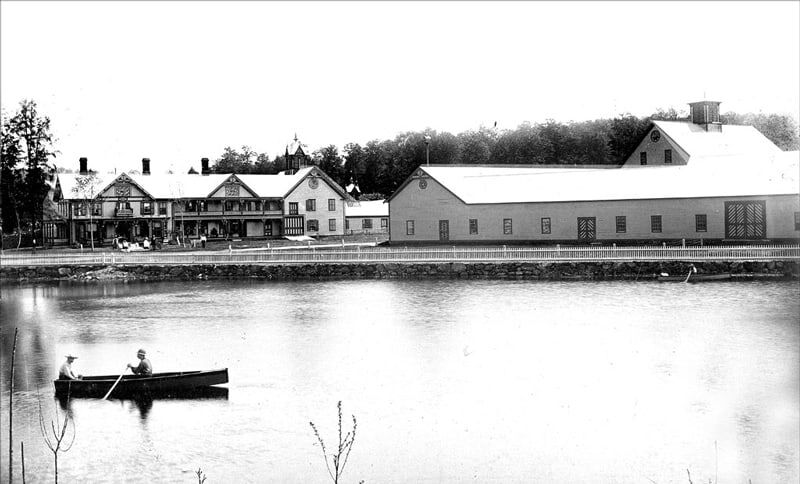 Bethuel Farley purchased his ink bottles from the glassworks in neighboring Stoddard. Later aqua and clear Farley bottles were made elsewhere. These later bottles, which were label only, are actually much harder to obtain because so few labels survived. The Farley firm that was established in 1870 specialized in extracts and flavorings, including peppermint, vanilla, witch hazel, castor oil — even sewing machine oil.
Lucius P. Farley continued the business after the death of his father, and Lucius' son Frank B. Farley also joined the company. A Farley's Select Flavoring Extracts billhead from this period listed a Boston address as well as the Marlow address, indicating that the Farley's had opened a distribution store in Boston. This same billhead lists L. P. Farley as the proprietor and had his monogram displayed along with "Quality Guaranteed Choice Fruits, Established 1870." The Farley's also sold by mail and from peddler's carts. Frank B. Farley would continue to produce flavoring and extract products, sewing machine oil, and English Glycerine up until 1910 or so.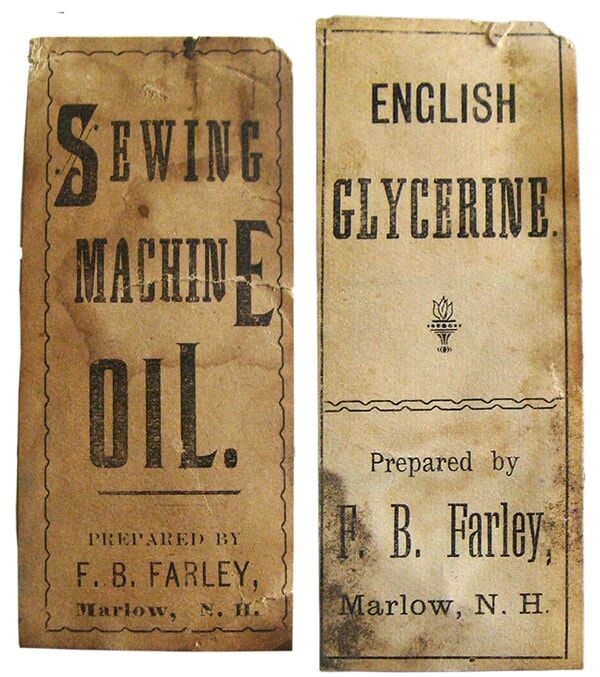 Primary Image: Farley's Ink bottle imaged on location by Alan DeMaison, FOHBC Virtual Museum Midwest Studio
Support: Reference to American Bottles and Flasks and Their Ancestry by Helen McKearin and Kenneth M. Wilson, Crown Publishers Inc., New York, 1978.
Support: Reference to Ink Bottles and Inkwells, William F. Covill, Jr., 1971
Support: Reference to A moment in local history: Marlow's ink and extract manufacturers, by Alan F. Rumrill, Feb 22, 2020, SentinelSource.com, The Home of the Keene Sentinel
Support: Reference to Let's Talk About Ink, Ed & Lucy Faulkner, Bottles and Extras, Winter, 2005
Support: Reference to History of Cheshire and Sullivan Counties, New Hampshire, Philadelphia: J. W. Lewis & Co., 1886, 1073 pgs.
Support: Reference to Gazetteer of Cheshire County, N.H., 1736-1885 by Hamilton Child, Syracuse, N.Y.: H. Child, 1885, 882 pgs.
Support Image: Christian Church, Marlow, New Hampshire, French, J. A., Keene, N.H., Stereograph of the Christian Church in Marlow, New Hampshire, Keene Public Library and the Historical Society of Cheshire County
Support Image: Photograph of the Farley Flavoring Company building in Marlow NH, which is now the Christmas Tree Inn. French, J. A., Keene N.H. Keene Public Library and the Historical Society of Cheshire County
Support: Auction Lot 64: "Farley's / Ink" Master Ink Bottle, a Stoddard glasshouse, Stoddard, New Hampshire, 1846-1860. Octagonal, brilliant yellow amber, tooled flared mouth – pontil scar, ht. 3 5/8 inches; (top of flared lip has resin coating covering a well done 5/16 inch repair to edge). C #528 Very strong embossing. Beautiful and bright color. Wonderful exterior surface condition. – Norman Heckler Jr. & Sr., Norman C. Heckler & Company, Auction #128
Support: Auction Lot 125: "Farley's / Ink" Bottle, a Stoddard glasshouse, Stoddard, New Hampshire, 1846-1860. Octagonal, medium olive amber, sheared mouth – pontil scar, ht. 1 3/4 inches, dia. 1 7/8 inches. L/P plate 9, #4 A bit more olive than normally seen for this bottle. Fine condition. James Scharnagel collection. – Norman Heckler Jr. & Sr., Norman C. Heckler & Company, Auction #177
Support: Auction Lot 15: "Farley's / Ink" Bottle, a Stoddard glasshouse, Stoddard, New Hampshire, 1846-1860. Octagonal, medium yellow olive, tooled flared mouth – pontil scar, ht. 3 inches; (some washable interior ink residue). Similar to C #527 Nice lighter color. Fine condition.
Support: Item IK044, Cov #527, FARLEY'S – INK, medium olive green, Open Pontil, 8 sided, 3 1/8″ high, thin flared lip, bold embossing, 95% original label. The label has some staining but all the writing is easily readable. An extremely rare pure olive green color for this ink with no amber at all. Also extremely rare with a label in any condition, this is also the rarest size for a Farley's ink. This one has it all. – GreatAntiques.com, the website of Ed & Kathy Gray
Join the FOHBC: The Virtual Museum is a project of the Federation of Historical Bottle Collectors (FOHBC). To become a member.