Gugenheim's Japanese Tonic Pittsburgh Pa
Gugenheim's Japanese Tonic
Pittsburgh, Pa.
Probably A. Guckenheimer & Bro., Pittsburgh, Pennsylvania
Dark Olive Green Quart Medicine
Provenance: Chip Cable Collection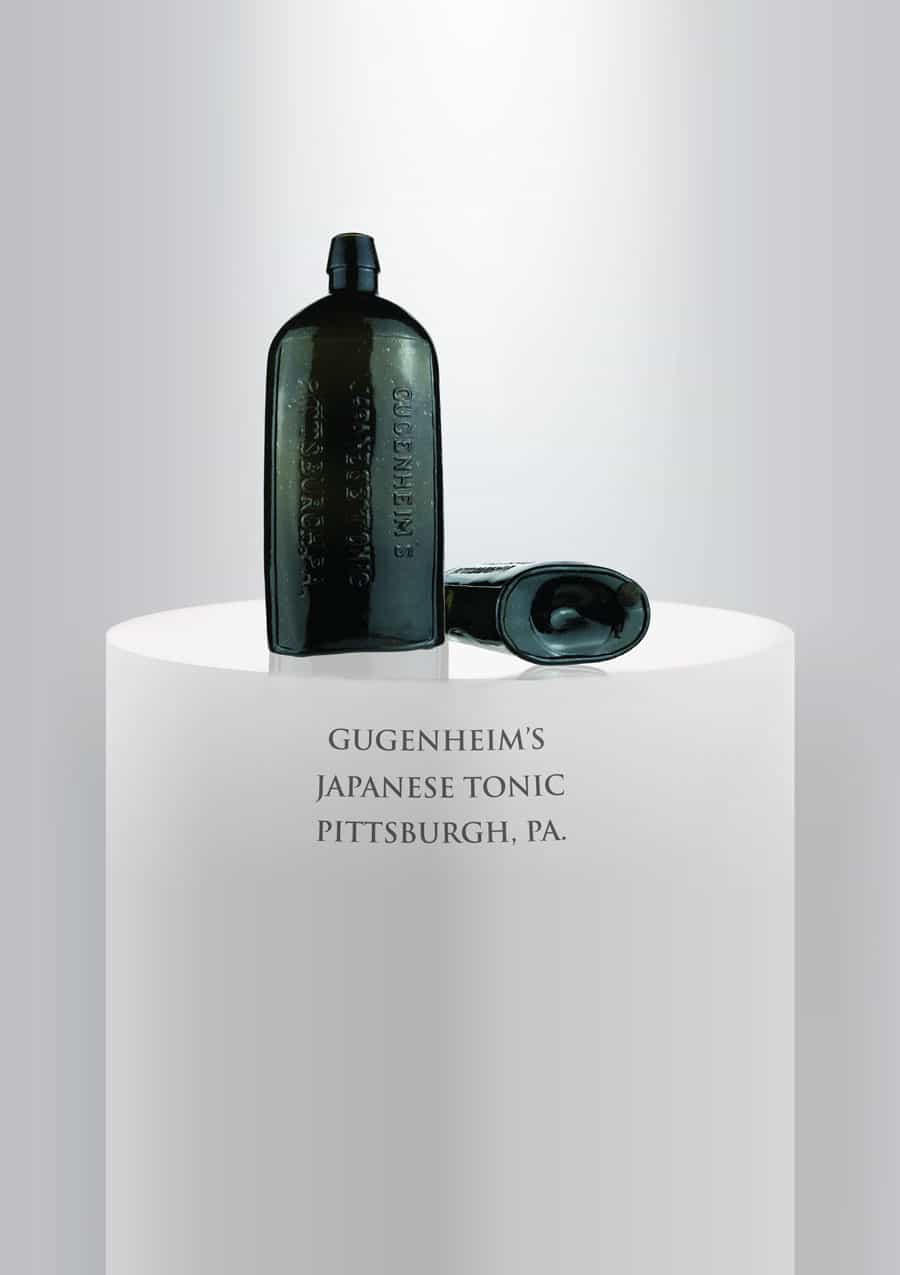 Our extremely rare, and unique-to-date "Gugenheim's Japanese Tonic Pittsburgh, Pa." bottle was most likely embossed incorrectly and should be attributed to Asher Guckenheimer who was a lifelong Pittsburgh liquor merchant and distiller. The bottle was dug in a privy in Mt. Pleasant Pa, about an hour from Pittsburgh.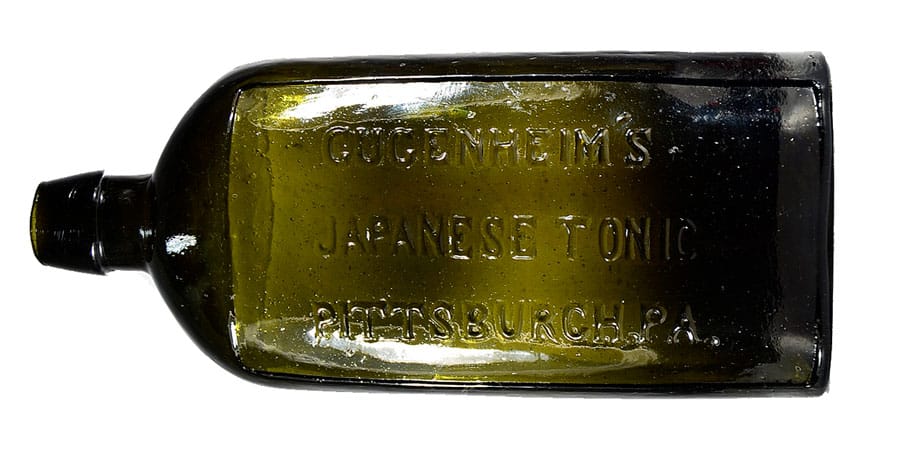 Asher Guckenheimer was born in the village of Alting, Wurtenberg, Germany, on May 5, 1825. His wife was Ida Weiss Guckenheimer (1836-1911), and they had a child, Bella. At the age of 29, with his wife, child and brother, Asher came to America settling in Pittsburgh, Pennsylvania.
With his brother August, Asher engaged in the cattle business, buying stock in the rural districts for the Pittsburgh market. In the early 1850s, he embarked in the wholesale liquor business in Pittsburgh, again in partnership with his brother.
Asher Guckenheimer would become the senior member of A. Guckenheimer and Bros. who were initially dealers in liquor and cigars located at 25 Market Street in Pittsburgh. In 1864 they would move to 93 and 95 First Avenue. Their business thrived and in 1859, their trade had become so large that they bought a small distillery in Freeport, Armstrong County, Pennsylvania. Year after year, they enlarged their distillery until it was said to be the "largest in the world." They expanded and had two separate and distinct distilleries, one in Butler, and the other in Armstrong County, separated by Buffalo Creek. Asher Guckenheimer would die on October 27, 1893.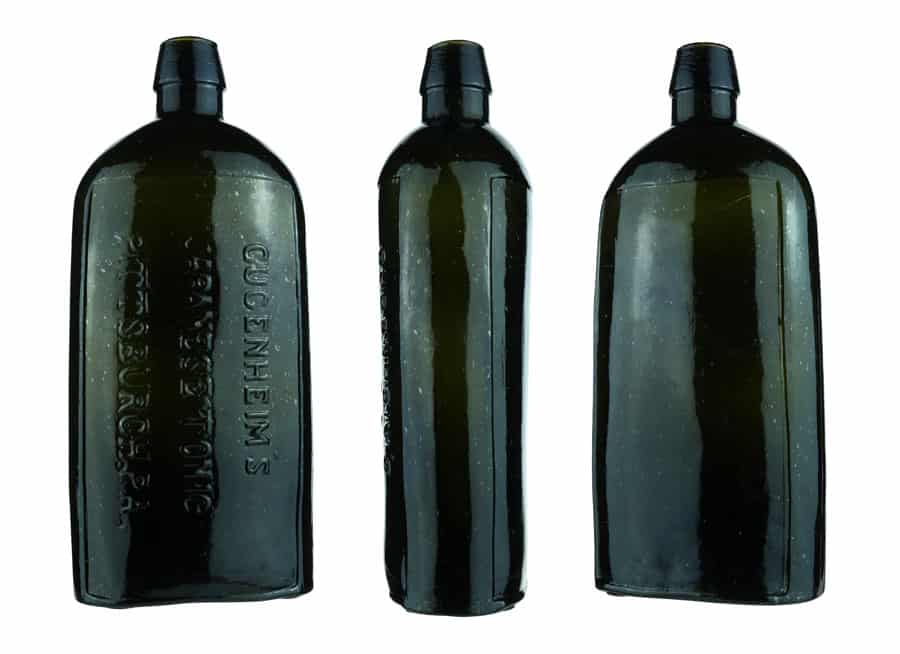 Our oddly-shaped, somewhat bulbous rectangular medicine is ovoid and curved on all faces. Each of the two broad faces has an articulated bordered inset frame. One frame panel is blank and is where a paper label would have been placed. The opposite side frame contains the embossed serif copy reading from the shoulder to base in three flush left lines, 'GUGENHEIM'S' (line one), 'JAPANESE TONIC' (line two) and 'PITTSBURGH, PA.' (line three). There is a deep kick-up smooth base. The rounded shoulders are bisected with a short bottle neck topped with a short applied tapered collar or mouth. The glass color is dark olive unless held in front of bright light which reveals a much lighter color and an abundance of character,
Primary Image: Gugenheim's Japanese Tonic bottle imaged on location by Alan DeMaison, FOHBC Virtual Museum Midwest Studio.
Join the FOHBC: The Virtual Museum is a project of the Federation of Historical Bottle Collectors (FOHBC). To become a member.