Arthur's Patent – Arthur, Burnham & Gilroy
Manufactured By ARTHUR, BURNHAM & GILROY PHILADELPHIA
R. Arthur's Patent
Jany 2nd 1855
Dr. Robert Arthur, Philadelphia, Pennsylvania

Blown Wax Sealer Clear Pint
Provenance: Jerry McCann Collection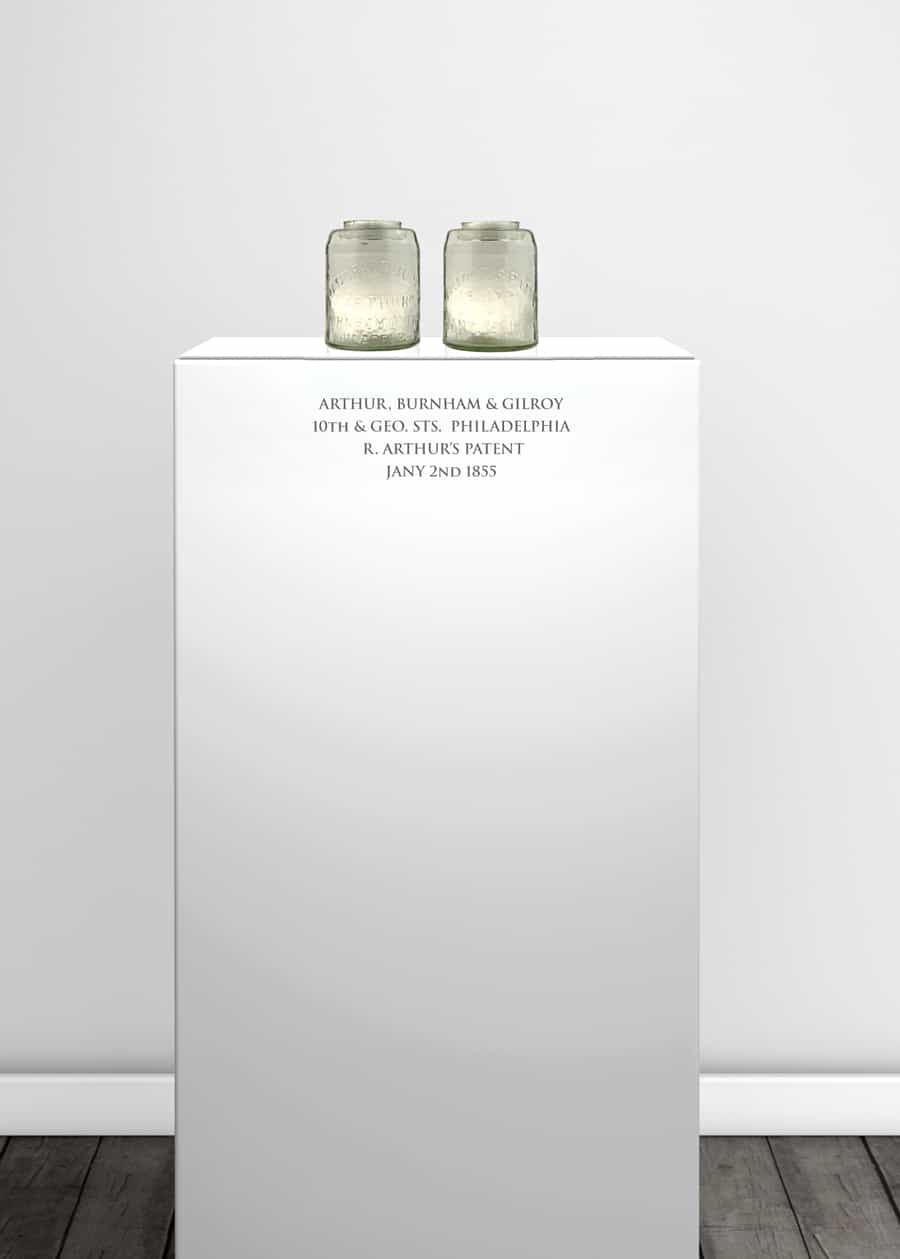 Arthur's patent air-tight self-sealing vessels can be found in a variety of materials, forms, sizes, colors, and embossing styles. Most examples are rare and desirable.
The containers were developed for preserving fresh fruits and vegetables and intended for use by housekeepers, hotel and boarding-house keepers, and fruit growers. Initially, they were made of tin, stoneware, and Queensware to achieve this objective before glass was used.
Our museum glass jar represents a hand-blown wax sealer with a ground lip. The shoulder has been pressed down while still on the blowpipe to form a grove. There would have been an accompanying metal cap. The glass jars were made from 1856 to 1861.
The "Manufactured By Arthur, Burnham & Gilroy Philadelphia" copy is embossed in uppercase letters on the front of the jar. The "R. Arthur's Patent Jany 2nd, 1855" copy is embossed in a similar fashion on the reverse side of the jar.
On January 2, 1855, Dr. Robert Arthur, of 252 Walnut Street in Philadelphia, Pennsylvania received Patent No. 12,153 for an "Improvement in Self-Sealing Preserve Cans." The word 'can' is short for a canister.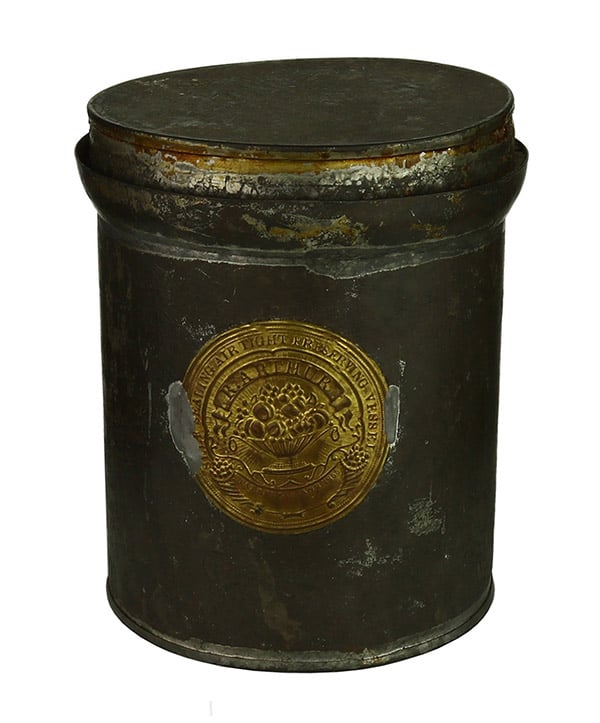 Dr. Arthur resided in Washington, D.C. in 1852 when he applied for his patent. The can was already being used and advertised as early as 1853. His can was constructed with a channel around the mouth near the top, into which the cover fits loosely. The channel was filled with an adhesive cement that was prepared for the purpose and allowed to harden In order to seal the vessel hermetically. It was only necessary to heat the cover slightly and press it into place. It could be opened with as much ease as it is closed, by slightly warming the top. These cans were used up until 1858 or so but were unpopular because the cans rusted with acidic contents.
See our museum example of Arthur's Patent Air-tight Self-Sealing Can
Dr. Arthur would return to Philadelphia and focus on his primary occupation which was dentistry. His brother would mind the patent. Advertising in 1853 stated that the cans were manufactured and for sale, wholesale and retail, by Messrs. Arthur, Burnham & Co., No. 60 South Tenth Street., Philadelphia. By 1860, the company name had changed to Arthur, Burnham & Gilroy who were located at the northeast corner of Tenth and George Streets, Philadelphia. The tin can production and use eventually diminished and glass was used for the new containers.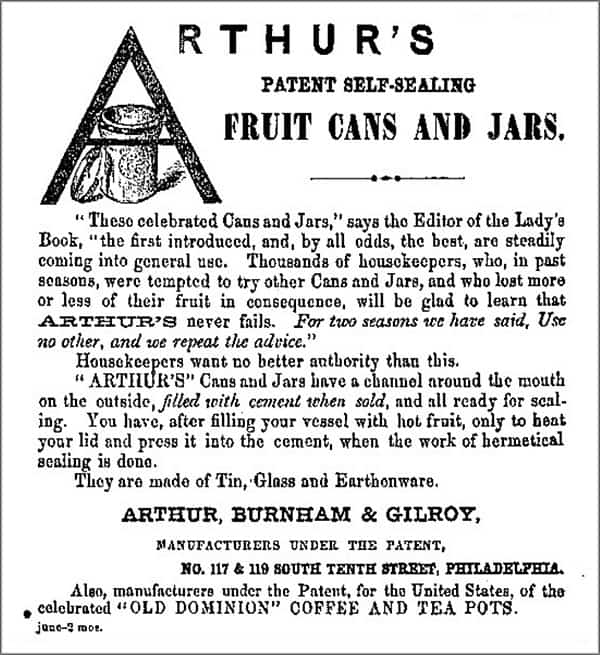 Support Images: Aqua jar examples from the Jeff Vanaman collection.
Primary Image: Arthur's Patent – Manufactured By, Arthur Burnham & Gilroy Philadelphia jar imaged on location by Alan DeMaison, FOHBC Virtual Museum Midwest Studio.
Support Images: "ARTHUR, BURNHAM & GILROY, / 10th & GEO. STS. / PHILADELPHIA – R. ARTHUR'S PATENT / JANY 2nd 1855" Fruit Jar, 1856 – 1861. Aquamarine, cylindrical, ground mouth, wax seal type closure – smooth base, Qt, very near mint; (slight trace of faint wear; interior bubble in reverse with small annealing line in cover glass, otherwise perfect). RB #96. A bright, clean example of this very rare jar, fantastic condition. Provenance: Fred Swiechowicz collection. – John Pastor, American Glass Gallery, Auction #28
Support: Reference to Red Book #11, the Collector's Guide to Old Fruit Jars by Douglas M. Leybourne, Jr
Support: Reference to Fruit Jar Annual 2020 – The Guide to Collecting Fruit Jars by Jerome J. McCann
Support: Arthur, Burnham & Gilroy, A Study of Unlikely Relationships in Early Fruit Jars by Bill Lockhart, Beau Schreiver, Carol Serr, and Bill Lindsey
Join the FOHBC: The Virtual Museum is a project of the Federation of Historical Bottle Collectors (FOHBC). To become a member.