Clarke & Green Superior Mineral & Soda Water Dayton O.
Superior Mineral & Soda Water
Prepared by Clarke & Green Dayton O.
C & G Dayton
Return This Bottle
William H. Clarke & Green, Dayton, Ohio
12-Sided Aquamarine Soda Water
Provenance: Doug Shutler Collection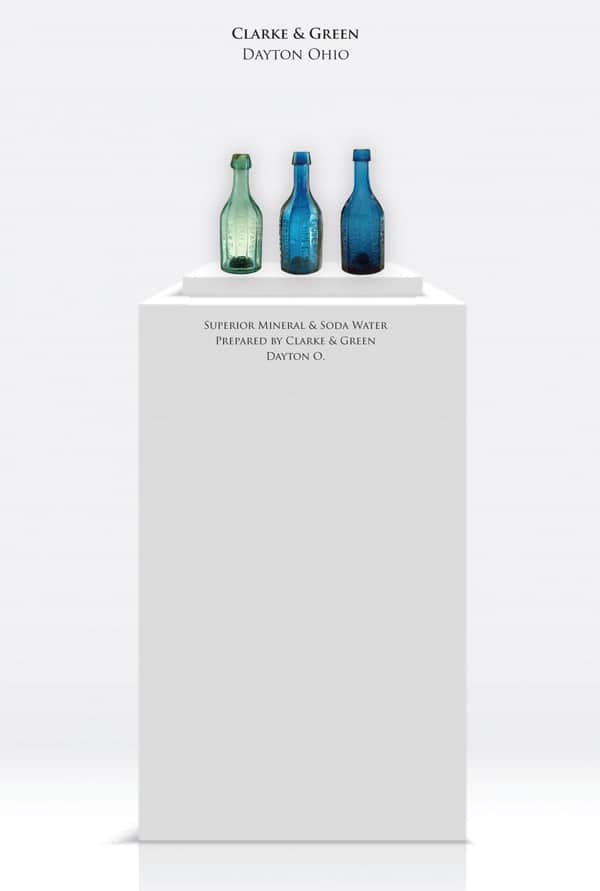 The embossed "Superior Mineral & Soda Water" bottle is also embossed "Clarke & Green" who we believe were in business in the late 1840s in Dayton, Ohio. There is only one city directory for the year 1850 that survived and only W. H. Clark is listed in the mineral water business.
Dayton was founded on April 1, 1796, by 12 settlers known as the Thompson Party in the river wilderness on the western edge of the frontier. They traveled from Cincinnati up the Great Miami River by pirogue and landed at what is now St. Clair Street, where they found two small camps of Native Americans. The new community was meager at just five families. 1803 was a significant year, in that Ohio was granted statehood, followed by the village of Dayton which was incorporated in 1805 and chartered as a city in 1841. By 1848, Dayton's population had grown to 10,000.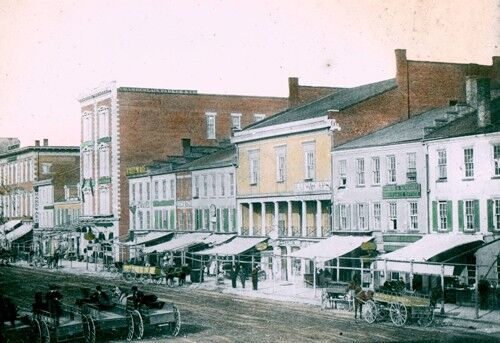 William H. Clark
We really know very little about this partnership but do see a listing for W. H. Clark (note spelling of Clark without an "e"), Mineral Water Manufacturer, Main Street, west side between Second and Third Streets, Dayton, Ohio in Odell's 1850 Dayton Directory and Business Adviser. His son, John C. Clark is working at the same address.
There was no such thing as street address numbers, and house-to-house mail delivery when James Odell, Jr., decided that there was a need for a "city directory" for Dayton. Early in the year 1850, he turned over to N. Sullivan, then operating the town's most pretentious printing office, the layout for "Odell's Dayton Directory and Business Advertiser."
See the museum example of a R. Schmidt & Co. Dayton, Ohio blue-green soda.
The 1850 United States Federal Census lists W. H. Clark, age 36, birth year about 1814 in New York. His home in 1850 was listed as Dayton Ward 3, Montgomery, Ohio. His occupation was a confectioner with real estate value listed as $1,500. W. H. Clark was 36 years old, his wife, Mary A. Clark was 28. Their children were listed as Wm. Clark-2, Ellen Clark-0, Ebenezer Clark-20, and John Clark-24.
The same 1850 Dayton directory has three listings for the last name Green. The first is Dr. Green who was a physician addressed at the second corner of Ludlow Street. There was a John Green who was a barber and proprietor of the City Bath House. A third was Richard Green who operated a shoe store on the corner of Third and Perry Street. We believe it to be John Green as he was also listed as a grocer in alternating years.
Superior Mineral & Soda Water
Our aquamarine Clarke & Green soda water bottle is cylindrical has 12 sides, and measures 7-½ tall by 2-5/8 inches wide. The bottle was made in a two-leaf mold and has an abundance of embossed copy. The bottles are also found in cobalt blue glass. This is an early bottle with a pronounced iron pontil and rounded tapered applied mouth.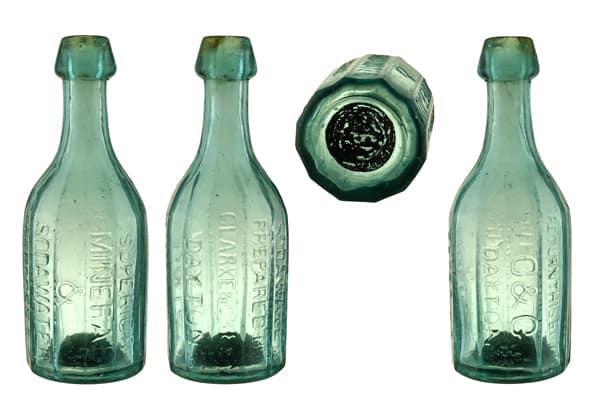 The copy is embossed vertically from the shoulder to the base. Panel 1 is embossed 'SUPERIOR,' panel 2; 'MINERAL,' panel 3; '&,' panel 4; 'SODA WATER,' panel 5; 'PREPARED BY,' panel 6; 'CLARKE & GREEN,' panel 7; 'DAYTON O.,' panel 8; (blank), panel 9; 'RETURN THIS BOTTLE,' panel 10; 'C & G,' panel 11; 'DAYTON,' and panel 12; (blank).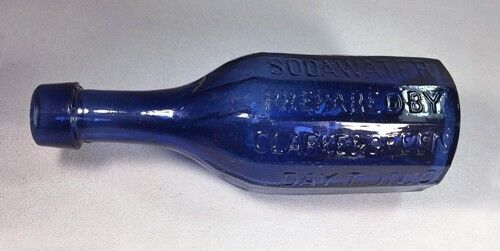 Primary Image: Clarke & Green Superior Mineral & Soda Water Dayton bottle imaged by the FOHBC Virtual Museum midwest studio by Alan DeMaison.
Secondary Images: Cobalt blue Clarke & Green Superior Mineral & Soda Water Dayton bottles in top header from Glass Works Auctions and American Glass Gallery.
Support: Reference to Soda & Beer Bottles of North America, Tod von Mechow
Support: Reference to The American Pontiled Soda Database Project, Tod von Mechow
Support: Dayton's First City Directory (1850) This article appeared in the Dayton Daily News, June 4, 1933 by Howard Burba