Mohica Bitters
Mohica Bitters
Roth & Co
San Francisco
M 118

Joseph Roth, San Francisco, California

Red Amber Square
Provenance: Richard T. Siri Collection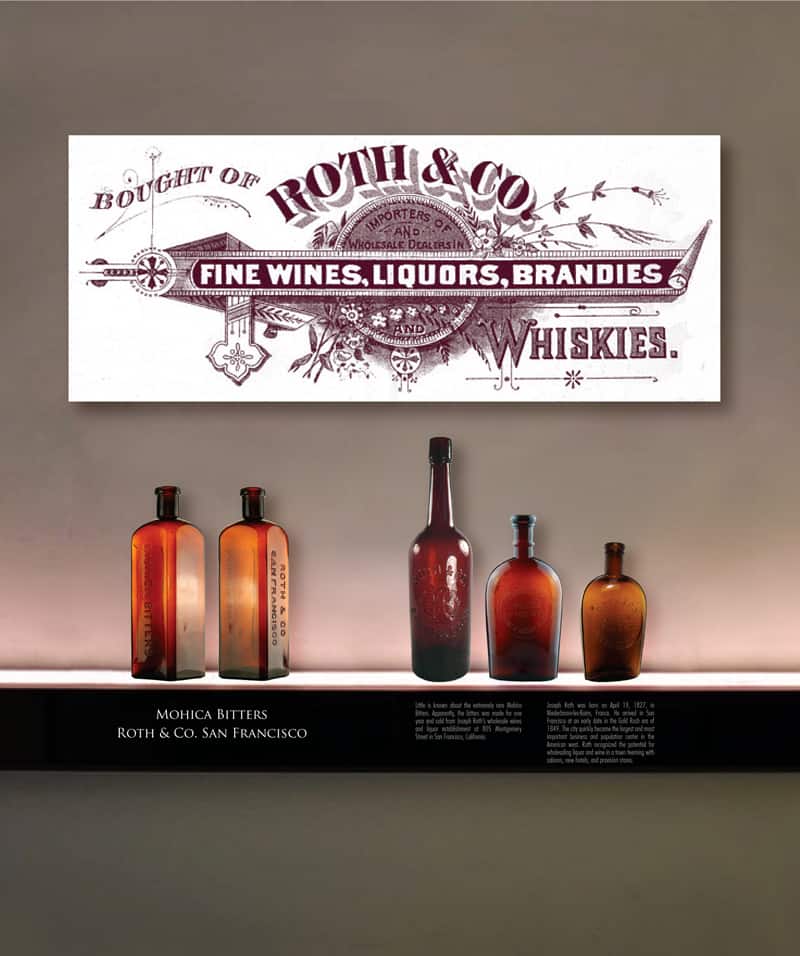 Little is known about the extremely rare Mohica Bitters. Apparently, the bitters was made for one year and sold from Joseph Roth's wholesale wines and liquor establishment at 805 Montgomery Street in San Francisco, California.
Joseph Roth was born on April 19, 1827, in Niederbronn-les-Bains, France. He arrived in San Francisco at an early date during the Gold Rush of 1849. The city quickly became the largest and most important business and population center in the American west. Roth recognized the potential for wholesaling liquor and wine in a town teeming with saloons, new hotels, and provision stores.
Roth's business importing wines and liquors originated around 1859, though he was recorded as a merchant in San Francisco as early as 1856. In 1861, his first city directory address was 508 Battery at the Old Court House building. By 1865, Joseph Roth had moved to 805 Montgomery. After a few years of operating on his own, Roth took on Henry Videau as a partner in 1867. They would eventually relocate 214 & 216 Pine Street which is embossed on his flasks and remain partners until a name change in 1876 to Roth & Levy (Herman L. Levy). Levy would depart and for the next ten years or so it was Roth & Co. at the 214 & 216 Pine Street address. Adolph Roos and Simon Scheeline would join Joseph Roth as partners. The brands they represented included Capitol Whiskey and Blue Ribbon Whiskey.
The company survived for sixty years but Roth himself did not as he died in 1891. His stellar reputation among his California clientele allowed his successors to maintain his name and brand until the National Prohibition in 1919.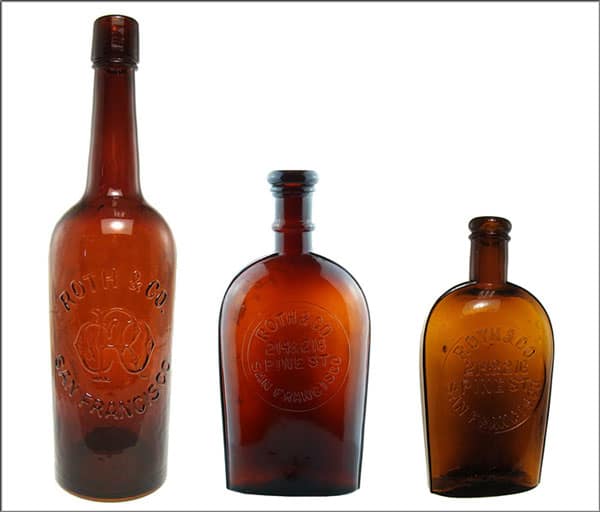 Ironically, Mohica Bitters was the first bottle with the name Roth & Co. on it. Up until then, Joseph Roth excluded the use of his now well-known name. Even more ironic is that it was a bitters as Roth was primarily known for his numerous brands of whiskey.
See the museum example of a Roth & Co. pint flask.
There are only a few Mohica Bitters bottles in collections. The fiery red amber museum example and the plain amber example that recently sold by a west coast auction house are both represented in the museum.
The Carlyn Ring and W.C. Ham listing in Bitters Bottles is as follows: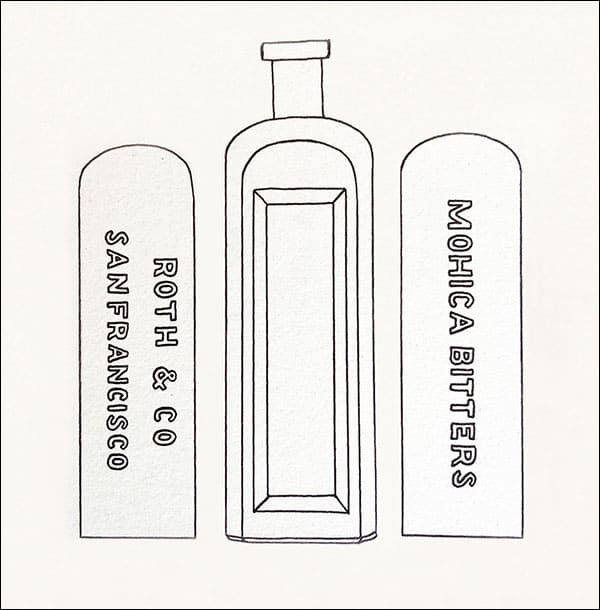 M 118 MOHICA BITTERS // sp // ROTH & CO / SAN FRANCISCO // f //
9 x 2 ¾ x 1 ½ (7 ¼) ¼
Square, Amber, NSC, Applied mouth, Extremely rare
Primary Image: Mohica Bitters bottle imaged on location by the FOHBC Virtual Museum midwest studio led by Alan DeMaison.
Support: Reference to Bitters Bottles by Carlyn Ring and W. C. Ham. Use of Mohica Bitters illustration courtesy Bill Ham.
Support Image: Auction Lot 10: MOHICA BITTERS with ROTH & CO SAN FRANCISCO on reverse. 1871 only. Applied top. The Mohica Bitters was put out by the well-known Roth Co., just another large company to try their hand in the bitters market. Why not? These bottles are considered extremely rare as apparently, the product was not a popular one or they used labels only for others they sold. These unique bottles have great appeal, if not just for the name. Another fine western bitters that grades an 8.5. – Jeff Wichmann, American Bottle Auctions, Auction 70, Part 1 of the Don Dwyer Collection