Eagle Soda Water and Bottling Co Santa Cruz, Ca. This Bottle Never Sold (embossed eagle)
(embossed eagle)
Eagle Soda Water and Bottling Co.
Santa Cruz, CaL.
This Bottle Never Sold
William E. Atkinson, Santa Cruz, California
Pale Aqua Hutchinson Form
Provenance: Lou Pellegrini Collection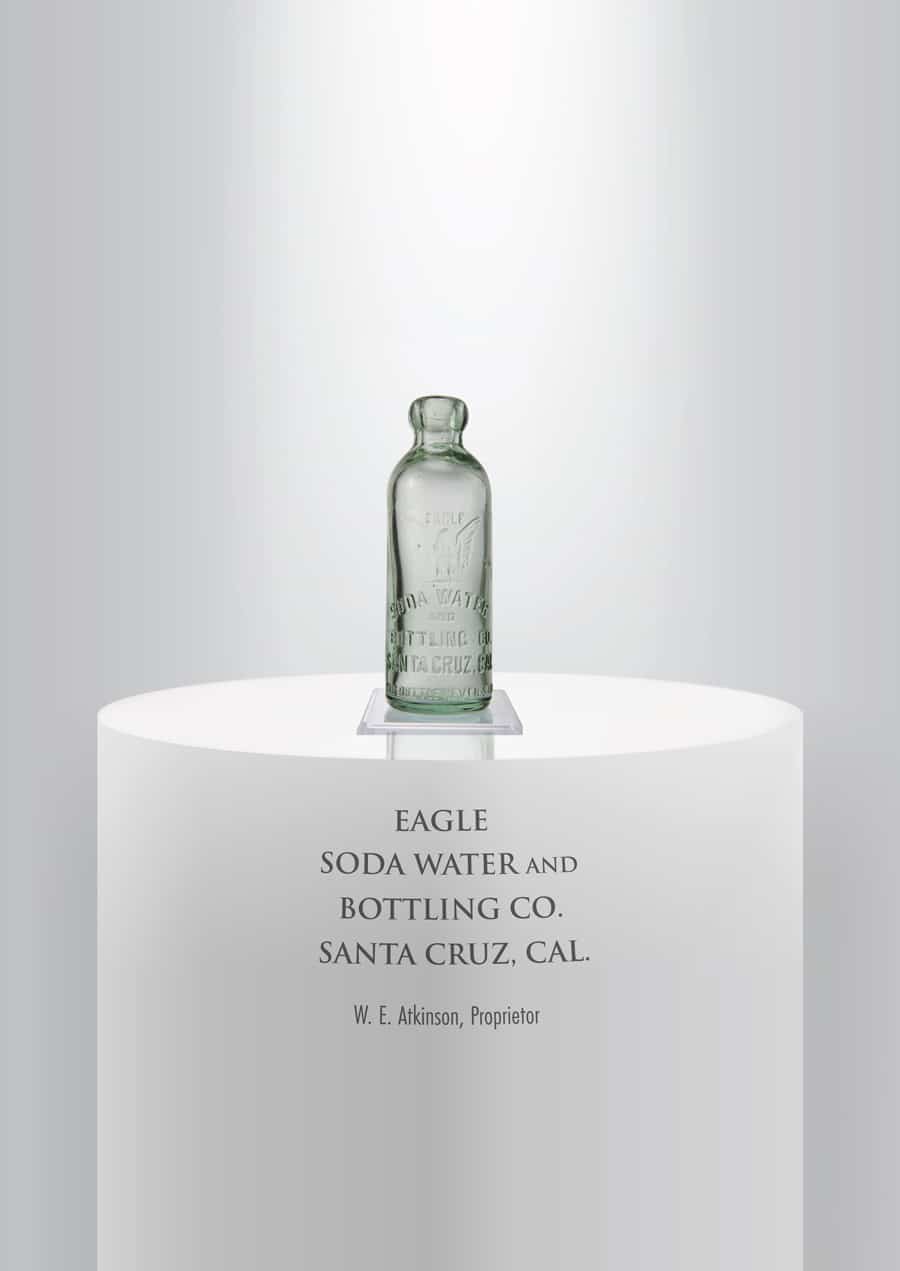 Willliam Ernest Atkinson was the proprietor of the Eagle Soda Water and Bottling Company in Santa Cruz, California, which started around 1905 and operated until 1917, when his wife Mary was listed running the company.
Born in 1854 in England, Atkinson came to America from Australia in 1875 and settled in Santa Cuz before the end of the century. In 1917 he moved to San Francisco and lived there for seven years before returning to Santa Cruz. William E. Atkinson would die in December 1931 at his home, 250 Mission street, after an extended illness. He was 77 years old.
In 1905, Atkinson was advertising his Eagle Soda Water and saying he was an agent for Enterprise Lager Beer, Gilt Edge Lager, all kinds of syrups, and Oyster Cocktails. His phone number was Red 41, and he was located at 19 Cayuga Street, then 322 Soquel Avenue in Santa Cruz.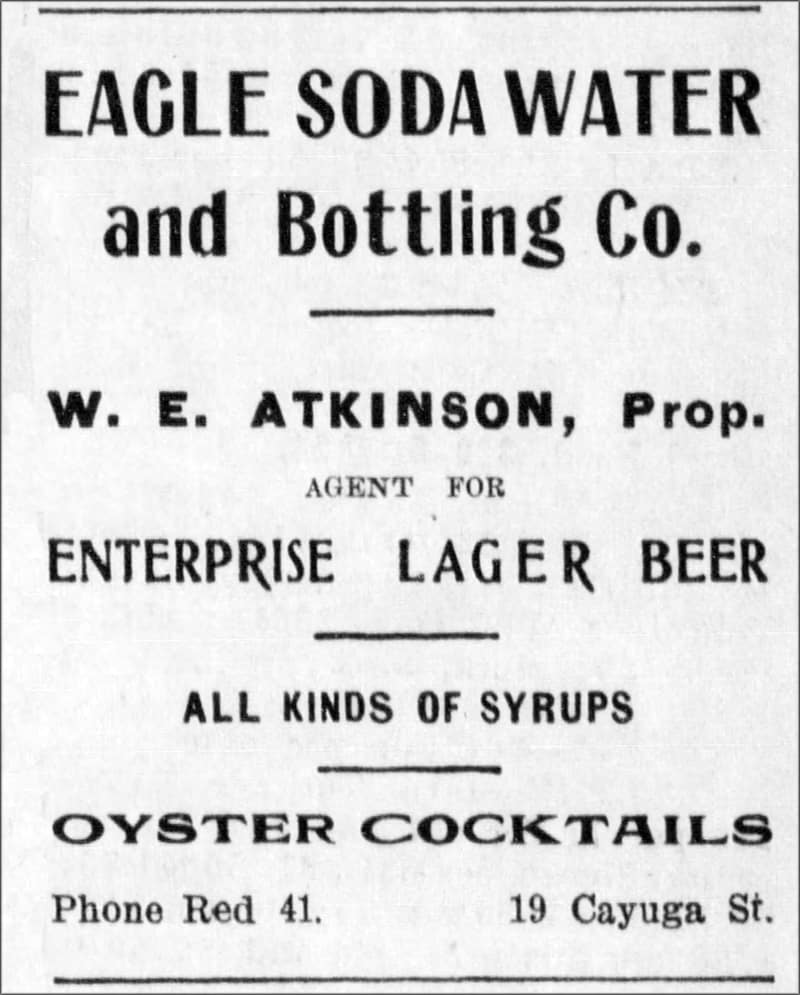 Our pale green aquamarine Hutchinson form bottle measures 6 ¾ inches tall by 2 ¼ inches wide. There is a tooled rounded collar, and it was made in a two-leaf mold. A Hutchinson internal spring stopper was used.
Charles G. Hutchinson invented and patented the Hutchinson Patent Stopper in 1879 as a replacement for cork bottle stoppers, commonly used as stoppers on soda water or pop bottles. His invention employed a wire spring attached to a rubber seal. Production of these stoppers was discontinued after 1912.
The face of the bottle is embossed in sans serif copy 'EAGLE' (first line), (embossed motif of an eagle with wings up and head turned right), 'SODA WATER' (second line convex arch), 'AND' (third line smaller type), 'BOTTLING CO.' (fourth line), 'SANTA CRUZ, CAL.' (fifth line) and 'THIS BOTTLE NEVER SOLD' (sixth line, smaller type around the bottom front of the bottle). Many soda water bottles had an extensive base and side wear as soda water bottles were the property of the soda bottler and were sometimes marked like our example, "This Bottle Never Sold" or similar embossing to that effect. The base is smooth.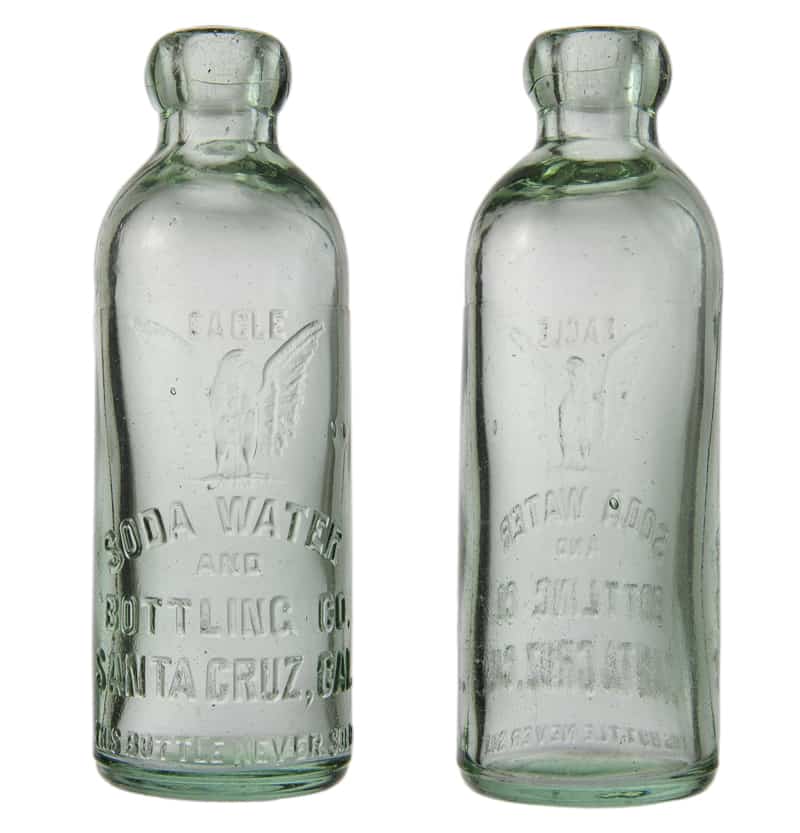 Primary Image: Eagle Soda Water and Bottling Co. (embossed eagle) Santa Cruz, Cal. bottle was imaged by Gina Pellegrini at the FOHBC Virtual Museum west coast studio.
Secondary Image: Two Eagle Soda Water bottles and a Santa Cruz Soda Works bottle. Grove & Hauselt (A. T. Grove & George Hauselt) were the proprietors of the third bottle.
Support: Reference to Soda & Beer Bottles of North America, Tod von Mechow
Support: Hutch Book – Ron Fowler. This site focuses on the historical development of the North American soft drink industry from 1879 to World War I. The Hutchinson era features the Hutchinson Bottle Directory, a fully searchable, free access database cataloging extensive data on over 17,000 different Hutchinson bottles.
Join the FOHBC: The Virtual Museum is a project of the Federation of Historical Bottle Collectors (FOHBC). To become a member.