Chapman's Genuine No. 4 Salem St Boston
Chapman's Genuine
No. 4 Salem St Boston
Jonas W. Chapman, Boston, Massachusetts
Yellow Amber Rectangular Medicine
Provenance: Michael George Collection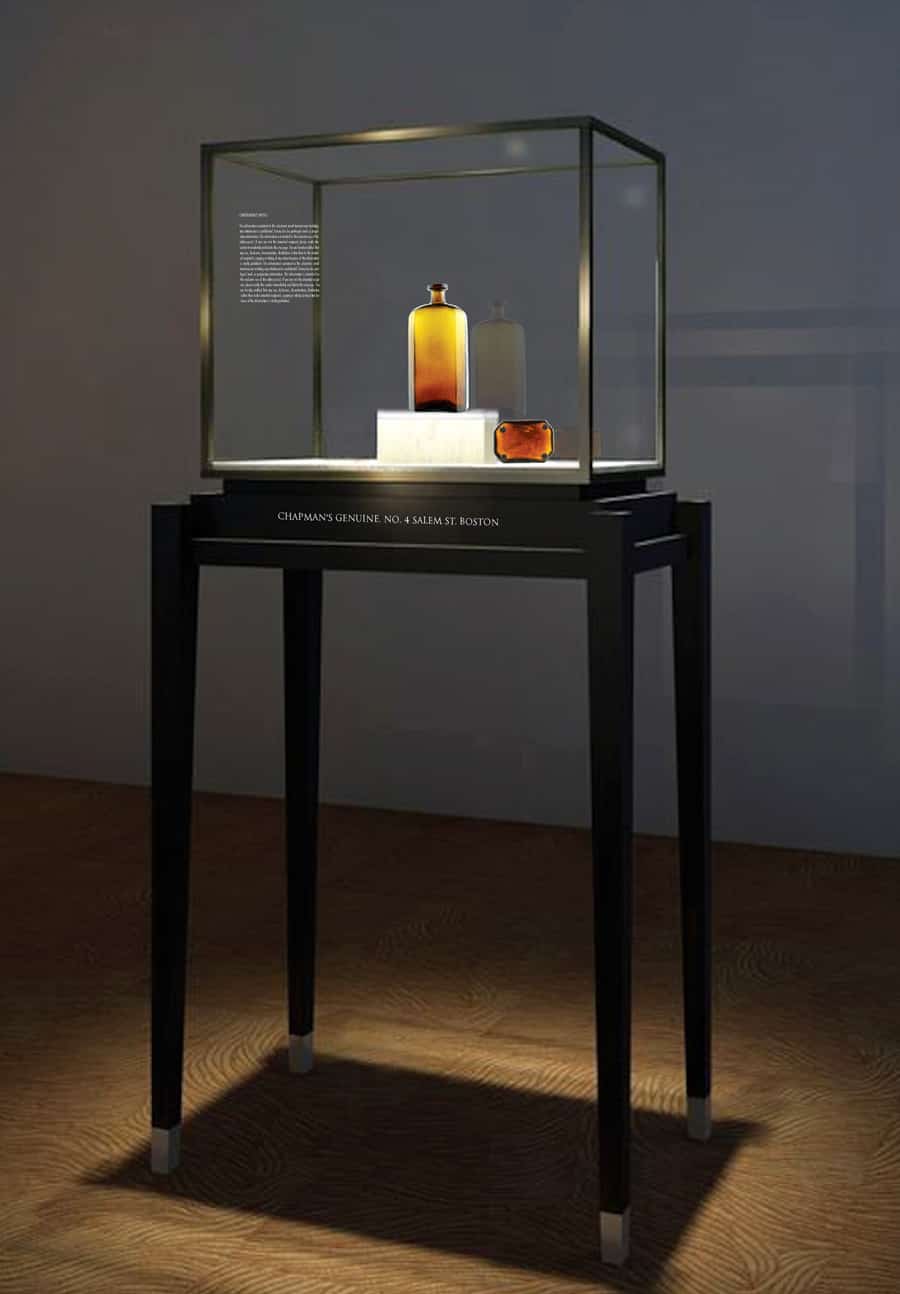 Our museum example of a Chapman's Genuine medicine bottle exudes character and has a wonderful gradual shading of the glass color from yellow amber in the shoulder, to orange-amber to red amber in the base of the bottle.
The rectangular bottle has wide beveled corners, an applied square collar mouth, and a pontil scar. The example is embossed vertically, shoulder to base in three centered lines, 'CHAPMAN'S' (1st line), 'GENUINE' (2nd line, slanting left, there is a period after "Chapman's"), and 'NO. 4 SALEM ST. BOSTON.' (3rd line, the "O" in "No. 4" is smaller, raised, and has a period beneath, the "T" in "St." is smaller, raised, and has a period beneath. The typography is sans-serif. The side and opposite panels are blank. A paper label might have been used to identify the brand, proprietor, medical benefits, and cost. The bottle is very rare and would have been produced at a Stoddard, New Hampshire glasshouse from 1850 to 1855 for Jonas W. Chapman of Boston, Massachusetts.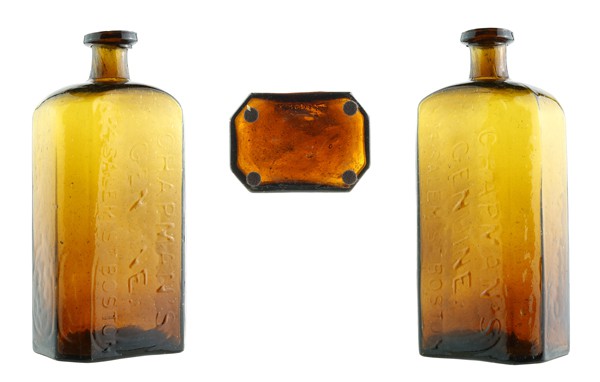 Jonas W. Chapman was born in 1803 in New Hampshire to parents Jedediah and Eunice. Chapman, living in Glouchester, would wed Mary C. Standley on September 4, 1825, in Beverly, Essex County, Massachusetts. Chapman practiced medicine and advertised himself as a Botanic Physician though it is unknown if he was formally schooled to be a doctor or was self-taught. In historical listings, especially in the first half of the 1850s, he is referred to as Dr. Jonas W. Chapman.
In 1838, Samuel Thomson established the New England General Depot and Infirmary at 33 Washington Street in Boston and announced that his agent, Jonas W. Chapman, specialized in female complaints and midwifery and sold medicines "prepared by Doctor Samuel Thompson himself." Thomson (February 9, 1769 – October 5, 1843) was a self-taught American herbalist and botanist, best known as the founder of the alternative system of medicine known as "Thomsonian Medicine", which enjoyed wide popularity in the United States during the 19th century.
From 1846 to 1849, Jonas W. Chapman, Botanic Medicines, was addressed at 32 Cambridge. In 1850, he moved to the No. 4 Salem Street address in Boston which adjoined No. 6 Salem which he used as his residence. He remained at this address until his sudden death on November 21, 1856. We can date our subject bottle to this Salem Street address period.
As an aside, Jonas W. Chapman was noted as a surgeon in the First Battalion-Light Dragoons, Massachusetts Militia in 1854 and was for many years a member of the National Lancers. Dr. Chapman was also a partner in the Boston Veterinary Institute with George H. Dadd, David Roberts, and John P. Jewett. This corporation was formed on April 28, 1855, for veterinary education, and for the support of an infirmary for the treatment of horses, cattle, and other domestic animals,
Primary Image: Chapman's Genuine bottle imaged on location by the FOHBC Virtual Museum Midwest studio led by Alan DeMaison
Support Image: Embossed copy on a second example of a Chapman's Genuine. – photograph from Rich Ciralli
Support Image: Auction Lot 21: "Chapman's / Genuine. / No. 4 Salem St. Boston" Medicine Bottle, a Stoddard glasshouse, Stoddard, New Hampshire, 1846-1860. Rectangular with wide beveled corners, light to medium yellow olive, applied square collared mouth – pontil scar, ht. 7 7/8 inches; (neck and mouth repair to consist of applying a square collared mouth to the top of the neck, the neck and mouth have been ground so there is a perfect fit). N #113 Big, bold, beautiful. Kris Kernozicky collection. – Norman Heckler Jr. & Sr., Norman C. Heckler & Company, Auction #101
Support Image: Auction Lot 192: "Chapman's / Genuine / No. 4 Salem St. Boston" Medicine Bottle, a Stoddard glasshouse, Stoddard, New Hampshire, 1846-1860. Rectangular with wide beveled corners, bright olive amber, applied square collared mouth – pontil scar, ht. 7 7/8 inches; (pinpoint manufacturing roughness on edge of mouth). AAM pg. 97 Big, bold and bright with a highly whittled surface. Fine condition. – Norman Heckler Jr. & Sr., Norman C. Heckler & Company, Auction #170
Support Image: Auction Lot 2: "CHAPMAN'S / GENUINE / NO. 4 SALEM ST. BOSTON", (Odell, pg. 48), Massachusetts, ca. 1840 – 1855, yellowish 'old' amber color, 8"h, improved pontil scarred base, applied ring mouth. Several very minor scratches are on the Chapman's panel near the base. Exceptional example with a high level of glass whittle, bold impression and good color density. A classic New England colored pontiled medicine bottle! – Jim Hagenbuch, Glass Works Auctions | January 2021