Ohio Fruit Jar Co. – Honey Jar
Honey Jar – 1876 – No 5
Made By The Ohio Fruit Jar Co. Of upper Sandusky, O.
Patented March 14 1876
By A. W. Brinkerhoff

Alexander W. Brinkerhoff, Sandusky, Ohio
Clear or Colorless Pint
Provenance: Patricia Sprang Collection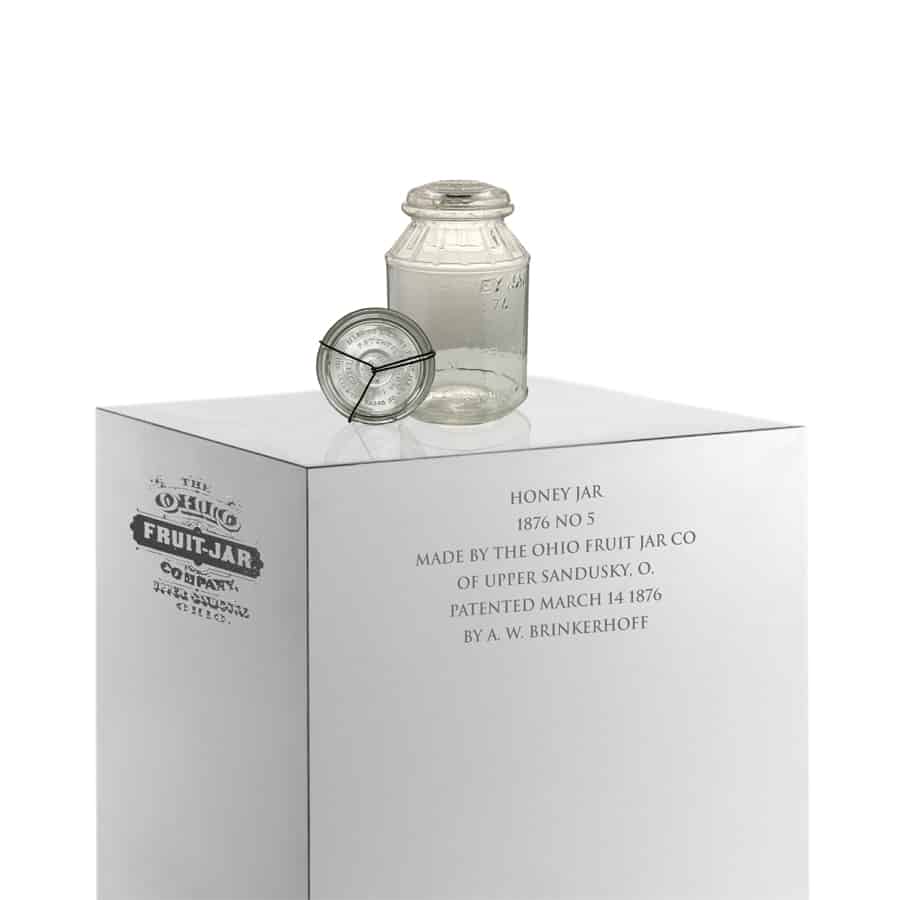 The Honey Jar made by the Ohio Fruit Jar Co. was patented in 1876 by Alexander W. Brinkerhoff, the same year he founded his company. Brinkerhoff was a prolific inventor and a medicine man who accomplished much in life facing obstacles that would have set most men back. His fruit jar company folded in 1877 making the shelf life of this museum jar rather short.
Our museum jar represents a clear pint (approximate) that is abundantly embossed on two sides. The front side is embossed in horizontal straight lines 'HONEY JAR' (1st line), '1876' (2nd line), 'No 5' (third line), and 'MADE BY' (4th line). It is followed by embossed copy reading 'THE OHIO FRUIT JAR Co' (5th line in an arch), 'OF' (6th line), and 'UPPER SANDUSKY, O.' (7th line). On the reverse side of the jar, you see embossed in horizontal straight lines 'PATENTED' (1st line), 'MARCH 14 1876' (2nd line) 'BY' (3rd line), and 'A. W. BRINKERHOFF' (4th line). This is an exceptional amount of embossed copy for any glass jar or bottle.
The jar was sealed by a flat-topped dome glass lid, held in place by a three-position wire clamp. The neck is prominently and architecturally segmented in concentric angled rectangles leading up to the flared and upwardly rolled lip.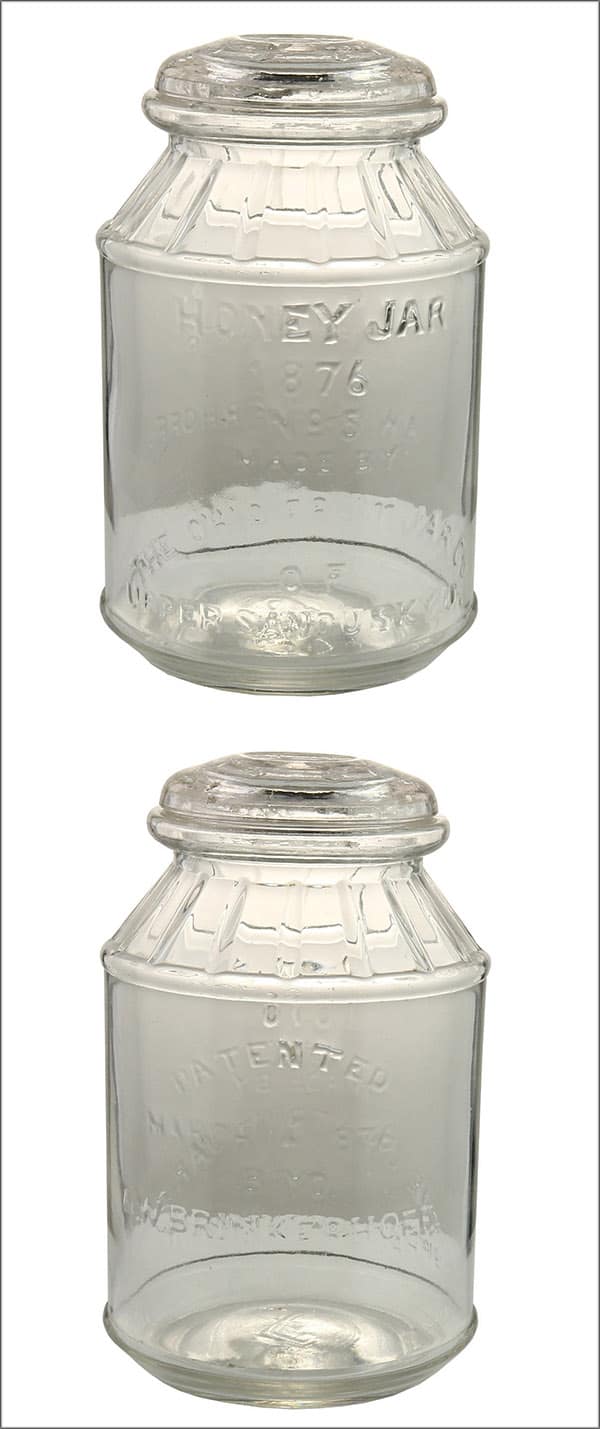 Alexander W. Brinkerhoff
Alexander William Brinkerhoff was born on March 4, 1821, in Gettysburg, Pennsylvania. His father was named Hezekiah and his mother was named Jane. Brinkerhoff briefly attended Ohio Wesleyan University in the mid-1840s. He married Martha E. Hall on May 2, 1848, and they had eight children. Two sons, Milford H. and William C. Brinkerhoff would later join him in business. For much of his life, he was beset with illness and almost died a few times as the family initially settled in the Ohio wilderness and William came down with mosquito-transmitted Malaria that would hound him for most of his life. Possibly an inability to physically work made him excel in reading, using his mind, and inventing.
Brinkerhoff arrived in Upper Sandusky, Ohio, in 1857 and formed a retail partnership with his son, Milford, to sell organs, pianos, sewing machines, queens ware, cutlery, and later, talking machines. Brinkerhoff also invented and patented contraptions for lye making, several corn planters, a cornhusker, a fruit gatherer, a metal clothespin, a common-sense inkstand, and other utilitarian items.
Brinkerhoff organized the Ohio Fruit Jar Co. on March 27, 1876, just thirteen days after he received the patent. Brinkerhoff was the president, with T. E. Beery as treasurer and M. H. Brinkerhoff, his son, as secretary. The office was located on the north corner of S. Wyandot and E. Sandusky Avenues in Sandusky, Ohio.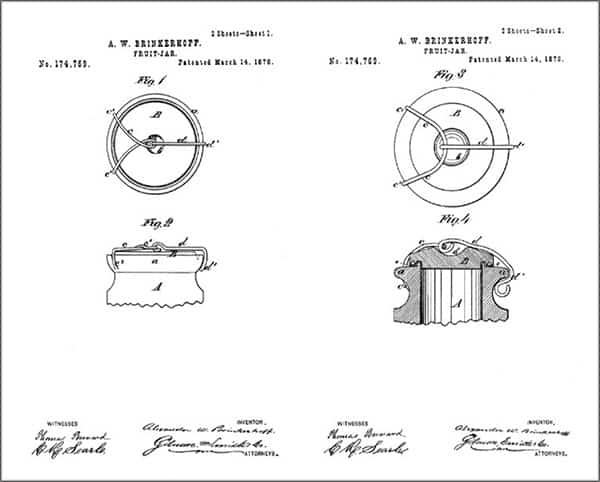 The Ohio Fruit Jar Co. embossed their full name and associated copy as noted above on a series of jars, all related to the Alexander W. Brinkerhoff patent. Some were jelly jars and others were more like traditionally shaped fruit jars.
A. W. Brinkerhoff applied for his jar patent on March 7, 1876, and received Patent No. 174,769 just a week later, on March 14, 1876. This date is embossed on the jar. The patent was for two closures, one for a lid and clamp that fit on the wax sealers, the other for a similar clamp that held a conical glass lid on a jar with the same shape as a wax sealer but with no groove. The invention actually centered around the sheet metal lid and wire clamp. Both the description and drawings suggest that the closure device was to be used on existing grooved-ring wax-sealer fruit jars. A second drawing and description, however, applied the clamp to a glass lid and a finish with no groove. The patent appears to have only been used by the Ohio Fruit Jar Co. Actual jars seem to have been made with both finish types. The jars were sequentially numbered 1 through 12. Jars 6, 7, and 9 have never been found and were probably for unembossed jars.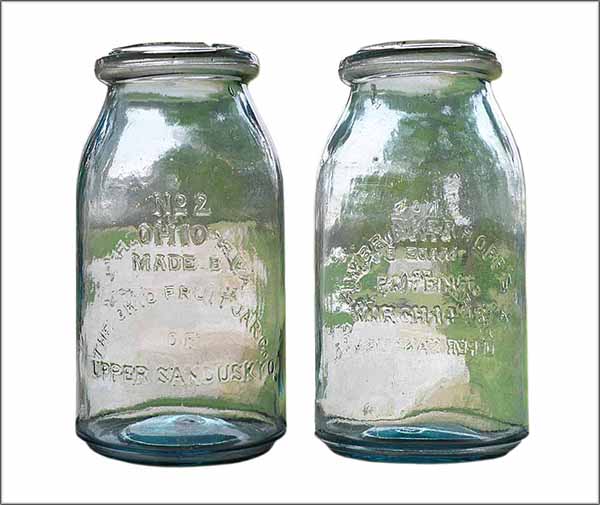 The jars were most likely produced by a Pittsburgh glasshouse, with the wire for the closures manufactured in Waterbury, Connecticut by Gillingham & Talcott.
Because the Brinkerhoff jars were made in a large variety of sizes and styles, each requiring the manufacture of an expensive mold, it is speculated that Brinkerhoff had large investments in molds with excessive embossing, which is another high cost. This outlay of cash coupled with limited sales led to Brinkerhoff filing for bankruptcy in 1877, just one year after inception.
After the bankruptcy, Brinkerhoff became a rather successful traveling medicine man and "physician" who touted his cure for Piles. He did this up until his death on March 13, 1887. He never dabbled again in glass production. His son, W. C. Brinkerhoff would carry the torch of "The Brinkerhoff System" up past the turn of the century.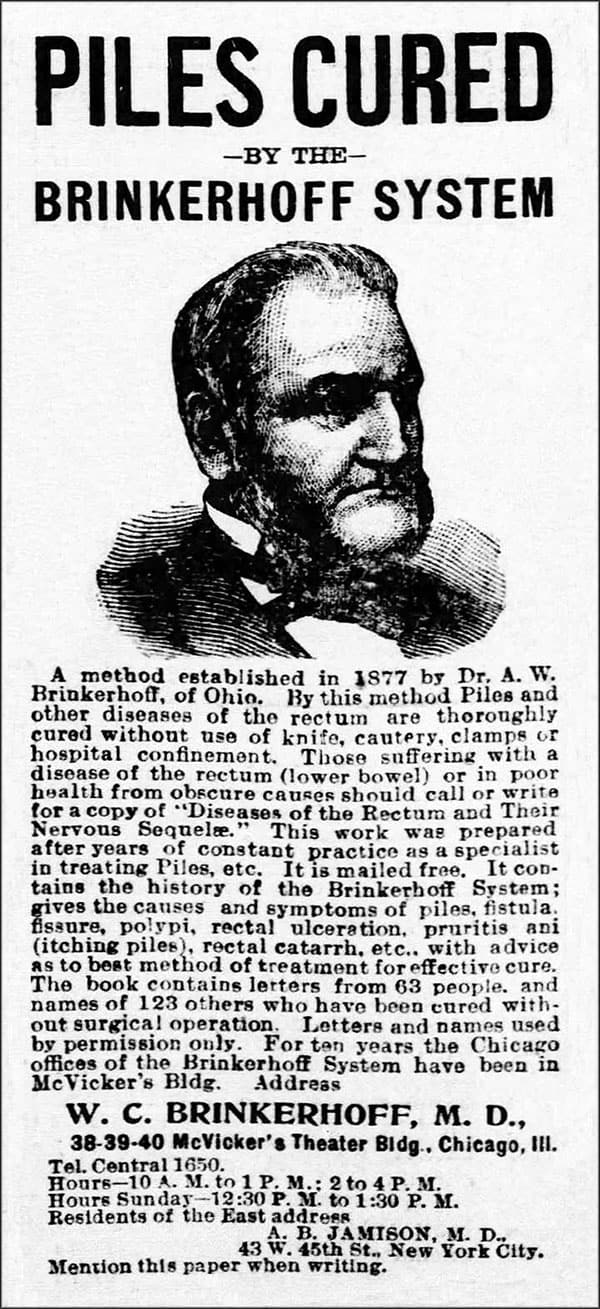 Primary Image: Brinkerhoff – Ohio Fruit Jar Co. Honey Jar imaged on location by the FOHBC Virtual Museum Midwest studio led by Alan DeMaison.
Support: Reference to Ohio Fruit Jar Co. by Bill Lockhart, Beau Schriever, Bill Lindsey, and Carol Serr
Support: Reference to I'll take Patent Potpourri for a Thousand by Joe Terry, Spring 2006, Bottles and Extras
Support: Reference to Red Book #11, the Collector's Guide to Old Fruit Jars by Douglas M. Leybourne, Jr.
Support: Reference to Fruit Jar Annual 2020 – The Guide to Collecting Fruit Jars by Jerome J. McCann
Support Images: Auction Lot 588: Upper Sandusky Ohio Jelly Jar (Brinkerhoff Patent). A small-sized half-pint. Brinkerhoff Patent jelly glass which is embossed on the lid: MADE BY THE OHIO FRUIT JAR CO OF UPPER SANDUSKY, OHIO / PATENTED MARCH 14 1876 / OHIO NO 11 JELLY / LABEL. Good condition with some chips on the top rim of the jar. The overall height is about 4 inches. The wire clamp looks old but could be a replacement. – Greg Spurgeon, North American Glass
Support Image: Auction Lot 7444: Brinkerhoff's Patent 1876 No 2 Ohio Upper Sandusky. Half Gallon, Aquamarine, Closure: none. Appearance: shiny glass, crudity of appearance including the mouth being slightly out of round. Condition: chipping of the ground mouth all around Embossing: strong. Base: unmarked. Age: 1870s. Availability: a rare and important early Ohio jar with lots of embossing. – Greg Spurgeon, North American Glass