W. E. Hagan Troy N.Y.
W. E. Hagan
Troy, N. Y.
W. E. Hagan & Co., Troy, New York
William Elijah Hagan
Cobalt Blue Utility Bottle
Provenance: Richard S. Ciralli Collection
Our museum example of a "W. E. Hagan Troy, N.Y." utility or medicine bottle is related to William Elijah Hagan who was a druggist, chemist, and renowned handwriting expert residing in Troy, New York. The bottle is unique in this mold as it does not have the "& Co." after "W. E. Hagan." This example is in excellent condition and was made using rich deep cobalt blue glass. Examples can also be found in sapphire blue glass with the later "& Co." mold. The bottle may have contained "Hagan's Inimitable Hair Coloring" or "Hagan's Magnolia Balm." We are not aware of any surviving labels which would have confirmed the contents.
The subject bottle is 6-½" tall, octagonal in form, and has a smooth base. The panel shoulders have pronounced curves leading to the neck of the bottle topped with an applied square collared mouth. The embossed copy occurs in two successive panels from shoulder to base. The first panel reads, 'W. E. HAGAN' in a block serif typestyle. The second line is centered and embossed 'TROY, N. Y.' in a similar manner using sans-serif copy.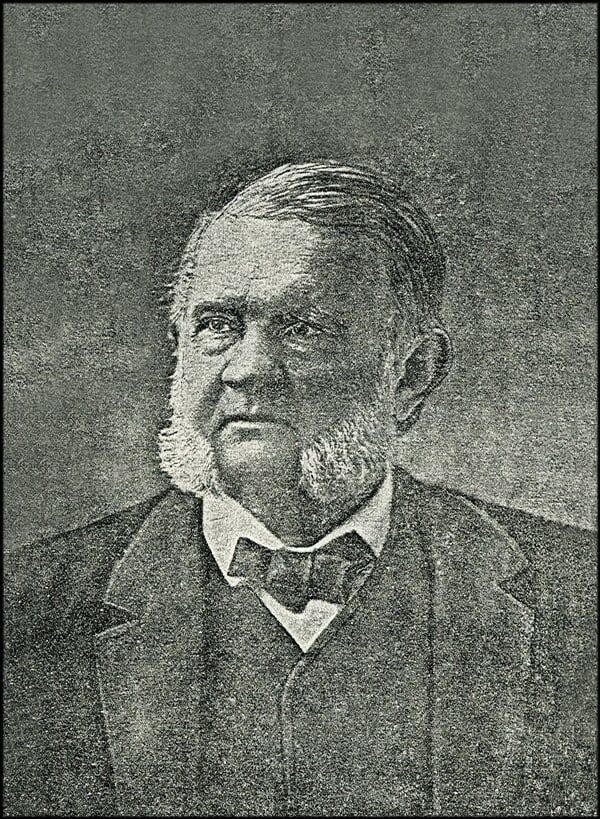 William E. Hagan
William E. Hagan was born on November 24, 1826, in Troy, Rensselaer County, New York. For the most part, Hagan would live and work in Troy his entire life. Both his parents were from Ireland and his father was a well-known merchant in New York City. W. E. Hagan was married to Lydia Rebecca Covell Hagan (1834–1907) in the mid-1850s. An 1880 United States Federal Census would list the following children, Lucy T. 23, Sarah C. 21, Annie W. 17, Rebecca C. 8, and Frank C. Hagan 5.
In 1848, William, after finishing his education at the Troy Academy, took on a job as a clerk for C. Heimstreet & Co. in Troy, New York. He was 23 years old and was living under the same roof as Charles and Harriet Heimstreet indicating a close relationship.
Charles Heimstreet who had his own very similar but earlier embossed pontiled bottle was an established druggist and chemist living and working in Troy, from 1835 to 1855. Heimstreet's brother Stephen joined Charles in 1838 to manage the bottled medicine line. In 1845, the company was called Heimstreet & Bigelow. They were listed as Manufacturing Druggists located at 10 State Street in Troy. Edmond Bigelow would eventually leave the partnership.
After clerking for Heimstreet, W. E. Hagan moved to New York City and studied chemistry and medicine. Completing his studies in the city, Hagan moved back to Troy and again worked for C. Heimstreet and Co. Hagan would become a partner and take over the business in 1855 with Charles Heimstreets death. Brooklyn N.Y. newspapers that same year advertised "C. Heimstreet & Co.'s Inimitable Hair Coloring" concluding with, "W. E. Hagan (Late C. Heimstreet & Co.) Troy. N.Y."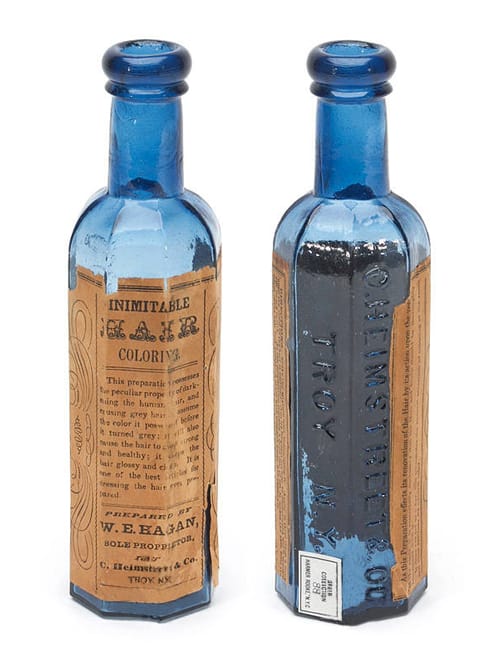 The Inimitable Hair Coloring was said to restore gray hair to its natural color "with all the strength and healthy growth of youth." The product was natural and advertising said it did not use dye. Their marketing slogan was "Never Say Dye." The label on the C. Heimstreet bottles mimicked newspaper ads reading "Inimitable Hair Coloring Prepared by W. E. Hagan, Sole Proprietor for C. Heimstreet & Co. Troy, N.Y." In later 1859 newspaper advertising, W. E. Hagan indicated fifteen years of experience which in broad terms could have been correct.
At some point during the Civil War years, Demas Barnes took over the proprietorship of Hagan's articles, including his hair coloring. Hagan was also drafted in 1863 which also may have also influenced the transition. Barnes started his wholesale drug business in New York City in 1853 and was highly prosperous as a patent medicine manufacturer. One of the most important successes achieved by Demas Barnes was by forming a partnership with Patrick Henry Drake in 1860, and trading as P. H. Drake & Company. Most of us are familiar with the figural cabin, Drake's Plantation Bitters. He was also representing popular brands such as Guysott's Yellow Dock & Sarsaparilla, Hagan's Magnolia Balm, Heimstreet's Hair Restorative, Lyon's Kathairon Plasters, Mexican Mustang Liniment, and Wynkoop's Pectoral to name a few. All great bottles we collect. Listings for "Hagan's or Heimstreet's Hair Dye." occurred all the way up to 1898 in the National Druggist.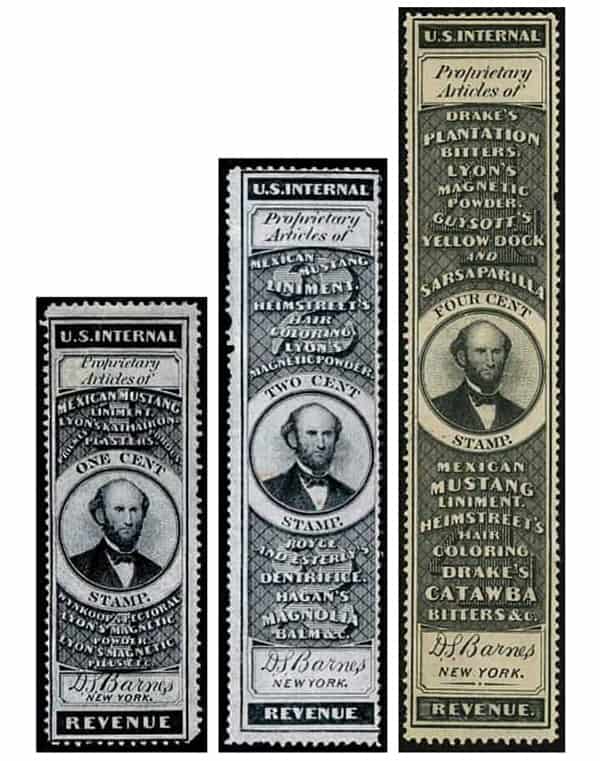 When we look past Hagan's chemistry and proprietary medicine years, we see that William Elijah Hagan, in 1859, was one of a committee that designed the first successful steam fire engine in the United States, the Arba Read. In 1865, he opened an office in New York and acted largely as an expert in mechanics and chemistry as applied to the arts.
Read: Demas S. Barnes – Medicine Man to Politician
Having devoted much study to the subject of handwriting, W. E. Hagan's opinion as an expert was often called for in court in many important cases of the kind throughout the United States. He wrote many papers on scientific subjects and was the author of the well-known book, "A Treatise on Disputed Handwriting," published in 1894. Hagan was also a member of several social organizations and was formerly a member of the Troy Citizens' Corps. He was also a well-known patent lawyer, having extensive practice in all parts of the country.
When W. E. Hagan died on August 29, 1902, there were obituary notices placed in newspapers across the country. Most would say something to the effect, "William E. Hagan, one of the most noted experts in handwriting in this country, died this morning at his residence in this city. Mr. Hagan was a native of Troy, where he was born on Nov. 24, 1826. Early in life he went to New York, and studied chemistry and medicine."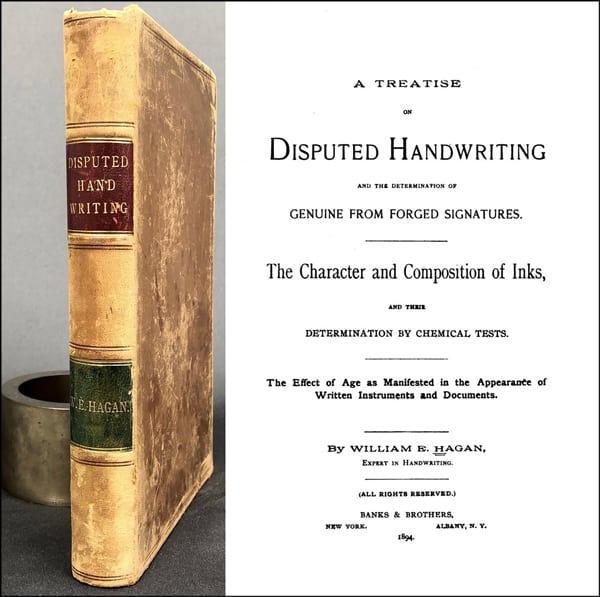 Primary Image: W. E. Hagan Troy N.Y. bottle imaged on location by Alan DeMaison, FOHBC Virtual Museum Midwest Studio
Support Image: Auction Lot 129: "W.E. Hagan & Co. / Troy, N.Y." Medicine Bottle, America, 1860-1880. Octagonal, light to medium sapphire blue, applied square collared mouth – smooth base, ht. 6-½ inches; (1/8 inch flake and 1/8 inch open bubble on edge of panel). AAM pg. 208 Bold embossing, beautiful color and eye appealing form. Generally fine condition. Charles and Joy Flint collection. – Norman Heckler Jr. & Sr., – Norman C. Heckler & Company, Auction #158
Support Image: Auction Lot 128: "C. Heimstreet & Co, / Troy N.Y." Medicine Bottle, America, 1840-1860. Octagonal, medium cobalt blue, applied double collared mouth – pontil scar, ht. 7 1/8 inches; (minor loss and wear to label). AAM pg. 229 Original label reads in part "Inimitable / Hair / Coloring / Prepared by / W.E. Hagan, / Sole Proprietor". Rare with label. Fine condition. Ex Samuel J. Greer collection #88, Dr. Charles and Jane Aprill collection. – Norman C. Heckler & Company, Auction #172
Support Image: A Treatise On Disputed Handwriting And The Determination Of Genuine From Forged Signatures; The Character And Composition Of Inks, And Their Determination By Chemical Tests by William E. Hagan, NY, Banks & Brothers, 1894.
Support: Reference to the websites RicksBottleRoom.com, Rich DeMarsh, and Hair Raising Stories by Don Fadely.
Join the FOHBC: The Virtual Museum is a project of the Federation of Historical Bottle Collectors (FOHBC). To become a member.