Liddle & Kaeding Agents
Liddle & Kaeding Agents

Robert Liddle and Charles van Buren Kaeding
San Francisco, California
Deep Aquamarine Target Ball
Provenance: Ex: Ralph Finch Collection, American Glass Gallery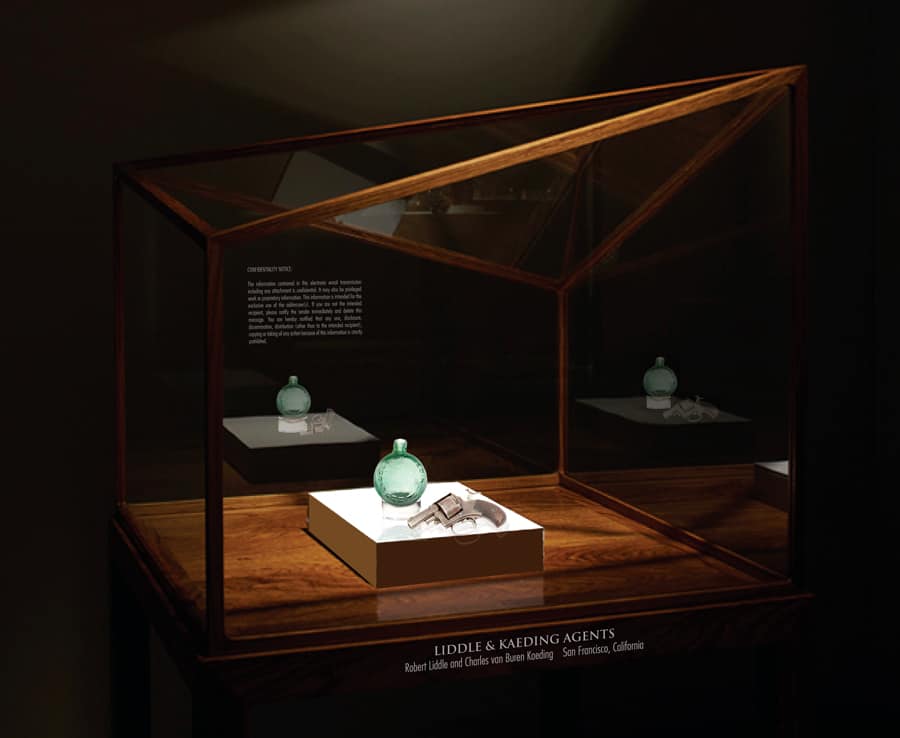 Our 2 ¾" diameter, deep aquamarine target ball was probably blown at the San Francisco and Pacific Glass Works sometime between 1878 and 1889. It is heavily embossed LIDDLE & KAEDING AGENTS in a circle and was made in a 2-piece mold. The target ball has a rough sheared mouth, has considerable whittle, and is rated extremely rare. It is one of only two known in this mold and color. In 2003, an amber example sold for ten thousand dollars. It was one of two dug in Sacramento, California.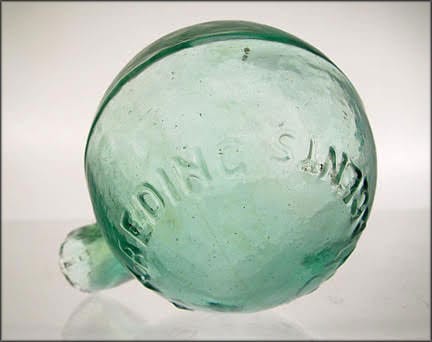 Robert Liddle and Charles van Buren Kaeding bought the Bogart Brothers Sportsmen's Emporium in San Francisco in 1859. The new company was called R. Liddle & Co.
When Kaeding became an active partner in 1866, the company name was changed to Liddle & Kaeding. They also kept the Sportsmen's Emporium name. In the mid-1870s, they were the largest firearms dealer in San Francisco. They made their own guns, bullet molds, and sporting equipment, were dealers for most of their well-known competitors, and repaired just about anything in the firearms line. They employed a number of gunsmiths, among them Robert Liddle, himself, and his son James Henry Liddle, Gustave Adolf Robertson, William H. Soper, Theophilus Knoderer, and Henry A. Wilson.
In 1889, Kaeding left the company and the name changed back to Liddle & Co. It was now Robert Liddle working with both his sons, George and Robert H. Liddle. The father retired in 1895 and Robert H. Liddle became the administrator of the company until its closure in 1898.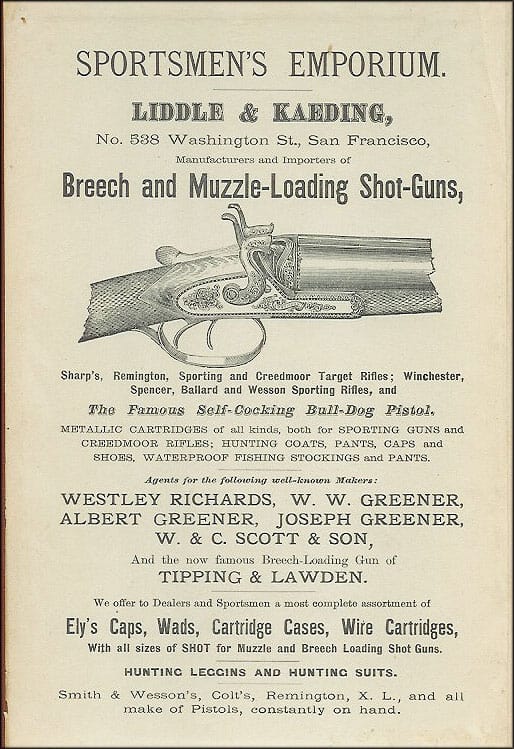 The Liddle & Kaeding Agents target ball made it into the Top 70 Best of the West list unveiled at the FOHBC 2016 Sacramento National Antique Bottle Convention & Expo. You can read the program and see list here.
Primary Image: Liddle & Kaeding target ball imaged on location by Alan DeMaison, FOHBC Virtual Museum Midwest Studio
Support: Auction Lot 775: "LIDDLE & KAEDING / AGENTS" Target Ball, possibly San Francisco & Pacific Glass Works, 1878 – 1889. Deep aquamarine, heavily embossed in a circle, 2-piece mold, rough sheared mouth, dia. 2 ¾"; (just a minor trace of very faint milkiness, otherwise perfect). Whittled and extremely rare, one of only two known in this mold and color. L&K were gun dealers in San Francisco in 1878 – 1889. In 2003, an amber example sold for $10K, one of two dug in Sacramento, 8' down in a privy. Est.: $5,000 – $8,000 • Min. bid: $2,500 – The Ralph Finch Collection of Target Balls, Traps and Shooting Ephemera, An Absentee Auction in Six Parts – 2017-2019, John Pastor and American Glass Gallery
Support image: Liddle & Kaeding – San Francisco marked Webley Bull Dog – College Hill Arsenal
Join the FOHBC: The Virtual Museum is a project of the Federation of Historical Bottle Collectors (FOHBC). To become a member.