H. & J. Alwes Mineral Water
H. &. J. Alwes Mineral Water
Cincinnati. O
A
This Bottle Is Never Sold
Henry and John Alwes, Cincinnati, Ohio
Medium Blue-Green Aquamarine Soda
Provenance: Doug Shutler Collection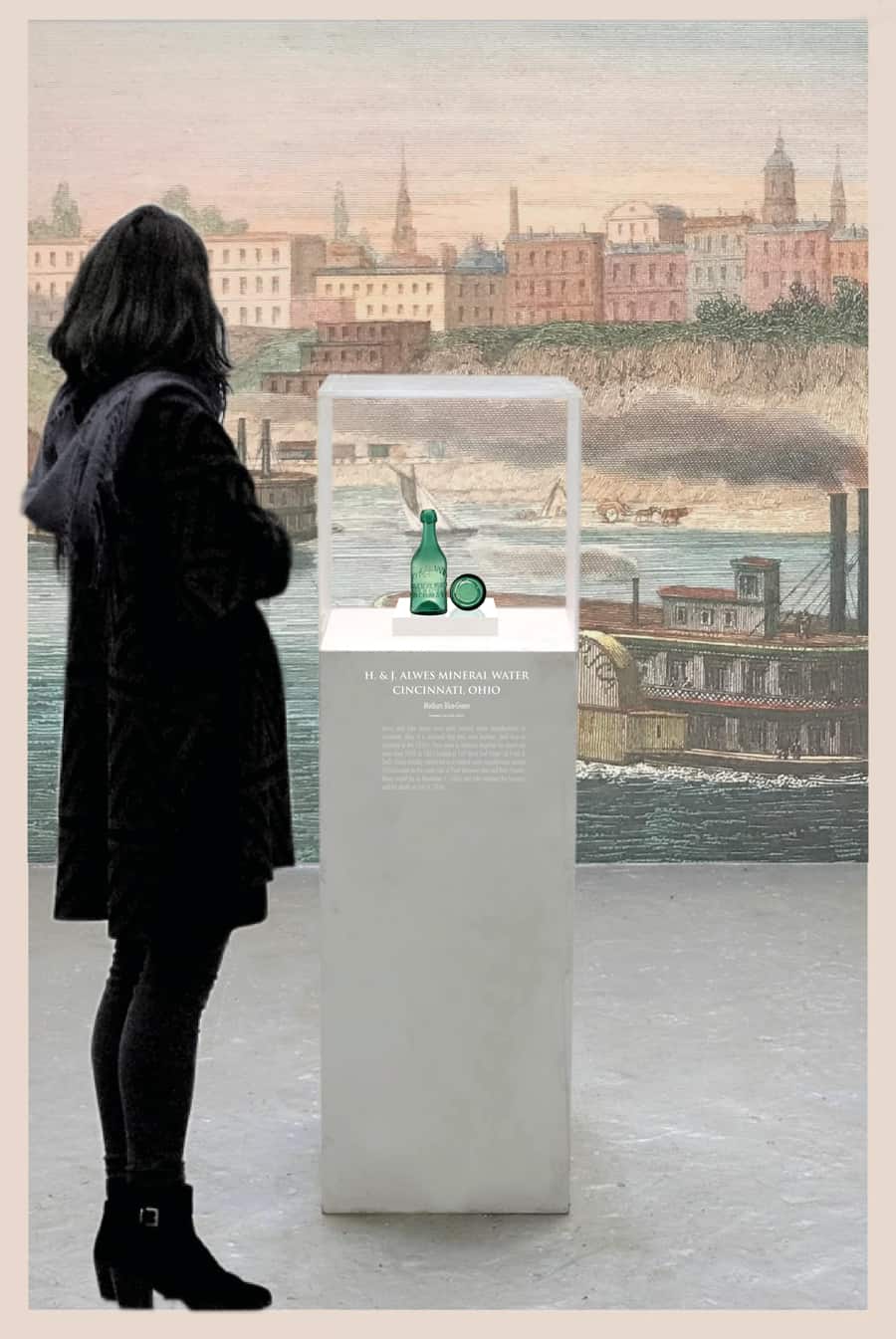 Henry and John Alwes were early mineral water manufacturers in Cincinnati, Ohio. We assume that they were brothers, both born in Germany in the 1820s. They were in business together for about ten years, from 1855 to 1865, located at 127 West 2nd Street (at Front & 2nd). Henry started as a mineral water manufacturer around 1850, located on the south side of Pearl between Vine and Race Streets. Henry would die on November 7, 1866, and John retained the business until his death on July 8, 1868.
In 1851, the mineral water business was very competitive in Cincinnati, as the city was host to eight mineral water factories with 64 employees who produced over $100,000 in annual output.
The difference between "soda water" and "mineral water" during the 19th century was often vague. Soda water was generally considered flavored artificial mineral water with the purposeful addition of carbonation and various compounds and flavoring. Mineral or spring water, as it is also called, would generally be natural waters from spring sources that were typically highly mineralized with carbonates like alkaline, sulfurous compounds, and or various salts, which often carbonated naturally. The confusion sometimes arises when mineral water was used as a generic term applied to various natural and artificially carbonated, non-artificially flavored waters, including many used for their perceived medicinal qualities. Please visit the museum Spring & Mineral Water Gallery.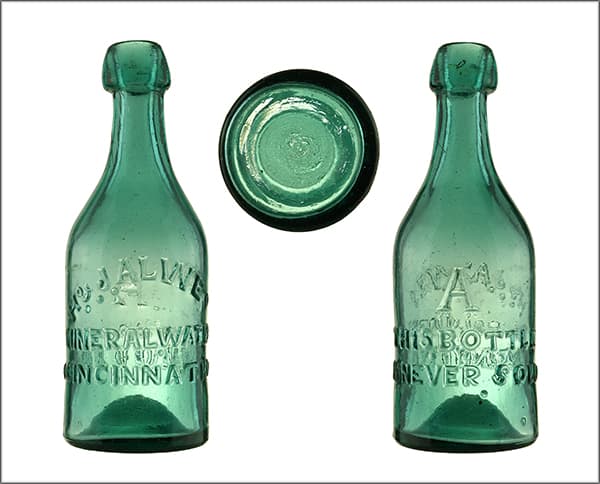 Our cylindrical 7 ½" tall bottle was made in a two-leaf mold, has a blob-top applied mouth, and an improved pontil. The face of the medium blue-green aqua bottle has embossed copy in an arc that reads, 'H. &. W. ALWES' with three embossed oversized and exaggerated periods. The second straight line copy is embossed 'MINERAL WATER' over a third straight line embossed 'CINCINNATI. O'.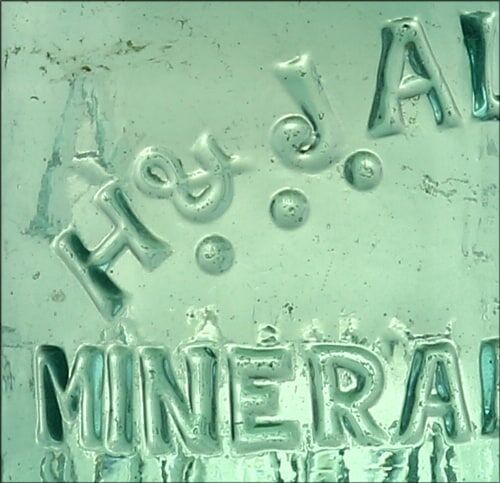 The reverse of the bottle has a 3/4″ tall embossed serifed 'A' for the last name Alwes. Beneath this character, in two lines, is the embossed copy, 'THIS BOTTLE IS NEVER SOLD.' Many soda water bottles had extensive base and side wear as soda water bottles were the property of the soda bottler and were sometimes marked like our example, "This Bottle is Never Sold" or similar embossing to that effect.
Primary Image: H. &. J. Alwes Mineral Water bottle imaged on location by Alan DeMaison, FOHBC Virtual Museum Midwest Studio
Support Image: A second example of an H. &. J. Alwes Mineral Water bottle in medium blue aqua glass. – Jim Hagenbuch, Glass Works Auctions
Support Image: 1850 Cincinnati Riverfront Engraving, Cincinnati landing on the Ohio River c. 1850. Original steel engraving was drawn by K. Fichot and engraved by Ch. Colin and most likely was created for a French publication with illustrations depicting the Americas. Modern-day hand-coloring has been added to this nearly 170-year-old print, which significantly enhances its allure.
Support: Reference to The American Pontiled Soda Database Project, Tod von Mechow
Support: Reference to PDF Cincinnati a Theory by Mark C. Wiseman. March-April 2015, Bottles and Extras.
Support: Reference to Soda & Beer Bottles of North America, Tod von Mechow
Join the FOHBC: The Virtual Museum is a project of the Federation of Historical Bottle Collectors (FOHBC). To become a member.