The '49er – Chenoweth & Tobin
Chenoweth & Tobin
The '49 er
25 Fifth St. S.F.

Edward D. Chenoweth and David J. Tobin
San Francisco, California
Amber Fifth
Provenance: Ken Schwartz Collection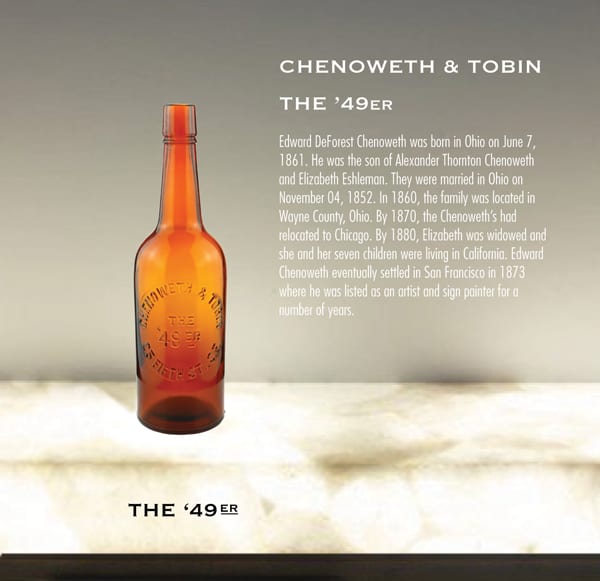 The '49er is a rather late, tool top amber liquor bottle circa 1910. We have not seen this bottle before indicating that it is pretty rare. Three examples have been reported in collections.
Edward DeForest Chenoweth was born in Ohio on June 7, 1861. He was the son of Alexander Thornton Chenoweth and Elizabeth Eshleman. They were married in Ohio on November 04, 1852. In 1860, the family was located in Wayne County, Ohio. By 1870, the Chenoweth's had relocated to Chicago. By 1880, Elizabeth was widowed and she and her seven children were living in California. Edward Chenoweth eventually settled in San Francisco in 1873 where he was listed as an artist and sign painter for a number of years.
Chenoweth shifted to bartending next. First at the Hoffman Café in 1897 and 1898, then at the famous Lick House from 1899 to 1905 or so. From 1907 to 1909 he was listed with "Liquor" next to his name in the San Francisco Directory.
In 1910, Chenoweth went into business and opened a saloon with David J. Tobin who was born in California around 1862. That year an "Application for a Retail Liquor License and Permit to Sell Liquor at Retail" was heard by the Board of Police Commissioners on January 13, 7:30 p.m. The following applications were heard, "Saloons – Manuel Cohas, 428 Broadway; Chenoweth & Tobin, 25 Fifth street; John P. and Stephen F. Cannon, 134 Seventh street; Patrick McKeon, northwest corner Twenty-first and Alabama streets; Samuel Rosenberg, 371 Sixth street, between Folsom and Harrison streets; P. Roberts, to remove from 1203 to 1265 Stockton street."
Chenoweth and Tobin were in the business together for around two years at 25 Fifth Street in the Lincoln Building. This short partnership supports the scarcity of this bottle. Chenowith died in San Francisco on August 2, 1923.
Support Image: Chenoweth & Tobin "The 49er" Amber Whiskey Glass Flask. San Francisco. No chips or cracks. 8 inches tall. – Showtime Auction Services