Barton & Son's Unembossed 'Sanded' Target Ball
Barton & Son's
Unembossed 'Sanded' Target Ball

E. Barton & Son's, Stourbridge, England

Mottled Light Blue and Turquoise
Provenance: Ex: Ralph Finch Collection, American Glass Gallery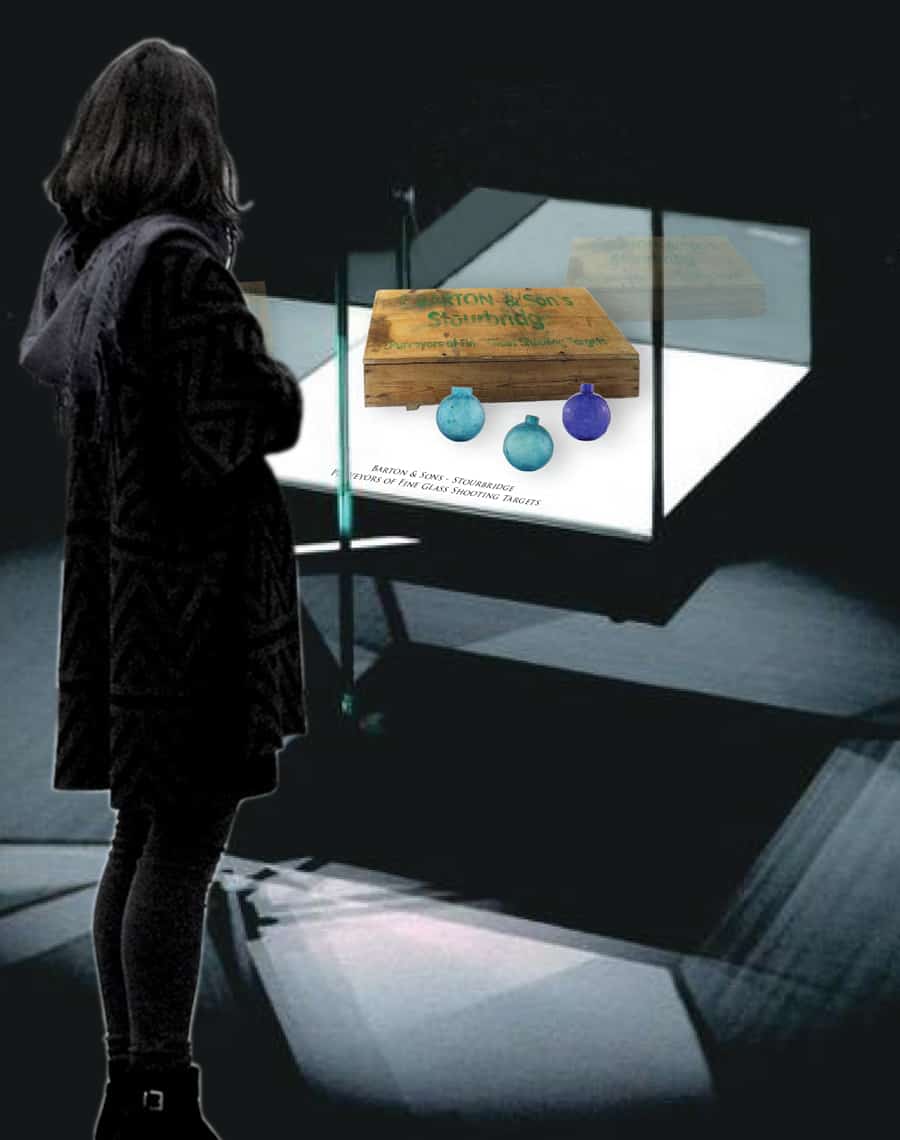 This interesting specimen is the second of three examples in our museum of the previously unknown Barton & Son's unembossed "Sanded" target ball from England. Quite a few of these target balls were found in a wooden box in an old storage building under renovation in England in 2005. No other examples have shown up to date.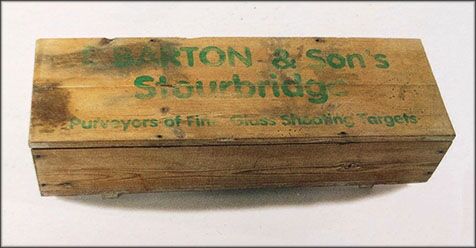 This 2-5/8″ diameter glass ball is in an interesting mottled light blue and turquoise coloration with specks of green scattered throughout. It has a rough sanded finish and was made in a 2-piece mold with a wide neck with a sheared and factory ground mouth. The ball is in perfect condition.
See a second museum example of a Barton & Son's Unembossed Cobalt Blue Target Ball. Our third light blue museum example is pictured below. You can see it rotating here.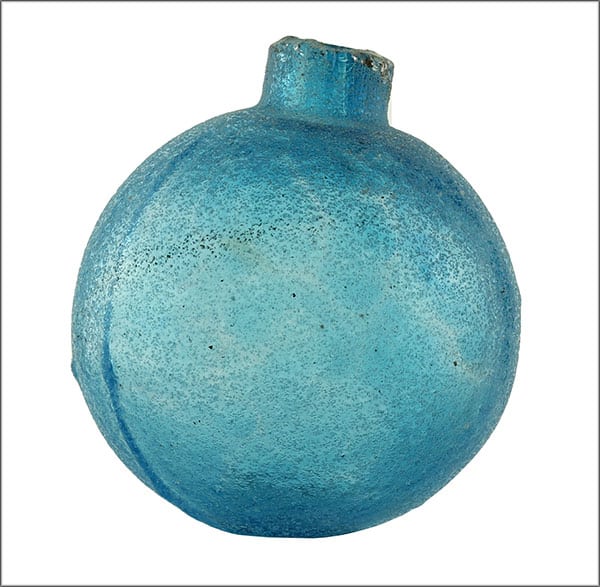 Mike O'Malley reported on this find and the four variants in an article in the September October 2008 issue of the FOHBC Bottles and Extras magazine. [click to read]
Primary Image: Barton & Sons Unembossed Sanded target balls imaged on location by the FOHBC Virtual Museum midwest studio led by Alan DeMaison.
Support: Reference to Barton Balls Exciting Find of Rare Target Balls by Mike O'Malley
Support: Reference to What are target balls? I'm glad you asked! by Ralph Finch
Support Image: Auction Lot 574: Unembossed (Barton & Son's) 'Sanded' Target Ball, England, 1875 – 1900. Light blue with splotches of deeper turquoise color, rough sanded finish, 2-piece mold, sheared and fac-tory ground mouth, dia. 2 5/8", perfect. In 2005, a few of these very scarce balls were found in their original wooden shipping crate marked, Barton & Son's / Stourbridge / Purveyors of Fine Glass Shooting Targets, (see Lot #804). A most unusual ball. – American Glass Gallery, The Ralph Finch Collection of Target Balls, Traps and Shooting Ephemera, An Absentee Auction in Six Parts – 2017-2019
Support Image: Auction Lot 699: Unembossed (Barton & Son's) Cobalt Mottled Target Ball, England, 1875 – 1900. Vivid cobalt blue, short neck with ground mouth, dia. 2 ¾", perfect. A small group of these extremely rare, previously unknown, 'Barton Balls' were discovered in 2005, in an old storage building under renovation. The building was on the shooting grounds of a well-known English family. A great deal of workmanship went into blow-ing these extraordinary target balls, considered by many to be among the most beautiful. – American Glass Gallery, The Ralph Finch Collection of Target Balls, Traps and Shooting Ephemera, An Absentee Auction in Six Parts – 2017-2019
Support Image: Auction Lot 700: Unembossed (Barton & Son's) 'Sanded' Target Ball, England, 1875 – 1900. Mottled light blue and turquoise coloration with specks of green scattered through-out, rough sanded finish, 2-piece mold, wide neck with sheared and factory ground mouth, dia. 2 5/8", perfect. These interesting, and most unusual, wide-neck Barton Balls were found neatly packed in their original shipping crate (see Lot 806). Extremely rare with no other examples being found to date! – American Glass Gallery, The Ralph Finch Collection of Target Balls, Traps and Shooting Ephemera, An Absentee Auction in Six Parts – 2017-2019
Support: Reference to American Glass Gallery, The Ralph Finch Collection of Target Balls, Traps and Shooting Ephemera, An Absentee Auction in Six Parts – 2017-2019