Emerald Club Pure Rye Whiskey H. Obernauer & Co Pittsburg, Pa
(Three-Leaf Clover)
Emerald Club Pure Rye Whiskey
H. Obernauer & Co. Pittsburg, Pa
Herman Obernauer, Pittsburgh, Pennsylvania
Aquamarine Back-Bar Bottle
Provenance: Chip Cable Collection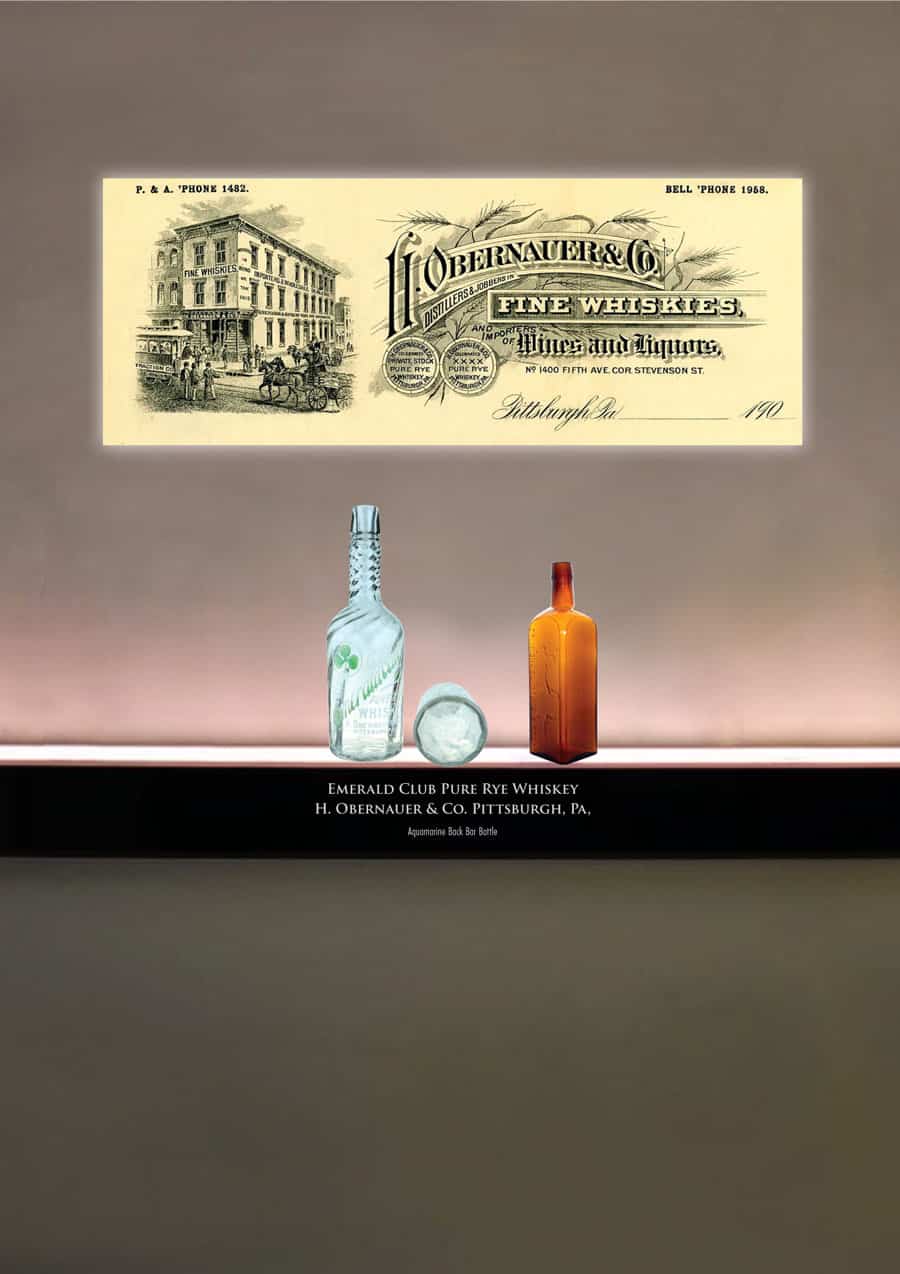 Herman Obernauer was born in the Kingdom of Württemberg, in southern Germany, in 1856. He spent his late teens and early twenties traveling throughout Europe as a salesman. He also served for a period in the Prussian army. Obernauer emmigrated to the United States in 1880 and settled in Pittsburgh, Pennsylvania. Being Jewish, he was likely escaping discriminatory laws, political strife, and worsening economic conditions in Germany. Young America had much to promise this young 24-year-old.
After working as a bookkeeper and assembling some money, Obernauer opened a saloon in 1884 at 395 5th Ave. in Pittsburgh. Obernauer sold liquor at retail prices but soon decided it was more profitable and less trouble to become a liquor wholesaler. By 1886 he had switched to H. Obernauer & Co., at the same address where he would remain until 1890. He was selling fine whiskies, wines, and liquors. While some advertising claimed Obernauer was a "distiller," he was a "rectifier," someone buying whiskeys from distilleries and blending them to achieve desired color, smoothness, and flavor.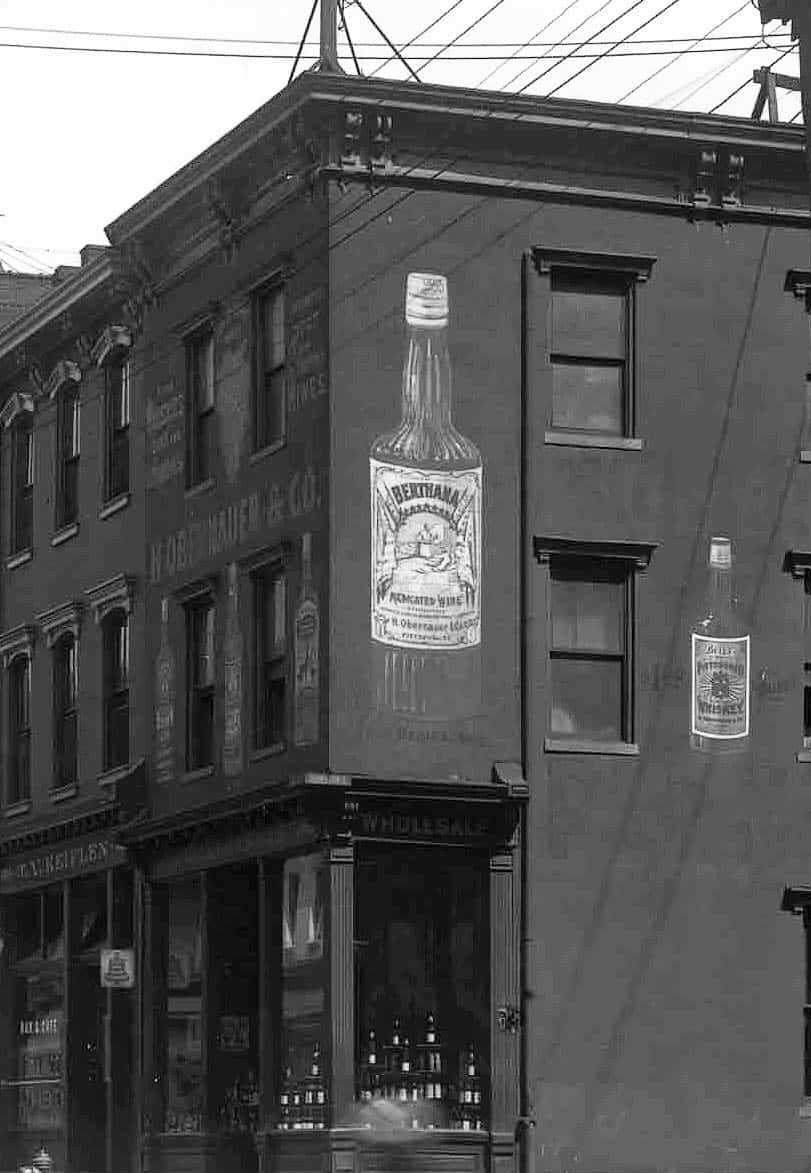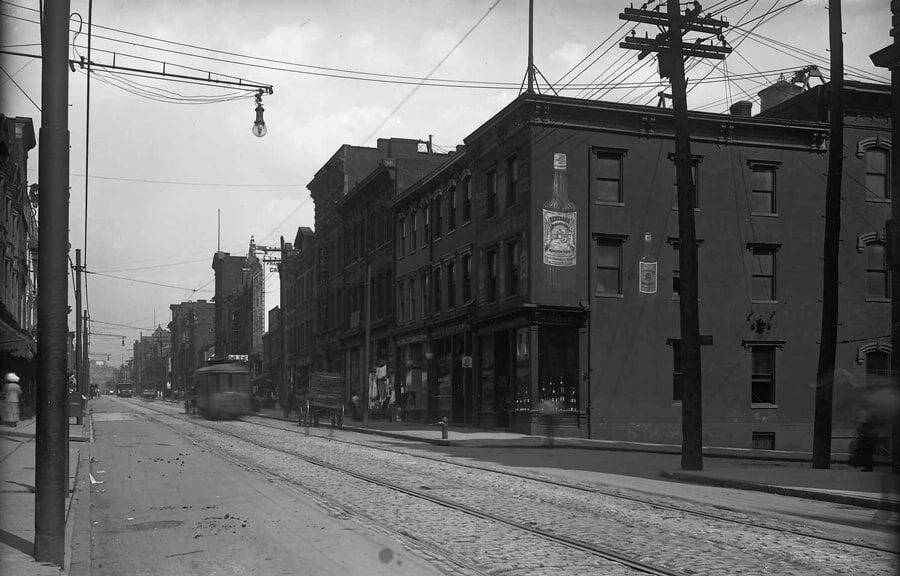 Herman Obernauer married Bertha Dinch, the daughter of Frederick and Martha Dinch of old Allegheny City. They had three children, Olga, Harold and Arthur. Obernauer's business grew, and he was well-liked by the local community of German Jews. In 1892, H. Obernauer & Co. moved to 400 Fifth Ave. and then again to 1400 Fifth Ave. at the corner of Stevenson Street. This corner building image is illustrated on his letterhead, which can be compared to a photograph of the same corner. He painted the front and side of the building with advertisements of his best-selling spirits.
Among his brands, Obernauer featured "Belle of Pittsburgh Rye," "Obernauer XXX 1885 Whiskey," and "H. E. Brown Gin." He also offered proprietary "Berthana Medicated Wine" and "Dr. Michael Cox Bitters," both advertised to have beneficial health effects. Like most liquor wholesalers, he provided advertising items to the saloons, hotels, and restaurants offering his products. Those giveaways included artistically etched shot glasses, corkscrews, and back-of-the-bar bottles like our Emerald Club Rye Whiskey, the feature Obernauer example in the museum.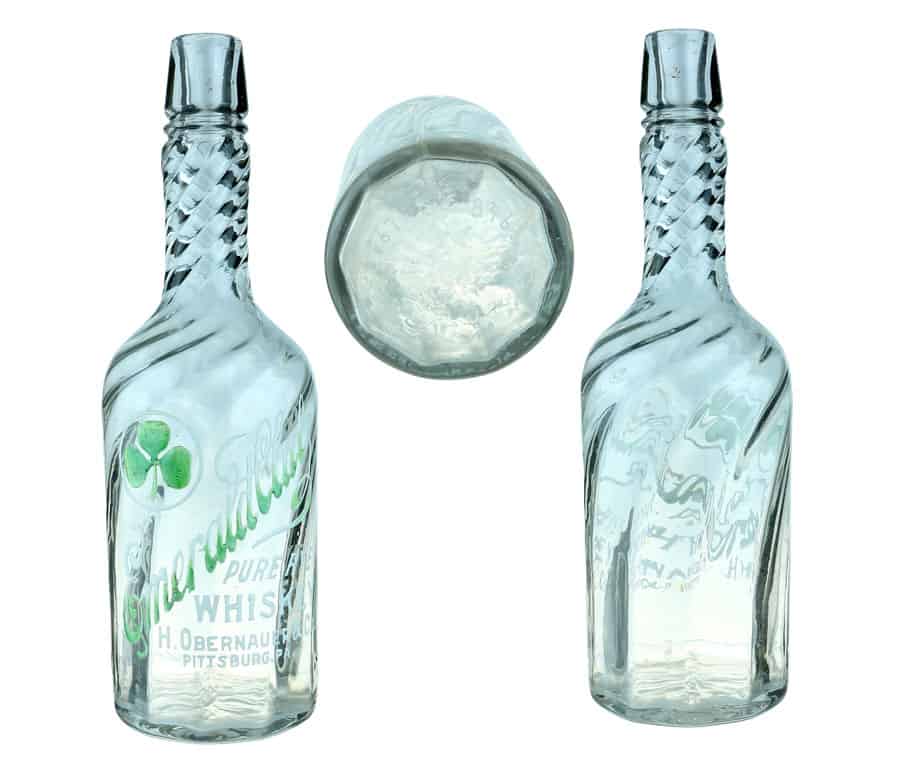 The rare back cylindrical bar bottle was presumably made at a local Pittsburgh glasshouse. The body is swirled, starting vertically from a faceted segmented base and wrapping upwards diagonally around the shoulder and neck to create an extraordinary effect. The bottle has a tapered mouth and ring and a smooth base. The bottle graphics are etched and paint-infilled with a green three-leaf clover set inside a circle. "Emerald Club" in script crosses the entire face of the bottle from lower left to upper right. Beneath this is etched and paint-assisted copy that reads "PURE RYE WHISKEY" and "H. OBERNAUER & CO. PITTSBURGH, PA." The bottle is in immaculate condition and was found on eBay, according to the consignor. H. Obernauer would file and achieve a patent on his whiskey, words and typography "Emerald Club" in script on September 14, 1905.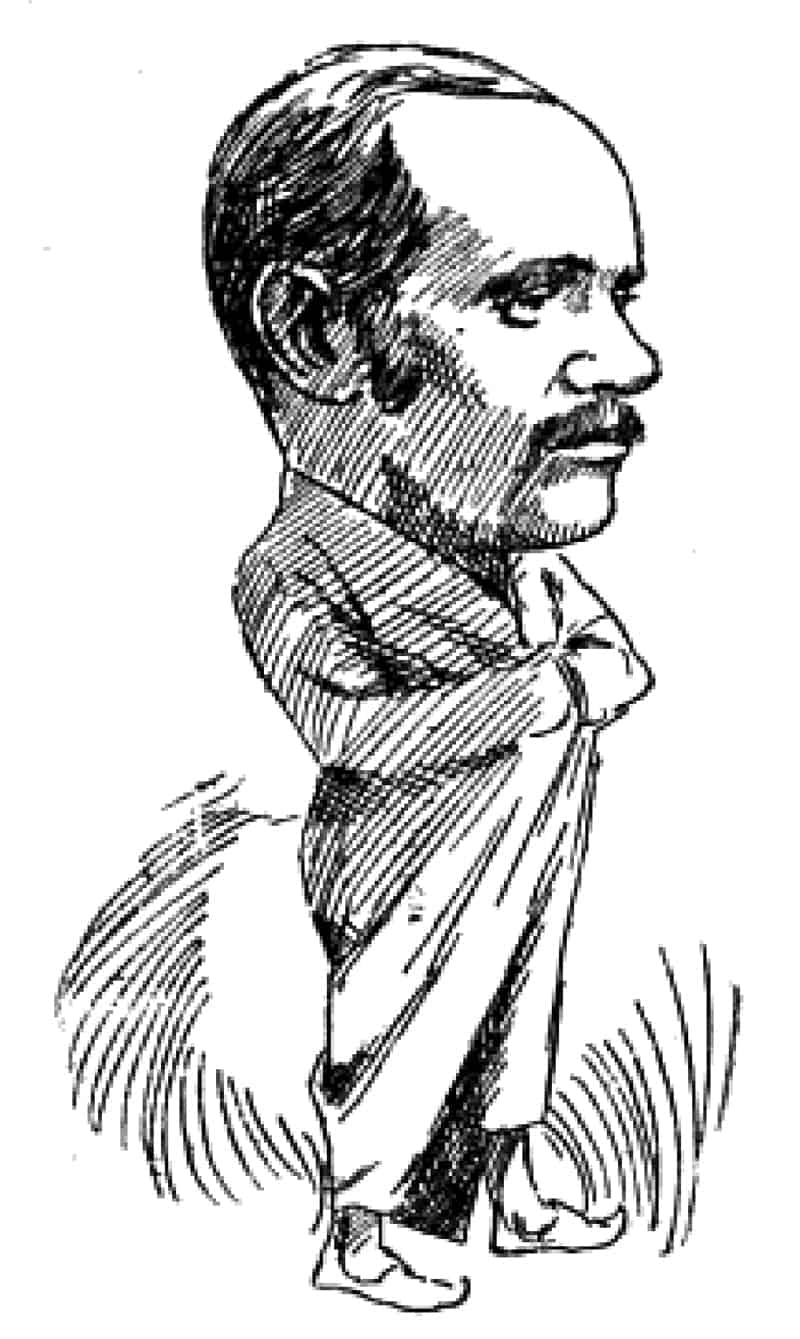 Obernauer was an active member of the local Democratic Party and served as an elector in four presidential elections. Caricatured in a book of prominent Pittsburgh citizens, this whiskey man was recognized by residents of his adopted city for his frequent invocation: "My word is as good as my bond." Read an interesting 1916 newspaper post with a picture of Herman Obernauer being pushed in a wheelbarrow after winning a Wilson political election bet.
Obernauer sold his business in 1915—several years before the enactment of Prohibition. By then, Obernauer had become a Merchant's Savings and Trust Company director, a bank located down the street from his store. That association led him into the real estate business. It would be Herman's occupation for the rest of his life. Obernauer also patented a "foldable structure that can be advantageously used by campers, tourists and others as stool, table or other support." Herman Obernauer would die in 1947.
Primary Image: Emerald Club Pure Rye Whiskey H. Obernauer & Co., Pittsburgh, Pa." back bar bottle imaged on location by Alan DeMaison, FOHBC Virtual Museum Midwest Studio.
Support Image: "DR. MICHAEL COX'S BITTERS" / (Motif of Three Gamecock Birds) – "H. OBERNAUER & CO. PITTSBURG" (on base), golden amber, square with beveled corners, tooled sloping collar – smooth base, ht. 10 1/8″ – Ferdinand Meyer V collection.
Support: Reference to Dr. Michael Cox's Bitters – Pittsburgh, PeachridgeGlass.com, Ferdinand Meyer V, September 23, 2018.
Support: Reference to Obernauer's Mantra: "My Word is as Good as my Bond", Those Pre-Pro Whiskey Men!, Jack Sullivan, May 25, 2021.
Support: Reference to The Obernauer Family – Rauh Jewish Archives
Join the FOHBC: The Virtual Museum is a project of the Federation of Historical Bottle Collectors (FOHBC). To become a member.