GXIII-45 • Sheaf Of Wheat – Star Pictorial Handled Calabash Flask
GXIII – 45
Sheaf Of Wheat – Star Pictorial
Handled Calabash Flask
Attributed to Sheets & Duffy, Upper Yard, Dyottville, Kensington, Philadelphia, Pennsylvania
Possibly Ravenna Glass Works, Ravenna, Ohio
Red Amber Quart
Provenance: Louis & John Fifer Collection, ex Darl Fifer Collection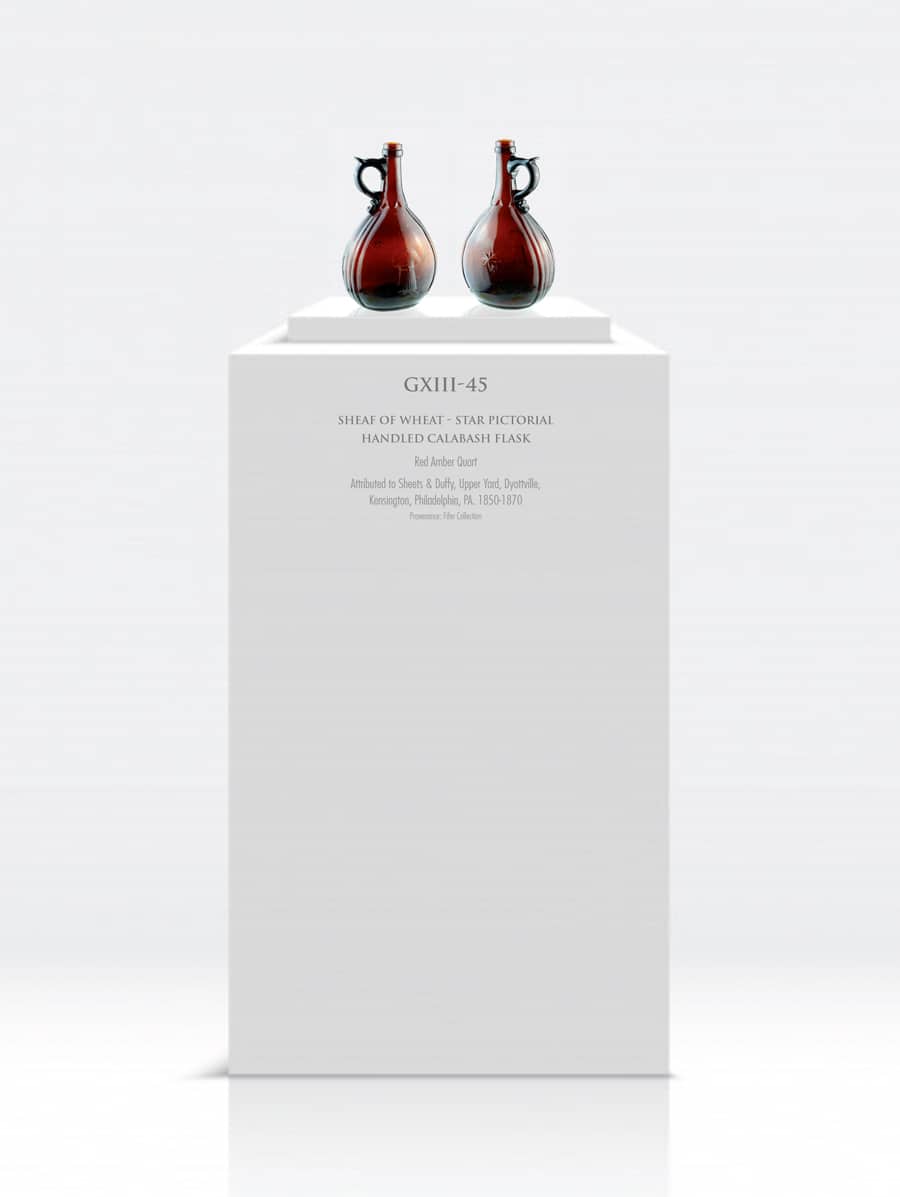 For many decades it was thought that Sheets and Duffy in Kensington, Philadelphia was attributed to the GXIII-45 Sheaf of Wheat – Star Pictorial Handled Calabash Flask. Van Rensselaer first brought forth this possibility, partially because the GXIII-41 Sheaf of Wheat – Star is also embossed "Sheets & Duffy." Daniel Sheets and Hugh Duffy were experienced glass men who formerly were employed by Dr. Dyott. The duo opened the Kensington Vial and Bottle Works in 1845 at what may have been the location of one of Dyott's former plants. The factory made all kinds of bottles, vials, demijohns, and carboys.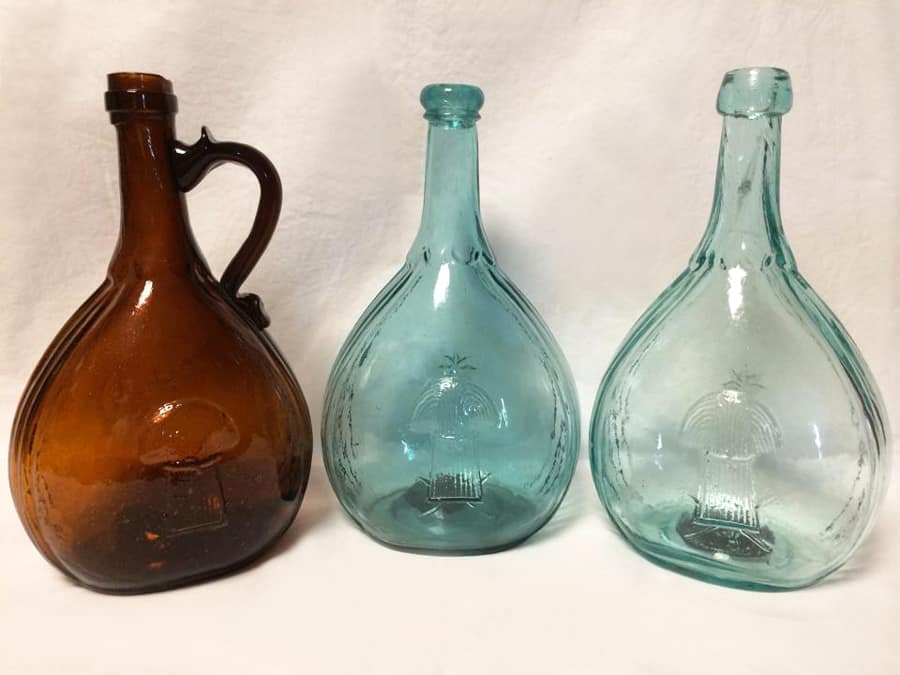 Present-day thinking by Louis Fifer, John Fifer, and other early Ohio glass authorities suggest the flask was blown at Ravenna Glass Works, in Ravenna, Ohio from 1857 to 1864 based on glass shards found by Louis Fifer at the historic factory site.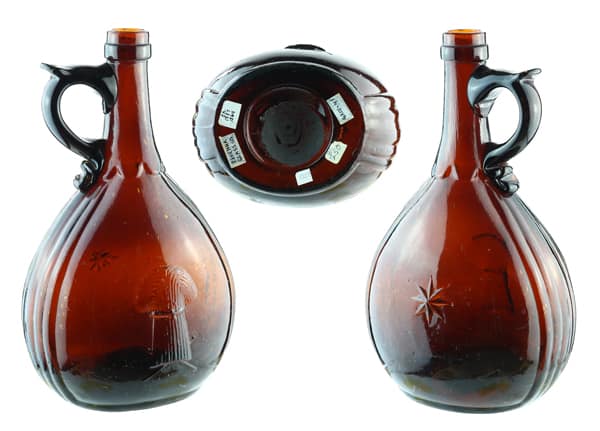 Our museum example of a red-amber quart GXIII-45 Sheaf of Wheat – Star Pictorial Handled Calabash Flask has an iron pontil and an applied mouth with a ring. The calabash form flask is unusual as it has an applied handle. On the obverse side of the flask is an embossed pictorial of a tall sheaf of grain in high relief. The wheat stalks are tied above the center with a deep umbrellalike formation above the binding. There is a rake and pitchfork crossing behind the sheaf. The two-tined fork is positioned right to left and the rake left to right. The reverse has an embossed small 8-pointed star pictorial. The handle is semi-ear-shaped with a crimped end, a loop with a top thumbpiece. The neck has draping when it meets the shoulder. There are six broad verticle ribs. The center rib tending to blend at the mold seam. The flask can be found in shades of amber.
Primary Image: The red-amber GXIII-45 Sheaf of Wheat – Star Pictorial Handled Calabash Flask imaged on location by the FOHBC Virtual Museum midwest studio led by Alan DeMaison.
Support: Reference to American Bottles and Flasks and Their Ancestry by Helen McKearin and Kenneth M. Wilson, Crown Publishers Inc., New York, 1978.
Support: Reference to Other S Marks, Sheets & Duffy by Bill Lockhart, Beau Schriever, Bill Lindsey, and Carol Serr
Support Image: Auction Lot 171: Sheaf Of Wheat – Star Pictorial Handled Calabash Flask, possibly Sheets and Duffy Manufacturers, Philadelphia, Pennsylvania, 1845-1860. Orange amber, applied mouth with ring – iron pontil mark, quart. – Jim Hagenbuch, Glass Works Auctions | Auction #143
Support Image: Auction Lot 18: Sheaf Of Wheat – Star Pictorial Handled Calabash Flask, possibly Sheets and Duffy Manufacturers, Philadelphia, Pennsylvania, 1845-1860. Medium amber, applied mouth with ring – iron pontil mark, quart; (light exterior high point wear). GXIII-45 Unusual with applied handle. Fine condition – Norman Heckler Jr. & Sr., Norman C. Heckler & Company
Support Image: Auction Lot #232: GXIII-45 SHEAF OF GRAIN – STAR PICTORIAL CALABASH FLASK, quart, applied handle with thumb rest, applied flat collar below the plain mouth, iron pontil mark. Lightly whittled surface. Medium to deep orange amber, attributed to Sheets & Duffy, Upper Yard, Dyottville, Kensington, Philadelphia, PA. 1850-1870. Handle lacking lower curl, otherwise undamaged with just a hint of wear, area of moderate cloudiness to the interior, 9″ H., Provenance: From the estate collection of Russell and Doris Evitt, Jackson, CA., McKearin/Wilson – American Bottles & Flasks, p. 663. – Jeffrey Evans, Jeffrey S. Evans & Assoc., February 28, 2020