Horn & Bro. Zanesville
Horn & Bro.
Zanesville
Adolph Horn & Leonard Horn, Zanesville, Ohio
Light Blue-Green Soda Water
Provenance: Doug Shutler Collection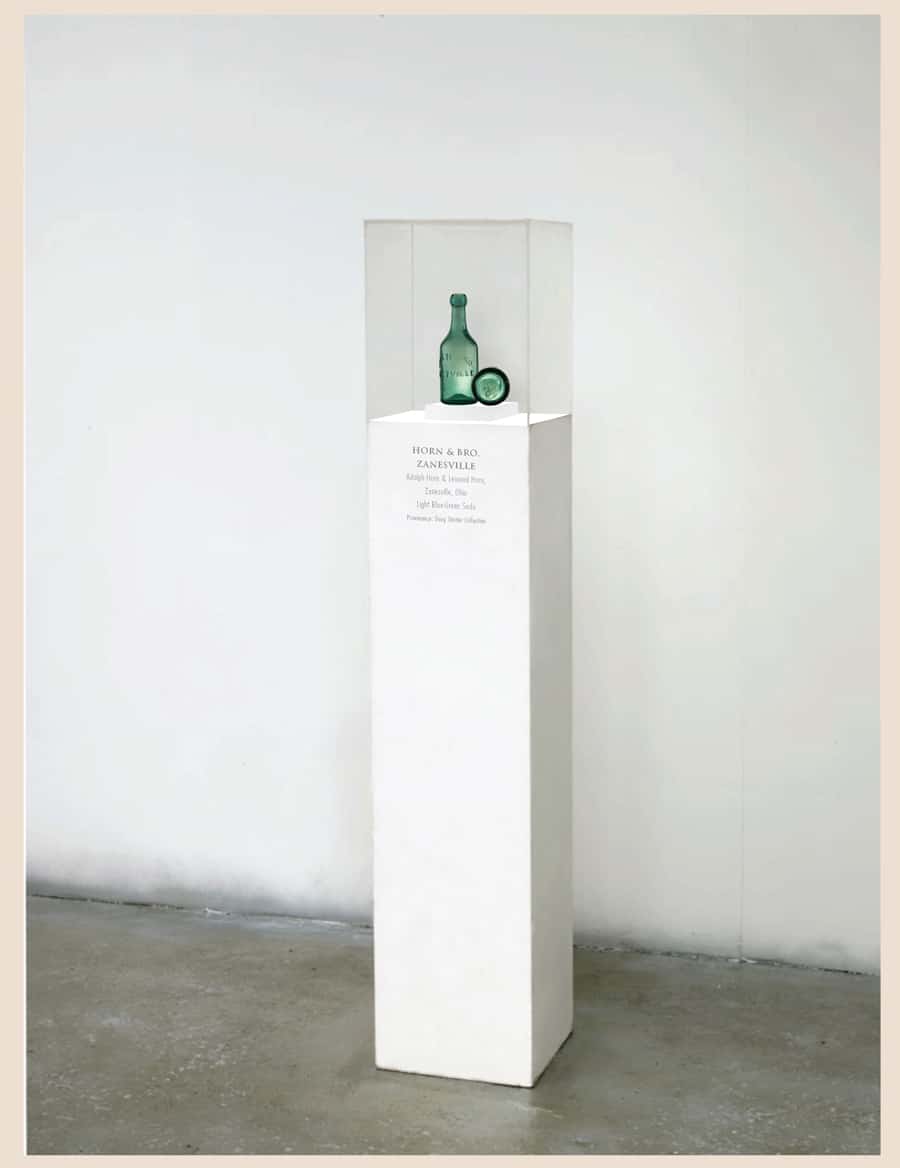 Our light blue-green soda water bottle is 7-½" tall, has an iron pontil and an applied round tapered mouth. Embossed on the face in an arch is 'HORN & BRO.' There is a dancing ampersand as it is askew and severely leaning left. Beneath this copy is embossed 'ZANESVILLE' in a horizontal straight line. The 'S' is askew and severely leaning right. The reverse of the bottle has no copy.
Adolph Horn was born in Felldorf, the kingdom of Württemberg, Germany on January 7th, 1828. His father was Raimund Horn (1789-1872) and his mother was Magdalena (Baur) Horn (1800-1848). Adolph came to the United States in March 1851 first settling in Wheeling, Virginia (now West Virginia) where he engaged in the grocery business. Four years later he moved to Zanesville, Ohio where he would spend the rest of his life. Zanesville was named after Ebenezer Zane (1747-1811), who had blazed Zane's Trace, a pioneer trail from Wheeling, Virginia to Maysville, Kentucky through present-day Ohio.
Adolph Horn would marry Mary Appley (1828-1891) in 1852 and they would have nine children, seven sons, and two daughters. This included Catherine (1853-), Raymond (1855-1895), John (1855-1895), Henry (1859-), Adolph (1861-1943), Edward C. (1863-1939), Lena (1865-), August (1867-), and Charles C. Horn (1873-1912).
Adolph first engaged in the manufacture of mineral water at his factory located on the Muskingum River canal. We can date our subject museum bottle to this period in the mid-1850s. Not too long after, Horn sold his business and engaged in the manufacture of malt liquors.
The first brewery in Zanesville was by a Philadelphian, whose name escapes documentation. The brewery, which was located on the northwest corner of South and Fifth Streets, was purchased by George Painter in 1807. Painter continued to brew there until 1811 when he sold the brewery to Jacob Young, who continued the business until 1815 when he abandoned the operation.
Sometime around November 17th, 1813, William Marshall opened a brewery in a frame building on the site occupied by the Muskingum Power House, No. 3. James Boyd was his brewer who made about thirty barrels per week. In 1815, Barton & McGowan bought the concern and turned it into a distillery. In 1816, Joseph Lattimore built a brewery on the site eventually occupied by Miller & Company, pork packers in later years. Caleb Johnson was the brewer. In 1829, Ballentine & Son bought the property and continued the business until 1835, when the concern was converted into a flour mill. In 1835, C. F. Hass built what was known as the American House Brewery, and operated it until 1841. At the death of Hass, around 1850, John Classman bought the property and continued the business for three years until he sold it to William Fox. In 1843, Christian F. Achauer built, near the head of Main street, a brewery that had a capacity of three thousand barrels per annum.
In 1854, Rev. George F. Goebel and Conrad Fischer built a small brewery on the northeast corner of Spring and High streets. They brewed about two hundred and fifty barrels annually. In 1856, Fischer withdrew and Goebel sold the property to Kirsner & Horn. This was Frank Kirsner and our subject, Adolph Horn, who continued the operation until 1865 when the property was sold to John A. Bremer & Co. Adolph Horn did register for the Civil War draft in 1863 where he listed his profession as a brewer.
In 1855, Edward Didas started a small brewery. In 1856, Conrad Fischer went into the business again. In 1874, the firm of Fischer Brothers made 2,373 barrels of beer. In 1860, Sebastian Bohn began brewing and in 1879 he sold 117 barrels of beer. In 1865, the partnership of Horn & Co., consisting of Adolph Horn, Frank Kirsner, Adolph, and Edward Merkle was formed. In 1869 the Merkle brothers bought out their partners and conducted business under the name of Merkle Brothers, and in 1876 they brewed 3,407 barrels of beer.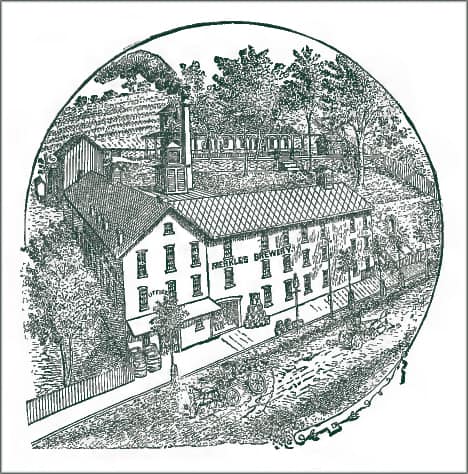 Adolph Horn sold all his interests in Zanesville brewing and started a saloon around 1870 that was alternatively called a restaurant and billiard hall. His sons Raymond and John would work with him. He retired sometime in 1878 turning the business over to his sons. In 1879, Adolph Horn went to Germany to see his father. Upon his return, he would retire to gardening as this was stated as his occupation in the 1880 United States Federal Census. He would die a respected man in Zanesville on August 22, 1888, after a two-week illness.
Primary Image: Horn & Bro. Zanesville bottle imaged by the FOHBC Virtual Museum midwest studio by Alan DeMaison.
Support: Reference to History of Muskingum County, Ohio: with illustrations and biographical sketches of prominent men and pioneers, J. F. Everhart, A. A. Graham, Dalcassian Publishing Company, January 1, 1882
Support: Reference to The American Pontiled Soda Database Project, Tod von Mechow
Support: Reference to Soda & Beer Bottles of North America, Tod von Mechow
Join the FOHBC: The Virtual Museum is a project of the Federation of Historical Bottle Collectors (FOHBC). To become a member.