Jewel Bitters
Jewel Bitters
A. Fortlouis & Co.
J 35

Albert Fortlouis, Tombstone, San Diego, San Jose, and Seattle
Amber Rectangle
Provenance: Steven Hubbell Collection
The extremely rare Jewel Bitters is an interesting bottle that has puzzled some collectors as the proprietor was an industrious man who had a lot of business dealings throughout the west. We do not know when Albert Fortlouis had his bitters bottles made or when and where did he sell his bitters? With the applied top, and where the bottle and fragments have been found, it appears that the bitters may have been first used in Tombstone, Arizona Territory if not San Diego, California. Why the confusion?
Interestingly enough, there is an extremely rare variant of the Jewel Bitters bottle (J 34) where John S. Bowman & Co. embossed copy is placed on the panel where the A. Fortlouis & Co. name occurs like our subject museum example. Bowman with a liquor merchant who operated out of San Francisco. We have an example of the John S. Bowman Jewel Old Bourbon in our Spirits Gallery.
Albert Fortlouis was born on October 18, 1849, in Mannheim, Germany, and would immigrate to America in 1872. In September 1876, we find Fortlouis posted at Fort Whipple which was a U.S. Army post serving Arizona Territory's capital prior to the founding of Prescott. The post was founded by Edward Banker Willis in December 1863. Arizona would not achieve its statehood until February 14, 1912, and was the last of the 48 contiguous United States to be admitted to the union.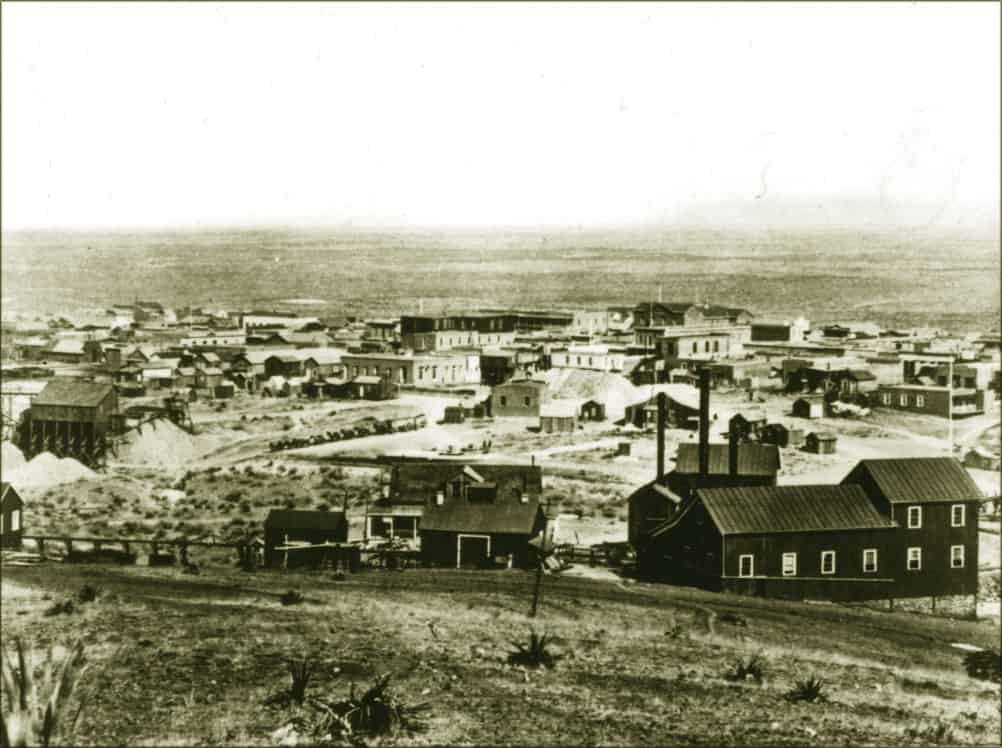 Albert Fortlouis would settle in Tombstone, A.T. from 1880 to early 1886 or so. Tombstone, located in Cochise County, was founded in 1877 by prospector Ed Schieffelin in what was then Pima County, Arizona Territory. It became one of the last boomtowns in the American frontier. The town grew significantly into the mid-1880s as the local mines produced $40 to $85 million in silver bullion, the largest productive silver district in Arizona. Its population grew from 100 to around 14,000 in less than seven years.
Albert Fortlouis was one of the pioneer businessmen of Tombstone as he catered to the needs of the miners, merchants, and settlers of this fast-growing town. We first see him in 1880 working under the banner of Levi & Fortlouis. In 1882, we see him as one of the directors of Emerald Mining Company. During this time, he was also dealing in liquor and cigars.
Albert Fortlouis would marry Alice Maude Marsh that same year on April 26, 1882, and they would live on a ranch in Cochise County. They would divorce on grounds of adultery two years later. He would quickly marry Carrie Heyman on November 11, 1884, in San Francisco and return home.
During this marriage trip or another trip to San Francisco may have been when Albert Fortlouis met up with John S. Bowman and had his bottles made. Bowman seemed to have a corner on the 'Jewel' name so Fortlouis becomes a partner, orders some bottles, and ships them to Tombstone. He would have had to incorporate his business as his bottles say A. Fortlouis & Co. The Tombstone ads just say A. Fortlouis which is puzzling.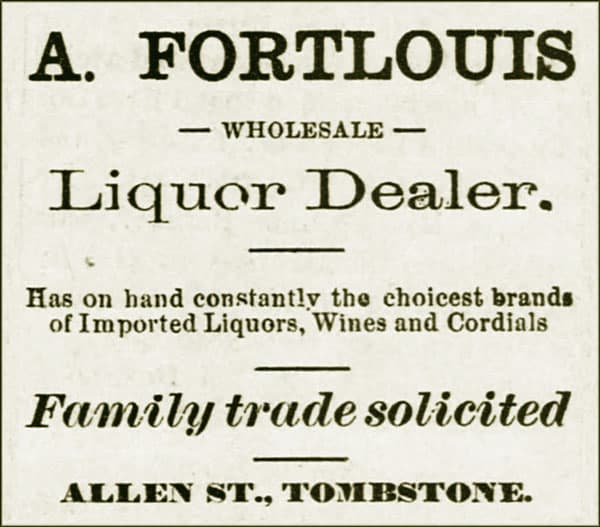 During this time in Tombstone, Albert Fortlouis owned the Elite saloon and possibly another similar establishment. His primary business was selling wholesale and retail imported and domestic liquors, wine, brandy, cordials, and cigars to local vendors and camps scattered around the territory and the Senora market. Fortlouis was set up on Allen Street doing business as the Cosmopolitan according to newspaper advertising and directory listings from 1881 to 1886.
For reasons unknown, Albert Fortlouis would pull up stakes and is found next in San Diego, California where he operated a saloon located at the McGurek Block in 1887. At this time he was Albert Fortlouis & Co. so this may have been the first use of the bottles.
He was in San Diego only two years before he sold out and moved to Seattle, Washington where he is listed as A. Fortlouis & Co., Wholesale Liquors and Cigars at 114 Main Street in 1889. It was a bad year because, on June 6, 1889, the Great Seattle Fire occurred. The conflagration lasted for less than a day, burning through the afternoon and into the night. Fortlouis suffered heavy losses but recovered. In 1892, he took on Meyer Levy as a partner and they were located at Commercial on the southwest corner of Washington. He could have brought some bottles along with him as at least three whole examples were dug near the old mining town of Lester, Washington.
From 1896 to 1898, Albert Fortlouis can be found at 72 E. Santa Clara in San Jose, California where he was president and manager of a wholesale liquor business. In 1898 he was back in Seattle where he was a travel agent boarding at the Occidental Hotel.
In 1906 and 1907, Fortlouis was president of A. Fortlouis & Co., where he was a wholesaler of cigars. He was living at the Summit Hotel where Carrie A. Fortlouis was the proprietor. He would also manage the Hotel Butler Annex. His daughter Louise was a stenographer at the Scandanavian American Bank at the Hotel Butler Annex. In all, Fortlouis spent 28 years in Seattle until his death on April 15, 1915.
The Carlyn Ring and W. C. Ham listing in Bitters Bottles is represented below.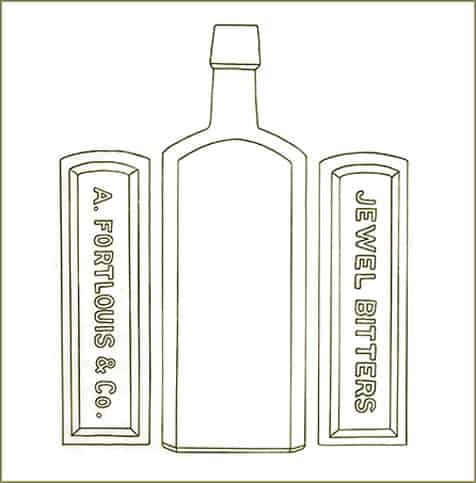 J 35 // sp // JEWEL BITTERS // sp // A. FORTLOUIS & Co. //
9 ¾ x 3 ¼ x 2 ½ (7 1/8) 3/8
Rectangular, Amber and Yellow amber, LTC, Applied mouth, 2 sp, Extremely rare
Heavy foil seal with monogram underneath John S. Bowman, San Francisco.
This is the same brand and time period as the J 34 John S. Bowman & Co. Jewel Bitters.
Albert Fortlouis, from Germany, was a prosperous businessman who started out in Tombstone, Arizona Territory and made his way to Seattle Washington via short stops in San Diego and San Jose where he spent the last 28 years of his life primarily as a wholesale and retail liquor and tobacco merchant.
In the 1960s, many broken pieces of both the Bowman and Fortlouis variants of the bottle along with at least three whole examples were dug near the old mining town of Lester, Washington. Examples dug in San Diego and Sierra City in California, and Carson City, Nevada. There is an example in a South Dakota museum.
See J 34 and J 35 in Bitters Bottles
Here is an old file picture of the John S. Bowman & Co. Jewel Bitters bottle that was dug and found broken in San Diego.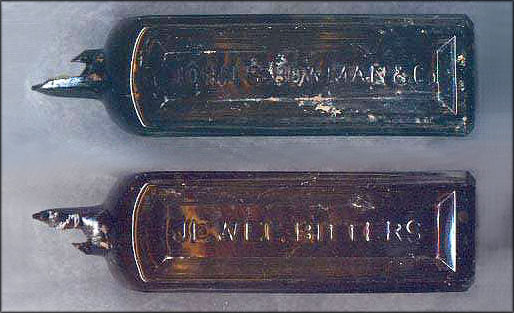 Primary Image: Jewel Bitters bottle imaged on location by the FOHBC Virtual Museum midwest studio led by Alan DeMaison.
Support: Reference to Peachridge Glass archives.
Support: Reference to Tombstones Treasure, Silver Mines, and Golden Saloons, Sherry Monohan
Support: Reference to Bitters Bottles by Carlyn Ring and W. C. Ham. Use of Jewel Bitters illustration courtesy Bill Ham.
Support Image: Auction Lot 2: JEWEL BITTERS with A. FORTLOUIS & CO. Applied top J 35. Dug in Weston, WA. Weston is a ghost town in Washington and this bottle was found there in 1980. There are two variants of this bottle, the other having the John Bowman name embossed. They were specifically distributed in Seattle and Washington. According to Ring/Ham there was a saloon located in the state that sold the bitters in the early '90s, owned by Fortlouis. Almost perfect, this one grades a 9. – Jeff Wichmann, American Bottle Auctions, Auction 70, Part 1 of the Don Dwyer Collection