TITLE ON MOBILE
GI – 105
"Jeny Lind"And Bust – Glass Factory
Calabash Flask
Ravenna Glass Works, Ravenna, Ohio
Blue Aquamarine Quart
Provenance: John Fifer Collection, Ex Darl Fifer Collection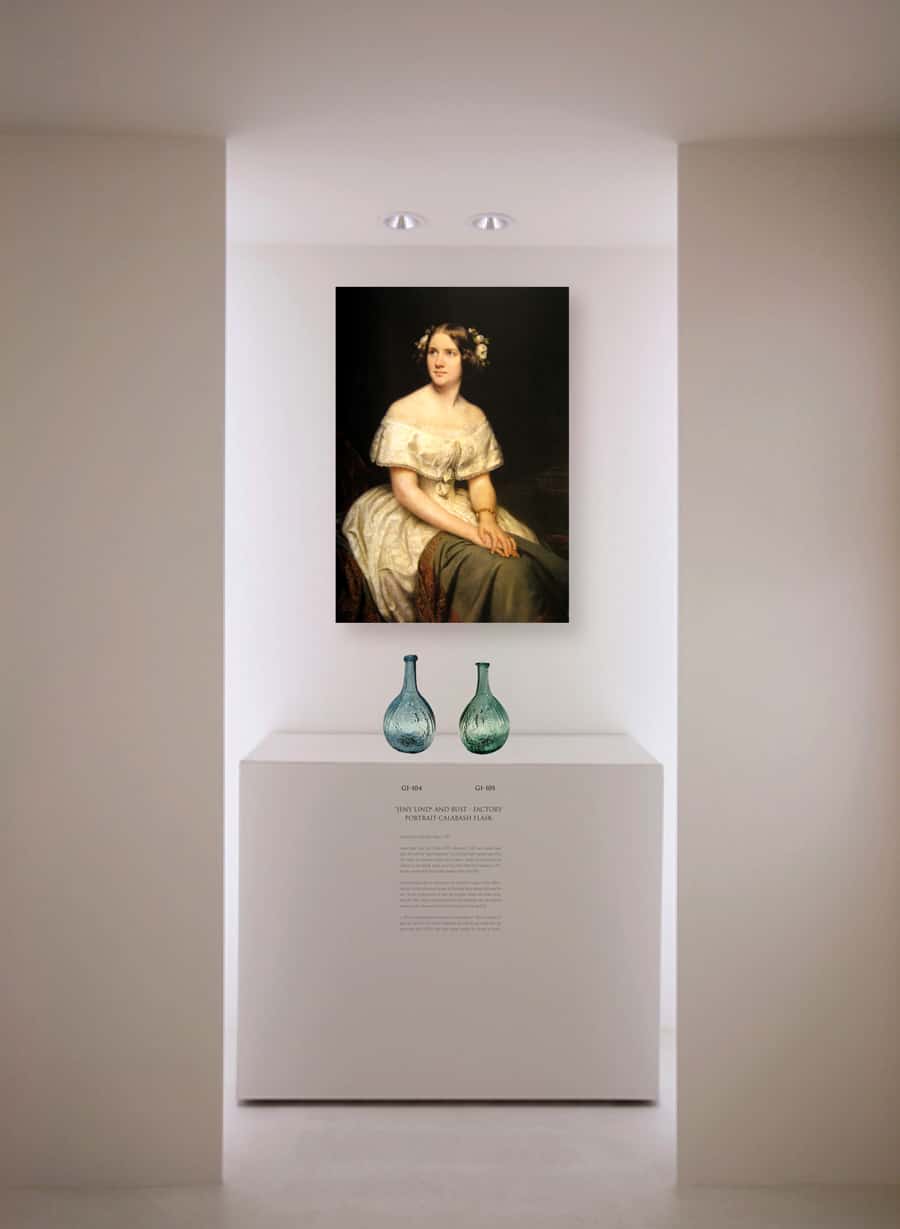 One of the most notable pieces produced in Ohio was the Jenny Lind bottle, celebrating the famous opera singer. The GI-104 and GI-105 "Jeny Lind" and Bust – Glass Factory Calabash Flask are both attributed to Ravenna Glass Works circa 1857 to 1864. Note that "Jeny" should be spelled "Jenny." While the GI-104 is common, it is a slightly larger flask and can be found in many glass colors. Our GI-105 quart is much rarer and can be found in rich blue and green aquamarine.
See the museum example of a GXV-17 "Ravenna Glass Works" Plain Lettered Flask.
Ravenna Glass Company began in the 1850s and manufactured glass until the 1880s. The glassworks is known for its historical and pictorial bottles and flasks. Portage County, Ohio, was an excellent source of silica sand, the prime ingredient of glass. In the nineteenth century, glassmaking was one of the area's primary industries. In the 1890s, the glassworks left Portage County as cheap natural gas in Pittsburgh lured many glass companies away from northeastern Ohio.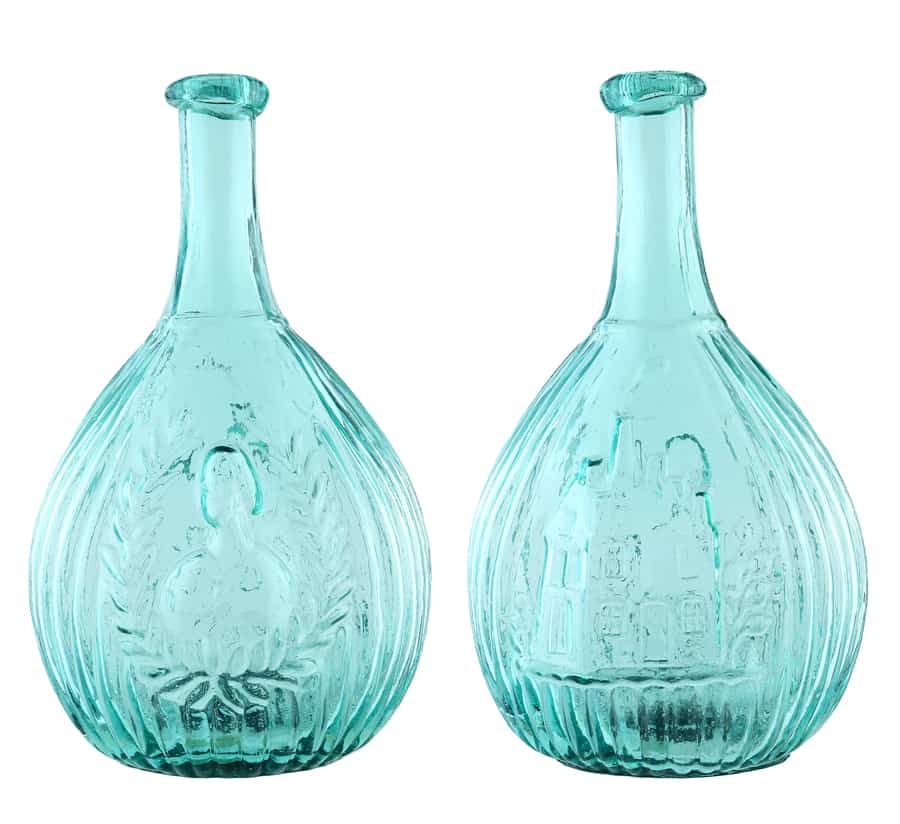 The obverse side of the quart Calabash GI-105 bottle depicts a three-quarter embossed view of Jenny Lind turned to the left wearing a broad plain bertha. There is a large wreath encircling the bust. The embossed copy 'JENY LIND' is arched above each wreath end. "Jenny" is misspelled as "Jeny." The bust is slightly longer than the GI-104 mold and the arrangement of hair, size of bertha, and the wreath is slightly different.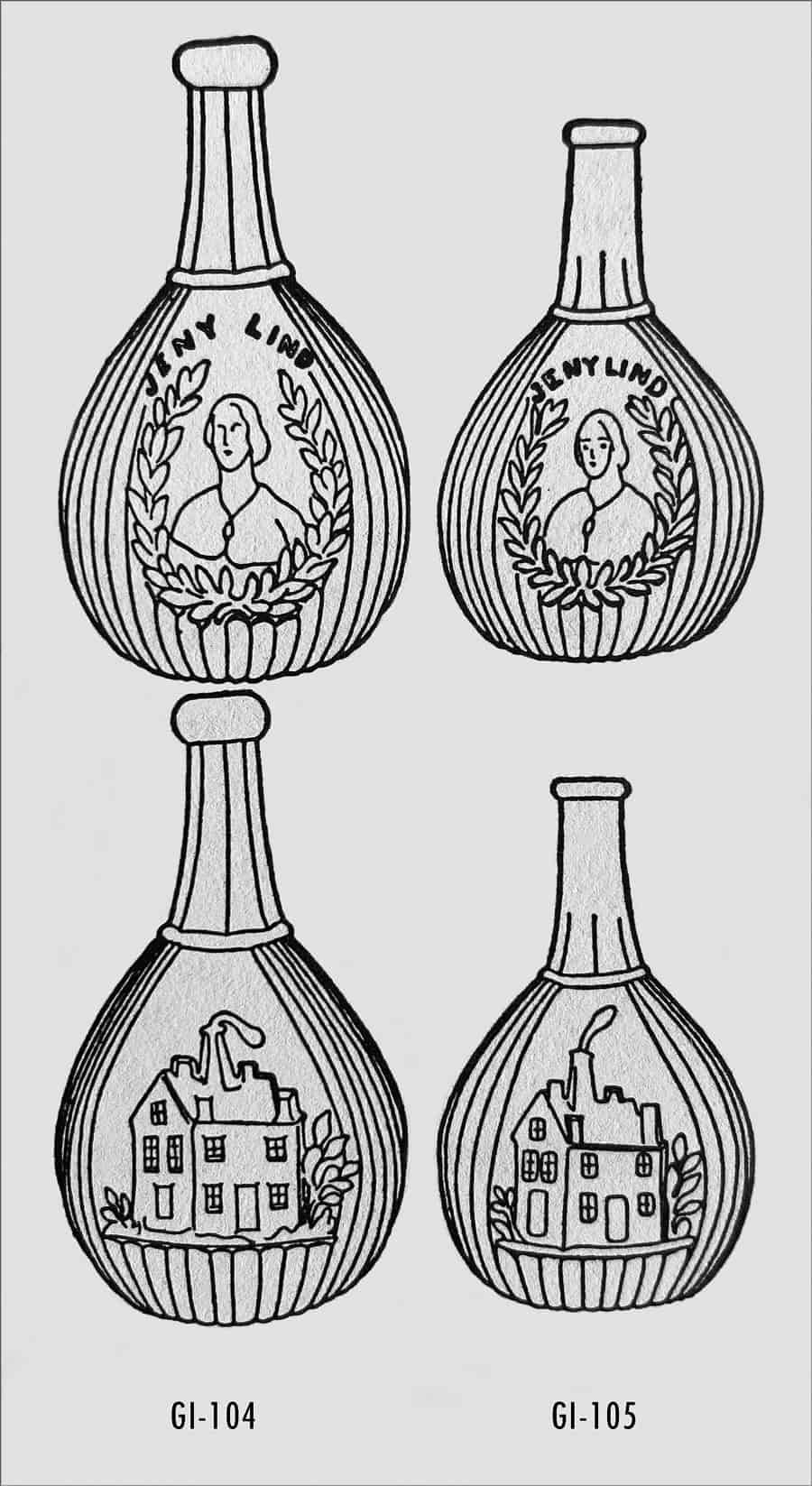 The reverse side of the flask has an embossed view of two sides of a glasshouse with seven paned windows and two doors with smoke issuing from the tall central chimney. The smoke is going almost straight upward instead of turning downward as in all other Jenny Lind bottles with a view of a glasshouse. At the right of the house is a tall tree and at the left is a small bush or shrub that is slightly different than the GI-104 flask. The smaller quart Calabash edges have heavy vertical ribbing consisting of 11 ribs. The collar is rounded and there is a pontil with a disk.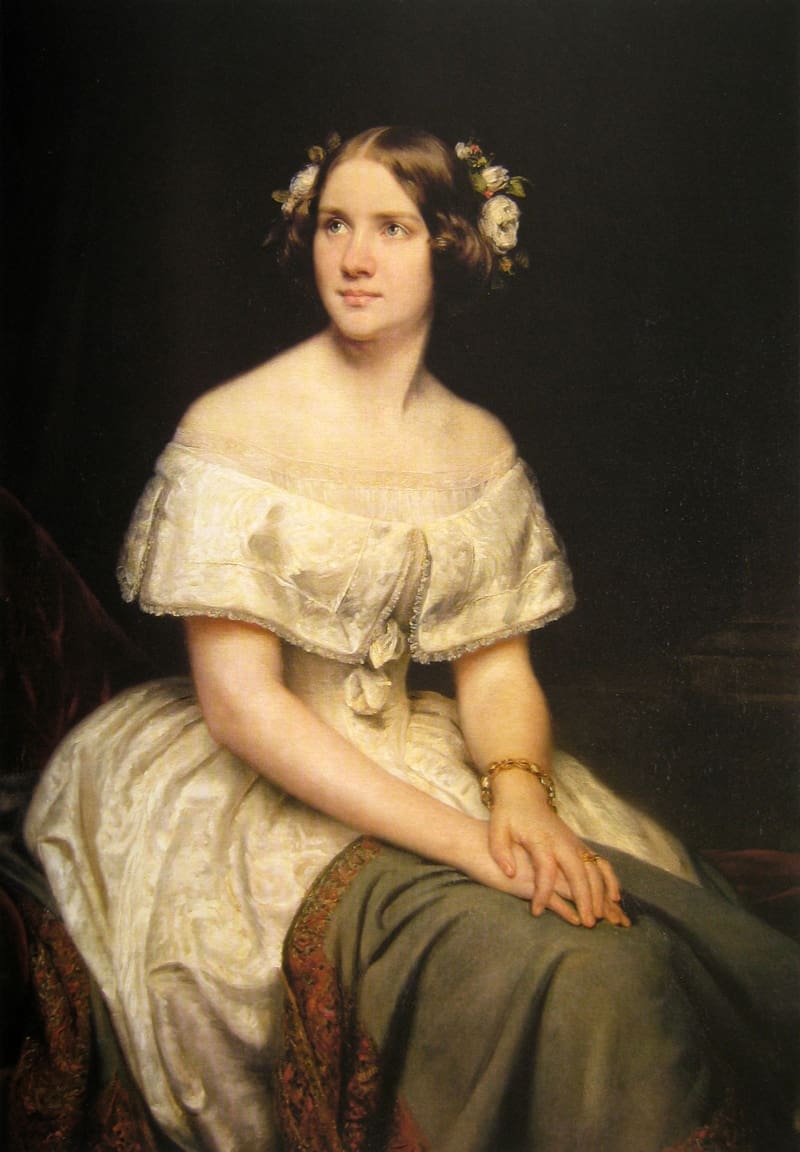 Johanna Maria "Jenny" Lind (October 6, 1820 – November 2, 1887) was a Swedish opera singer, often called the "Swedish Nightingale." One of the most highly regarded singers of the 19th century, she performed soprano roles in opera in Sweden and across Europe and undertook an extraordinarily popular concert tour of the United States beginning in 1850. She was a member of the Royal Swedish Academy of Music from 1840.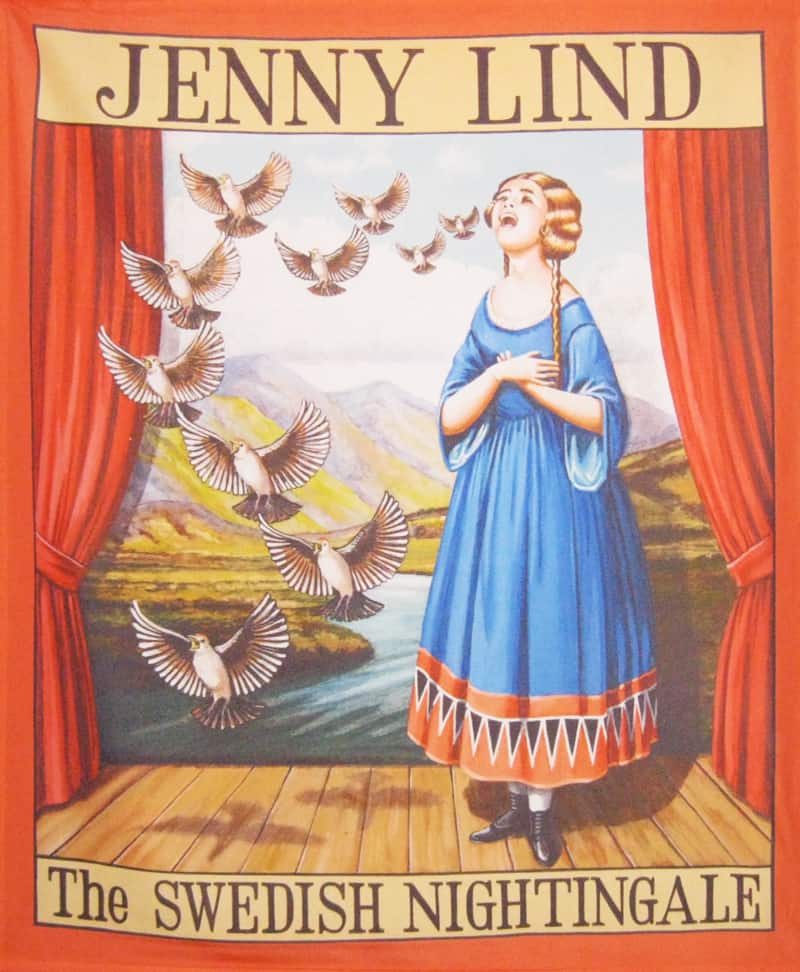 In 1850, Lind went to America at the invitation of the showman P. T. Barnum. She gave 93 large-scale concerts for him and then continued to tour under her own management. She earned more than $350,000 from these concerts, donating the proceeds to charities, principally the endowment of free schools in Sweden. With her new husband, Otto Goldschmidt, she returned to Europe in 1852, where she had three children and gave occasional concerts over the next two decades, settling in England in 1855. From 1882, for some years, she was a professor of singing at the Royal College of Music in London.
Primary Image: The GI-105 "Jeny Lind" and Bust – Glass Factory Calabash Flask imaged on location by the FOHBC Virtual Museum midwest studio led by Alan DeMaison.
Support: Reference to American Bottles and Flasks and Their Ancestry by Helen McKearin and Kenneth M. Wilson, Crown Publishers Inc., New York, 1978.
Support Image: Photograph of GI-104 and GI-105 "Jeny Lind" and Bust – Factory Calabash Flasks from the Fifer collection.
Support Image: Auction Lot 1: "Jeny Lind" And Bust – Factory Portrait Calabash Flask, probably Ravenna Glassworks, Ravenna, Ohio, 1845-1860. Medium to deep sapphire blue with an olive-yellow striation, applied heavy round collared mouth – pontil scar, quart; (light exterior high point wear). GI-104 Beautiful blue color with an unusual olive striation. Fine condition. – Norman Heckler Jr. & Sr., Norman C. Heckler & Company
Support Image: Auction Lot 7: "JENY LIND" / BUST OF JENY LIND – GLASS FACTORY Historical Calabash, Ravenna Glass Works, Ravenna, OH, 1857 – 1860. Deep aquamarine, applied round collar – large iron pontil scar, Qt, near mint; (a bit of minor high point wear, otherwise perfect). GI-105. A rare and desirable mold often referred to as the "smoke up" Jeny Lind. This example is bright and clean with good depth of color. Provenance: Ex. Darl Fifer collection.  – John Pastor, American Glass Gallery, Auction #34
Join the FOHBC: The Virtual Museum is a project of the Federation of Historical Bottle Collectors (FOHBC). To become a member.