GX-26 Beads and Pearls and Diamond Diapering Flask
GX – 26
Beads and Pearls and Diamond Diapering
Decorative Flask

Pitkin Glass Works, Manchester, Connecticut
Olive Yellow Pint
Provenance: Anonymous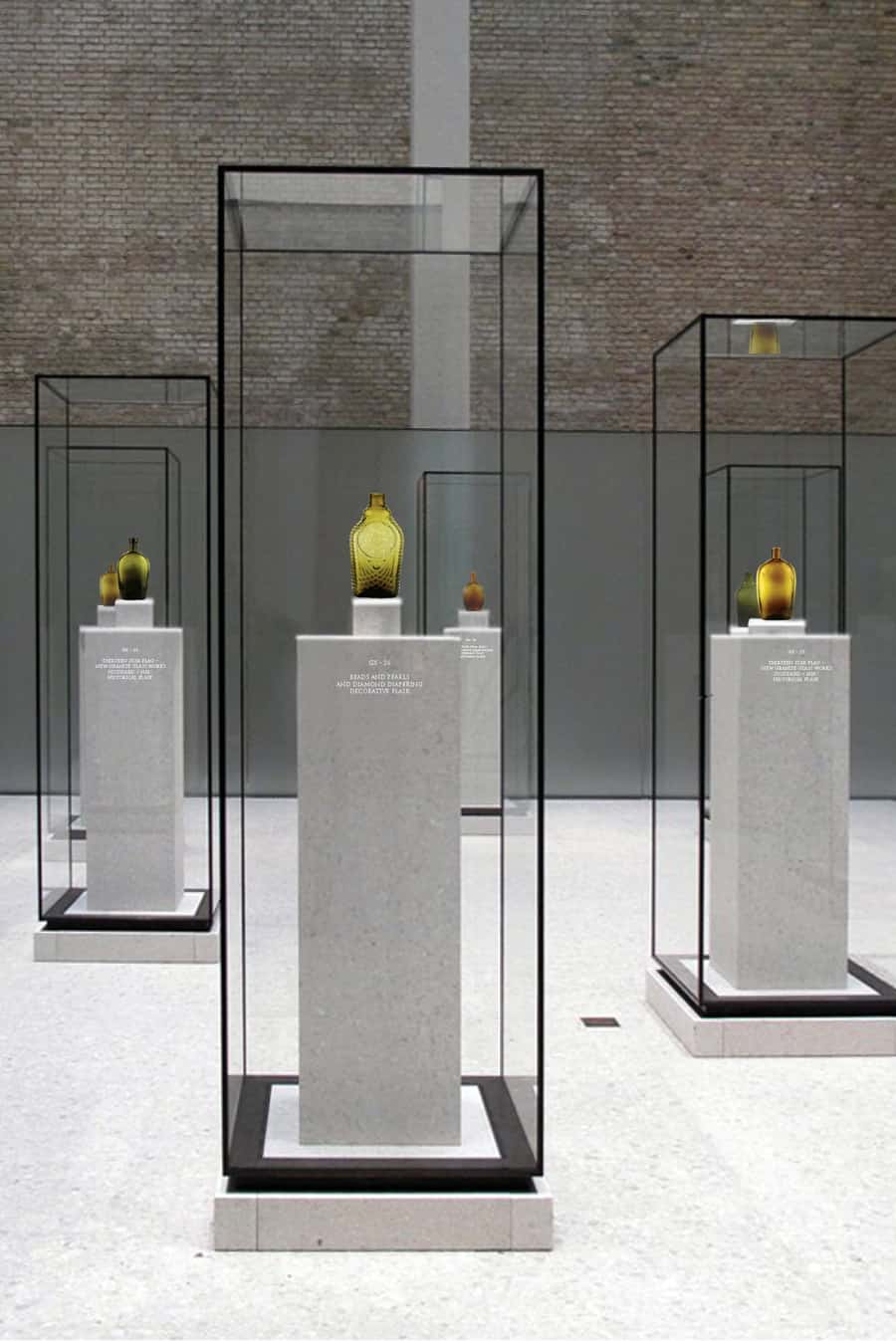 The third flask representing the "Three Kings" or "Jared Spencer Group" is the pint GX-26 "Beads and Pearls and Diamond Diapering" decorative flask. Thisjoins the GX-24 and GX-25 pints. All are represented in the museum. The flask was produced at the Pitkin Glass Works in Manchester, Connecticut from 1815 to 1830.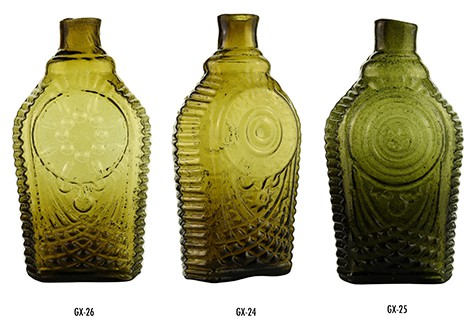 Please take your time and enjoy each example. Study the design. Look at the differences and similarities. See who owned these fine specimens through the years and finally, look at the second set that Norman C. Heckler auctioned in 2012 from the Warren "Bud" Lane collection.
A trio of perhaps the rarest and most desirable American historical flasks known, all from the Jared Spencer group, soared to just under the $300,000 mark during the most recent absentee auction at Norman C. Heckler & Co. Sold during Heckler's 100th major cataloged auction that closed on October 17, the single-owner sale of early American flasks featured the collection of Warren C. "Bud" Lane Jr.

Antiques And The Arts Weekly,November 12, 2012
See the museum example GX-24 Jared Spencer Flask
See the museum example GX-25 Jared Spencer Flask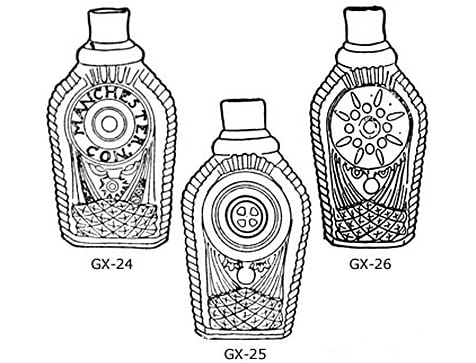 On the face of the flask, you will see a medallion with eight pearls in a circle around a convex disk. Starting between each pearl and extending outward are eight, pointed petals. Below the medallion is a convex circular pendant with a looped ornament on either side. A ribbing encloses the pendant and ornaments converging to the outer edge of the medallion on each side. The bottom is a diamond field. The edges are horizontally corrugated with the top two extending around the flask just below the neck. The bottom rib extends horizontally around the flask. The reverse of the flask is the same as the obverse.
The pint flask has a plain lip and pontil mark. Known colors are olive amber and light amber which are both considered extremely rare.
Primary Image: The GX-26 pint Beads and Pearls and Diamond Diapering decorative flask imaged on location by the FOHBC Virtual Museum midwest studio led by Alan DeMaison.
Support Images: Auction Lot 33: Beads And Pearls With Diapering Pattern Decorative Flask, Pitkin Glass Works, Manchester, Connecticut, 1815-1830. Brilliant light yellow with an olive tone, sheared mouth – pontil scar, pint. GX-26 Extremely rare. This may very well be the finest example. Good embossing, beautiful light color. Ex Edmund and Jayne Blaske collection #895, Warren "Bud" Lane collection. – Norman C. Heckler & Company Auction #100
Support: Reference to American Bottles and Flasks and Their Ancestry by Helen McKearin and Kenneth M. Wilson, Crown Publishers Inc., New York, 1978.
Support Image: Reference to The Edmund & Jayne Blake Collection of American Historical Flasks, Skinner 1983, Cataloged by Norman C. Heckler.