E. Warner Indian Physician Syrup
E. Warner
Indian Physician Syrup.
Elisha Warner, Pittsburgh, Pennsylvania
Cylindrical Aquamarine Medicine
Provenance: Chip Cable Collection.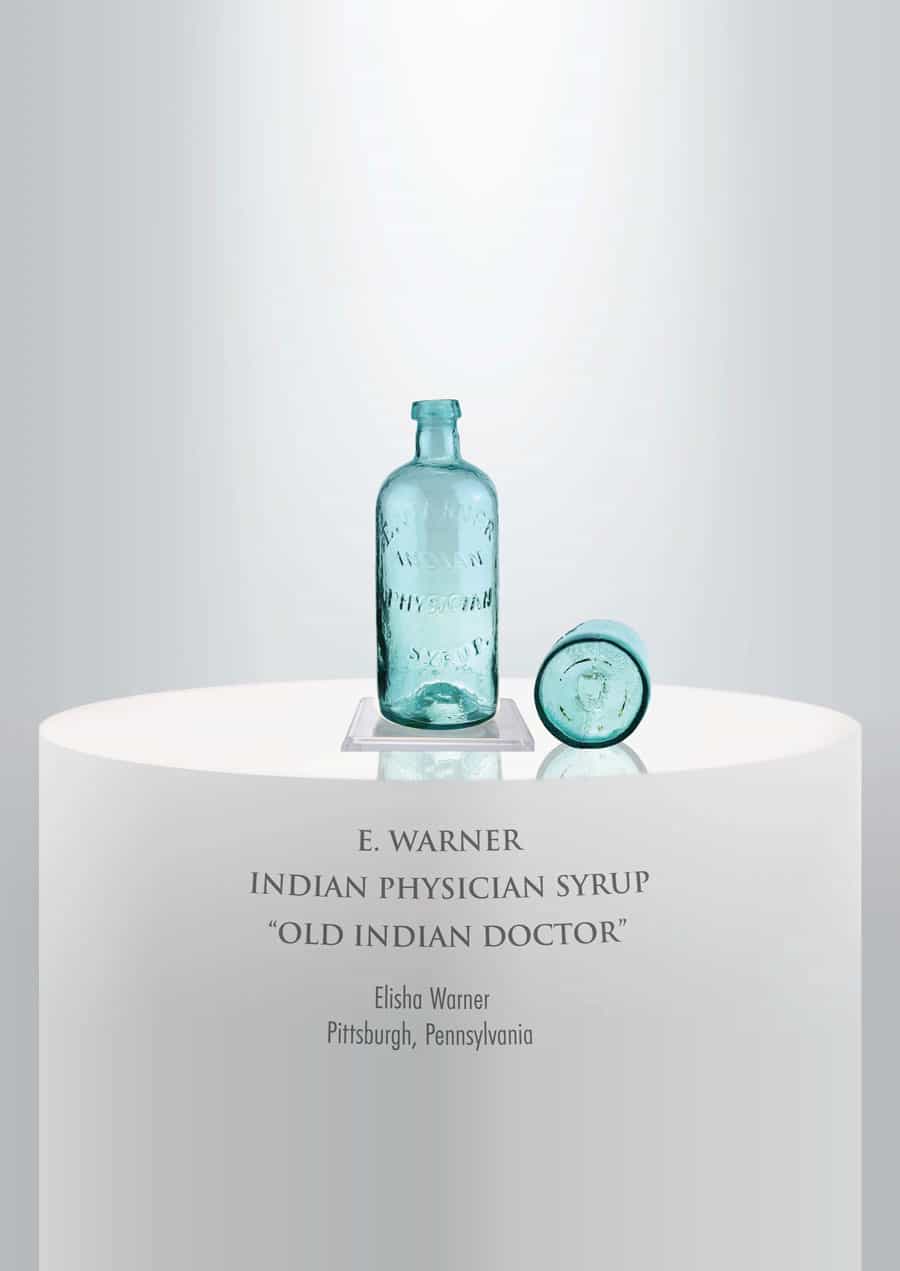 Elisha Warner was one of the first physicians in Allegany County, Pennsylvania, coming to Pittsburgh early in the 19th century. He was known as the "Old Indian Doctor." Born in Hartford, Vermont on June 6, 1794, E. Warner practiced medicine until he died in Pittsburgh on February 27, 1876.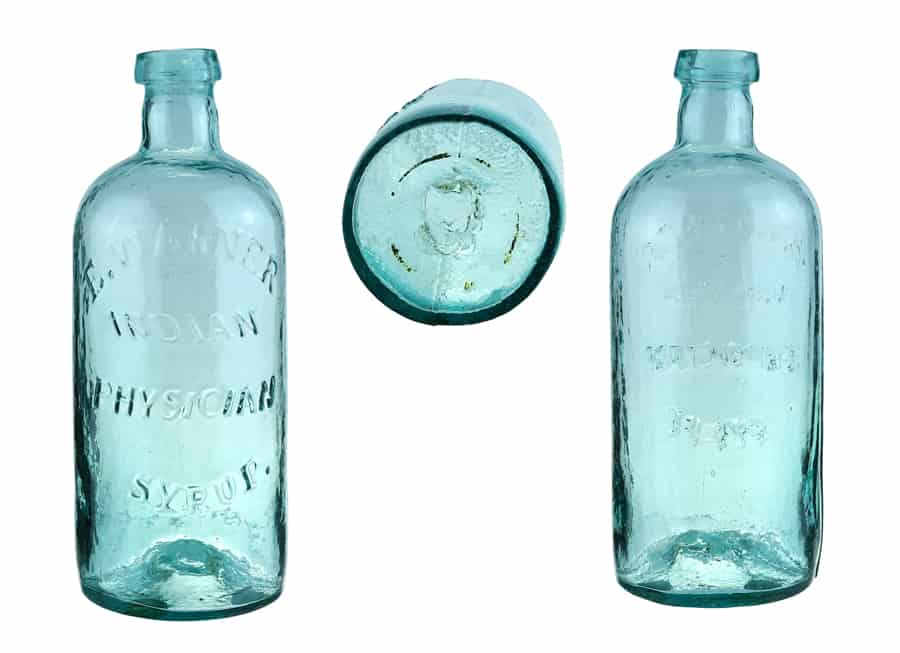 Our extremely rare museum example is cylindrical, 7 ¼ inches tall, and was blown in a bluish aquamarine glass. There is a rough open pontil with iron residue. A short tapered applied collar sits upon a squat bulbous neck. The embossed copy on the face of the bottle is crude and occurs in four lines reading 'E. WARNER' in a serifed typestyle in a convex arch. The second horizontal straight-line sans serif copy reads, "INDIAN' in letters that are slanted left in a pronounced manner. The third line reads 'PHYSICIAN' again in a sans serif typestyle leaning right or italicized. The fourth line reads 'SYRUP.' in a concave under-arch in a serifed typestyle that visually engages the first curved line. There is a period after "Syrup."
The consignor says the bottle was dug very near Dr. Warner's medical depot at 23 St. Clair at the foot of Pittsburgh's Allegheny River bridge. This crossing was a covered bridge made of iron and wood and has long since been replaced. The bridge opened in 1818 at Smithfield Street and in 1819 at Sixth Street (then St. Clair Street).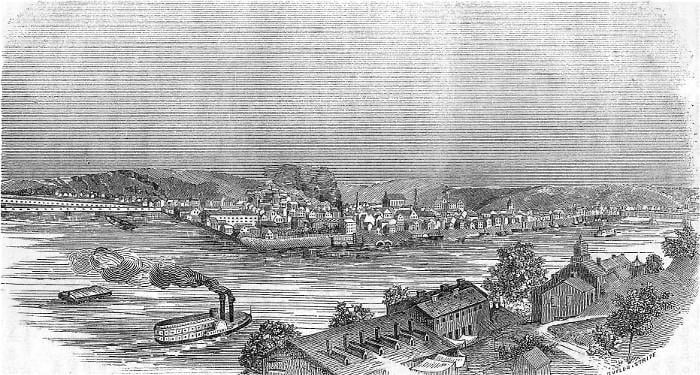 Though the exact dates and locations vary, Elisha Warner would start practicing medicine in Baltimore, Maryland, where he met his wife Sarah Street or Streett (born 1793 in Hartford, Md.). Their first son Elisha Street Warner was born in 1821 in Baltimore.
Sometime between 1831 and 1832, Dr. Warner moved to Pittsburgh, where he would set up his "Botanic Store and Infirmary" at No. 8, St. Clair Street near the Allegheny bridge. They would move again to No. 23 St. Clair Street.
The 1834 notice below says that Elisha Warner, Indian Doctor, is leasing his brick house near the bridge which provides convenient business access to the city of Pittsburgh.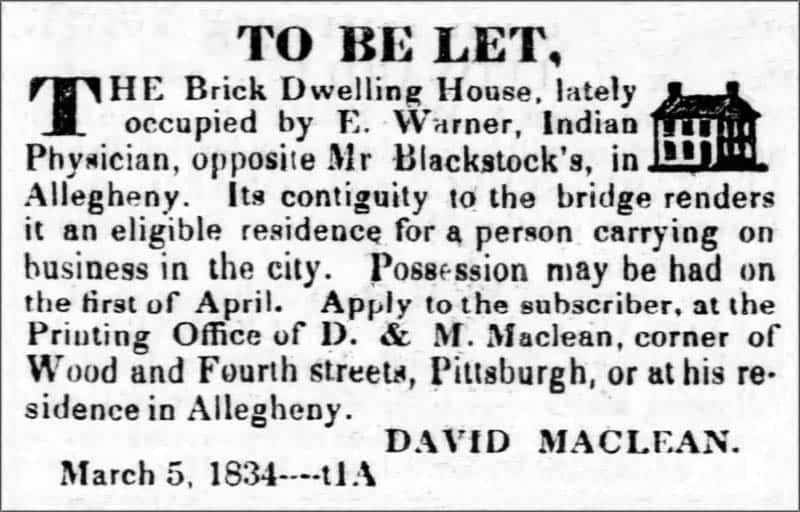 In 1856 and 1857, newspaper advertisements would appear for "E. Warner Old Indian Physician. No. 23 St. Clair Street." A verse accompanied each ad: Creation's God the flowery carpet spread, To head the sick and wounded; thus he said! "Examine well those bounties I bestow, And live till age shall deal the fatal blow."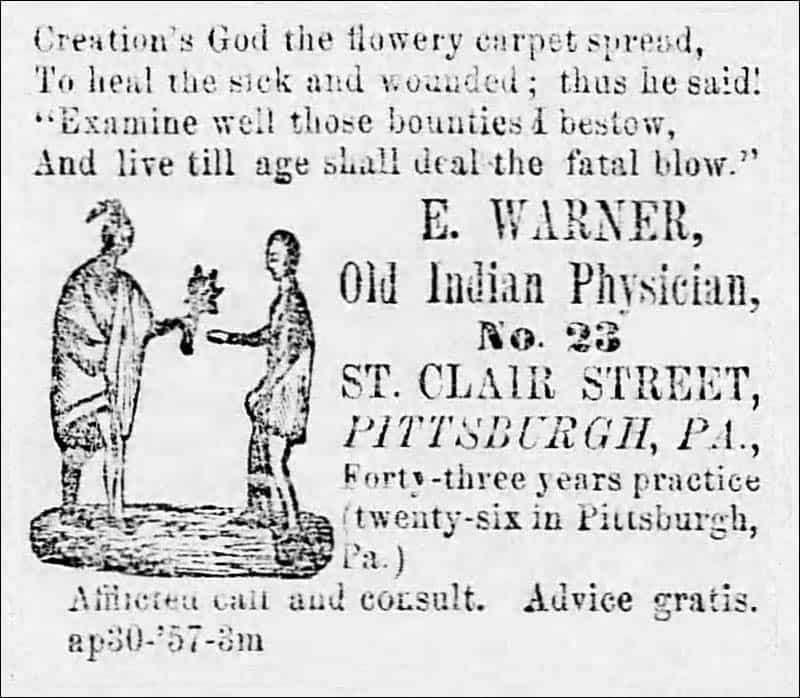 The 1902 obituary for E. Warner's son Elisha Street Warner is recounted below from The Pittsburgh Press, November 30, 1902.
Doctor. E. S. Warner, 81 years old, one of the most prominent physicians in Pittsburgh, died yesterday morning at his home, 116 Ninth street, of general debility. The deceased was the son of Dr. Elisha Warner, who was one of the first physicians in Allegany County, coming to Pittsburgh early in the 19th century, where he was known as the "Old Indian Doctor." Dr. E. S Warner was born in Baltimore, Md., on October 21, 1821, and came to this city when he was 18 years old and made his home here ever since. He studied his profession at the Medical College in Cincinnati, Ohio, and received his diploma in 1858. He associated himself with his father and succeeded to his practice at his retirement in 1861. Dr. Warner was a specialist in chronic diseases and was considered one of the best in this line in the city. A widow and two sons, Dr. R. E. Warner and Lawrence Warner, both of Pittsburgh, survive.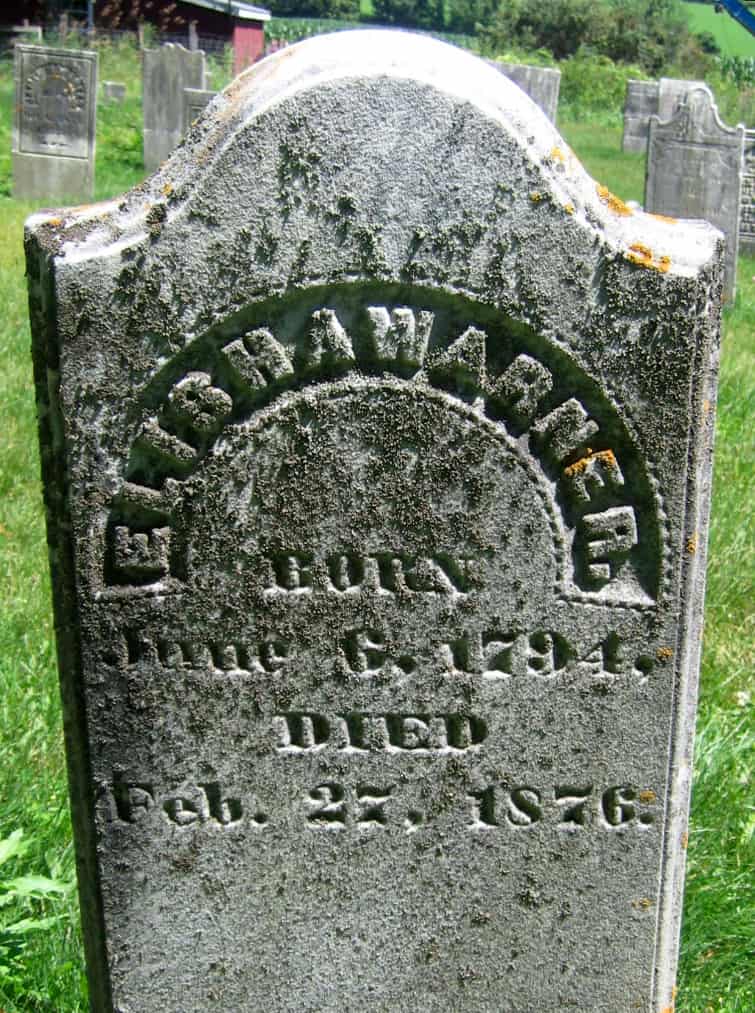 Primary Image: E. Warner Indian Physician Syrup bottle imaged on location by Alan DeMaison, FOHBC Virtual Museum Midwest Studio.
Support: Reference to FOHBC Auction Price Report: Glass Works Auctions, October 2016, Lot 132″ "E. WARNER / INDIAN / PHYSICIAN / SYRUP", (Odell, pg. 363), Pennsylvania, ca. 1840 – 1860, bluish aqua, 7 1/4"h, open pontil, outward rolled lip. A pinhead in size flake is off the top of the lip. A very rare pontiled 'Indian' medicine bottle! An advertisement states that the 'E. Warner, Botanic Store and Infirmary was located at No. 8, St. Clair Street near the Allegheny Bridge'.
Join the FOHBC: The Virtual Museum is a project of the Federation of Historical Bottle Collectors (FOHBC). To become a member.