Pitkin Sugar Pot
Pitkin Sugar Pot
Possibly Pitkin Glass Works, East Hartford, Connecticut
Dark Yellow Olive Sugar Pot
Provenance: Richard S. Ciralli Collection, ex Noordsy Collection, ex Arman Collection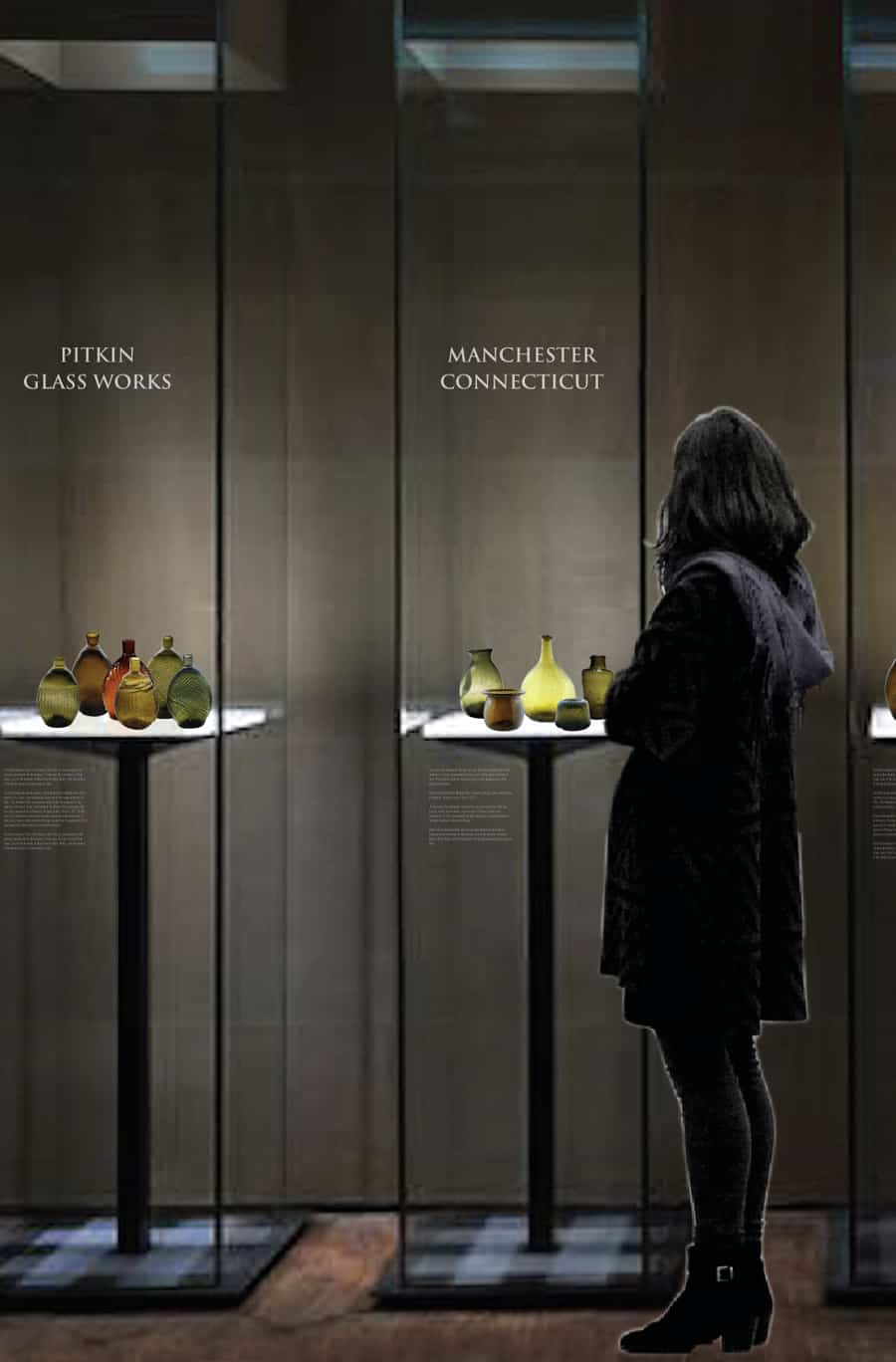 Our 4″ high by 5″ wide cylindrical, dark yellow-olive sugar pot is an early free-blown tableware piece that is extremely rare. The bowl or pot is possibly from the Pitkin Glass Works, a name used by Pitkin glass authorities and collectors, in East Hartford (now Manchester), Connecticut based on similar shards that have been excavated at the site which is now a historical landmark. The pontiled piece, with a wide-rolled lip, was probably made somewhere between 1815 and 1830.
Pitkin Glass Works colors are yellow-amber, olive-amber, olive-yellow, yellow-olive, olive-green, yellow-green, and a bluish to deep green. These colors represent the New England "earthy" tones and were basically carried on in future Connecticut glasshouses.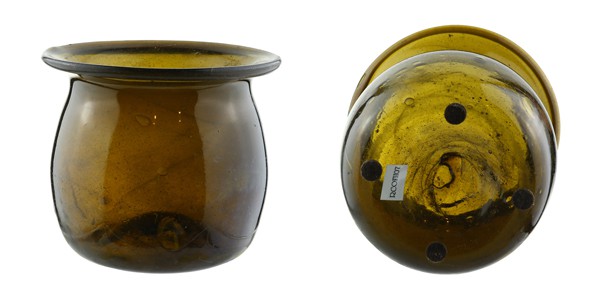 In 1783, the Connecticut General Assembly granted to William Pitkin and members of his family, a 25-year monopoly and exclusive rights with the manufacturing of all types of glass, as recompense for their loss in providing gun powder from 1775 to 1781 to the Continental Army during the American Revolutionary War.
The Pitkin family was large, well-known, and influential with many land holdings in pre-and-post revolutionary Connecticut with business interests in guns, gunpowder, textiles, flour, iron, silver, tobacco, and snuff. The initial glass manufactory was established when the area was still considered part of East Hartford and was referred to at the time as the East Hartford Glass Works when it first started production in 1787 or so.
Manchester, in Hartford County, is located in north-central Connecticut. First known as Five Mile Track, and later as Orford, or Charlotte, it was settled in 1672 and incorporated from part of East Hartford in 1823. The Hockanum River provided the waterpower that made it an early center of textile manufacturing and home to Cheney Brothers Mills, the world's largest silk factory complex, which provided Manchester with its nickname, the "Silk City." An early industrial town, Manchester produced everything from paper to repeating rifles and glass.
By 1823, the Pitkin family glassworks was considered the first successful glass factory in Connecticut. Two Pitkin superintendents and managers were Robert Hewes from the Temple glassworks in New Hampshire and John P. Foster, whose initials are embossed and appear on an inkwell and a figured flask, the GII-57 "J.P.F" Eagle – Cornucopia "Conn." flask which is represented in the museum historical flask gallery.
Pitkin Glass Works was considered a bottle glasshouse of which commercial products were blown such as chestnuts, demijohns, utilities, snuffs, globular bottles, and tableware like pitchers, creamers, bowls, and pans. The most popular and recognizable wares were the inkwells and molded flasks blown in the german half-post method consisting of ribs and swirls. The figured flasks and sunburst flasks are all prized by collectors with some extreme rarities.
See the museum example of a GVII-5a Sunburst Flask attributed to the Pitkin Glass Works
The Pitkin Glass Works soon ran into financial difficulties. Two lotteries were held to raise additional funds, but the endeavor finally closed its doors in 1830. It is not known why the factory failed. Perhaps it was because of the cost of transporting sand from New Jersey, or because the firewood supply was decreasing with the growth of farming in the area. There may have been poor management, or increasing competition from other factories once the monopoly expired. Gradually, the massive stone building fell into disrepair.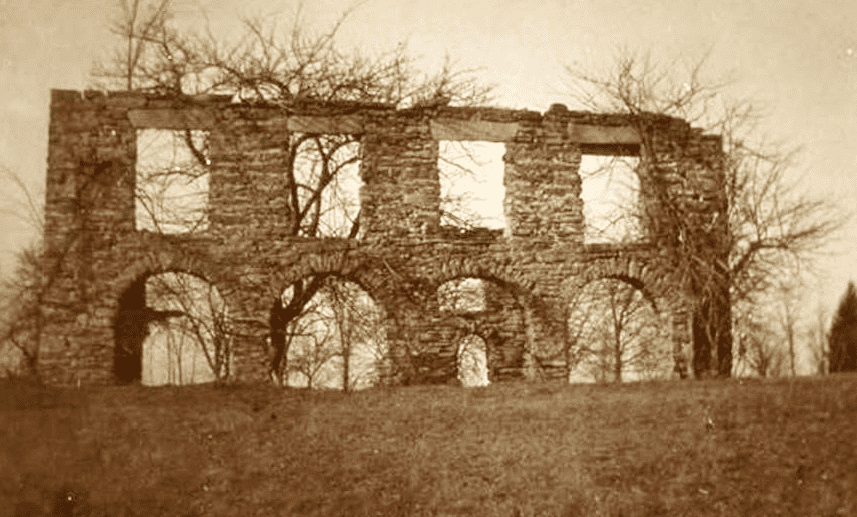 The site containing the romantic ruins of the glassworks is owned and managed by Pitkin Glass Works Inc., and excavations are conducted there on a regular basis. Some examples of Pitkin glass are on display at the Old Manchester Museum in Manchester, Connecticut.
Primary Image: Pitkin Sugar Pot imaged on location by the FOHBC Virtual Museum Midwest studio led by Alan DeMaison.
Support: Reference to the Manchester Historical Society
Support: Reference to The Museum of Connecticut Glass
Support: Reference to American Bottles and Flasks and Their Ancestry by Helen McKearin and Kenneth M. Wilson, Crown Publishers Inc., New York, 1978
Support: Reference to My Visit to the Philadelphia Museum of Art to examine its Cross-Swirled Pitkin Flask by Dana Charlton-Zarro
Join the FOHBC: The Virtual Museum is a project of the Federation of Historical Bottle Collectors (FOHBC). To become a member.