GIX-6 "Louisville Ky" – GlassWorks" Scroll flask
GIX – 6
"Louisville Ky" – "GlassWorks"
Scroll Flask

Louisville Glass Works, Louisville, Kentucky
Olive Yellow Quart
Provenance: Anonymous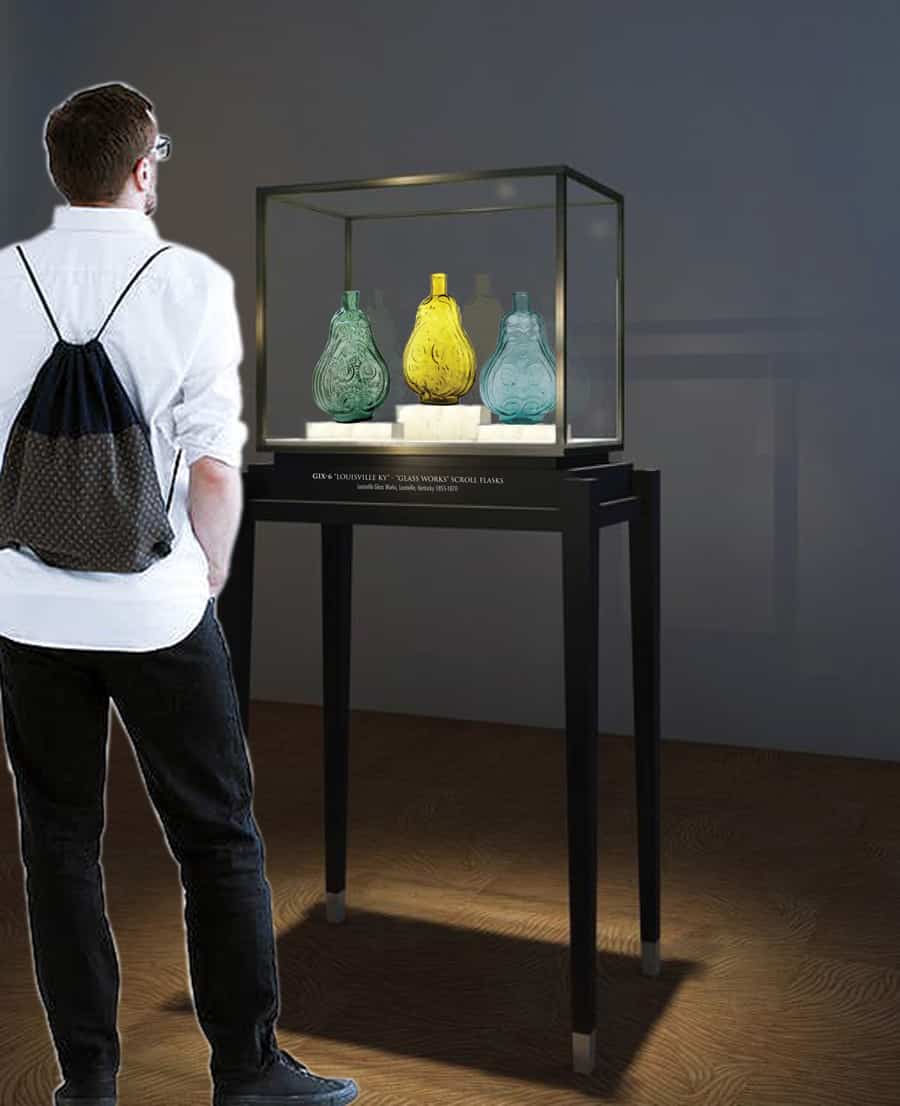 George and Helen McKearin described the scroll (or violin) flasks in their book, American Glass, in the 1940s with details on 51 different molds. This list was later expanded with many variants in American Bottles and Flasks and Their Ancestry. Often, the difference between molds for scroll flasks comes down to the precise placement and shape of embossed stars and other details.
Scroll flasks were some of the first flasks blown in America and have both a French and Masonic influence. The pointed stars that adorn the top middle and midsections on these flasks are certainly eye-appealing and they have meaning. The eight-pointed stars from ancient times were Christian in their founding meaning regeneration or redemption. The seven-pointed star is associated with Ancient Babylon. The six-pointed star is the ancient symbol meaning creation, for the world was created in six days. The fleur-de-lis is a stylized lily or iris that is used as a decorative design or a symbol. It may be at one and the same time, religious, political, dynastic, artistic, emblematic , and symbolic especially in French heraldry. Its origins however go back to ancient Egypt.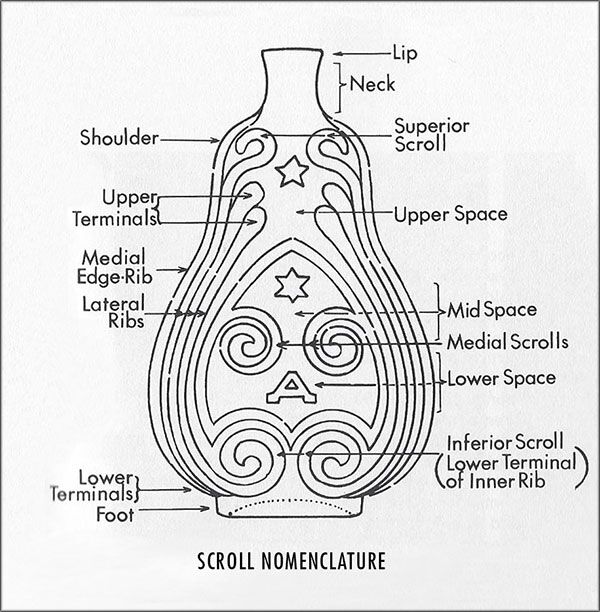 Scroll flasks were made by blowing hot glass into a two-piece iron mold. The hinged mold was then opened and the bottle was removed while still attached to the blowpipe. An assistant would then attach another rod, called a pontil, to the base of the bottle. The glassblower could then detach the bottle from its lip by shearing the still soft glass. Most often you will find scroll flasks with a plain sheared lip. Some flasks would receive additional work to finish the mouth and lip. Commonly found are the applied band of glass and, infrequently, an applied lip.
From 1850 to 1901, at least seven different glass manufacturing factories operated in Louisville, Kentucky. Six were utilitarian bottle houses, and the other manufactured window and plate glass. In 1850, the first glass bottle and jar-making firm, known as the Kentucky Glass Works was formed, which, by 1855, was being referred to as the Louisville Glass Works. During its production peak around 1855, many scroll flasks were blown.
Those embossed with the "Louisville KY Glassworks" name are the most appealing and most desired by collectors. All of the aquamarine examples can be considered comparatively scarce to locate but those in colors are even more special. Our olive-yellow quart is outstanding for its sheer beauty, form, and rarity. It is certainly a prized Midwestern flask.
On what we consider the primary face of the flask, there is a large, inverted heart-shaped frame formed by medial and inferior scrolls. There is a large star in the upper space with six finger-like points and a slightly smaller and similar six-point star in the mid-space. 'LOUISVILLE KY' is embossed horizontally between the scrolls in a straight line, in the lower space. The "E" is flowing into the scroll above it.
The reverse of the scroll flask appears the same as the obverse except for the embossing 'GLASSWORKS' horizontally, in a straight line, in the lower space.
This quart scroll flask has a plain lip and a base is described as a plump oval with either a pontil mark or an oxide deposit. There is a verticle medial rib.
Known colors are aqua and light yellow-green which is considered scarce. Our olive-yellow example is extremely rare.
Primary Image: "Louisville Ky" – "Glassworks" scroll flask imaged on location by the FOHBC Virtual Museum midwest studio led by Alan DeMaison.
Support: Reference to American Scroll Flasks by Mark Vuono, American Glass Gallery
Support: Reference to and image support from Prized Midwestern Flasks by Mark Vuono, FOHBC 2018 Cleveland National Antique Bottle Show Souvenir Program
Support: Reference to Louisville Glass Works Louisville Glass Factories of the 19th Century – Part 1 and Part 2, by David Whitten, Bottles and Extras, Spring 2005
Support Image: Auction Lot 59: Scroll Flask, "LOUISVILLE, KY. – GLASS WORKS", (GIX-6), Louisville Glass Works, Louisville, Kentucky, ca. 1845–1855, olive-yellow quart, red iron pontil, sheared and tooled lip, perfect. Crude pebbly glass, brilliant color, as good as it gets! Rarely seen in aqua and never seen in as stunning a color as this one! – Jim Hagenbuch, Glass Works Auctions, Auction #92
Support Images: "LOUISVILLE" – "GLASS WORKS" SCROLL FLASK, (McK# GIX-6), light, bright yellow-green, iron pontil scar, quart, sheared and fire polished mouth. Blown at the Louisville Glass Works, Louisville, KY, C. 1855, a scarce flask in a very rare color. This beautiful glass works marked scroll flask is one of the very few known examples of the GIX-6 mold in a color other than aqua. The bottle exhibits brilliant glass, even coloring and the boldest possible mold impression. – Jeff & Holly Noordsy
Support Images: Auction Lot 118: "Louisville KY" – "Glassworks" Scroll Flask, Louisville Glass Works, Louisville, Kentucky, 1855-1870. Aquamarine, sheared mouth – pontil scar, quart; (the top edge of the mouth has been polished, 1/8 inch flake on inner edge of mouth, light exterior high point wear). GIX-6 A comparatively scarce flask with a strong impression. Timothy and Christine Hill collection. – Norman Heckler, Norman C. Heckler & Company, Auction #184
Support: Reference to American Bottles and Flasks and Their Ancestry by Helen McKearin and Kenneth M. Wilson, Crown Publishers Inc., New York, 1978.
Support: Scroll nomenclature illustration by Fred Salisbury. Drawing by Frederick H. Smith.
Support: Reference to Who Doesn't Like Scroll Flasks, Peachridge Glass.
Support: Reference to HistoricalAmericanGlass.com