Spooners Hygeian Tonic New-York Price $1.00
Spooners Hygeian Tonic
New – York
Price $1.00
Spooner's Hygeian Medicines, New York City, New York
Alden and Edwin B. Spooner, Brooklyn, New York
Olive Amber Octagonal Medicine
Provenance: Michael George Collection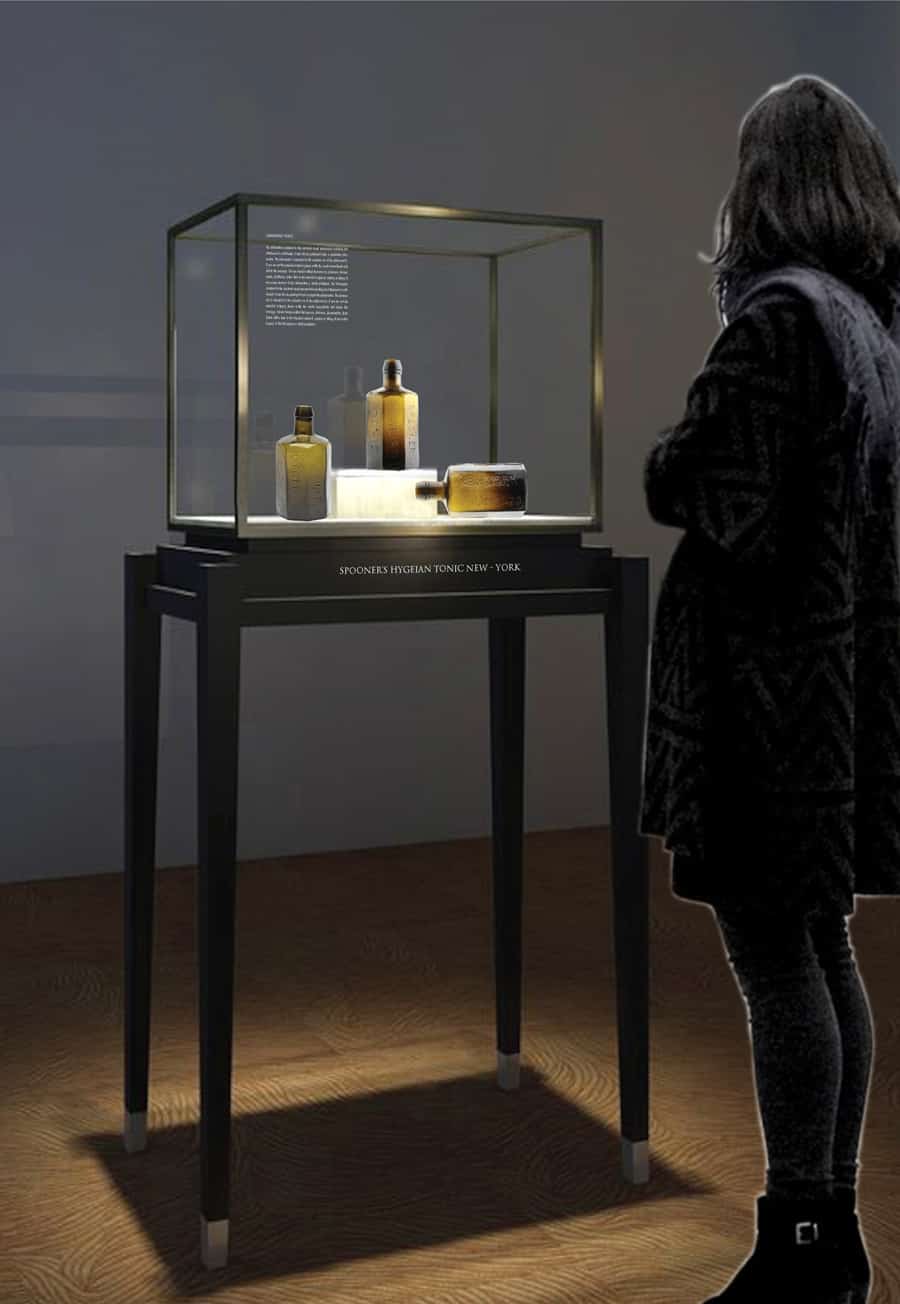 Our Spooner's Hygean Tonic bottle is a pontiled octagonal medicine that was a component of Spooner's Patent Hygeian Medicines sold primarily by agents in New England and Eastern cities from 1840 to 1845. All advertising directed inquiries to the proprietor's office at 2 Astor House in New York City. The Hygeian medicines were the result of a "life of study and experience," and included the Hygeian or Family Pill; the Hygeian Tonic, to restore the debilitated or broken-down Constitution; the Uterine Pill, to cure those painful difficulties and diseases peculiar to women; and the Ague Pill, to cure intermittent Fevers and Aques. A bottle of Spooner's Hygeian Tonic was priced at $1.00. This would be hard to forget as this price was also embossed on the bottle.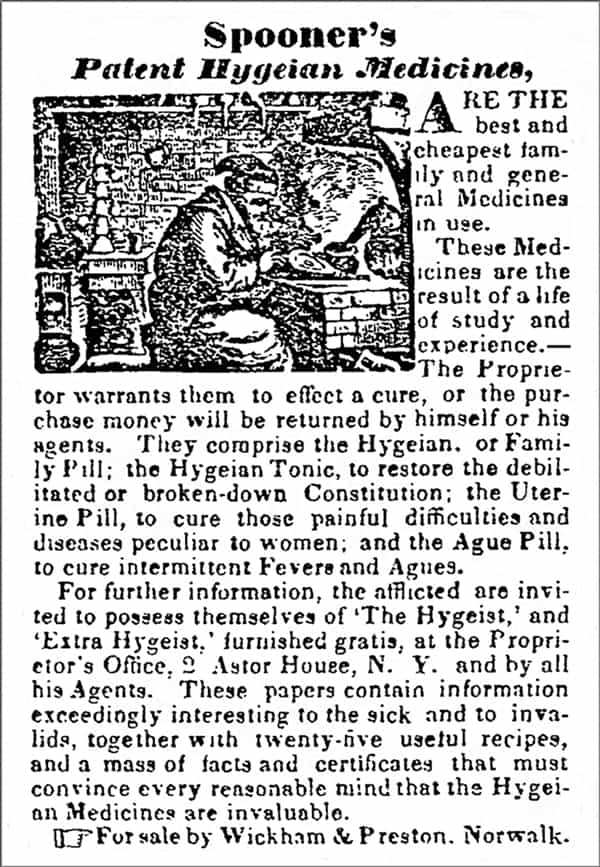 When looking at the eight-sided bottle you see embossed sans-serif copy centered from shoulder to base reading, 'SPOONERS' (side 1), 'HYGEIAN' (side 2), 'TONIC' (side 3), 'NEW-YORK' (side 5), and 'PRICE $1.00 (side 6). Side panels 4, 5, and 8 are blank and may have been where a paper label was placed. The tops of the side panels are arched. There is an applied double tapered collar mouth and a pontil scar. The bottle measures about 6-1/8″ tall and shades from a medium olive amber in the shoulder and middle to darker olive amber glass at the base. The bottle is in excellent condition and exudes character. Two additional bottles are included in the museum in a medium to deep yellow olive glass. The bottle would have been produced at New York or New England glasshouse.
The word "Hygeian" in Spooner's Hygeian Tonic, relates to Hygeia, the goddess of health, and pertains to health or its preservation. In Greek and Roman mythology, Hygeia was the daughter of the god of medicine, Asclepius. She was the goddess or personification of health, cleanliness, and sanitation. Hygieia played an important part in her father's cult. While her father was more directly associated with healing, Hygeia was associated with the prevention of sickness and the continuation of good health. Her name is the source of the word "hygiene."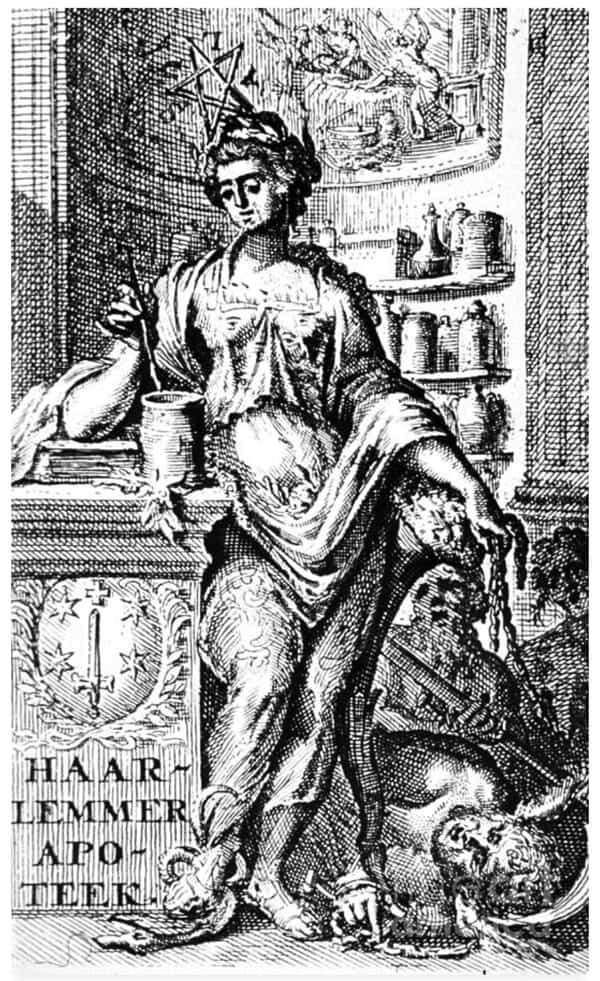 Alden & Edwin B. Spooner
Alden Spooner (1783-1848) was a prominent citizen of Brooklyn, New York, and a well-known publisher. Born in Westminster, Vermont, Spooner learned the printing trade at an early age from his father and uncle. He completed his apprenticeship under his cousin, Samuel Green, in New London, Connecticut from 1794 to 1811, and published the Suffolk Gazette in Sag Harbor, Long Island. In 1811, Spooner moved to Brooklyn, where he purchased The Long-Island Star which was Long Island's oldest newspaper. Under Spooner's leadership, the "Star" came to yield a significant amount of influence in the local affairs of the Brooklyn community.
Alden Spooner was also a merchant and dealer who sold business supplies such as ink and paper and was the agent for many popular medicines of the day. For example, in 1827 he would strategically place advertising within The Long-Island Star to promote Dr. De Angelis' Pills, Bacon's Family Medicines, Hair Restorative, and Preservative Vegetable Cerate, Poladelphis – The India Extract Cure for the Rheumatism, to name a few. He would sell the medicines and the writing supplies from his 55 Fulton Street address of The Long-Island Star newspaper. This interesting relationship between a newspaperman, supply merchant, and a patent medicine man would be passed down to his son, Edwin B. Spooner.
Edwin Bolton Spooner was one of two of Alden Spooner's sons with his first wife Rebecca Jordan. He was born in 1808 in Brooklyn, Kings County, New York in 1807, and worked with his father at The Long-Island Star and eventually would spend more than twenty years as the proprietor and publisher of the newspaper.
E. B. Spooner, as he went by, must have been a busy man with many interests. In 1846 we see him as the Publisher of the now-named The Brooklyn Evening Star at No. 57 Fulton Street in Brooklyn, N.Y. Since he owned the newspaper, he would use it to his advantage placing dozens of individual retail advertisements, just like his father, directing potential customers to Spooner's Stationery Store or Spooner's Star Office, at the same Brooklyn Evening Star, 57 Fulton Street address. The store, which must have been rather large, was at street level for best public access, window display, and marketing.
From a medicinal perspective in what was the pharmaceutical section of the store he was an agent and selling The Great American Remedy – Southern Balm, Allebasi's Medicines which included Salve, Health Pills, Tooth Ache Drops, and Poor Mans's Plasters, Medicines from R. F. Hibbards & Co., Beach's Family Medicines, Dr. Crossland's Compound Anti-Bilious Pills, Wheeler's Balsam of Moseatello, Dr. Strong's Sarsaparilla, Circassian Balm, Dr. Rush's Health Pills, and Dr. Van Buren's Celebrated Rheumatic Embrocation to name a few. He was also selling utility items such as Parisian Polish.
Spooner was also a bookseller advertising popular books of the day such as W. D. Beach's "Every Man his own Physician," "The Constitution" by William K Clarkson, and "The Cultivation of Grape Vines and Making of Wine" by his father Alden Spooner.
In the business section of the store, Spooner was selling Steel Pens such as Myer Phineas' Bank and Commercial Pen, Gillot's Pens, Levi Brown's Diamond Point Pens, Leon's Commercial Pen, Japanese Ink, Hertz & Son's Black and Blue Inks, Maynard, Hover's, Rand and Chappel's Ink, Blank Books, Ledgers, Day Books, Cash Books, Journals, Visiting Cards, Landlord and Tenant Agreements, Sermon Paper, Morocco Paper, Letter Paper and Foolscap (paper cut to size), Fancy and Party Paper, Law Blanks and game products such as Backgammon Boards, Dominoes, and Playing Cards. Yet in another area, he was providing Letter Press Printing, Engraving, and Lithography.
All this leads us to the No. 2 Astor House address in New York City where the proprietor was selling Spooner's Hygeian Tonic. When looking up who was at this address in 1840 we see that it was Bartlett & Welford, Booksellers & Importers, 2 Astor House (John R. Bartlett and Charles Welford). This is only conjecture, but Edwin B. Spooner probably had a relationship with Bartlett & Welford to sell Spooner's Hygeian Tonic, and most likely, his father's wine-making book. The Astor House was the first luxury hotel in New York City located on the corner of Broadway and Vesey Street in what is now the Civic Center and Tribeca neighborhoods of Lower Manhattan. Astor House opened in 1836 and soon became the best-known hotel in America. As a side note, the druggists Rushton & Aspinwall were only a few doors down at 10 Astor House.
See the museum example of a Rushton & Aspinwall New-York Compound Chlorine Tooth Wash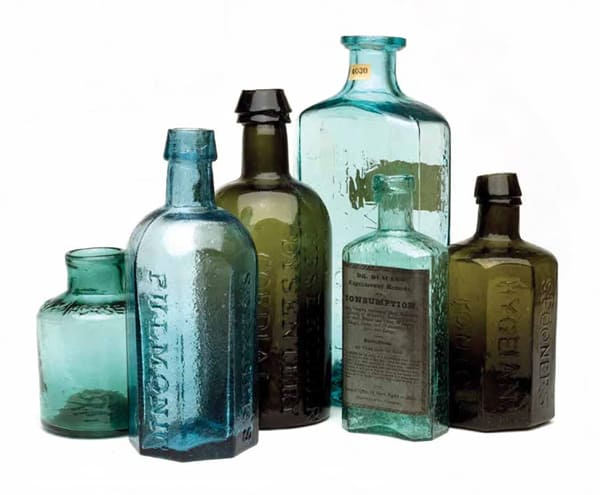 Primary Image: Spooners Hygeian Tonic New-York bottle imaged on location by the FOHBC Virtual Museum Midwest studio led by Alan DeMaison.
Support Image: Auction Lot 2: "Spooners / Hygeian / Tonic / New-York / Price $1.00" Medicine Bottle, America, 1840-1860. Octagonal, medium to deep yellow olive, applied sloping collared mouth with ring – pontil scar, ht. 6 1/8 inches; (light exterior high point wear). AAM pg. 489 A rare bottle with a wonderful, early form and appealing size. Fine condition. – Norman Heckler Jr. & Sr., Norman C. Heckler & Company, Auction #161
Support Image: Auction Lot 194: "Spooners / Hygeian / Tonic / New-York / Price $ 1.00" Medicine Bottle, America, 1840-1860. Octagonal, medium to deep yellow olive, applied sloping collared mouth with ring – pontil scar, ht. 6 1/8 inches. AAM pg. 489 A rare bottle with bold embossing and wonderfully crude glass. Fine condition. – Norman Heckler Jr. & Sr., Norman C. Heckler & Company, Auction #170
Support Image: Auction Lot 26: "Spooners / Hygeian / Tonic / New York / Price $1.00 " Medicine Bottle, America, probably a Stoddard glasshouse Stoddard, New Hampshire, 1846-1860. Octagonal, medium yellow olive, sloping collared mouth with ring – pontil scar, ht. 6 inches; (partial open interior bubble, no damage). AAM pg. 489 Rare, early, ruggedly handsome. Fine condition. – Norman Heckler Jr. & Sr., Norman C. Heckler & Company, Auction #205
Join the FOHBC: The Virtual Museum is a project of the Federation of Historical Bottle Collectors (FOHBC). To become a member.