Dr Ashbaugh's Plant & Root Bitters, J.C. Tilton Prop Pitts. Pa
Dr. Ashbaugh's
Plant & Root Bitters
J. C. Tilton Prop
Pitt's. Pa
A 101.2
Joseph C. Tilton, Pittsburgh, Pennsylvania
Orange Amber Square
Provenance: Chip Cable Collection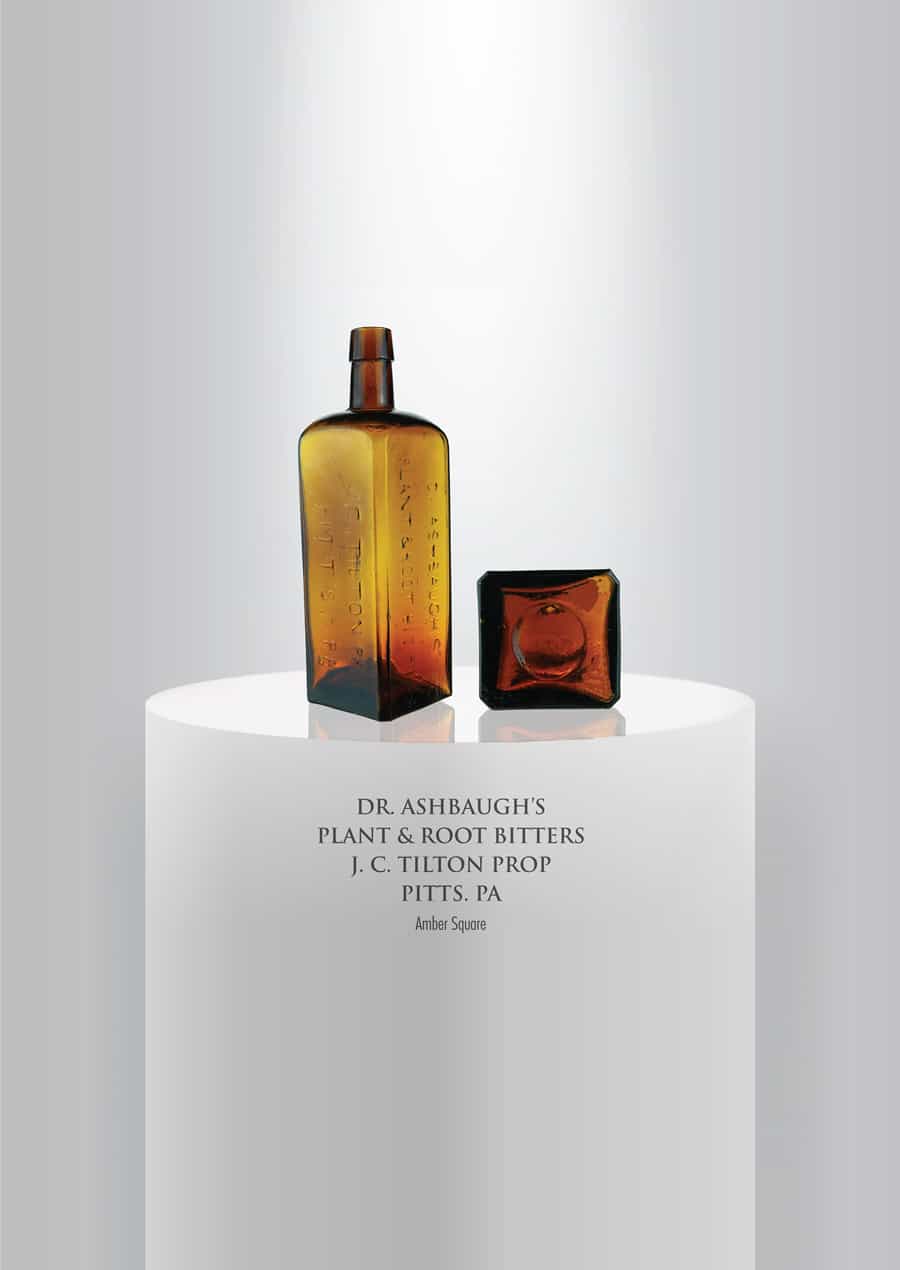 Our museum example represents a square Dr. Ashbaugh's Plant & Root Bitters which is a relatively new find as it is not listed in any of the previous Bitters Bottles books. The "A 101.2" designation is a new listing in Bitters Bottles Supplement 2. Joseph C. Tilton was a life-long salesman and the proprietor of the bitters living and working in Pittsburgh, Pennsylvania.
Our square, orange-amber example is embossed on two successive sides from shoulder to base in a sans serif typestyle. The first panel, in two lines, is embossed 'DR. ASHBAUGH'S PLANT & ROOT BITTERS'. The "R" of "Dr." is raised and much smaller. The ampersand is not evenly spaced between "Plant" and "Root." The second embossed panel also has copy in two lines reading 'J. C. TILTON PROP' and 'PITT'S. PA'. The other two panels are blank and where a paper label may have been placed. The bottle is full of character and in excellent condition.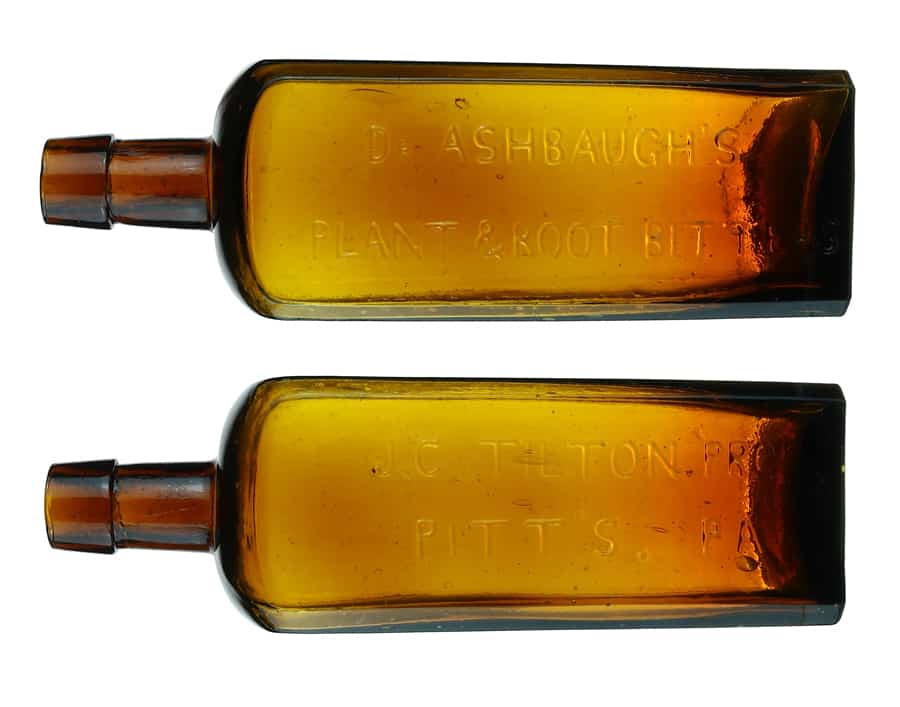 The listing in Bitters Bottles Supplement 2 is as follows:
A 101.2
// DR. ASHBAUGH'S / PLANT & ROOT BITTERS // f // J. C. TILTON PROP / PITT'S. PA //
8 ¾ x 2 ¾
Square, Amber, LTC, Applied mouth, Extremely rare
There are also two extremely rare rectangular Ashbaugh's Bitters. "A 101" is 8 1/2 inches tall, yellow amber, and embossed 'DR. ASHBAUGH'S PLANT & ROOT BITTERS J. C. TILTON PROP= PITTS', PA.'
"A 102" is aqua and embossed 'DR. J. ASHBAUGH'S PLANT & ROOT BITTERS PITTSBURGH, PA'. Both are listed in Bitters Bottles.
Joseph C. Tilton was born in Ohio around 1825. His father, James T. Tilton, was a Commodore in the United States Navy. Joseph was quite a salesman and placed hundreds if not thousands of small advertisements looking for people to make a few dollars and sell things for him. Throughout his career, he was listed in a number of professions including, Dealer in Oil Lands (1865-1866), Real Estate Agent (1868-1877), Dealer in Patent Medicines and Solicitation (1867-1878), Making Whacks, in 1879, and Carpet Cleaning (1884). Some later advertising inferred that he was selling medicines as early as 1855.
These medicines included Dr. Karsner's Catarrh Treatment, Ashbaugh's German Hail Remover, Indian Balm Medicated Toilet Soap, Dr. J. C. Tilton's Indian Balm Pills, and Wonder of the World. Tilton's big claim to fame was his "Women's Friend and Steam Washer" where advertising said he had sold over 100,000. Later in the 1880s he would be selling Glycerine Carpet Paste and was the owner of Ole, Dry Carpet Cleaning Company in Pittsburgh.
Read: What about this Tilton's Dandelion Bitters?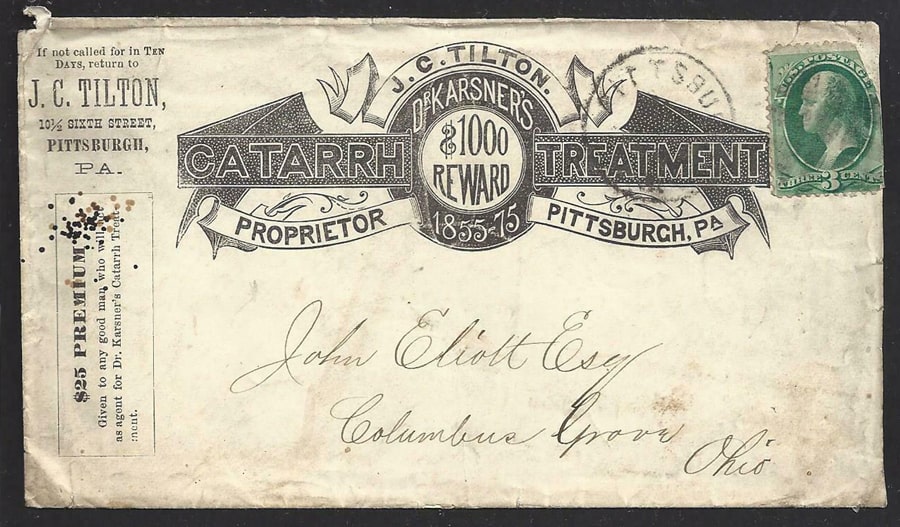 An almost full-page poem in the 1868 issue of Leisure Hours mentions our bitters in two verses:
A compound made of plant or root, The wants of man will better suit, And serve the ends of health much better, For Instance Ashbaugh's famous Bitters. To tone the stomach and digestion, Their value none will dare to question, Then shun the 'lurling glass that glitters, And take to using Ashbaugh's Bitters.
They're searching as a fine tooth comb, All through the system they will roam, And bring the spirits to a focus, Tinting the skin a brilliant crocus. They're harmless as an infant's tooth, And pleasant to both age and youth, The worst of ills they'll read'ly throttle, If you doubt the fact, just try a bottle. J. C. Tilton, sole proprietor Pittsburgh, Pa.
J. C. Tilton was among two heat death victims during a heat spell in 1895 in Washington, D.C.
Primary Image: Dr. Ashbaugh's Plant & Root Bitters bottle imaged on location by Alan DeMaison, FOHBC Virtual Museum Midwest Studio
Support: Reference to Leisure Hours, Volume 1, 1868, Publisher: O'Dwyer & Company
Support: Reference to Bitters Bottles by Carlyn Ring and W. C. Ham and Bitters Bottles Supplement 2 by Ring, Ham & Meyer.
Join the FOHBC: The Virtual Museum is a project of the Federation of Historical Bottle Collectors (FOHBC). To become a member.