Roth & Co (Pint)
Roth & Co
214 & 216 Pine St.
San Francisco.
Joseph Roth, San Francisco, California

Red-Amber Pint
Provenance: Steven Hubbell Collection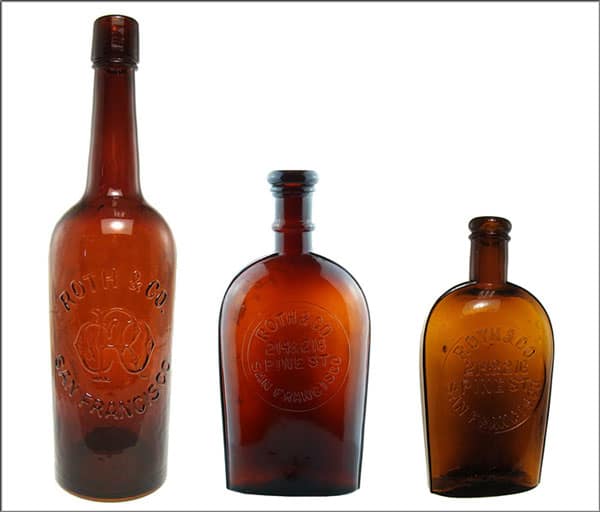 Here is a really interesting amber flask with a double rolled collar mouth. These rare flasks came in half-pints and pints. A cylinder Roth & Co. monogram fifth completes the grouping.
This exceptional museum example is extremely rare with its long neck and raised ring between the shoulder and the double roll collar top of the banded flask. There are also examples with mold marks where this ring has been removed. The significance of the ring is unknown. The flask was made between 1881 and 1885 according to Thomas.
The flask has embossed copy set within two embossed outlines of circles. 'ROTH & Co' (no period) is arched downwards in a convex line. 'SAN FRANCISCO' is arched upwards on the bottom of the circle (with a period). '214 & 216 PINE ST' (no period) is embossed in two horizontal lines within the arched copy.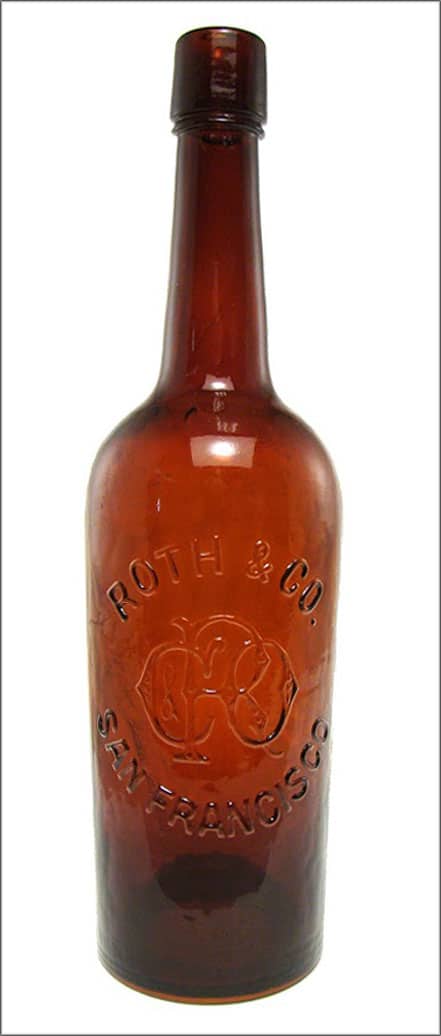 Roth & Company was founded in San Francisco in 1859 by Joseph Roth. The company survived for sixty years but Roth himself did not as he died in 1891. His stellar reputation among his California clientele allowed his successors to maintain his name and brand until the National Prohibition in 1919.
Joseph Roth was born on April 19, 1827, in Niederbronn-les-Bains, France. He arrived in San Francisco at an early date in the Gold Rush era of 1849. The city quickly became the largest and most important business and population center in the American West. Roth recognized the potential for wholesaling liquor and wine in a town teeming with saloons, new hotels, and provision stores.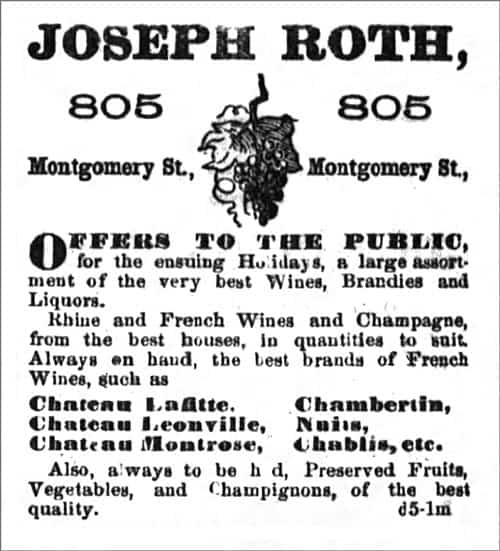 Roth's business importing wines and liquors originated around 1859, though he was recorded as a merchant in San Francisco as early as 1856. In 1861, his first city directory address was 508 Battery at the Old Court House building. By 1865, Joseph Roth had moved to 805 Montgomery. After a few years of operating on his own, Roth took on Henry Videau as a partner in 1867. They would eventually relocate 214 & 216 Pine Street which is embossed on our flask and remain partners until a name change in 1876 to Roth & Levy (Herman L. Levy). Levy would depart and for the next ten years or so it was Roth & Co. at the 214 & 216 Pine Street address. Adolph Roos and Simon Scheeline would join Joseph Roth as partners.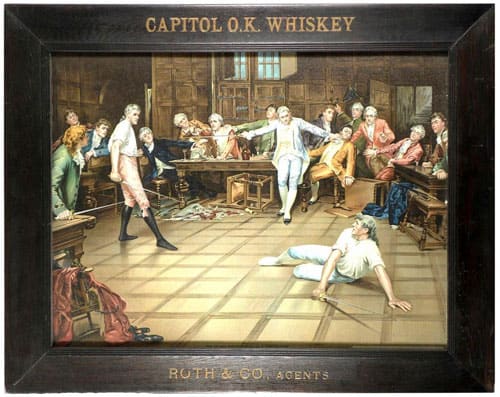 Joseph Roth was also responsible for the extremely rare Mohica Bitters which ironically, was the first bottle embossed with the name Roth & Co. on it. Up until then, Joseph Roth excluded the use of his now well-known name. Even more ironic is that it was a bitters as Roth was primarily known for his numerous brands of whiskey.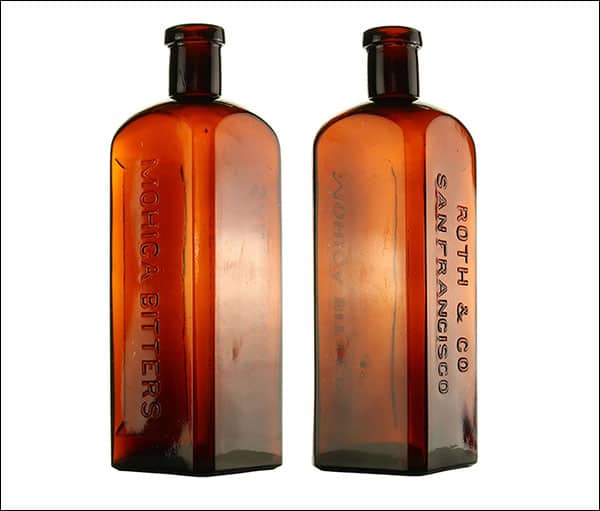 Primary Image: Roth & Co. pint and Mohica Bitters imaged on location by the FOHBC Virtual Museum midwest studio led by Alan DeMaison.
Support: Reference to Sixty Years of Roth & Co — Sans Roth by Jack Sullivan
Support: Whiskey Bottles of the Old West by John L. Thomas, 2002
Support Image: Roth & Co. fifth in red amber, with deep kick-up. RCO monogram. – Jeff Wichmann, American Bottle Auctions