J.D. Willoughby – The Ladies Favorite
J. D. Willoughby & Co.
New York
(Figure of Lady)
The Ladies Favorite

James D. Willoughby & Co., New York, N.Y.

Aqua Quart
Provenance: Jerry McCann Collection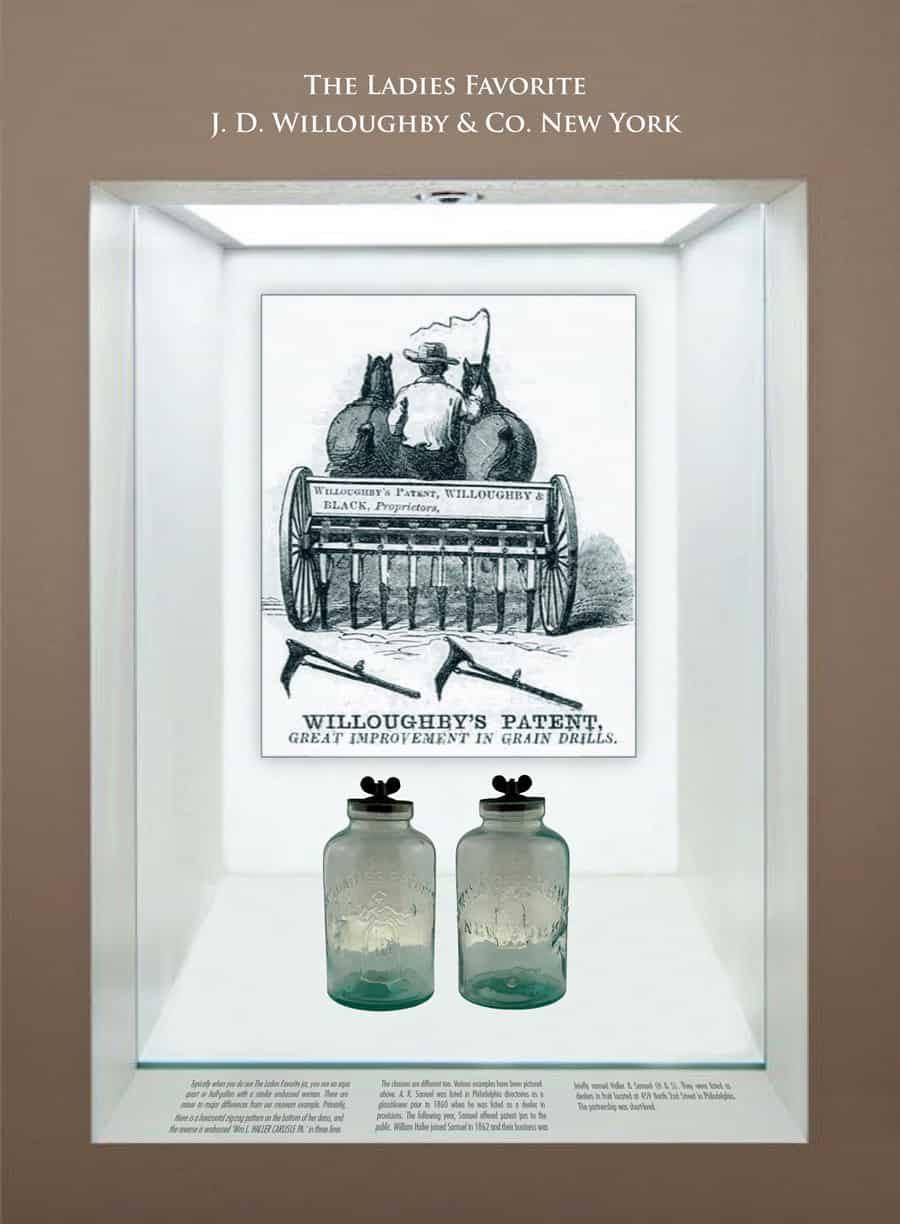 The J. D. Willoughby & Co. New York – The Ladies Favorite is a remarkable jar that prominently pictures an embossed woman in a pleated dress on the face of the jar. Both of her arms are outstretched. One is holding a jar and the other is pointing to sans-serifed embossed wording in an arch above reading 'THE LADIES FAVORITE.' This is actually considered the reverse of the jar. The front has 'J. D. WILLOUGHBY & CO. in a serifed typestyle embossed in an arch over a straight line horizontal 'NEW YORK.' Our subject jar is an aqua quart and is considered extremely rare.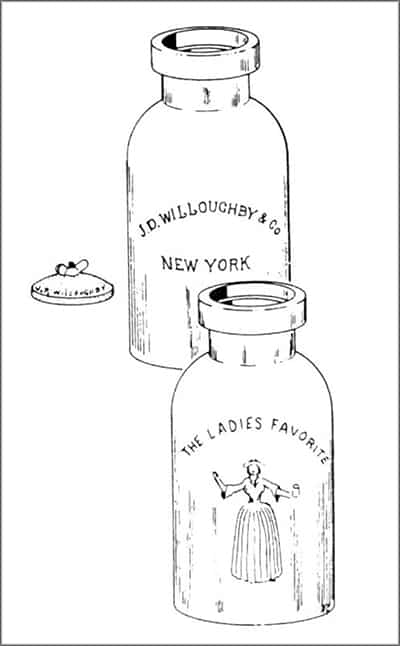 The jar is hand blown with a tooled applied collar. The closure seal is a Willoughby metal stopple consisting of two cast-iron disks and a gasket compressed by a wing nut that seals on the inside of the mouth of the jar.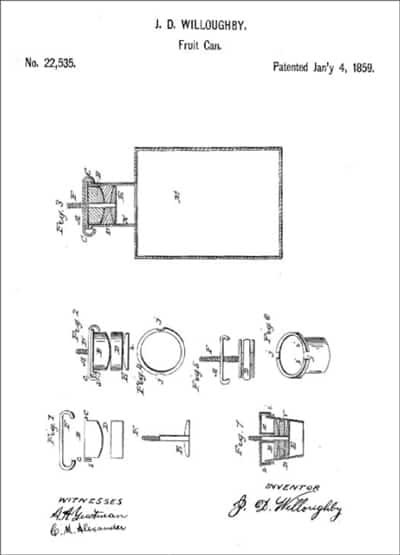 Cast into the stopple is "J. D. WILLOUGHBY PATENTED JANUARY 4 1859". James D. Willoughby received Patent No. 22,535 for an "Improvement in Sealing Cans and Bottles" on January 4, 1859. At the time, Willoughby resided in Carlisle, Pennsylvania, and assigned the patent to C.M. Alexander of Washington, D.C. who was a patent attorney. The maker of the jar is unknown. A listing or address for Willoughby can not be found after consulting New York City directories.
See our Museum example of a free-blown J. D. Willoughby Patd Jan 4, 1859 jar in sapphire blue.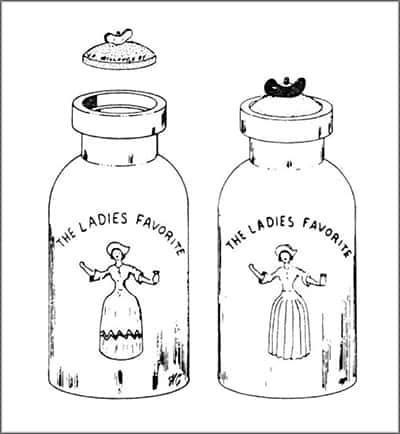 Typically when you do see The Ladies Favorite jar, you see an aqua quart or half-gallon with a similar embossed woman. There are minor to major differences from our museum example. Primarily, there is a horizontal zig-zag pattern on the bottom of her dress, and the reverse is embossed 'Wm L. HALLER CARLISLE PA.' in three lines The closures are different too. Various examples have been pictured above.
A. R. Samuel was listed in Philadelphia directories as a glassblower prior to 1860 when he was listed as a dealer in provisions. The following year, Samuel offered patent jars to the public. William Haller joined Samuel in 1862 and their business was briefly named Haller & Samuel (H & S). They were listed as dealers in fruit located at 459 North 2nd Street in Philadelphia. The partnership was short-lived.
See our Museum example of an H & S Phila jar.
James D. Willoughby was an interesting man who grew up in Scotland, Franklin County, Pennsylvania which is located northwest of Baltimore, across the state line, and due west of Philadelphia. In his early life, he was a minister of the Lutheran Church but poor health forced him to relinquish the ministry and turn his attention to other pursuits such as mechanics where at various times he brought forth valuable inventions.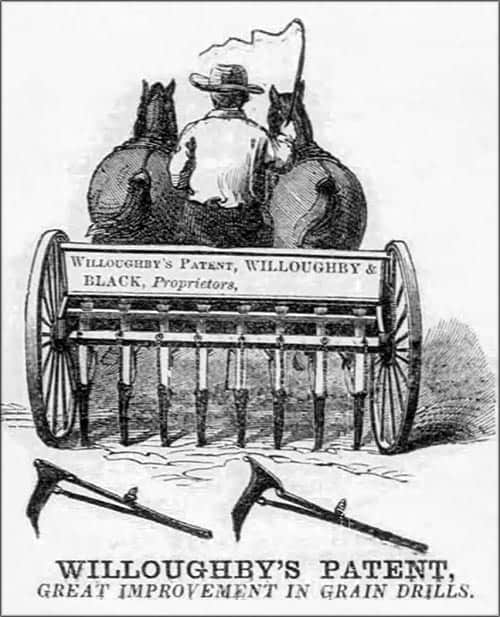 J. D. Willoughby was best known as the inventor of the Willoughby Grain Drill that he invented as a young man in 1851. This seed planter was an agricultural implement that was widely used and improved in 1858 by another patent. His patent 1859 Willoughby top to a fruit jar was found in many households of the period. In later years he was said to have completed a governor for a steam engine that he had been working on for ten years. Unfortunately, his improvements in machinery and canning never realized him a dollar for which others reaped fortunes.
Willoughby died in Pittsburgh on July 10, 1882. He had gone west with a doctor friend for a few years looking for better health and was returning home to Shippensburg, Pa. where he lived his last years after his wife's death in Philadelphia.
Primary Image: The Ladies Favorite Jar imaged on location by the FOHBC Virtual Museum midwest studio led by Alan DeMaison.
Support: Reference to A. R. Samuel, the Philadelphia Jar Maker by Bill Lockhart, Jim Sears, and Beau Schriever.
Support: Reference to Fruit Jar Annual 2020 – The Guide to Collecting Fruit Jars by Jerome J. McCann
Support: Reference to Red Book #11, the Collector's Guide to Old Fruit Jars by Douglas M. Leybourne, Jr. Use of Creswick illustrations courtesy Doug Leybourne.
Support Images: "THE LADIES FAVORITE" / (woman in full dress holding a jar) – "WM. L. HALLER / CARLISLE / PA.", (SFJR #511), Pennsylvania, ca. 1860 – 1870, bluish aqua quart, smooth base, applied mouth, original 'J.D. Willoughby Patented January 4, 1859' two-piece iron disk closure and wing nut – Jim Hagenbuch, Glass Works Auctions, Auction #96
Support Images: Auction Lot 67: THE LADIES FAVORITE with H&S Cage Style Closure. One of the rarest and perhaps most appealing of all collectible fruit jars, this aqua quart is embossed on the front with a pictorial of a woman in a pleated dress holding a jar in one hand and pointing up with the other hand to the embossed logo "THE LADIES FAVORITE". On the reverse side is embossed in flourished block lettering "Wm L HALLER CARLISLE PA". This is the extremely rare version with the H&S style cast iron cage-type closure assembly. The closure is in good intact condition with some pitting to the 150-yr-old metal, but still part of the lettering is readable on the cap. The thumbscrew still works smoothly. There is a spot on one edge of the domed iron cap that has rusted thru, but overall still very solid metal and displays beautifully. The jar is in good shiny condition with no significant problems. There is one small chip on the ground rim, and the base of the jar has a tiny manufacturing flaw, consisting of two hair-like annealing fissures done in the making of the jar, shown. The jar was found in an attic and retains good as-found luster to the glass. A wonderful early jar of which only 3 or 4 examples are known to exist. – Greg Spurgeon, North American Glass
Support Images: Auction Lot 7030: THE LADIES FAVORITE Wm L HALLER CARLISLE Pa, Quart – Aquamarine, Closure: rare original (and original to this specific jar) 2-inch cast-iron Willoughby stopper, with the full undamaged original gasket still in place. Appearance: shiny glass. Condition: excellent, with only some pinhead-sized nicks all around the inner edge of the mouth. Embossing: strong. Base: unmarked. Age: 1860s. Availability: Rare, and especially tough to find with the complete original small stopper. A beautiful jar. This series has been attributed to Adam Samuel's Keystone Glass Works manufactory in Philadelphia, Pennsylvania – Greg Spurgeon, North American Glass
Support Images: Auction Lot 14452: THE LADIES FAVORITE Wm HALLER Half-Gallon, Crude, Sharp, Aquamarine, Closure: original 2-5/8″ Willoughby cast iron stopper with original gasket, and original to the jar. Appearance: Displays crude, whittly, bubbly, and sparkling glass throughout. The crude character includes a large white pot stone (no radiations) left of the dress as shown. Condition: rough sheared mouth. Embossing: strong. Base: unmarked. Age: 1860s. Availability: Rare and a fantastic example displaying beautiful crudity. Any version of this jar is rare, but this style with a sheared or "burst" lip is much rarer than the applied lip style and has seldom been in good condition due to the thin, fragile mouth. From the collection of Mr. Jan Hall. – Greg Spurgeon, North American Glass
Join the FOHBC: The Virtual Museum is a project of the Federation of Historical Bottle Collectors (FOHBC). To become a member.