Old White Bear
Old White Bear
Old White Bear Inn, Race and Fifth Streets, Philadelphia, Pennsylvania
Emerald Green Porter Tavern Bottle
Provenance: Tod von Mechow Collection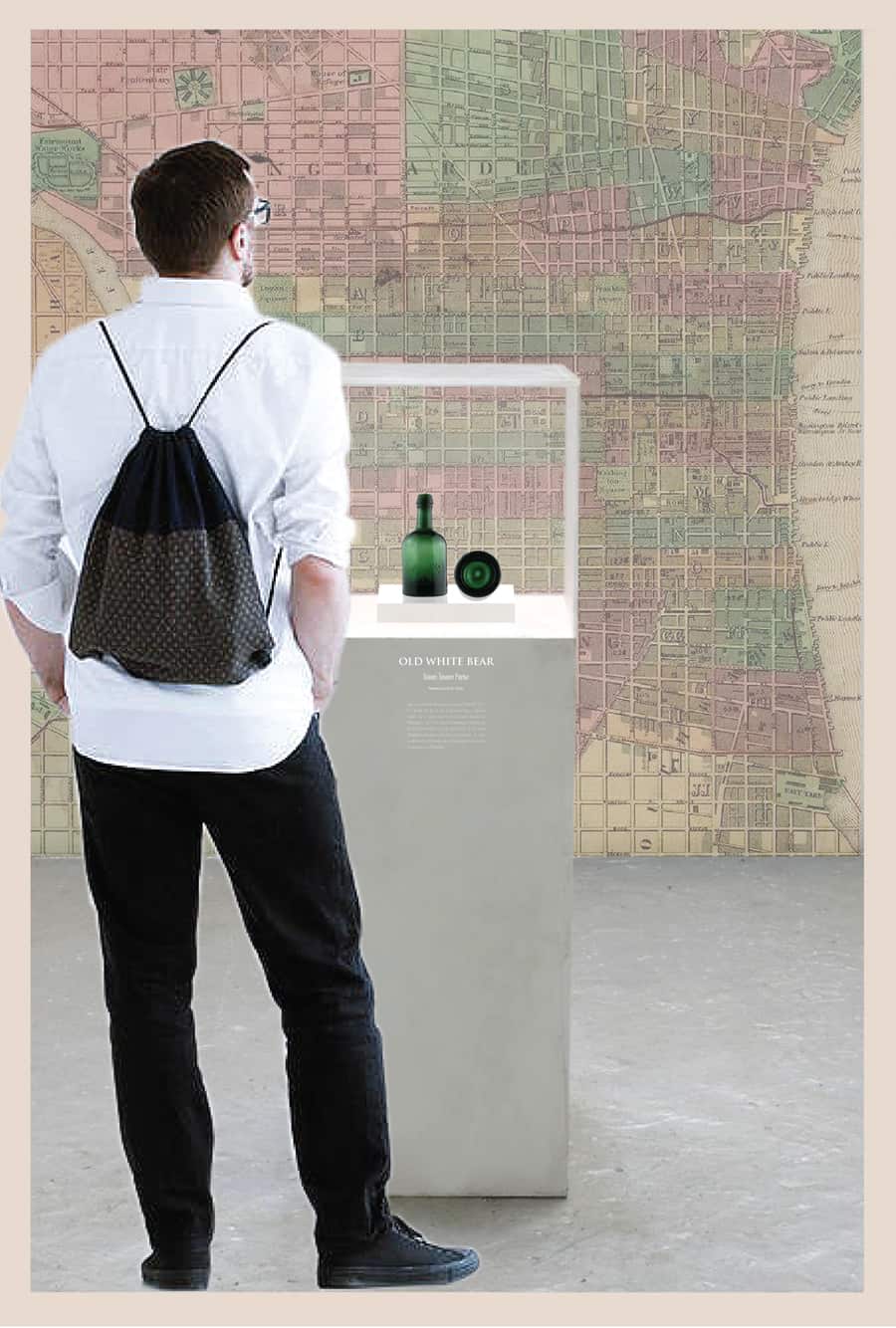 Beer brewing began in the United States during the early colonial days. Beer was consumed in immeasurable quantities on all sorts of occasions including breakfast, dinner, supper, and between meals. Using bottles to contain beer was uncommon during this time as beer was dispensed from kegs in taverns and inns, and bottles were relatively rare and expensive.
Beer and ale and the related stout, porter, and weiss are yeast-fermented products of various grains, most commonly malted barley and or wheat. All four similar products are lumped together and referred to simply as "beer" by many collectors.
The types of bottles used for bottling beer in the earliest days would have been the common heavy black glass utilitarian bottles. By the late 18th century, porter was bottled in the northern Atlantic seaboard states in various black and green glass bottles in enough quantity that some were being exported. During this period, newspaper advertising claimed that Philadelphia bottled porter was "warranted equal" to anything imported from Europe. Advertisements for porter could be found in many Philadelphia (and elsewhere) newspapers in the decades to come.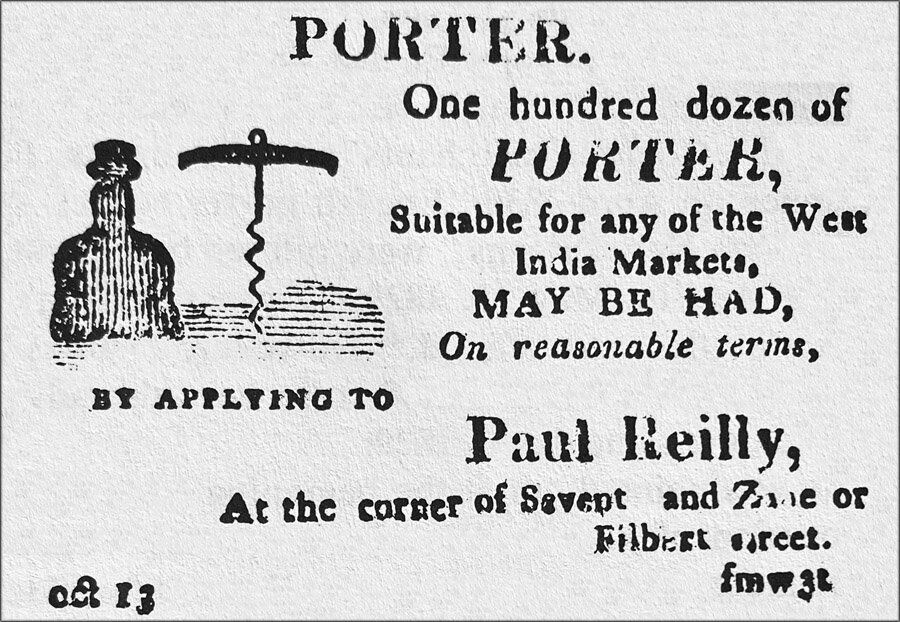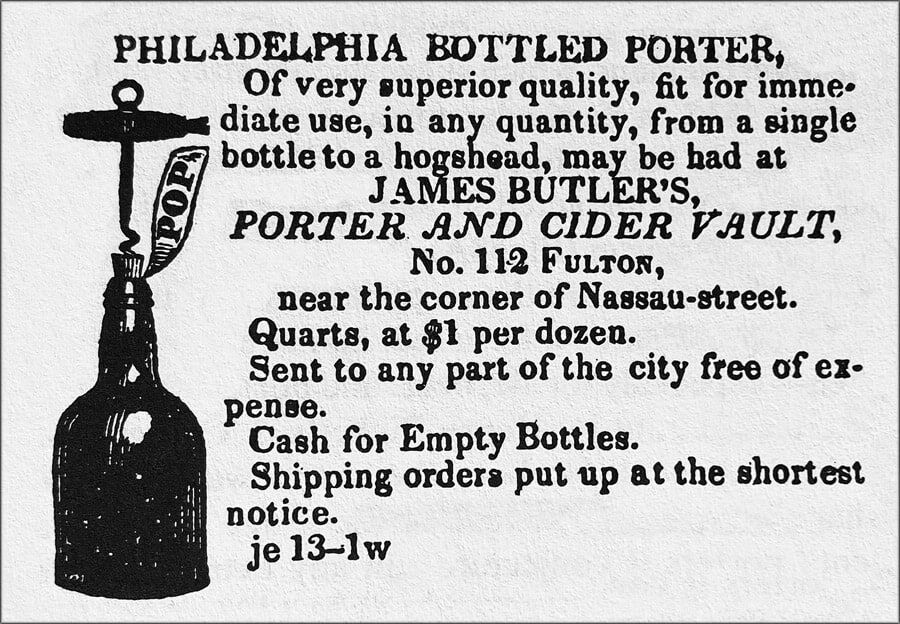 Our museum "Old White Bear" is considered a Philadelphia tavern bottle that would have contained porter. The squat 7-inch tall by 3 1/16 wide cylindrical emerald green bottle is embossed in two lines, 'OLD WHITE' in an arch over 'BEAR,' which is under-arched. The delicate serif-type arrangement is set within a bordered horizontal oval plate. The bottle was hand blown into a two-leaf mold and would have used a cork as a closure. There is a double-tapered collar and an improved pontil. The bottle dates to around 1846. The bottles would have been made at a Philadelphia or regional glasshouse.
White Bear Tavern
In 1785, Henry Meyers opened the White Bear Tavern and Inn at the corner of Fifth and Race Streets in Philadelphia. On the Fifth Street side he had raised letters on the spout basin under the eaves of the roof reading, "H. M. 1786" with a bas relief head of Washington all stamped out of sheet copper. Meyers was the landlord of the building up to 1840. The old-fashioned brick structure, with an ancient-looking portico in front, had the reputation of having been one of the most noted hostelries in the city. During the War of 1812, it was the stopping place of military officers, and it is said the first organized company of troops for that conflict was sworn under the roof of the White Bear. Among the guests at one time or another were Generals Washington and Cadwalader.
In 1840, The Keystone, a local Philadelphia newspaper, reported, "William Dohnert, Late proprietor of the Old Rotterdam Hotel known as the Germantown Head Quarters No 118 North 3rd street, has removed to the old established stand at the corner of Fifth and Race streets, Philadelphia, known as the OLD WHITE BEAR INN, late Henry Myers, where he will be proud to receive his fellow citizens of the city and the county, whenever it may be convenient for them to call. The liquors are of the finest quality that the city can afford, such as brandy, gin, wines and malt liquors. The stabling is in good order, and every attention will be paid to his patrons. N. B. Champagne cider of the best quality is always on hand.
In 1855, the local Public Ledger newspaper reported that The "OLD WHITE BEAR" was revived. – The subscribers respectfully inform the old customers and the public in general that they have purchased the GOOD WILL, etc., of this favorite old Stand, and completely renovated each Department; and they pledge themselves to those who may favor them with their custom, that no pains shall be spared to insure (sic) every satisfaction. The Bar shall be furnished with the best of liquors, and the Eating Department with the best the market affords. We solicit a share of patronage. Jacob de Haven & Son, S. W. corner Fifth and Race sts.
The Philadelphia tavern called Old White Bear probably followed the name of the Old White Bear pub located at 1 Well Road, Hampstead, in the London Borough of Camden that dates back to 1704. It closed on February 2, 2014, only to reopen in December 2021.
Beer and ale were bottled in a relatively limited array of bottle shapes that were round or cylindrical in cross-section. Square, rectangular, or other body shapes are almost unknown. Beer and ale, being carbonated, known as "pressure ware" in the bottle-making industry, had to be contained in cylindrical heavy glass bottles since such a shape is inherently stronger than other shapes. The thick glass had to survive extensive post-bottling handling and use since these bottles were often reused. Extensive base and side wear on many examples is evident. Like soda and mineral water bottles, many beer bottles were the property of the beer bottler and were sometimes marked as such, i.e., "This Bottle is Never Sold" or similar words to that effect.
Primary Image: "Old White Bear" porter tavern bottle imaged on location by Alan DeMaison, FOHBC Virtual Museum Midwest Studio.
Support Image: Auction Lot 309: "OLD WHITE / BEAR" (within oval ring), America, 1850 – 1860. Medium emerald coloration, cylindrical porter-style, applied sloping collar with bevel – deep base with large iron pontil scar, ht. 7″; (bottle was likely dug, but is in "as found" condition with just some scattered light exterior wear, a little minor interior haze). A very rare, important Philadelphia porter bottle. – John Pastor, American Glass Gallery, Auction #19, November 2017
Support Image: Auction Lot 282: "OLD WHITE / BEAR" (inside an oval panel), Pennsylvania, ca. 1840 – 1855, emerald green, 7 1/8"h, big iron pontil, applied double collar mouth. In 'as found' condition and never cleaned. Some inside and outside stain but no post production damage. Dug but never cleaned. An important Philadelphia soda water bottle! – Jim Hagenbuch, Glass Works Auctions, Auction #153, November 2015
Support: Reference to Soda & Beer Bottles of North America, Tod von Mechow
Support: Reference to Historic Glass Bottle Identification & Information website.
Support: Reference to American Bottles and Flasks and Their Ancestry by Helen McKearin and Kenneth M. Wilson, Crown Publishers, New York, 1978.
Join the FOHBC: The Virtual Museum is a project of the Federation of Historical Bottle Collectors (FOHBC). To become a member.