Zanesville Pattern Molded Bowl
Zanesville Pattern Molded Bowl
19 Swirled Ribs Left

White Glass Works
Aquamarine Bowl
Provenance: John Fifer Collection, ex Darl Fifer Collection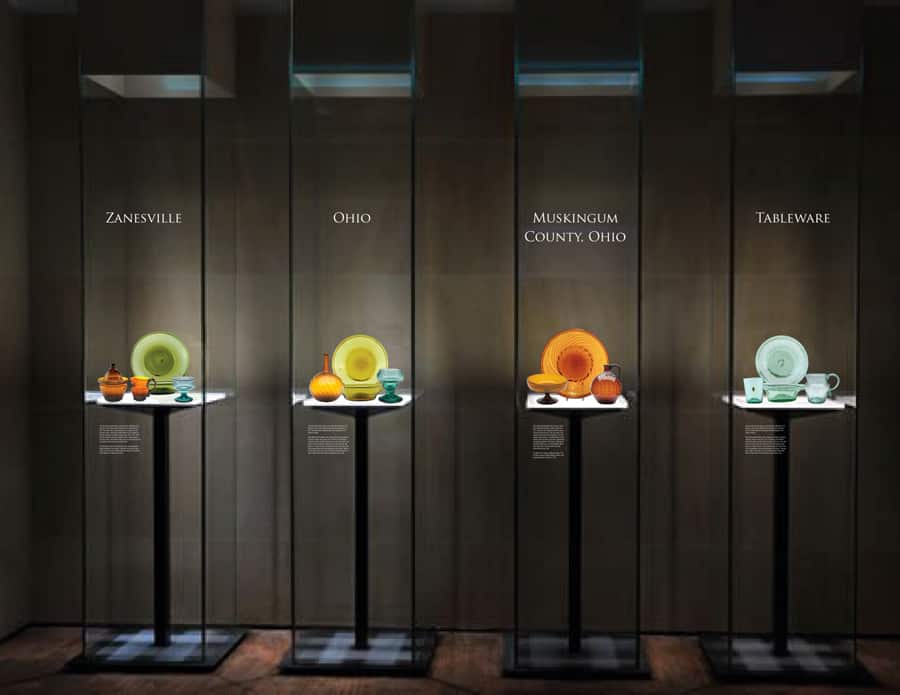 This wonderful aquamarine pattern molded bowl is attributed to White Glass Works in Zanesville Ohio. The company was founded in 1815 and lasted until approximately 1851 under various management and names. The bowl has 19 swirled ribs to the left. The top diameter is 4-½", while the bottom is 2-½" in diameter and has a pontil mark. The bowl is 1-¼" tall.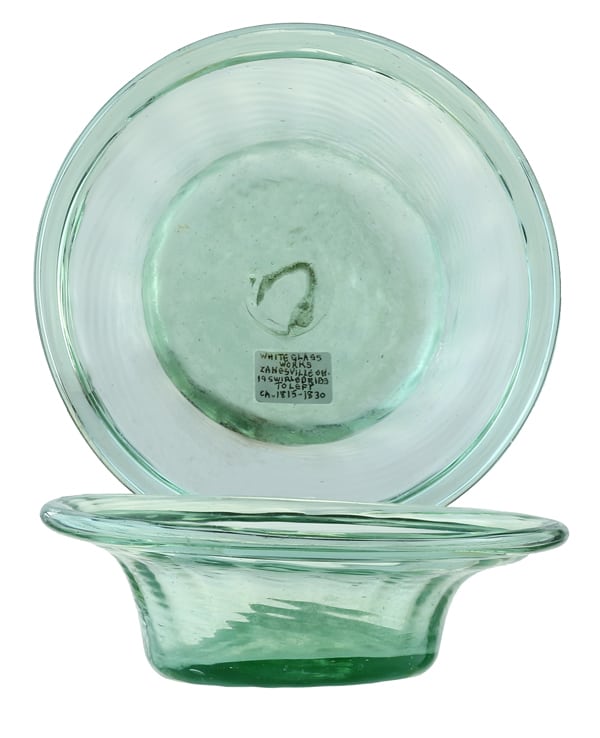 The first recognized glasshouse in Ohio was at Zanesville, organized by a group of citizens and incorporated May 13, 1815, as the White Glass Works and Zanesville Glass Manufacturing Company. Isaac Van Horne was president and his son-in-law, Dr. John E. Hamm was Secretary. Other supporters were Samuel Herrick, Samuel Sullivan, Rees Cadwalader, Davis J. Alarpole, Ebenezer Buckingham, and John Nanne. The glasshouse blowers primarily produced hollowware, bottles, and flasks for commercial purposes, though fine tableware was also made such as plain free-blown, or pattern molded bowls, pans, pitchers, sugar bowls, compotes, salts, and tumblers. They were blown in ribbed, swirled, diamond, and other designs and made in a wide range of colors. These craftsman had come from the east after the War of 1812 and were either trained by Henry William Steigle or influenced by the Steigel style in Manheim, Pennsylvania.
A White Glass Works announcement of 1816 stated, "These works are now in complete operation, and the proprietors have on hand a large assortment of white hollowware, specimens of which may be seen at their warehouse. Physicians and apothecaries can be furnished with ware for shop furniture. Orders shall be filled with care and dispatch, and upon as reasonable terms as can be purchased in the western country."
As White Glass Works is considered the earliest glass company in Ohio, there were certainly other earlier glassmakers in Ohio, but few if any of these ever reached the incorporation stage. Much of the early glass industry were sole proprietorships, and the nature of the early Ohio Industry was such that almost all of the really early glassmakers left few records. Such was the nature of the craft that it was a rarity for the early glassmakers to be able to read or write.
Isaac Van Horne and John Hamm were unlike the average early Ohio glass manufacturers as they were both literate, had financial resources, and were members of the State and local government. They went into the enterprise as entrepreneurs, rather than as workers.
The glassworks was located on the southwest corner of 3rd and Market Street in Zanesville, which in the early nineteenth century was a small town that incorporated one year earlier in 1814. The town was surrounded by thick forests and had all the necessary ingredients for making glass such as sand, potash, and lime which could be obtained nearby. They also had access to coal and wood to fuel the glass furnaces. Making glasswares helped ensure meeting the demands of an increase in population as well as an expanding economic base.
White Glass Works continued until 1820, then leased the glasshouse. In 1822, Joseph Shepard and others purchased the factory, using the name Shepard & Company. Much of the fine early glass now known to have been made in Ohio was probably produced there. Except for a few flasks, there were no marked pieces.
See the museum example of a GIV-32 Masonic Arch – Eagle Shepard Flask.
Primary Image: Aqua Zanesville Bowl imaged on location by the FOHBC Virtual Museum midwest studio led by Alan DeMaison.
Support: Reference to Zanesville Glass: A History of the Companies Which Have Manufactured and the People Who Have Contributed to Its Artistry, Elegance and Endurance for Nearly Two Hundred Years, Paperback, Unabridged, January 1, 2011 by J. William Barrett II
Support: Reference to The Kearns Glass Companies of Zanesville by Bill Lockhart, Pete Schulz, Beau Schriever, Bill Lindsey, and Carol Serr with contributions by Bill Barrett and David Whitten
Support: Reference to The Robinsons of Zanesville 1893-1900 by Marg Iwen, Bottles and Extras, 2004
Support Images: Auction Lot 1: Pattern Molded Handled Jug, ribbed and swirled to the right, 24 ribs, a Zanesville glasshouse, Zanesville, Ohio, 1820-1840. Globular with applied solid handle, medium orange amber with some reddish tones, inward rolled mouth – pontil scar, ht. 6 1/4 inches, greatest dia. 5 inches; (handle rigaree has been broken away, 1/4 inch star fissure at lower body). Similar in form and construction to MW color plate V, #5 A rare, beautiful form in a larger than usual size. – Norman Heckler, Norman C. Heckler & Company, The Peter Tillou Collection, Auction #190
Support Images: Auction Lot 23: Freeblown Compote, probably a Zanesville glasshouse, Zanesville, Ohio, 1830-1850. Shallow cylindrical bowl with tooled knopf stem and applied saucer foot, medium yellow amber, tooled rim – pontil scar, ht. 3 5/8 inches, bowl dia. 6 1/8 inches, foot dia. 3 1/4 inches; (approximately half the rim has been finely buffed). Similar in form and construction to McK plate 28, #9 A well-constructed bowl with an appealing and rare form. Generally fine condition. – Norman Heckler, Norman C. Heckler & Company
Support Images: Auction Lot 100: Pattern Molded Salt Cellar, ribbed and swirled slightly to the right, 24 ribs, a Zanesville glasshouse, Zanesville, Ohio, 1815-1840. Double ogee formed bowl with applied flattened circular foot, deep greenish aquamarine, tooled rim – pontil scar, ht. 2 7/8 inches, greatest dia. 2 1/2 inches. Nearly identical to Mrs. Frederick S. Fish, Parke-Bernet Galleries, New York, 1940, #377 Superior form, color and condition. Ex David Ellis collection, Anthony Picadio collection. – Norman Heckler, Norman C. Heckler & Company
Support Images: Auction Lot 10: Pattern Molded Creamer, 24 ribs swirled to the right, probably a Zanesville glasshouse, Zanesville, Ohio, 1820-1840. Bulbous form flaring to rim with applied solid strap handle, greenish aquamarine, tooled flared rim with pour spout – pontil scar, ht. 4 inches, greatest dia. 3 5/8 inches, base dia. 2 7/8 inches. Similar pattern to McK plate 8, #5, form similar to McK plate 9, #2 This exceptional piece was originally purchased in 1935 and remained in the same old collection in Piqua, Ohio until purchased by Dr. Aprill in the March 2010 Heckler auction. Fine condition. Dr. Charles and Jane Aprill collection. – Norman Heckler, Norman C. Heckler & Company
Support Images: Auction Lot 6: Large Freeblown Salt Cellar, a Zanesville glasshouse, Zanesville, Ohio, 1815-1840. Double ogee form bowl on short knopf stem with applied flattened circular foot, deep aquamarine, outward flared rim – pontil scar, ht. 3 1/8 inches, greatest dia. 3 1/4 inches. A bright, beautiful color and an exceptional Zanesville salt. Fine condition. Rare. Ex David Good collection, ex David Ellis collection, Anthony Picadio collection. – – Norman Heckler, Norman C. Heckler & Company
Support Image: Bowl, United States, probably Ohio, Zanesville, 1820-1840, Furnishings; Serviceware, Pattern-molded blown glass, Height: 2 7/8 in. (7.3 cm); Diameter: 10 1/4 in. (26.04 cm), Decorative Arts Council Curatorial Acquisitions Discretionary Fund (M.84.19.2) – Los Angeles County Museum of Art
Support: Reference to Ohio Glass 1815-1953, The Toledo Museum of Art, October 1953