J. Moore Old Bourbon – E. Chielovich
J. Moore Old Bourbon
Trade Mark (Antlers)
E. Chielovich & Co.
SOLE AGENTS

Elia Chielovich & Co., San Francisco, California

Red Amber Fifth
Provenance: Richard T. Siri Collection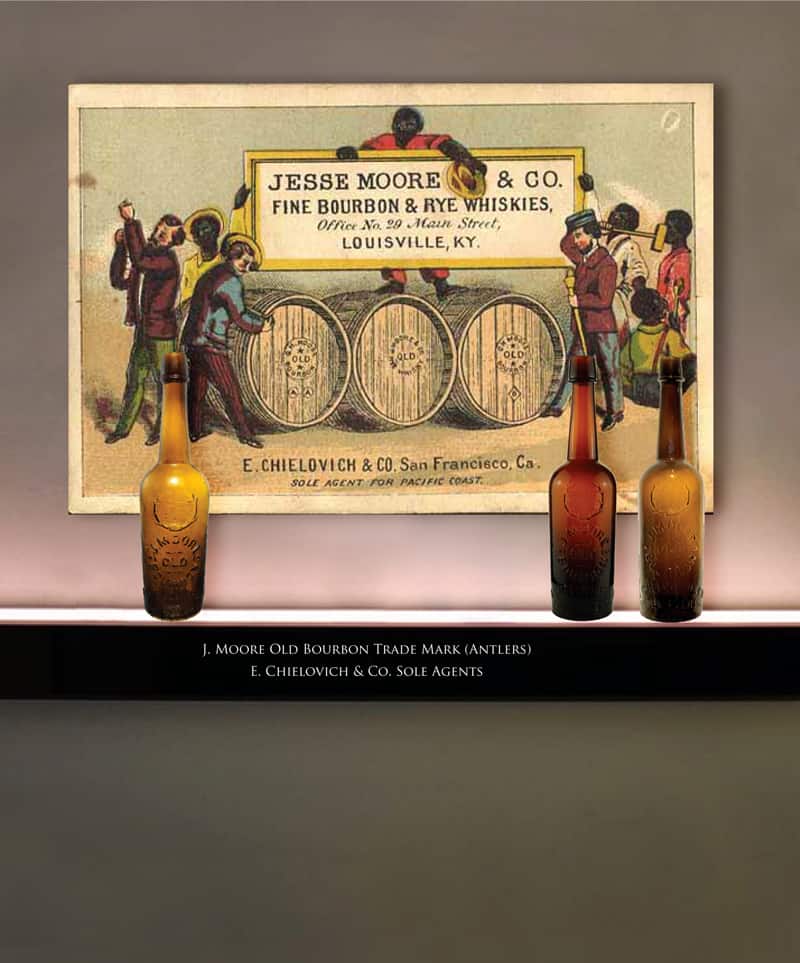 J. Moore Old Bourbon bottles with the Trade Mark "Antlers" are extremely popular with western glass and whiskey bottle collectors in general. The bottles range in color from yellow amber to red-amber, to shades of green-amber and have applied tops. Our museum example represents a top specimen of a very rare bottle.
See the museum example of the related Jesse Moore – Moore-Hunt Sole Agents bottle.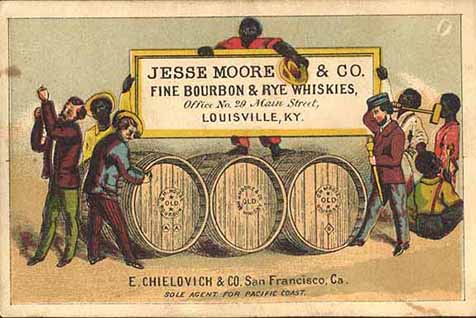 Elia Chielovich
Elia Chielovich was a native of the Kingdom of Dalmatia and was born about 1825. We can place him in California at least as early as 1856 and see that he married Jane Jewel in Sacramento in 1858.
Chielovich is simply listed as a San Francisco merchant in the 1860 United States Federal Census. By 1867, he formed E. Chielovich & Co. in San Francisco selling wholesale wine and liquor. Among other ventures, he was an early investor in Sitka gold mines, which was not a successful venture for him.
Chielovich first introduced the Jesse Moore brand in the western states in January 1872 and was designated the Sole Agent for the Pacific Coast. At about this same time, Henry Brown Hunt was admitted to the firm.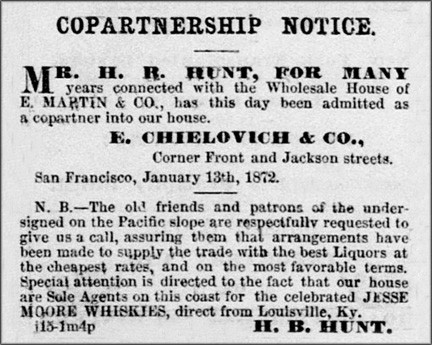 The partnership continued until August 18, 1875, when Henry B. Hunt withdrew from E. Chielovich & Co. and formed a partnership with George H. Moore in the style of Moore, Hunt & Co. In doing so, Hunt took the Jesse Moore brand with him. Therefore the J. Moore bottle of E. Chielovich & Co. would have been produced between the years 1872 and 1875.
E. Chielovich & Co. continued with the new partner of Bozo Radovich, until 1877 when Radovich withdrew and started his own liquor company. Chielovich then accepted Lazarus Radovich as a partner in 1878. He also opened a branch store in Reno, Nevada, by 1878, as noted by a listing in the Nevada directory for that year.
The cessation of the firm of E. Chielovich & Co. was, to say the least, a contentious affair. Elia Chielovich entered relative retirement shortly thereafter and continued to reside in San Francisco until his death on May 31, 1901.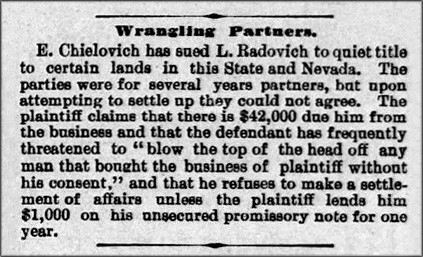 See the museum example of Durham Whiskey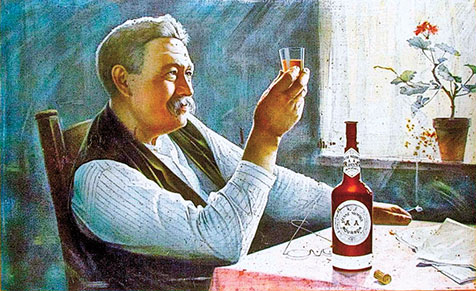 Primary Image: J. Moore Old Bourbon bottle imaged on location by the FOHBC Virtual Museum midwest studio led by Alan DeMaison.
Support: Primary research by Eric McGuire.
Support: Reference to Whiskey Bottles of the Old West by John L. Thomas, 2002
Support Images: Secondary examples courtesy of Jeff Wichmann and American Bottle Auctions.