GVIII-26 • Sunburst Flask
GVIII – 26
Sunburst Flask
Possibly Baltimore Glass Works, Baltimore, Maryland
Rich Medium Yellow Green Pint
Provenance: Michael George Collection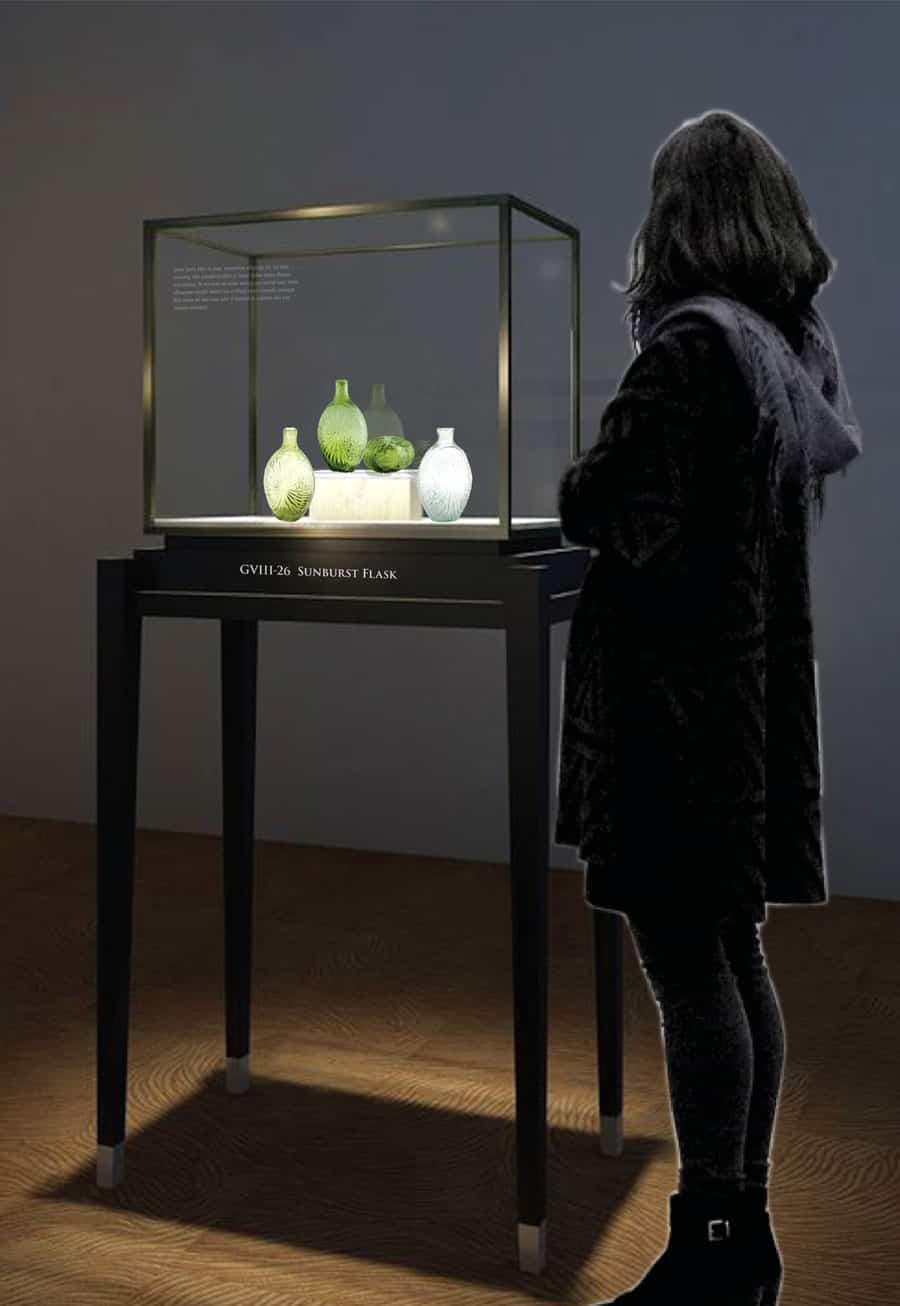 Sunburst flasks are considered one of the oldest of the American "geometric" and "historical" flask groups and are generally attributed to the period of 1810 to the early 1830s. This dating results from historical research, glasshouse excavations, and the manufacturing techniques of the flasks. The sunburst flasks are all made with two-piece molds with pontil scarred bases and most having sheared mouths. Except for the letter embossing on three forms, the sunburst pattern that occurs on both sides of the flask forms is essentially identical.
With many types of antique bottles and flasks, such as bitters, sodas, and medicines, the embossed names, products and locations, advertising, and paper labels greatly assist with historical research and identifying the bottle. Very limited historical information is available for sunburst flasks because they are from the early periods of the glasshouses when good records were not maintained, or records were destroyed in glasshouse fires. As noted previously, only three of the approximately thirty-three sunburst charted flasks are letter embossed. There were no paper labels on the sunburst flasks because they were purchased without contents and then filled and refilled in bars and saloons.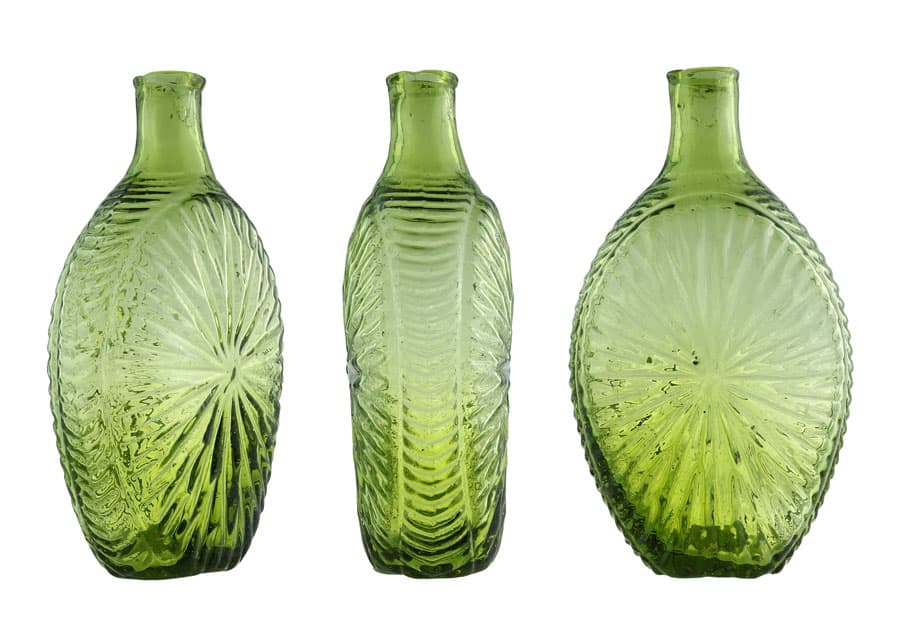 Our pint GVIII-26 Sunburst Flask may have been blown at the Baltimore Glass Works, in Baltimore, Maryland sometime between 1820 to 1830. There is a large elliptical sunburst covering the entire side of the flask with 16 rays. The rays converge to a definite point at the center. The reverse is the same as the obverse. The edges are horizontally corrugated with a herringbone formation with corrugations that extend around the flask just below the neck. The extraordinary glass color is a rich medium yellow-green. There is a sheared mouth and a rough blowpipe pontil scar. The flask is rated comparatively scarce to scarce.
The flask can be found in aquamarine, green aquamarine, light to medium yellow-green, light apple green, light blue-green, and yellow.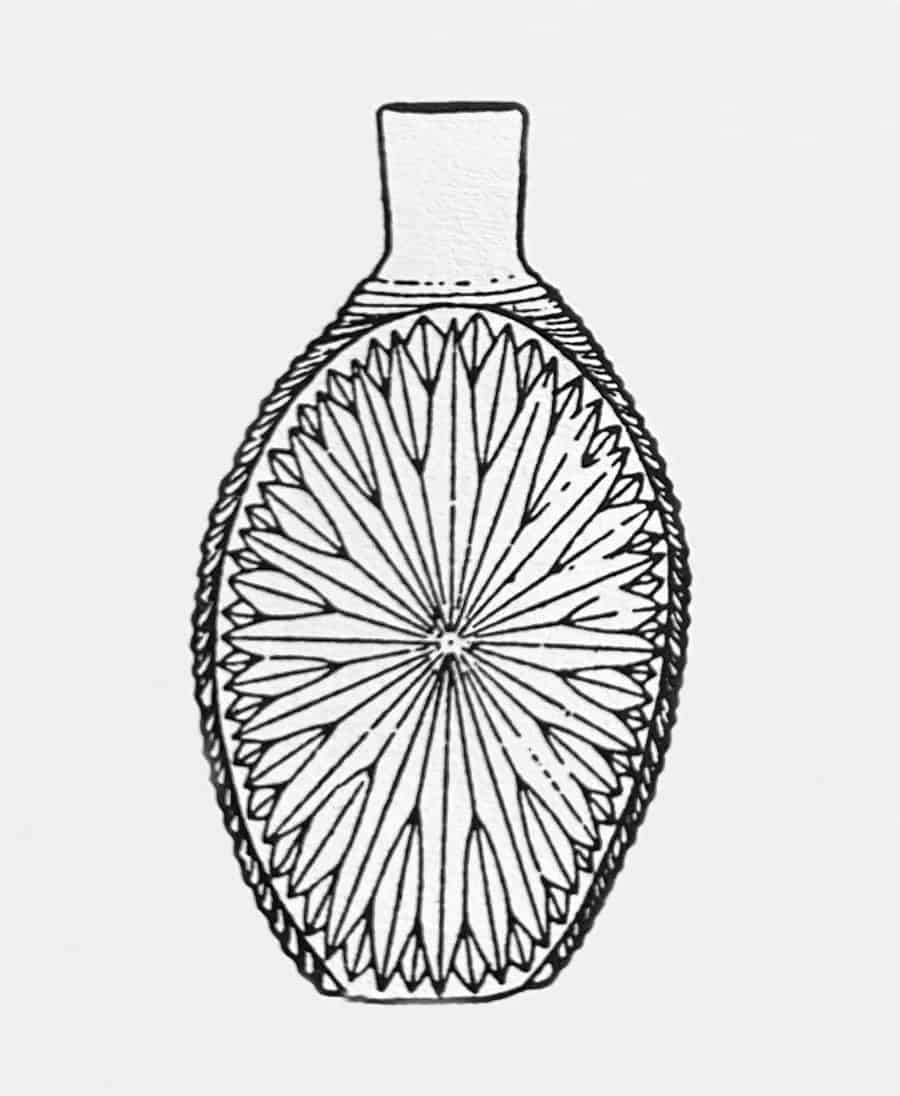 Primary Image: GVIII-26 Sunburst Flask imaged on location by Alan DeMaison, FOHBC Virtual Museum Midwest Studio.
Support Image: Auction Lot 7: Sunburst Flask, America, 1820-1840. Brilliant light yellow-green, tooled mouth – pontil scar, pint. GVIII-26 A spectacular flask, one where color, condition and form come together. Fine condition. Robert and Janice Weekes collection. – Norman Heckler Jr. & Sr., Norman C. Heckler & Company, Auction #167
Support Image: GVIII-26, Sunburst, brilliant yellow, Pint, Open Pontil, bold embossing, an extremely rare and beautiful color, America 1820 to 1835 – From greatantiquebottles.com, the website of Ed and Kathy Gray.
Support: Reference to American Bottles and Flasks and Their Ancestry by George S. and Helen McKearin, Crown Publishers Inc., New York, 1978.
Join the FOHBC: The Virtual Museum is a project of the Federation of Historical Bottle Collectors (FOHBC). To become a member.