W. Henderson & Co, Extract of Sarsaparilla Pittsburgh
W. Henderson & Co.
Extract of Sarsaparilla
Pittsburgh
William Henderson, M.D., Pittsburgh, Pennsylvania
Blue Aquamarine Rectangular Medicine
Provenance: Chip Cable Collection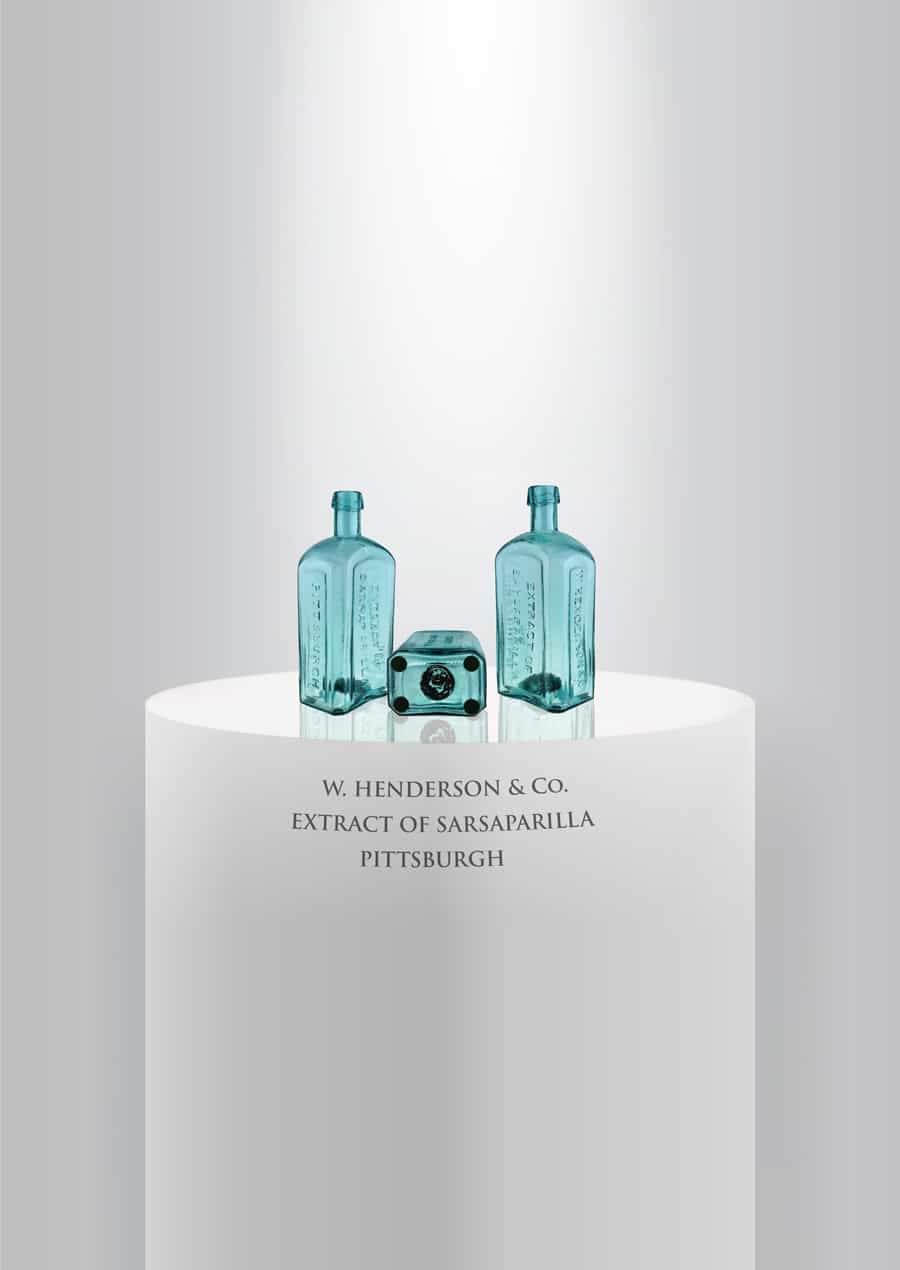 According to the consignor, the "W. Henderson & Co. Extract of Sarsaparilla Pittsburgh bottle is the only one known. We dug several broken ones over the years. This one came from Judge McKenzie as I saw it in the 1970s on one of his lists. I called him about the bottle and asked if he would sell it. Judge McKenzie asked if I had any bitters, specifically a Guckenheimer's German Stomach Bitters that I'd trade with him. He thought the trade was not enough and said how about adding $25, so we made the deal. That was in 1978."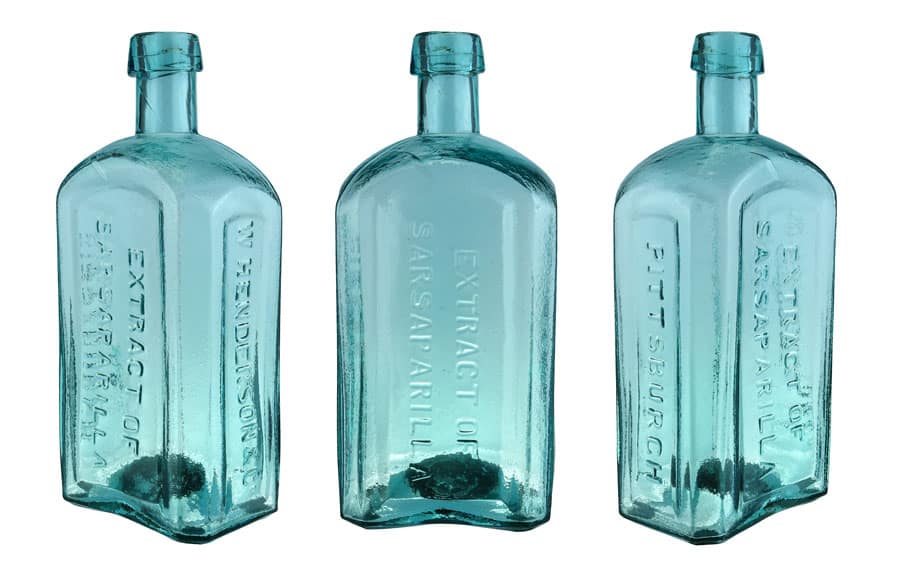 This exceptional bottle measures 9 1/8 inches high by 4 inches wide by 2 3/4 inches deep. The deep blue aquamarine rectangular bottle has beveled corners, four sunken broad-chamfered arched panels, an applied tapered collar, and an iron pontil. Within the recessed panels is embossed sans serif copy reading shoulder to base, "W HENDERSON & Co' (side panel, no period after "W," and "o" of "Co" smaller and raised ), 'EXTRACT OF SARSAPARILLA' (front panel in two centered lines) and 'PITTSBURGH' (side panel). The reverse depressed panel is smooth and is where a paper label may have been placed. The bottle panels are misshapen and crude, giving additional character to this wonderful bottle.
William Henderson was a life-long Pittsburgh physician and druggist born in Ireland around 1800. We first see him listed as a druggist on Washington St., north of Coal Lane, in the 1839 Pittsburgh city directory. At 39 or so years old, we suspect he had been practicing his trade many years earlier. In 1841, William went into business with his brother Joseph. The company would move a few times until they landed on 262 Liberty Street as J. Henderson & Bros. Wholesale Druggists. Armstrong (A.C.) was the third brother.
The 1850 United States Federal Census notes that his family was living in Pittsburgh Ward 3, Allegheny, Pennsylvania; family members were Mary Henderson, 40, Joseph Henderson, 27, Mary Henderson, 25, Armstrong Henderson, 24, Margaret Henderson, 21, Catharine Henderson 11, and William Henderson 6. The Henderson drugstore business would continue up until the turn of the century.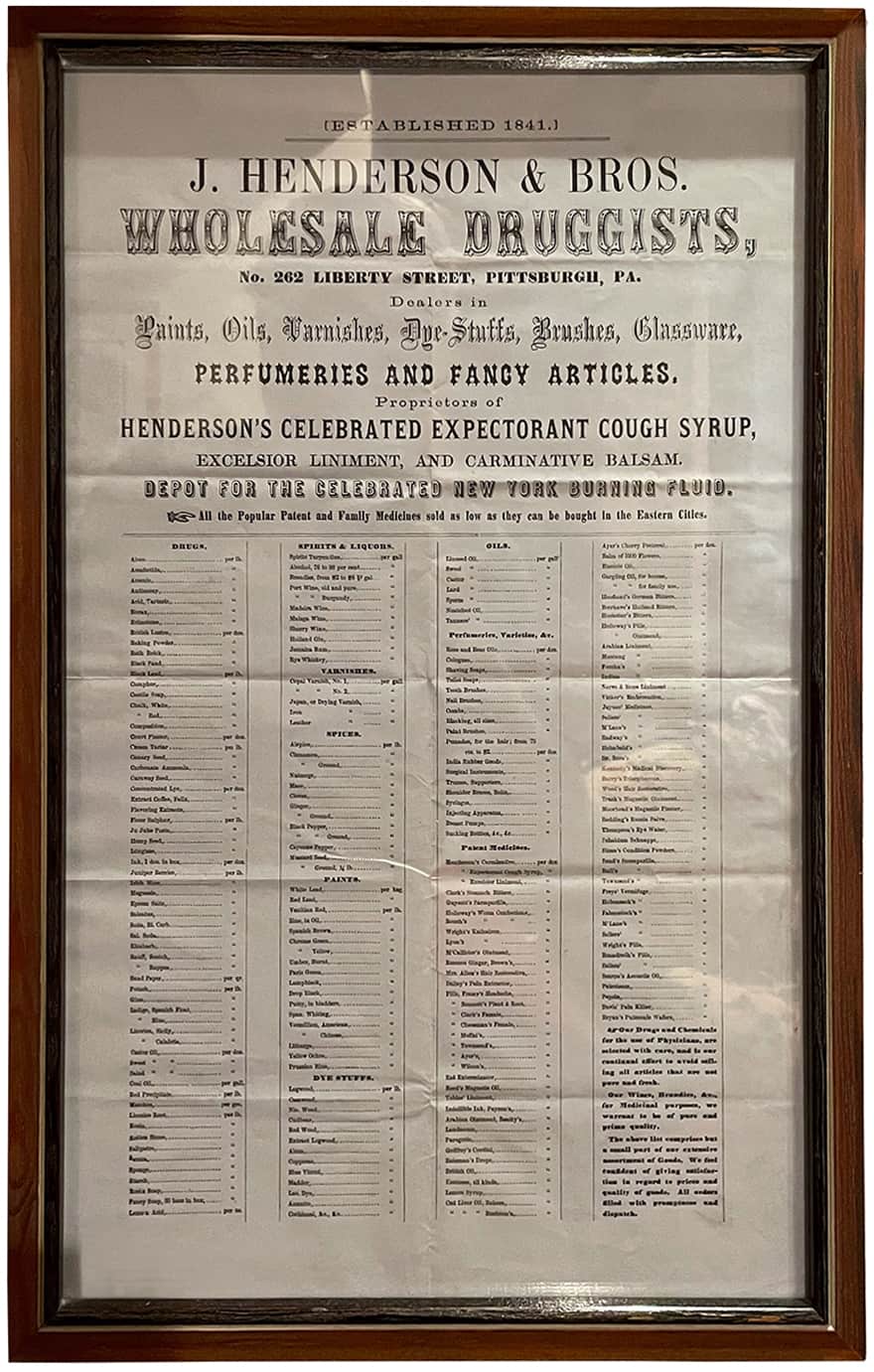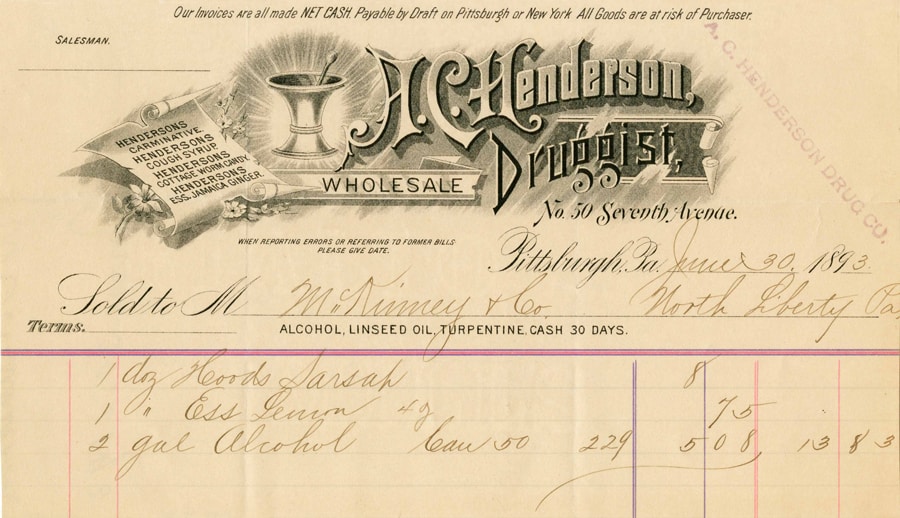 Primary Image: The "W. Henderson & Co. Extract of Sarsaparilla Pittsburgh" bottle imaged on location by Alan DeMaison, FOHBC Virtual Museum Midwest Studio.
Support: Reference to Pontiled Medicine Price Guide by Jim Holst, Eleventh Edition, 2012.
Support Image: "Established 1841, J. Henderson & Bros. Wholesale Druggists, No. 262 Liberty Street, Pittsburgh, Pa." framed broadside. – Chip Cable collection.
Support Image: "J. Henderson & Bros. – Druggist's – Pittsburgh, "probably a Pittsburgh district glasshouse, 1840 – 1855. Aquamarine, rectangular with beveled corners, sheared and inward rolled mouth – blowpipe pontil scar, ht. 4", near mint; A very rare early Pittsburgh druggist, very strongly embossed.
Join the FOHBC: The Virtual Museum is a project of the Federation of Historical Bottle Collectors (FOHBC). To become a member.