M. Rothenberg & Co. Gamecock Whiskey
M. Rothenberg & Co.
(Gamecock Whiskey)
San Francisco, California

Mendle Rothenberg, Nantucket, Massachusetts & San Francisco, California
Orange-Amber Fifth
Provenance: Richard T. Siri Collection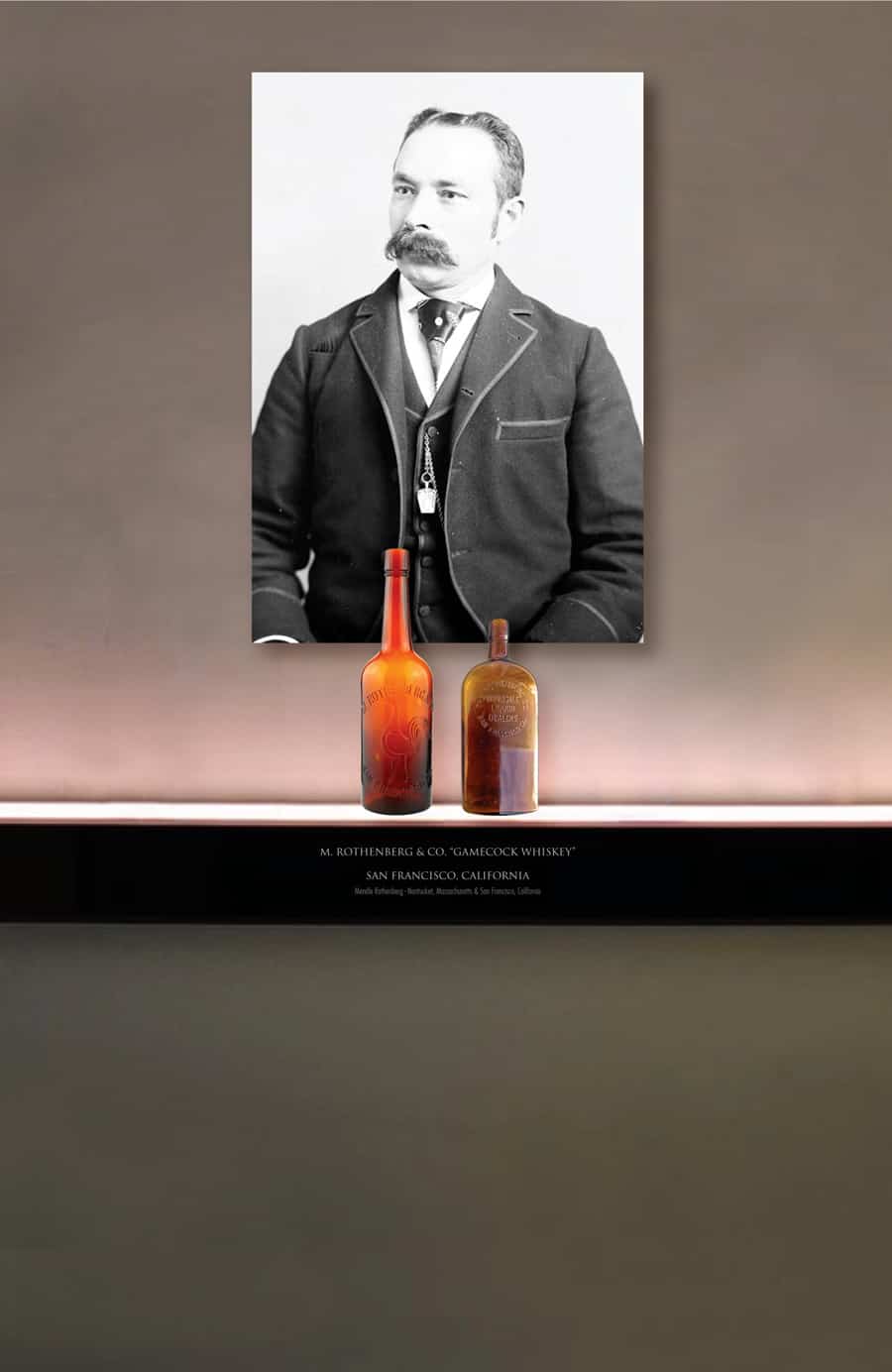 The M. Rothenberg & Co. amber fifth, with the embossed gamecock, is a late bottle prized with collectors. Also called "Gamecock Whiskey," there are actually two versions or molds for the bottle as there is a fat and skinny gamecock. We can date the bottle to around 1897.
Mendle Rothenberg was born in Russia in February 1851 or so and immigrated to the United States in 1865. In 1874, we see him listed in dry goods and as a general merchandise dealer in Nantucket, Massachusetts operating the Rothenberg Brothers store on Main Street. In 1890, he joined the Nantucket Improvement Association and lived on Orange Street. He would enter politics in the early 1890s and was elected as a Mass. State Representative by the Republican Caucus. The family moved to San Francisco, California in the late 1890s, probably to join other family members and seek out a more prosperous life. In 1883, Mendle married his wife who was named Fanny and they had children named Israel, Mable, and Harry. Mendle was the brother of Louis, Perritz, Henry, and Israel Rothenberg.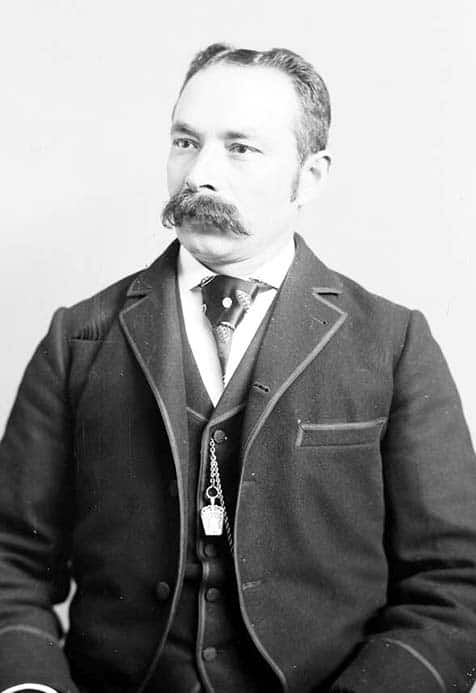 We see Mendle Rothenberg and M. Rothenberg & Co. listed in the Crocker San Francisco city directories, operating from 1897 through 1905 as wholesale liquor dealers on 423 Kearny Street. His sons Israel and Harry would join him in business, first as bookkeepers and clerks. The company would run afoul in 1898 as Maurice Hennessy & Brothers of Cognac, France filed suit for alleged trademark violations for Rothenberg trying to imitate their French Brandy. The Siegert Brothers of the Isle of Trinidad would also file suit against Mendle Rothenberg for imitating the packages and labels of Angostura Bitters. In 1907, M. Rothenberg & Co. had moved to 2714 Pine. That same year Mendle was seriously injured in a traffic accident. The business would continue but he died on October 31, 1911.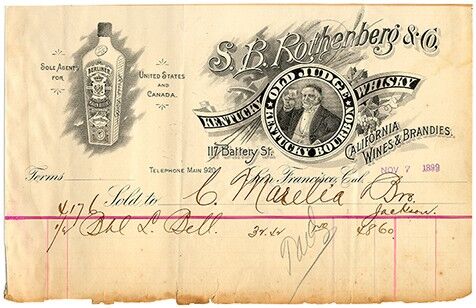 It is also interesting to note the other Rothenberg's involved in the liquor business nested in San Francisco during this time period. In 1897, along with M. Rothenberg & Co., we see S. B. Rothenberg & Co. (Samuel B. Rothenberg), wholesale wines and liquors and agents of Old Judge Whiskey located at 117 Battery. They started a good decade earlier in San Francisco. In 1903, we see The Rothenberg Co. with Louis Rothenberg as president. Henry Rothenberg is vice-president. They are listed as wholesale wine and liquor dealers and agents of Old Judge Whiskey, located at 117 Battery. In 1907, we see H. Rothenberg & Co. led by Henry Rothenberg and W. W. Phillips. They are listed as wholesale liquor dealers at 609 Sansome. Paris Rothenberg was also listed in liquors. By 1909 you see H. (Henry) Rothenberg & Co. (609 Sansome), M. (Mendle) Rothenberg & Co. (2714 Pine) and The Rothenberg Co. led by Louis Rothenberg. Paris Rothenberg was selling liquor at 1076 Washington.
M. Rothenberg & Co. also put out the Ayala Mexican Bitters represented in the gallery. Samuel and Louis Rothenberg put out the Berlin Magen Bitters or Berliner Bitters.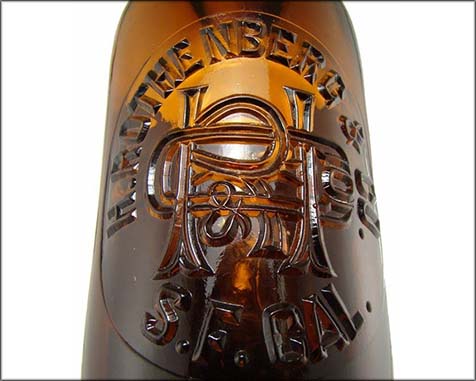 Primary Image: The M. Rothenberg & Co. bottle imaged on location by the FOHBC Virtual Museum midwest studio led by Alan DeMaison.
Support: Secondary Gamecock Whiskey images courtesy of Jeff Wichmann and American Bottle Auctions.
Support: Reference to Whiskey Bottles of the Old West by John L. Thomas, 2002
Support: Mendel Rothenberg portrait courtesy of the Nantucket Historical Association
Support: Ayala Bitters example from the Ferdinand Meyer V collection.