RAG (Monogram) – Gilchrist Jar
RAG (Monogram)
"Gilchrist Jar"

Ruth A. Gilchrist, Wilkes Barre, Pennsylvania
Clear or Colorless Quart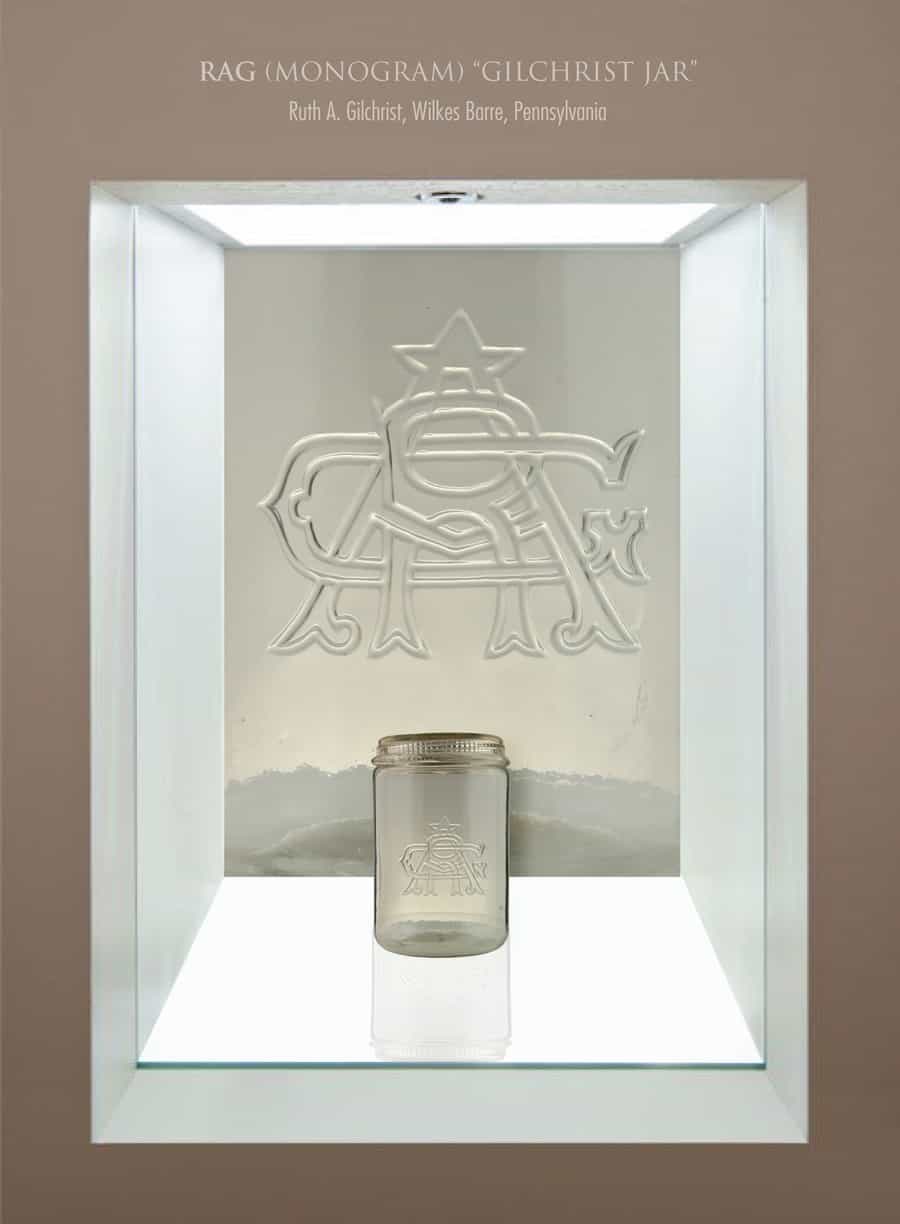 Our museum example represents a form variation of the RAG (monogram) zinc cap "Gilchrist Jar." RAG is the initials of Ruth Ann Gilchrist. This jar is special as it has a glass screw cap that is embossed 'PATENTED APRIL 12th 1904.' The base is also embossed 'PATENTED.' The clear quart is unique with only one example reported. It also has a slightly smaller mouth size than other Gilchrist monogram jars.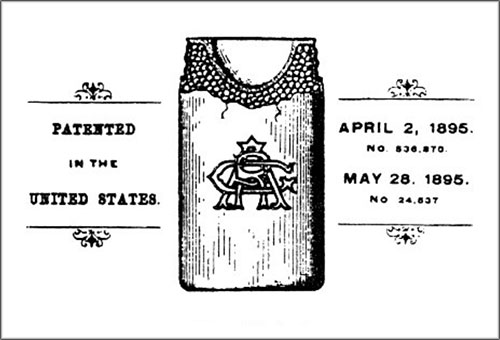 The Gilchrist Fruit Jars comprise jars with the RAG monogram and GJCo (Gilchrist Jar Co.) monogram. Both monogram jars were based on three patents taken out by Ruth Ann Gilchrist and apparently one from William E. Sharps who previously worked at the Gilchrist Jar Company. Mrs. Gilchrist would win a lawsuit in 1901 against Sharps when her patent was awarded priority by the examiner of interferences of the United States Patent Office. This decision gave Gilchrist a monopoly of fruit jar covers made in accordance with the litigation.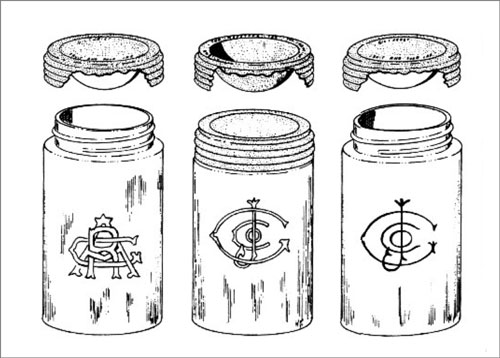 The RAG monogram Gilchrist Jars were hand-made with ground tops and smooth lips. The closure was a shoulder seal using a zinc screw cap with a milk glass "pickle" immerser liner. The face of the jar presented the embossed RAG monogram. The cap is stamped 'GILCHRIST FRUIT AND JAR.' The liner is embossed 'PAT. APRIL 2ND 1895 PAT. MAY 28TH 1895.'
Gilchrist monogram jars were marketed in pints, quarts, and half-gallons and sold for 85 cents, $1.00, and $1.25 a dozen. Period advertising asserted that the jars were the safest and best jar on the market as it was made with a large top so arranged as there was no vacuum. The top was also inwardly domed to push the contents below the liquid of the jar.
Ruth A. Gilchrist
Ruth A. Gilchrist was from Wilkes Barre, Pennsylvania, and was born in Kingston, Pennsylvania on March 26, 1840. She was educated at the Wyoming Seminary and graduated valedictorian of her class in 1859. Mrs. Gilchrist belonged to one of the oldest Colonial families in the Pennsylvania valley, being a direct descendent on her mother's side of John Carver, the first Colonial Governor of Massachusetts, as well as a direct descendent of Captain Benjamin Church, who beheaded King Phillip in the swamp and therefore ending the massacre of Wyoming. Mrs. Gilchrist was described as "being possessed of large inventive and mathematical qualifications as well as high scientific attainments, with indomitable perseverance."
The first Gilchrist patent was applied for as a "Food Preserving Jar" on July 30, 1894, and received Patent No. 536,870 on April 2, 1895. Her design was actually for a curved insert or immerser, held by a metal screw cap, to expel air from the top of the jar and seal the food tightly inside. The insert was to be made of "porcelain or other like non-corrodible material."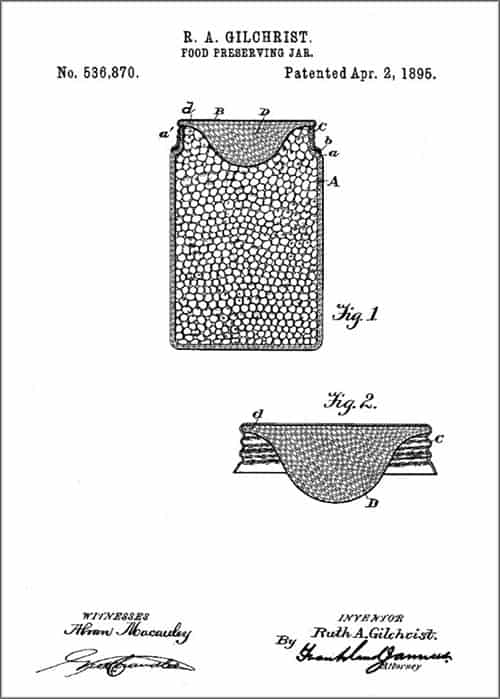 On April 12, 1895, Gilchrist followed up and applied for a patent for "Design for a Lining for Preserve-jar Covers." She received Design Patent No. 24,337 on May 28 of that year. The design in the drawing was essentially the same as her first patent, but the insert was convex on both sides – in her terms, "hollow in the pendant" – rather than solid. Both of these 1895 patent dates appear on the glass liners used for the Gilchrist jars. All of the opalescent milk glass immersers apparently used this patent; each of them was embossed with both 1895 patent dates.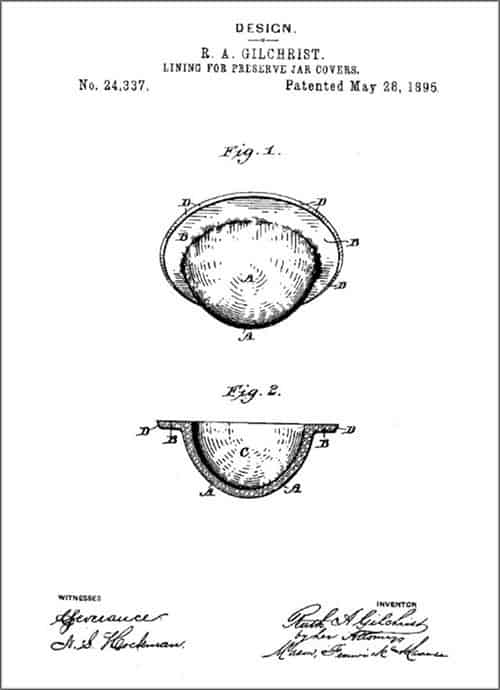 Gilchrist filed for her final patent on February 21, 1903, and received Patent No. 756,956 for a "Preserve Jar and Cap, Therefore" on April 12, 1904. This was essentially the same conical shape as her previous design – although it was a letters patent instead of a design patent, and it was to be made from "glass, earthenware, or metal." Our subject museum jar references this patent.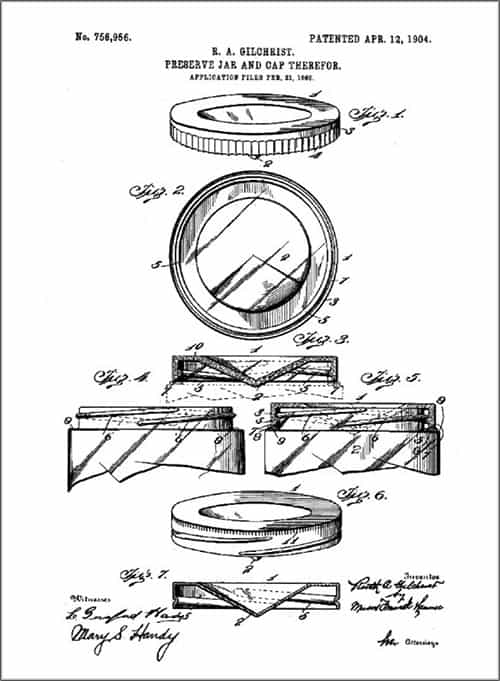 Gilchrist jars were made for the Gilchrist Fruit Jar Company sometime around 1898 at two Elmer, New Jersey glasshouses of the S. M. Bassett Glass Company known as the Lower Works and the Upper Works.
Patents for the Gilchrist jars were granted in England, Canada, France, Germany, and Australia where the jar was popular and imported. Eventually, Australian-made versions of the jars were produced.
Support: Reference to Gilchrist Jar Co. by Bill Lockhart, Beau Schriever, Bill Lindsey, and Carol Serr
Primary Image: RAG monogram jar imaged on location by Alan DeMaison, FOHBC Virtual Museum Midwest Studio
Support: Reference to Fruit Jar Annual 2020 – The Guide to Collecting Fruit Jars by Jerome J. McCann
Support: Reference to Red Book #11, the Collector's Guide to Old Fruit Jars by Douglas M. Leybourne, Jr. Use of Creswick illustration courtesy of Doug Leybourne.
Support Images: Auction Lot 3845: RAG Monogram Quart, Gilchrist, Aquamarine. Closure: original wide mouth zinc cap with domed white milk glass pickle-pusher immerser insert. Appearance: whittly and sparkling glass. Condition: chipping in the ground mouth. Embossing: strong. Base: unmarked. Age: late 1800s. Availability: scarce, this is the early original version of the Gilchrist jar – Greg Spurgeon, North American Glass
Support Images: Auction Lot 8282: GILCHRIST RAG Monogram Immerser Cap Quart. Aquamarine. Closure: original wide mouth zinc cap with dome-shaped milk glass pickle pusher insert. Appearance: traces of haze. Condition: normal flaking of the ground mouth. Embossing: strong. Base: unmarked. Age: c1895. Availability: uncommon early ground lip Gilchrist jar – Greg Spurgeon, North American Glass
Join the FOHBC: The Virtual Museum is a project of the Federation of Historical Bottle Collectors (FOHBC). To become a member.