C. Newman
C. Newman
San Francisco & Pacific Glass Works
San Francisco, California
Honey Amber Target Ball
Provenance: Eric McGuire Collection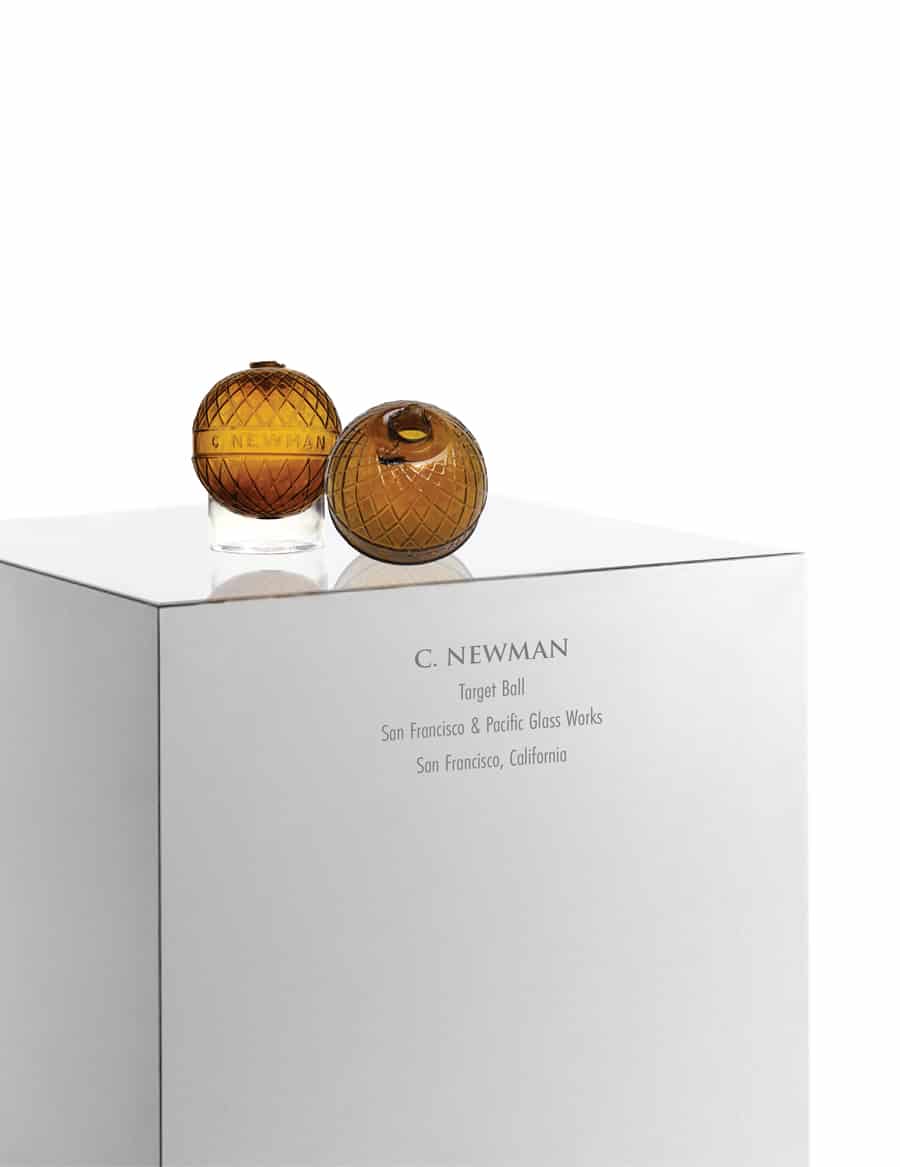 Ira Paine and A. H. Bogardus dominated the early 1870s as the top pigeon shooters in the United States and probably Europe. Both seized upon the emerging popularity of the new sport, each producing their own embossed glass balls and spring traps. Paine, and perhaps others, even went so far as to initially fill his balls with feathers to add an allusion of reality to the sport. Meanwhile, on the West Coast, a new player in this game, Dr. William F. Carver, had recently settled in San Francisco. He often described himself as a Civil War veteran, scout, and plainsman.
See a similar example of a Bogardus' Glass Ball, one of many Bogardus glass target balls in the museum.
Except for an exhibition shoot in December 1876, the famous marksman A. H. Bogardus had no known competitive shoots in California. After several pigeon shoots in Oakland and San Francisco, most of which he won, Bogardus left his California competitive shoots in early February 1877. Before his departure, Bogardus agreed to a competitive shoot with Dr. Carver using his newly developed glass ball trap. Carver was a relatively new resident of California, arriving in 1875 and practicing dentistry in San Francisco from 1876 to 1878.
These gentlemen may have used one of the glass target balls embossed 'C. NEWMAN' for Carlton Newman, proprietor of the San Francisco & Pacific Glass Works in San Francisco, California. Our museum example is a rare and historical ball. The 2 5/8 inch diameter ball was made in a medium honey amber glass with a quilted diamond pattern above and below the center band. The target ball used a 3-piece mold and has a rough-sheared mouth. Our second "C. Newman" example is from the famous Ralph Finch collection and is a lighter shade of honey amber glass.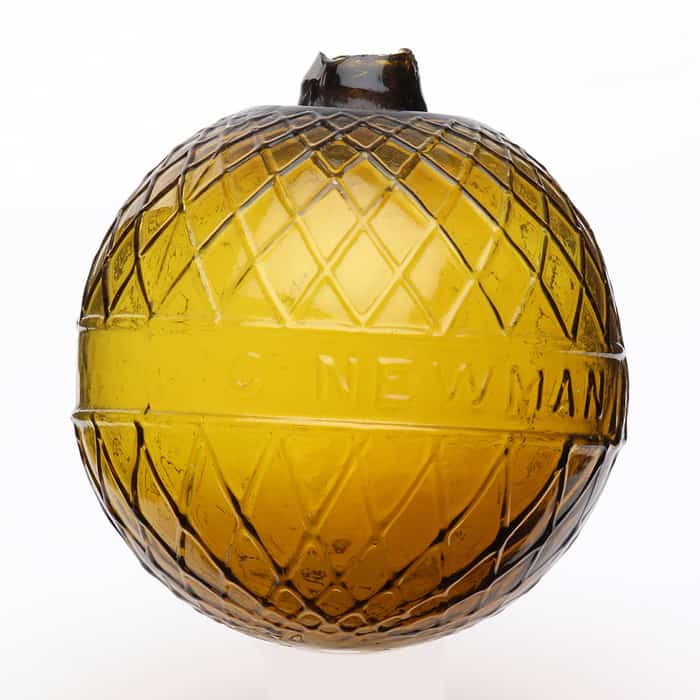 Carlton Newman was born on June 26, 1829, in Wheeling, Ohio County, West Virginia. As a youth, he learned the glass-blowing trade, which would guide his life. When he was 30 years old and residing in Birmingham, Pennsylvania, Newman received patent No. 26,515 for an "Improvement in Preserve Cans" on December 20, 1859. Birmingham would eventually become part of Pittsburgh. The patent was reissued as No. 1,105 on December 20, 1860, with the same drawing that included a more complex explanation of the process.
See the museum example of a Newman's Patent Dec. 20th 1859 jar.
Newman would leave Pittsburgh in late 1863 and move to San Francisco, and become the prime mover behind two major glasshouses in the city. The first was the San Francisco Flint Glass Works, opened by Newman and his partner, Patrick T. Brannan, in May 1865. This factory continued to operate until 1875, when Newman, now sole owner, purchased the rival Pacific Glass Works. The glassworks would produce some of the finest Western bottles and jars, among many other items, prized by collectors.
See the museum example of a Victory Jar – Pacific Glass Works
Primary Image: C. Newman target ball imaged by Eric McGuire, FOHBC Virtual Museum West Coast Studio.
Support Image: Auction Lot 533: "C. NEWMAN" Target Ball, San Francisco & Pacific Glass Works, San Francisco, 1880 – 1890. Light honey amber, quilted diamond pattern above and below center band, 3-piece mold, rough sheared mouth, dia. 2 5/8", perfect. Rare and desirable. Carlton Newman was the proprietor of the San Francisco Glass Works, and also purchased the Pacific Glass Works in 1875. A very historical ball that does not come around often. – John Pastor, American Glass Gallery, Auction #28
Support: Reference to the American Glass Gallery, The Ralph Finch Collection of Target Balls, Traps and Shooting Ephemera, An Absentee Auction in Six Parts – 2017-2019
Support: Reference to Target Balls from a Western Perspective, Eric McGuire, Western Bottle News, May 2021.
Join the FOHBC: The Virtual Museum is a project of the Federation of Historical Bottle Collectors (FOHBC). To become a member.