B A Fahnestock & Co Pittsburg
B. A. Fahnestock & Cos.
Ink
InkStand
Pittsburg
Benjamin A. Fahnestock, Pittsburgh, Pennsylvania
Blue Green Aquamarine Inkwell
Provenance: Chip Cable Collection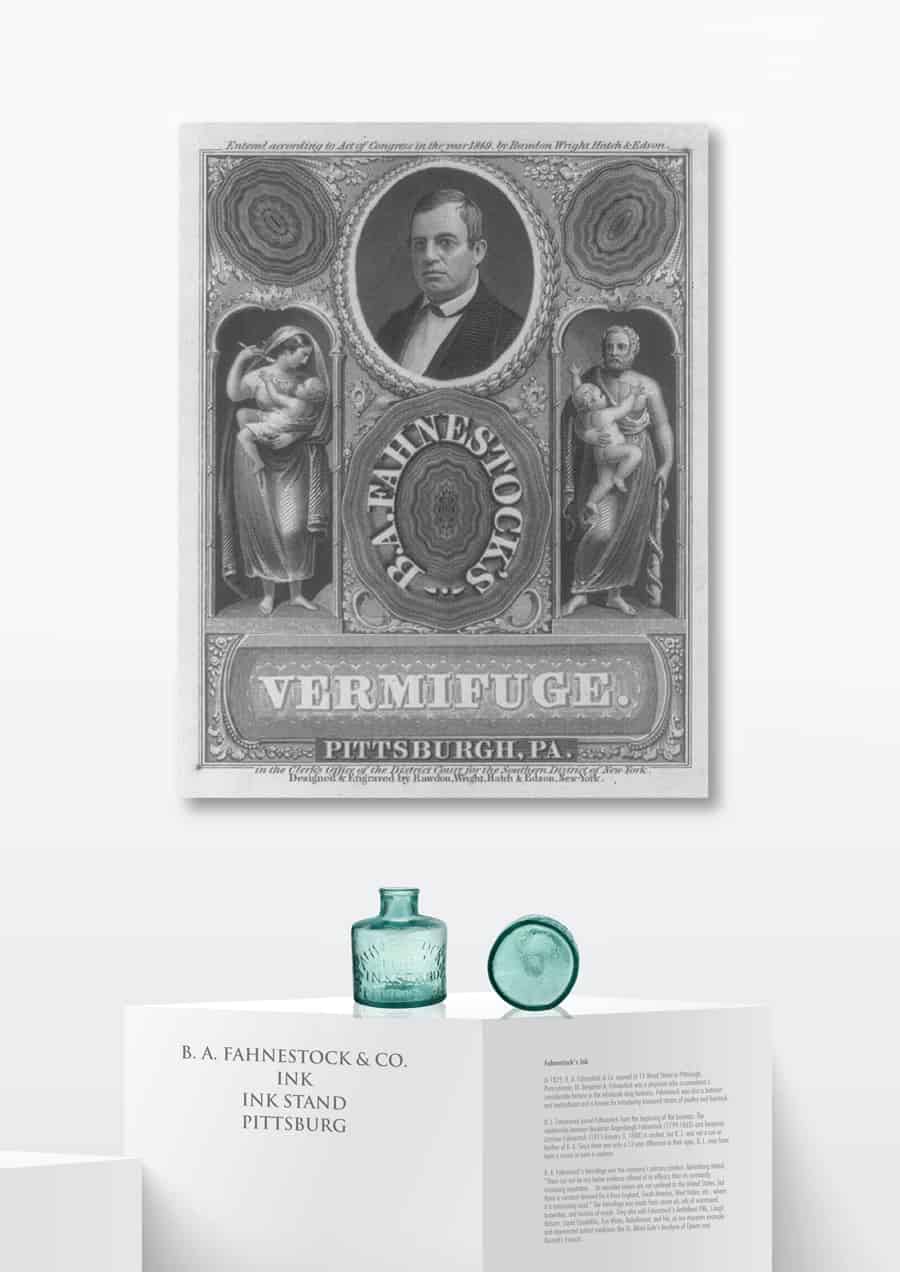 The character of this extremely rare B. A. Fahnestock inkwell is extraordinary. Measuring 2 1/2″ tall, the blue-green aquamarine bottle is crudely embossed on the face in a serif typestyle in four lines. The first line reads, in a convex semi-circle, 'B. A. FAHNESTOCK & Cos.' The entire typographic arch engages the bottom of the bottle on both ends. The dots between "B" and "A" are raised, and the "os" of "Cos." are smaller, raised, and underscored. Contained within the arch on the second line is the word 'INK.' The third line reads 'INKSTAND' while the fourth line reads "PITTSBURG.' The bottle is cylindrical, with slightly inclined shoulders and a short neck connecting to an inwardly rolled mouth. The base has a blowpipe pontil scar. The consignor knows of two examples and reports that this example was dug.
See the museum example of Albert's Writing Fluid, also from Pittsburgh.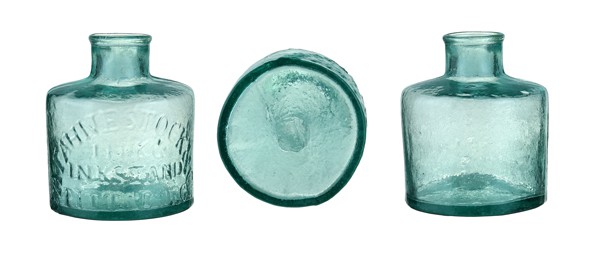 Benjamin A. Fahnestock
The Fahnestock family of Philadelphia had its roots in Hagen, Westphalia, Germany. Among their earliest ancestors were John Diedrick and Anna M. Vahrenstück (Fahrenstück or Fahrenstock), who immigrated to America around 1728. The couple landed in New York and eventually made their way to Lancaster County, Pennsylvania. John and Anna had ten children, many of whom developed large families, and the family name spread throughout Lancaster, York, Franklin, and Adams counties. By about the second generation, the family had adopted the name "Fahnestock."
In the early 1820s, our subject Benjamin A. Fahnestock worked in the "East," as he asserts in later advertising. East meaning Philadelphia and Middleton, Pennsylvania, where he most likely clerked at a drug store. By 1823, B. A. Fahnestock had moved to Chambersburg, Pennsylvania, about halfway between Philadelphia and Pittsburgh as the crow flies. His son George Wolff Fahnestock (1823-1868) was born that year. By January 1824, B. A. Fahnestock was advertising "Fresh Garden Seeds" that had just arrived from Philadelphia. The next year Fahnestock was advertising "Fresh Drugs, Medicines, Paints, Oils, Dye Stuffs, and Mineral Water in Stone Vessels." He was also representing the popular Swaim's Panacea. His newspaper advertising ended with "B. A. Fahnestock, Druggist, Sign of the Golden Mortar, Front-st., Chambersburg."
In 1829, having moved west again, B. A. Fahnestock & Co. operated as a drug store located at 19 Wood Street in Pittsburgh, Pennsylvania. Benjamin A. Fahnestock would eventually accumulate a considerable fortune in the wholesale drug business. Fahnestock was also a botanist and horticulturist and is known for introducing improved strains of poultry and livestock.
B. L. Fahnestock joined B. A. Fahnestock in the business about the same time. The relationship between Benjamin Augenbaugh Fahnestock (1799-1863) and Benjamin Latshaw Fahnestock (1811-January 3, 1888) is unclear, but B. L. was not a son or brother of B. A. Since there was only a 12-year difference in their ages, B. L. may have been a cousin or even a nephew.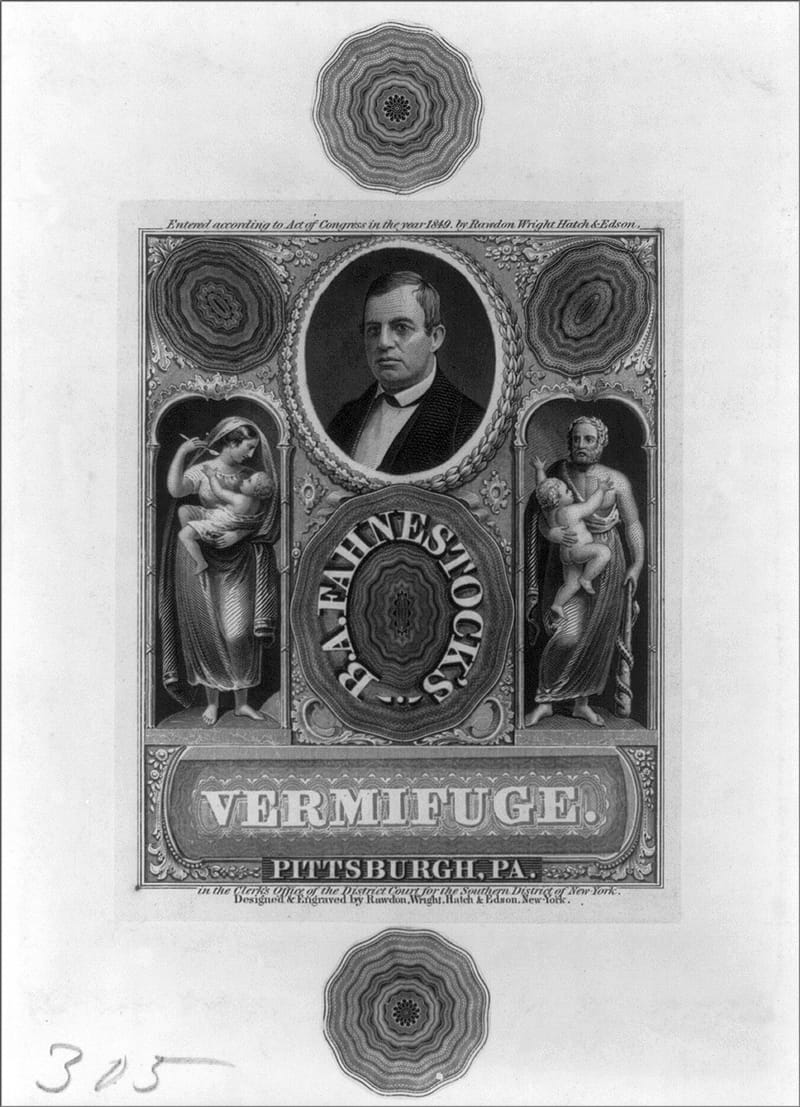 B. A. Fahnestock's Vermifuge was the company's primary product. Advertising stated, "There can not be any better evidence offered of its efficacy than its constantly increasing reputation…its remedial virtues are not confined to the United States, but there is constant demand for it from England, South America, West Indies, etc., where it is extensively used." The Vermifuge was made from castor oil, oils of wormseed, turpentine, and tincture of myrrh. They also sold Fahnestock's Antibilious Pills, Cough Balsam, Liquid Opodeldoc, Eye Water, Rubefacient, and Ink, as our museum example and represented patent medicines like Dr. Alfred Gale's Anodyne of Opium, Phelp's Arcanum, Chemical Pile Ointment, Chapman's Cough Mixture, and Burnett's Extracts.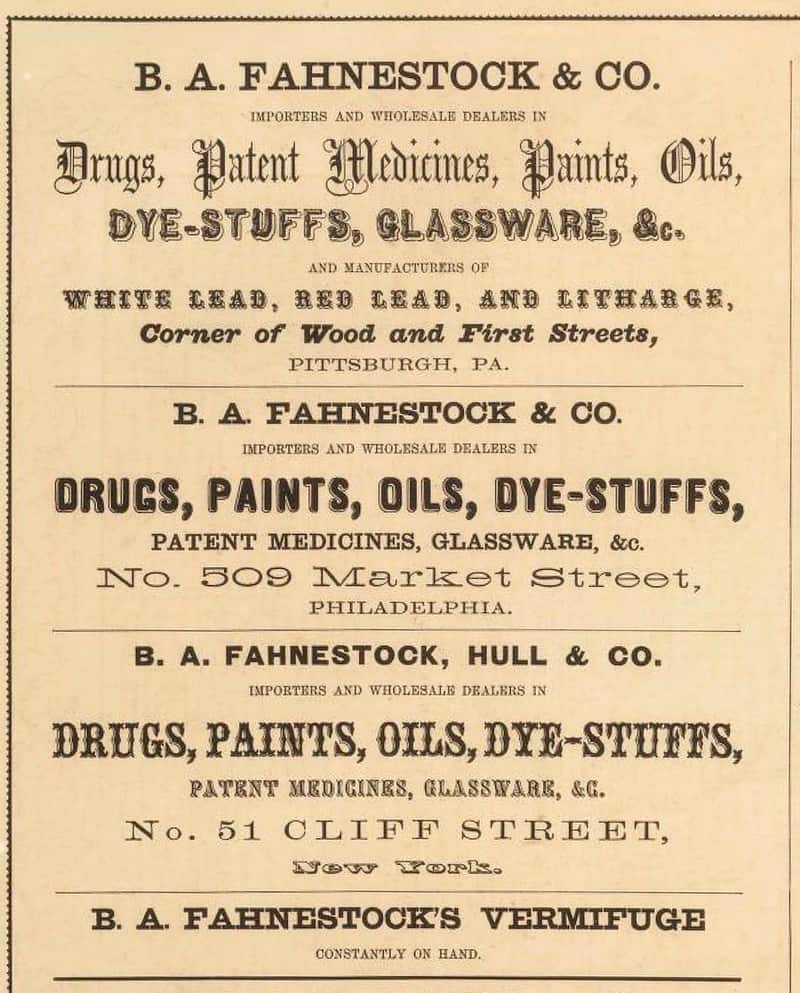 By 1857, B. A Fahnestock & Co. advertised themselves as "importers and wholesale dealers in drugs, patent medicines, paints, oils, dye-stuffs, glassware, &c." They were also manufacturers of white lead, red lead, and litharge. Their Pittsburgh address was at the "Corner of Wood and First Street." In Philadelphia, B. A Fahnestock & Co. was located at No. 509 Market Street, conducting the same business. B. A. Fahnestock, Hull & Co. operated out of New York City, located at No. 51 Cliff Street.
B. L. Fahnestock left the firm to form B. L. Fahnestock & Co.—a wholesale drug firm in competition with his former employer in 1857. At that point, he also opened the Fahnestock White Lead Co.—again in competition. After the separation, B. L. Fahnestock continued the popular Fahnestock's Vermifuge and seemed to have otherwise adopted different products from his former company. He also operated two glass factories in Pittsburgh—Fahnestock, Albree & Co., and Fortune & Co. between 1860 and 1873. The pint GXII-40 Union (Clasped Hands) "FA & Co" – Cannon historical flask is attributed to Fahnestock, Albree, and Co.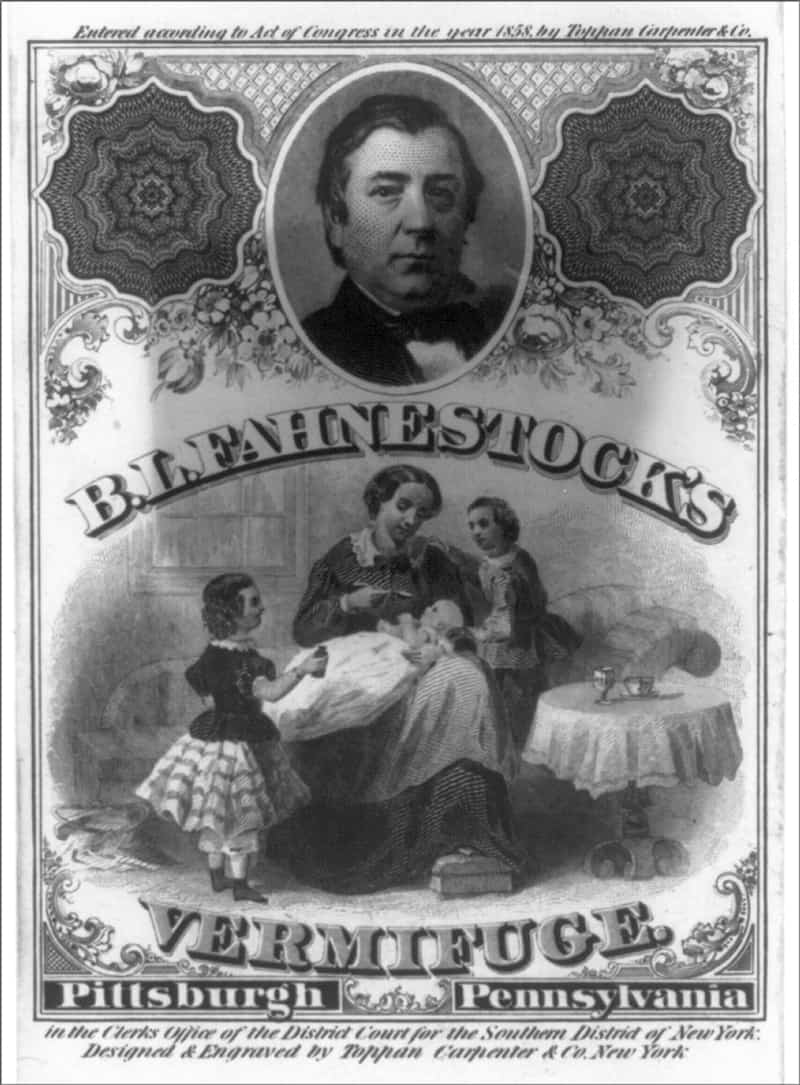 Upon the death of B. A. Fahnestock in 1863, his son George W. Fahnestock operated the company as B. A. Fahnestock's Son & Co. until he died in 1868. Various Fahnestock companies would continue to operate for many years in Pittsburgh.
Primary Image: B. A. Fahnestock & Co. Ink bottle imaged on location by Alan DeMaison, FOHBC Virtual Museum Midwest Studio
Support Image: Auction Lot 166: "Fahnestock's / Neutral / Ink" Master Ink Bottle, America, 1840-1860. Hexagonal with concave panels, aquamarine, inward rolled mouth – pontil scar, ht. 4 1/8 inches, dia. 1 1/2 inches; (3/16 surface bruise on shoulder, professionally cleaned). Unlisted in Covill's text. A rare bottle with bold embossing and an unusual form. James Scharnagel collection. – Norman Heckler Jr. & Sr., Norman C. Heckler & Company, Auction #171
Support Image: B. A. Fahnestock & Co. advertisements, Colton's Advertising Atlas Of America, David Rumsey Historical Map Collection, Colton, G.W., 1857, New York
Support: Reference to The Fahnestock Companies by Bill Lockhart, Beau Schriever, Bill Lindsey, and Carol Serr with contributions by Jay Hawkins and David Whitten
Support: Reference to the Fahnestock Family Papers, 1849-1873, The Historical Society of Pennsylvania.
Support: Reference to Weekly Philatelic Gossip, Holcombe, Henry W., 28: 453-455, July 8, 1939; 28: 564, 566, August 5, 1939
Support: Reference to Ink Bottles and Inkwells, William F. Covill, Jr., 1971
Join the FOHBC: The Virtual Museum is a project of the Federation of Historical Bottle Collectors (FOHBC). To become a member.