Fred Goosmann & Co. Mineral Water Cincinnati
Fred Goosmann & Co.
Mineral Water
Cincinnati
G & Co.
Frederick Goosmann, Cincinnati, Ohio
Aqua Soda Water
Provenance: Doug Shutler Collection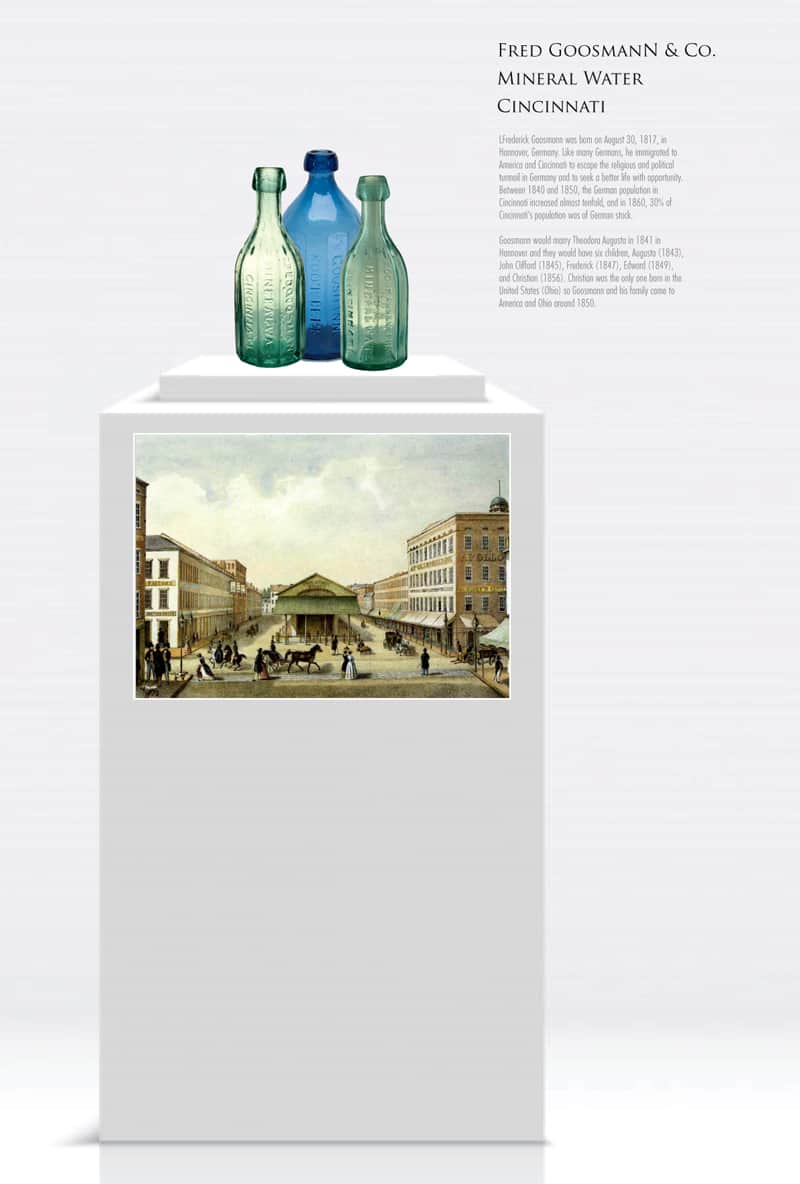 Frederick Goosmann was born on August 30, 1817, in Hannover, Germany. Like many Germans, he immigrated to America and Cincinnati to escape the religious and political turmoil in Germany and to seek a better life with opportunity. Between 1840 and 1850, the German population in Cincinnati increased almost tenfold, and in 1860, 30% of Cincinnati's population was of German stock.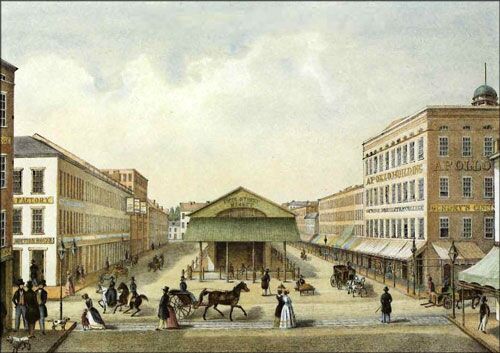 Goosmann would marry Theodora Augusta in 1841 in Hannover and they would have six children, Augusta (1843), John Clifford (1845), Frederick (1847), Edward (1849), and Christian (1856). Christian was the only one born in the United States (Ohio) so Goosmann and his family came to America and Ohio around 1850.
We first see Frederick Goosmann listed in the 1851-52 Cincinnati City Directory with no occupation. He is listed as a clerk in 1853 and a drayman in 1855.
Goosmann would advance in business in 1856 and 1857 when he took over the mineral water business of brothers George and John Postel who had been in business for the last ten years at the northeast corner of Lodge Alley and Gano between Walnut and Vine Streets. In the Cincinnati City Directory those two years, Goosmann had "mineral water factory' next to his name and the Gano and Lodge address above. This would have been the dates our museum bottle was produced. His competitors in 1856 were Getker & Born, C. B. Owen & Co., H. & J. Alwes, Hartwell & Baker, A. Ritter, and G. Mulhauser.
Frederick Goosmann also has his name on a 12-sided root beer bottle embossed 'Fr. GOOSMANN & Co ROOT BEER CINCINNATI.' The bottle has an iron pontil and can be found in aqua and medium sapphire blue. The glasshouse is unknown though there is some thought that it might be Lockport Glass Works in Lockport, New York. The root beer would have been made and sold during the same time period above.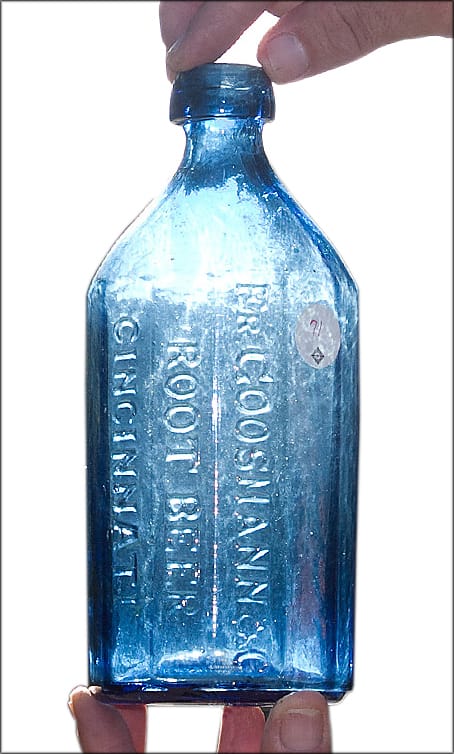 By 1858, Goosmann shifts into selling liquor as he was listed as Goosmann & Muhle, (Fred. Goosmann & Wm. Muhle), vinegar and whiskey, 492 Race, and the 1860 United States Federal Census lists him as a liquor dealer.
In 1859, Henry Verhage joined Frederick Goosmann in business, but Frederick sold out to Henry in 1860. They put out the Goosmann & Verhage Mineral Water bottle. In the following years, Frederick Goosman would have many different partners, at different addresses in Cincinnati and he was typically listed as a wine and liquor dealer. He would die on January 24, 1892, in neighboring Kentucky and was buried in Cincinnati.
See the museum example of H. Verhage Cincinnati Ohio.
See our museum example of a Goosmann & Verhage Mineral Water
Before soft drinks, there was a large mineral and soda water industry in the United States, mostly populated by regional manufacturers. Water quality was a huge concern in the antebellum days of cholera epidemics. Mineral or soda water was considered safer than well or other flowing water.
The difference between "soda water" and "mineral water" during the 19th century was often vague. Soda water was generally considered flavored artificial mineral water with the purposeful addition of carbonation and various compounds and flavoring. Mineral or spring water as it was also called, would generally be natural waters from spring sources that were typically highly mineralized with carbonates. Please visit the museum Spring & Mineral Water Gallery.
The Fred Goosmann bottle is 10-sided and has an embossed teardrop or bead at the top of every panel. There is a blob top mouth and iron pontil. The embossed copy reads 'FRED GOOSMANN' (panel 1), 'MINERAL WATER' (panel 2, the word 'WATER' runs out of space and runs right to the bottom of the bottle), 'CINCINNATI' (panel 3), and G Co. (panel 7) while the other panels are blank as far as copy. There may be a mold that omits G & CO. on one panel but that can not be confirmed.

Primary Image: Fred Goosman & Co. Mineral Water bottle imaged on location by the FOHBC Virtual Museum midwest studio led by Alan DeMaison.
Support: Reference to Soda & Beer Bottles of North America, Tod von Mechow
Support: Reference to The American Pontiled Soda Database Project, Tod von Mechow
Support Images: Auction Lot 71: "FR. Goosman & Co. / Root Beer / Cincinnati" Soda Water Bottle, probably Lockport Glass Works, Lockport, New York, 1845-1860. Twelve-sided, medium sapphire blue, applied heavy collared mouth – iron pontil mark, quart; (lightly professionally cleaned to original luster, 1/8 inch cooling check near base). Great form. Beautiful color. Al McVay collection. – Norman Heckler, Norman C. Heckler & Company
Support Image: "FR. Goosman & Co. / Root Beer / Cincinnati" Soda Water Bottle, aqua, applied heavy collared mouth – iron pontil mark, quart. – Jim Hagenbuch, Glass Works Auctions
Support Image: Cincinnati's Fifth Street Market is pictured as it looked during the mid-1850s in this hand-colored lithograph by Cincinnati printer Otto Onken. The view is westward along Fifth Street from Walnut. The original is held by the Cincinnati Historical Society, a gift from Chilton Thomas.