Smith's Pittsburg & Wheeling Porter
Smiths
PittsburgH & Wheeling
Porter
George W. Smith, Pittsburgh, Pennsylvania
Black Glass Cylinder
Provenance: Chip Cable Collection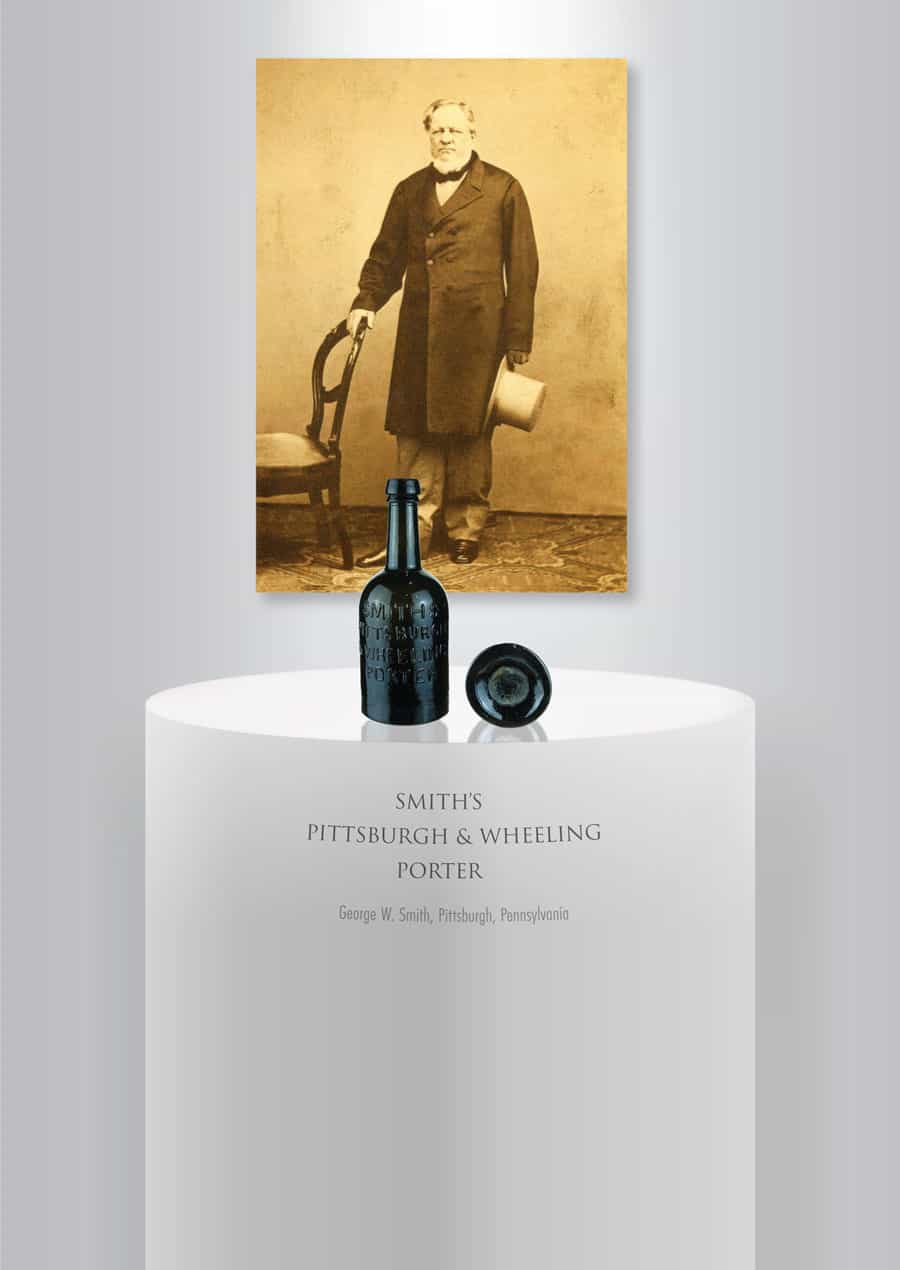 One of the first recorded breweries in Virginia dates back to 1812 in Wheeling, before the present state of West Virginia was created, George W. Smith took over this brewery. located at 1700 Chapline Street, and operated until his retirement. It was one of four breweries in Wheeling that witnessed the secession of Virginia from the Union at the onset of the Civil War in 1861.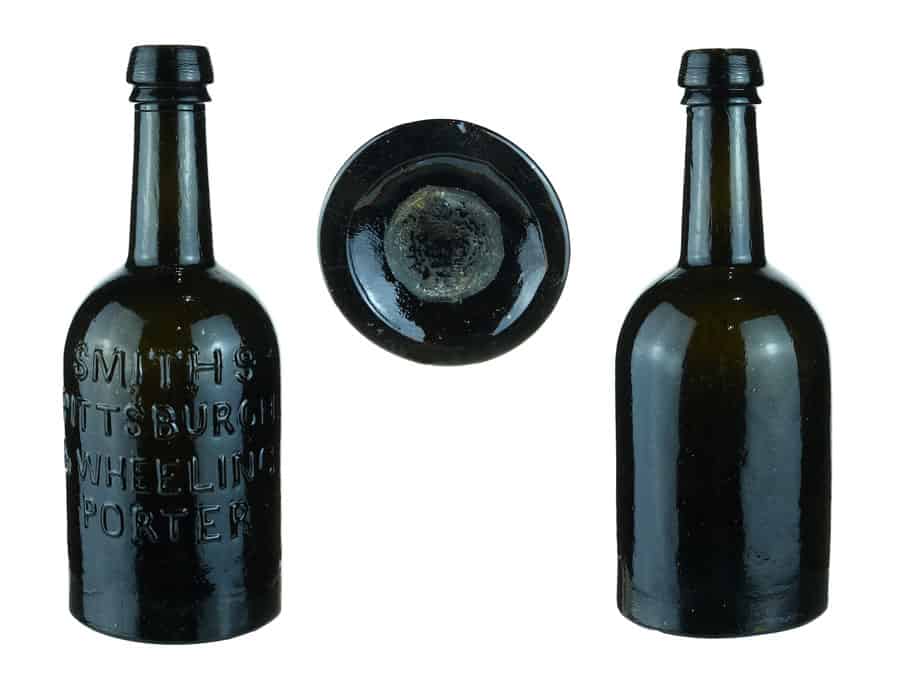 Our early cylindrical iron-pontiled porter bottle was blown in a dark opaque glass that appears black. A double-tapered applied collar or mouth sits atop a tall tapered neck. The bottle is embossed in four stacked centered lines on one face of the bottle as follows, 'SMITHS' (1st line), 'PITTSBURGH' (2nd line), '& WHEELING' (3rd line) and 'PORTER' (4th line).
Porter is a style of beer that was developed in London, England, in the early 18th century. it was well-hopped and dark in appearance owing to the use of brown malt. The name is believed to have originated from its popularity with working-class people and porters. The popularity of porter was significant. It became the first beer style to be brewed around the world, and production had commenced in Ireland, North America, Sweden, and Russia by the end of the 18th century.
See the museum example of a blue-green Smiths Porter Pittsburgh bottle.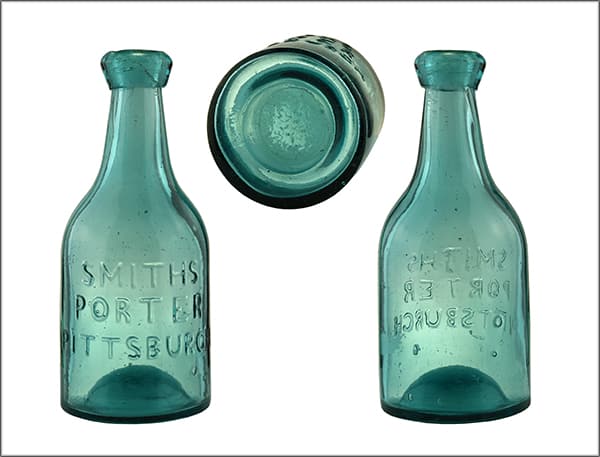 George W. Smith
George W. Smith was a pioneer ale brewer in Wheeling, Virginia, and Pittsburgh, Pennsylvania. He was a native of Lincolnshire, England, born in 1799. He first came to the United States in 1819 with his father, Thomas, and his family. Thomas was a wealthy citizen of Lincolnshire who sold out all his possessions and came to America. Leaving his family in Philadelphia, he and his son George traveled over the state of New York looking for a site to establish a home.
Thomas Smith, possessing $100,000 in cash, located a tract of land where the city of Syracuse now stands and made arrangements for purchasing. Unfortunately, upon returning to Philadelphia, he was sickened and died. Before he died, he advised his son to take the family back to England, which he did.
In 1820, George W. Smith returned to New York, from which he engaged a large cargo ship to run between New York and Tampico, Mexico. He continued for a year or so, during which time he had many exciting adventures, including several fights with pirates. Smith carried the last cargo to New Orleans after trying to dispose of it in Mexico, but being unable to sell it there, loaded it on a model barge and took it up the Red River to Little Rock, Arkansas, then a frontier trading post. After selling the cargo, he started on a horse for New York, riding through Arkansas, Tennessee, and Kentucky and crossing the Alleghenies in West Virginia to Baltimore and, from there, staging to New York City.
After that, Smith and his brother started a brewery in New York City on Broadway. After being in business for several years, he sold out and went to Albany, N.Y., where he ran a brewery for some time. In 1829, he was induced to go to Pittsburgh as a brewer for the established and well-known firm of Brown & Verner. He was paid $500, the largest salary west of the Allegheny mountains for this position.
Remaining with Brown & Verner for three years, now at a salary of $1,000 per year, he was taken in as a partner. Three years later, he bought the entire business and ran it successfully, erecting a new brewery and making other extensive improvements. He continued in the brewery business in Pittsburgh until 1862, when he sold out.
In 1847 Smith purchased the old brewery in East Wheeling, Virginia, built in 1822 by the father of Philip Henry Moore, who bought it from the old Northwestern bank. After selling out the Pittsburgh brewery, he operated the one in Wheeling until the fall of 1865, when he retired from active business.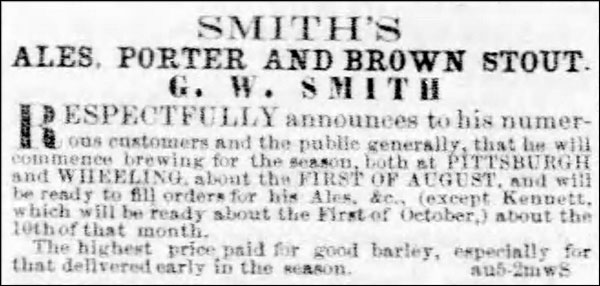 In 1856, George W. Smith moved to Wheeling and bought the old Spring farm from Dr. Chappel, which he improved and took possession of as a home for his family. He named the farm after his father's estate in England, Waddington.
Smith was married in Pittsburgh in 1834 to the widow Elizabeth Faddington, born in 1800 in Yorkshire, England. Three children were born to this marriage: Eliza, who married Joseph Fleming, a Pittsburgh druggist, and died in 1863; George, who died in 1858; and Alfred E.
George W. Smith died in 1872 on his farm in Champaign County, Illinois, where he was temporarily living. His actual home was in Chester, near Philadelphia, which he removed after his second marriage in 1865, having married Mrs. Darlington, mother of Harry Darlington, a prominent brewer of Pittsburgh.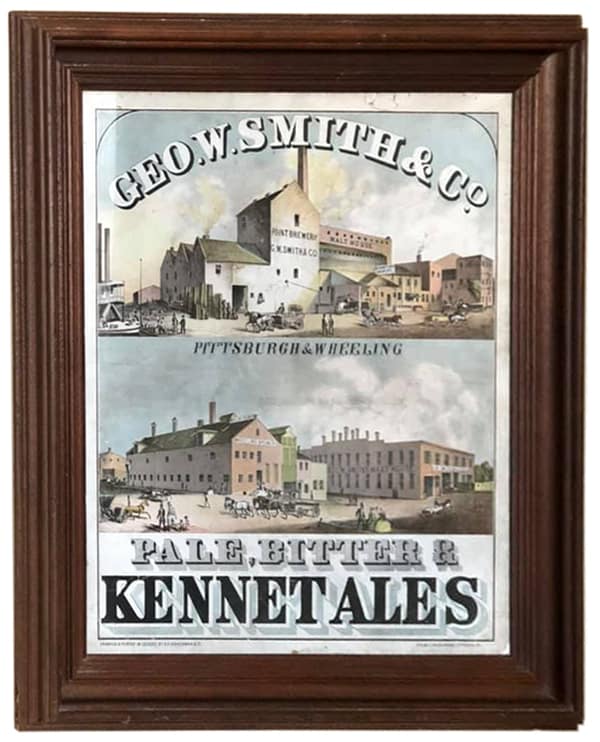 Primary Image: Smiths Pittsburgh & Wheeling Porter bottle imaged on location by Alan DeMaison, FOHBC Virtual Museum Midwest Studio
Support Image: Second example of a Smiths Porter Pittsburgh from the Aaron Weyand collection (in scrolling images).
Support Image: Framed Geo. W. Smith & Co., Pittsburgh & Wheeling Pale, Bitter & Kennet Ales poster from the Chip Cable collection.
Support: Reference to The American Pontiled Soda Database Project, Tod von Mechow
Support: Reference to Roll Out the History: IPA Master Brewer Once Owned Waddington Farm, Christina Fisanick, October 2, 2018
Support: Reference to Soda & Beer Bottles of North America, Tod von Mechow
Support: Reference to biographical sketch from History of the Upper Ohio Valley, Brant & Fuller, 1890.
Join the FOHBC: The Virtual Museum is a project of the Federation of Historical Bottle Collectors (FOHBC). To become a member.