GXIV-6 Duck and "Traveler's Companion" – Star and "Lockport Glass Works" Flask
GXIV – 6
Duck And "Traveler's Companion" – Star And "Lockport Glass Works"
Historical Flask

Lockport Glass Works, Lockport, New York
Green Pint
Provenance: Anonymous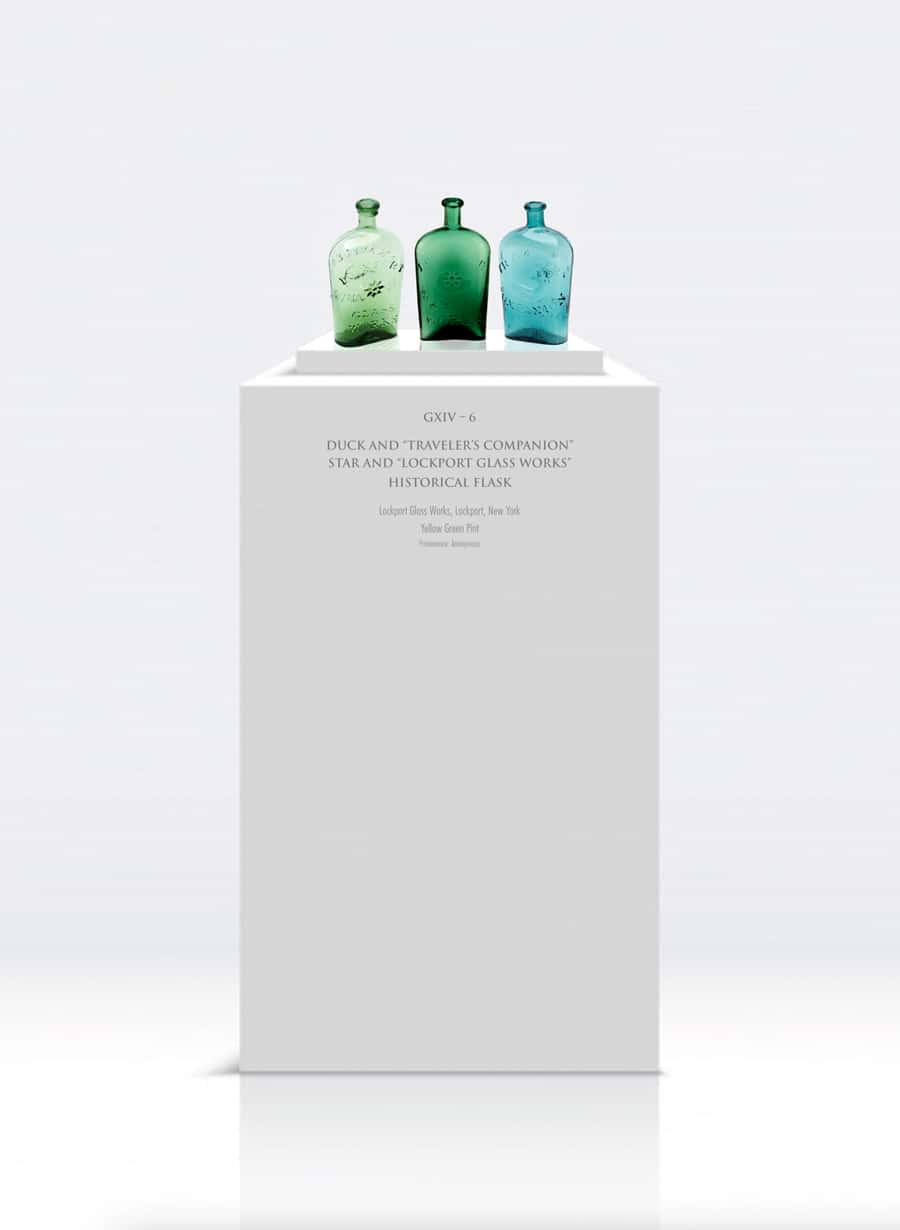 Our museum example of a pint Traveler's Companion flask is remarkable for its name, mold design, color, and where it was manufactured, Lockport Glass Works in Lockport, New York from 1860 to 1870.
The American glass industry expanded in the colonies after the American Revolution, and by the 1800s, considerable glass was made in New York State. Two prominent glasshouses were established in Western New York during the nineteenth century. One began in 1840 in Lockport in Niagara County about twenty miles northeast of Buffalo; the other began in 1849 in Lancaster in Erie County, south of Lockport and about ten miles east of Buffalo. Both glass factories operated until shortly after 1900.
Both Lockport and Lancaster produced a certain blue glass familiar to collectors. It was a clear, light, delicate blue with the Lancaster color tending to be a bit lighter than the Lockport blue. Both Lockport and Lancaster made other blues, rich deep greens, yellow­-greens, olive-greens, blue-greens, and ambers or browns which sometimes appeared black.
The first glass factory, known as the Lockport Glass Works, operated out of a rented building at the corner of Gooding and Grand Streets in Lockport, New York. It was opened in the spring of 1840 by Twogood and Company of Mt. Morris, New York. After about a year, the firm failed because of insufficient capital and was taken over by Parson and Moss who controlled it for a year before giving it up to Silas H. Marks. Marks entered a partnership with William Keep, A. J. Webber, and G. W. Hildredth, and the plant operated under the name of Hildredth and Company beginning in 1845. Hildredth and Company employed 50 to 55 men, of whom about 18 were blowers. The average wage was $2 a day which was a good salary at that time. In the spring of 1846, the firm built a modern plant at Green and Transit Streets.
In 1850, Webber died, and his heirs sold his interest to Francis Hitchins who bought out the firm in 1853 and managed it until 1866 when it became known as the Lockport Glass Manufacturing Company. At that time it was managed by five trustees: James Maroney, Patrick Glynn, Edward Batten, Joseph Batten, and Andrew Garfield. In 1869, S. B. Rowley purchased the plant and made the "Gem," "Hero," and "All Right" fruit jars. Joseph Batten held a controlling interest.
See the museum example of a Gem Butter jar.
See the museum example of The Hero jar.
In 1872, the business was sold to Alonzo J. Mansfield who enlarged the factory which burned in 1878 but was rebuilt. The company was reorganized in 1904 with Alonzo J. Mansfield, president, S. J. Clark, vice-president, and George E. Emerson, secretary-treasurer. In 1908, the company went out of business.
In 1900 another glass factory was established on Michigan Street and called the Lockport Glass Company, so from 1900 to 1908, Lockport had two glass factories. Officers of the new company were W. W. Storrs, president; C. G. Sutliff, vice-president; and J. Milton Woodward, secretary-treasurer. They made fruit jars, pickle bottles, and other small containers. In 1919, the Thatcher Manufacturing Company, which owned plants in Elmira, Olean, Long Island City, New York, and Streeter, Illinois, bought the plant and concentrated on milk bottles. The introduction of paper milk containers forced them to switch to jelly, pickle, and coffee jars, and they closed the factory in 1942.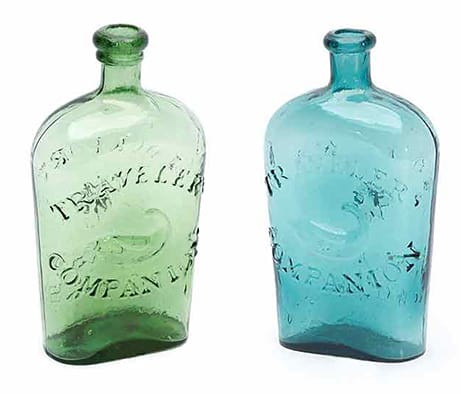 On what is considered the primary or obverse side of the flask you will see a large, centralized, and stylized embossed duck with its neck and head turned to the left and head to left above the shoulder of the small wing. The embossed serifed copy reading 'TRAVELER'S' is in a shallow convex arc over the duck with ends pointing down and the word 'COMPANION' is embossed in a concave arc below the duck with the ends pointed up. The copy surrounds the duck in somewhat of a horizontal oval form.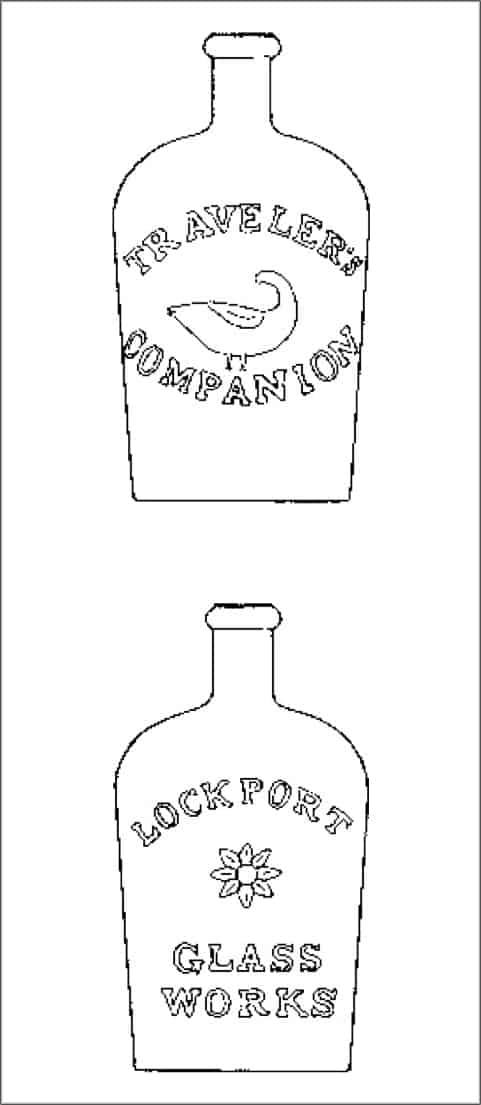 The reverse side of the flask has an embossed eight-pointed star-like flower with a large bead in the center. It is centered like the duck on the opposite side. 'LOCKPORT' is embossed in a convex arc above the flower with 'GLASS' and 'WORKS' embossed and placed in two horizontal straight lines centered below the star. The typography is also serifed.
The pint flask has either a round collar or a round collar with a lower bevel just below the lip. The base of the flask is smooth with a slight disk at the center with or without a pontil mark. Known colors are aquamarine which is rare. Blue-green and yellow-green are considered very rare. Our green example is extraordinary.
Primary Image: GXIV-6 "Traveler's Companion" and Stylized Duck – "Lockport Glass Works" and Star historical flask imaged on location by the FOHBC Virtual Museum midwest studio led by Alan DeMaison.
Support: Reference to American Bottles and Flasks and Their Ancestry by Helen McKearin and Kenneth M. Wilson, Crown Publishers Inc., New York, 1978.
Support Images: Auction Lot 49: "Traveler's / Companion" And Stylized Duck – "Lockport / Glass / Works" And Star Historical Flask, Lockport Glass Works, Lockport, New York, 1860-1870. Medium blue-green, applied round collared mouth – smooth base, pint; (minor exterior high point wear, 1/8 inch open bubble with 1/16 flat flake on reverse base edge). GXIV-6. Beautiful, bright color. Strong embossing. – Norman Heckler Jr. & Sr., Norman C. Heckler & Company
Support Images: Auction Lot 41: Duck And "Traveler's / Companion" – Star And "Lockport / Glass / Works" Flask, Lockport Glass Works, Lockport, New York, 1860-1870. Brilliant yellowish-green, applied double collared mouth – smooth base, pint. GXIV-6 Here's a real zinger with bold embossing, fantastic color and no wear. Fine condition. Timothy and Christine Hill collection. – Norman Heckler Jr. & Sr., Norman C. Heckler & Company, Auction #154.
Support: Reference to Glass, Lancaster, and Lockport, New York by Jean W. Dunn.