H. Schoenfelder's Stomach Bitters Pittsburgh. Pa.
H. Schoenfelder's Stomach Bitters Pittsburgh. Pa.
S 56.5
Henry Schoenfelder, Pittsburgh, Pennsylvania
Olive Green Oval
Provenance: Chip Cable Collection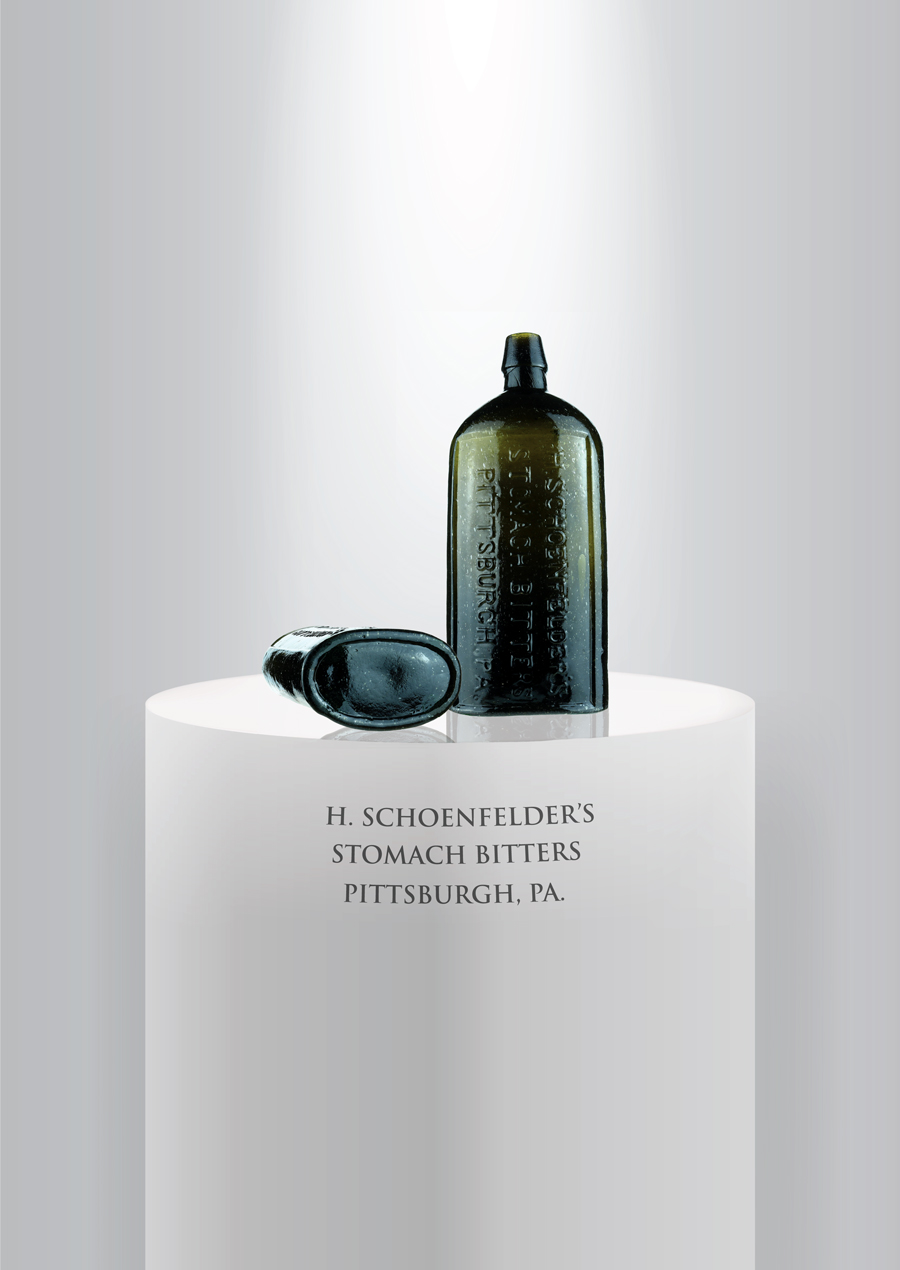 The "H. Schoenfelder's Stomach Bitters" bottle is extremely rare and unique in this complete, undamaged example. According to the consignor, "a Pittsburgh collector dug it in a privy in Greentree, Pennsylvania, which is about 10 minutes south of Pittsburgh. He had it for many years and for personal reasons got out of bottles completely. There were two unique Pittsburgh pieces in his collection that he offered, and this was one of them. I purchased it sometime around 2002 along with an aqua, 11-inch tall, iron pontiled bottle embossed "Joshua Rhodes & Co. (Pure Lemon Syrup) No. 39 Wood St. Pittsburgh Pa."
See examples of the "Joshua Rhodes & Co. No. 39 Wood St. Pittsburgh Pa." and J. C. Anderson Pure Lemon Syrup No. 26 Wood St. Pittsburgh, Pa." bottles.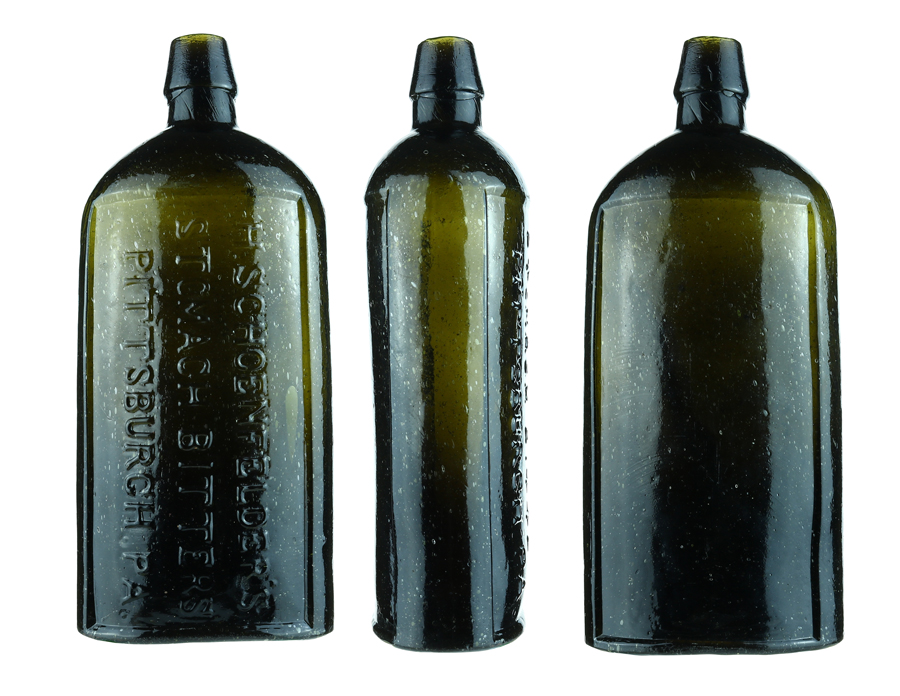 Our subject bottle is oval in form, ten inches tall, crude and full of character. The robust medicine form has a deep beveled inlaid vertical rectangular panel on each broad face of the bottle. In one panel is embossed serifed copy, reading shoulder to base in three lines, 'H. SCHOENFELDER'S' (line 1), 'STOMACH BITTERS' (line 2), and 'PITTSBURGH. PA.' There is a period instead of a comma after "Pittsburgh."
The base is smooth with a heavy border and there is a short neck and an applied tapered collar. The glass color is a rich olive green. Carlyn Ring and Bill Ham list the bottle in Bitters Bottles as follows:
S 56.5 H. SCHOENFELDER'S / STOMACH BITTERS / PITTSBURGH. PA.
9 3/4 x 2 5/8 x 4 1/8
Oval with rectangular sunken panel front and rear
Olive green, LTC, Applied mouth, Extremely rare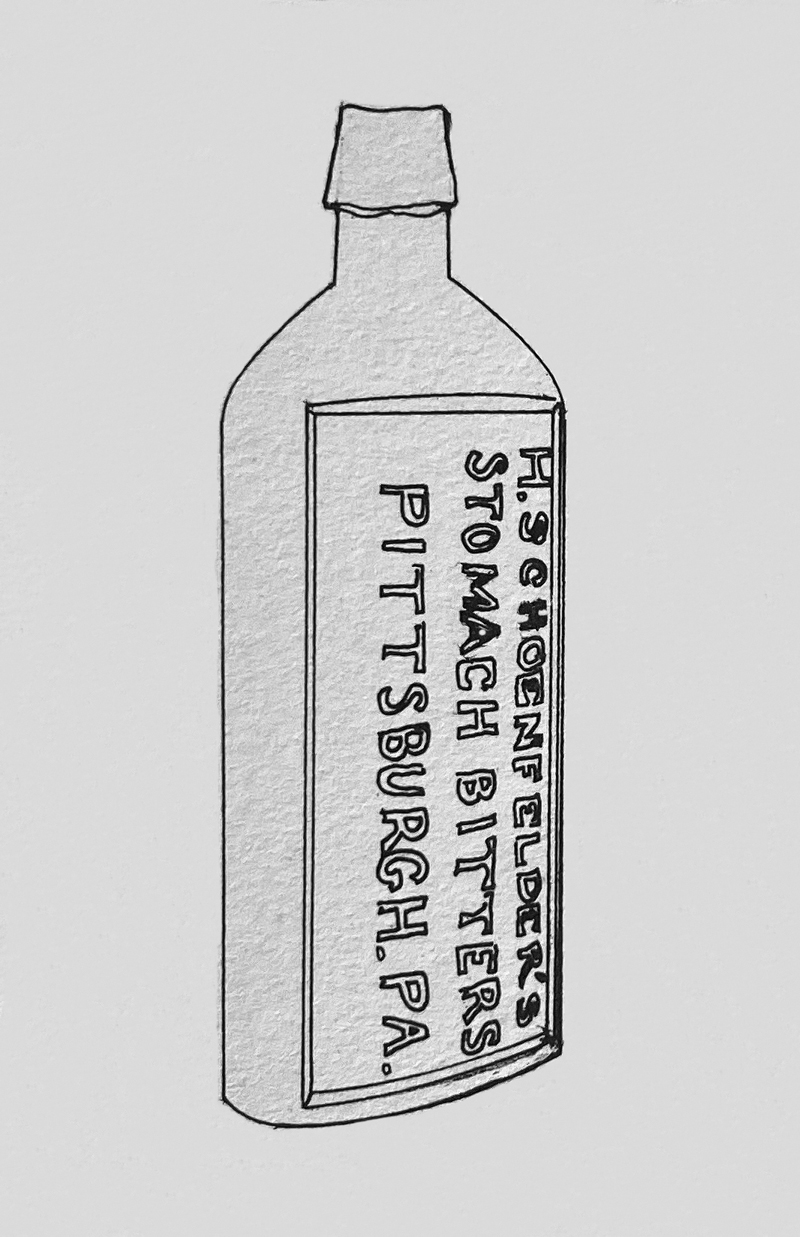 Not much is known about Henry Schoenfelder other than he was born about 1823 in Hamburg, Germany. He arrived in New York, N.Y. on May 7, 1849, on the ship Leibnitz and subsequently received his citizenship in 1855. We see him listed as the owner of a liquor store and liquor dealer located on 535 Pennsylvania in the 1859 to 1863 Pittsburgh City Directories. He was living at 124 Mulberry, most likely alone though it is thought that he traveled to America with his father, Henry Schoenfelder who was born in 1797.
In 1861, Henry Schoenfelder was listed as a Union Quartermaster Sargeant, 5th Regiment, Pennsylvania Cavalry (65th Volunteers). He enlisted on August 9, 1861, when he was 38, and mustered out on August 7, 1865. He would die one year later.
Primary Image: H. Schoenfelder's Stomach Bitters Pittsburgh, Pa. bottle imaged on location by Alan DeMaison, FOHBC Virtual Museum Midwest Studio
Support: Reference to Bitters Bottles by Carlyn Ring and W. C. Ham. Use of Schoenfelder's Bitters illustration courtesy Bill Ham.
Join the FOHBC: The Virtual Museum is a project of the Federation of Historical Bottle Collectors (FOHBC). To become a member.