Air-Tight Fruit Jar
Air-Tight Fruit Jar
Possibly Ravenna Glass Company, Ravenna, Ohio

Amber Figural Barrel
Provenance: Darrell Plank Collection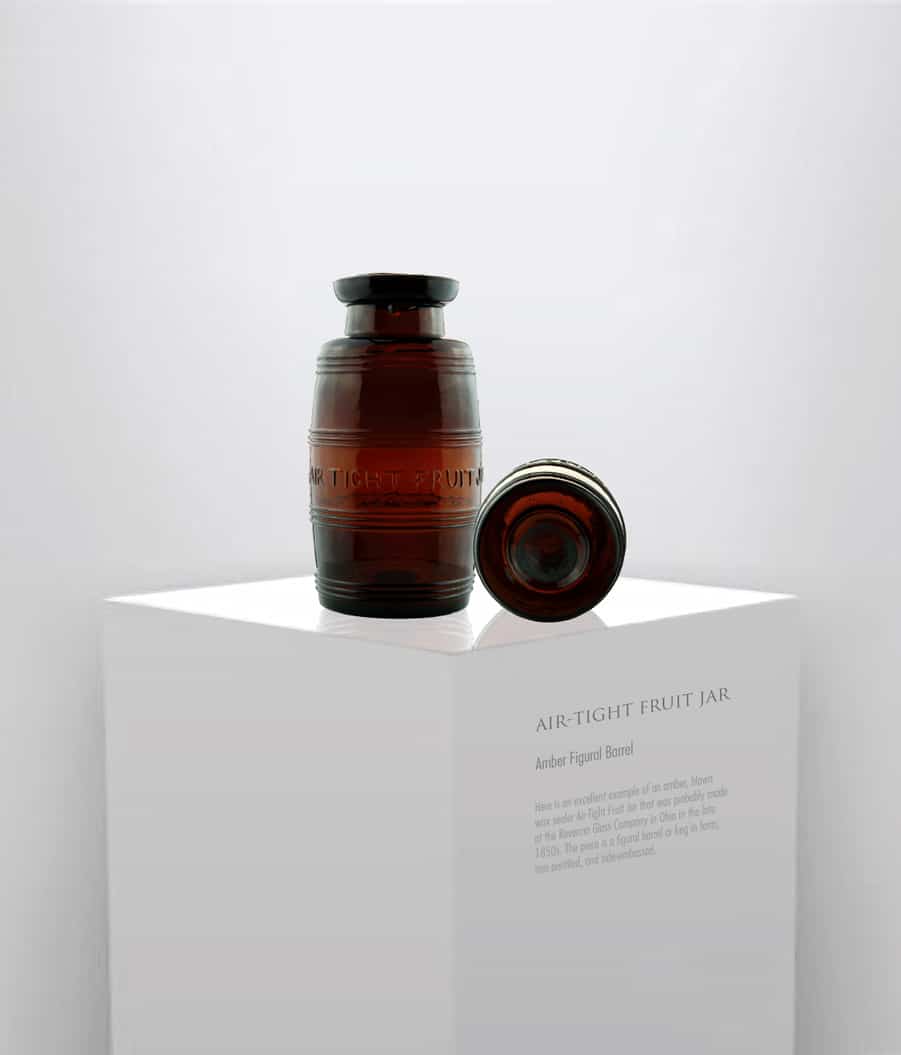 On display is an excellent example of an amber, blown wax sealer Air-Tight Fruit Jar that was probably made at the Ravenna Glass Company in Ravenna, Ohio in the late 1850s. The piece is a figural barrel or keg in form, iron pontiled, and side-embossed. Content-wise, the jar is about three pints.

These handblown jars, typically found in aqua, are embossed horizontally 'AIR-TIGHT FRUIT JAR' across the center space of the front of the jar between two embossed 3-ring hoops. There are also sets of 3-ring hoops on the shoulder and bottom of the jar. The jars have no embossed proprietor or glasshouse name like other museum examples such as the Ravenna Glass Works Ohio Air-Tight Fruit Jar and the Potter & Bodine Air-Tight Fruit Jars.
See museum example of a Ravenna Glass Works Ohio Air-Tight Fruit Jar.
See museum example of a Potter & Bodine Air-Tight Fruit Jar.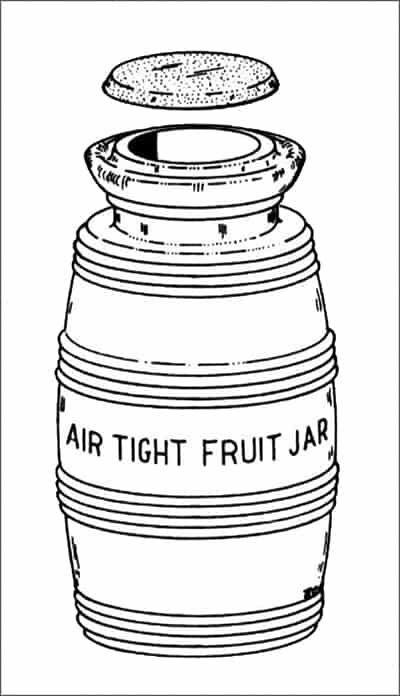 Our museum example is exciting for a couple of reasons. For one, it is actually about a quart and a half in size and it is one of the first, if not the first amber side-embossed jars. Also, the figural barrel form is one of, if not the first, figural jars.
It is thought that only a handful, maybe 5 or 6, of the amber quart Air-Tight Fruit Jars are in collections. This almost 3-pint museum example came from the legendary Alex Kerr collection from a 1999 Norman C. Heckler & Co. auction.
The Air-Tight Fruit Jars may have been the first of a series produced by the Ravenna Glass Company in Ravenna, Ohio, based on two major characteristics. First, the method of manufacture was essentially identical to other Ravenna jars. Also, the Air-Tight Fruit Jar name is embossed at the center of the jar, which is identical to the typography on one side of the Ravenna jars that are also embossed 'RAVENNA GLASS WORKS OHIO' on the opposite side. The letters are the same size and the typestyle font also matches. Note that the Ravenna Air-Tight jars are a little more cylindrical than the subject barrel-form Air-Tight Fruit Jars.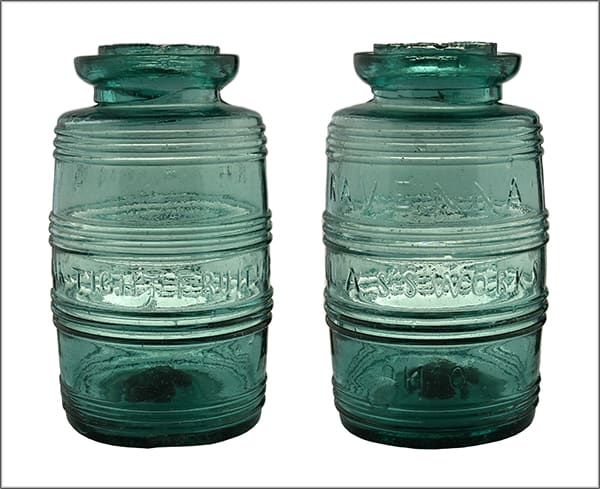 The mouth or opening on these types of jars has a grooved ring that was formed by collapsing the bulbous neck while hot and working it upward to form the groove. Most aquamarine examples come with a rough, broken off the blowpipe, inner lip but all the amber examples have a fire-polished inner lip. There would have been a metal cap. Aqua examples are iron pontiled or have a glass tubular scar on the base.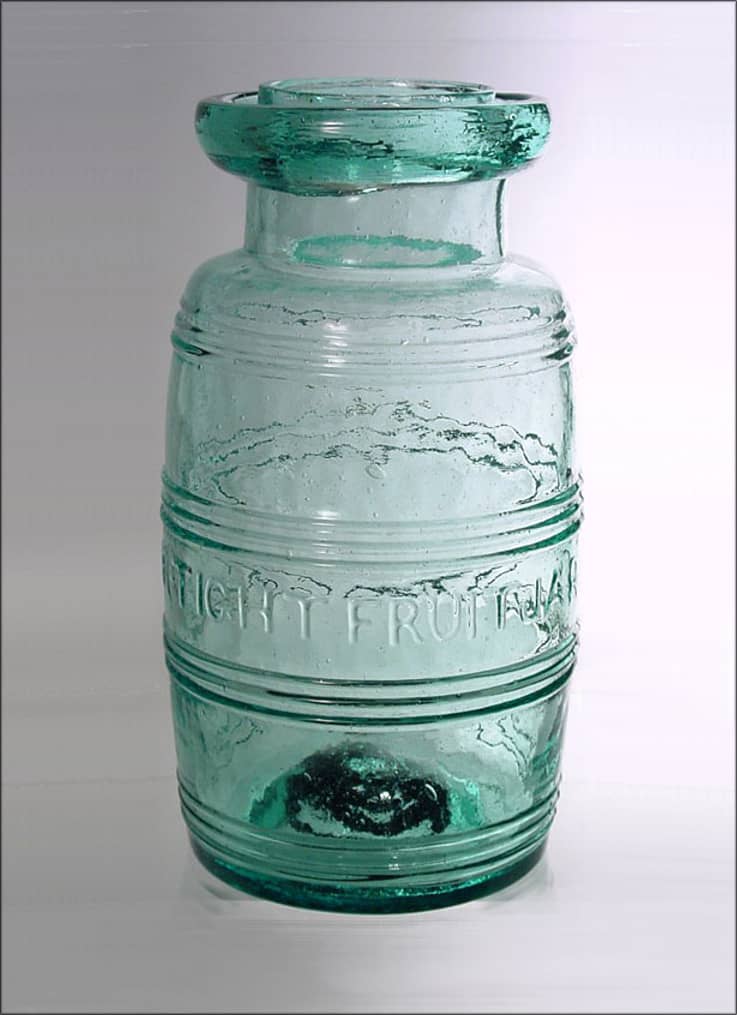 Quarts are reported in aqua, green aqua, amber, and deep blue-green aqua. A half-gallon in aqua and amber is reported by Leybourne. The amber one would be our museum example. A unique whimsey using this mold is on display adjacent to this display.
See our museum example of an aquamarine Air-Tight Fruit Jar Whimsey.
Primary Image: Air Tight Fruit Jar imaged on location by Alan DeMaison, FOHBC Virtual Museum Midwest Studio
Support: Reference to Red Book #11, the Collector's Guide to Old Fruit Jars by Douglas M. Leybourne, Jr. Use of the Creswick drawing granted by Doug Leybourne.
Support: Reference to Reference to Fruit Jar Annual 2020 – The Guide to Collecting Fruit Jars by Jerome J. McCann
Support: Auction Lot 63: "Air / Tight Fruit Jar", possibly Ravenna Glass Works, Ravenna, Ohio, 1845-1860. Barrel form, light to medium blue-green, applied wax seal mouth – iron pontil mark, quart; (3/8 inch by 1/4 inch chip has been filled with epoxy on the rough inner mouth). – Norman Heckler Jr. & Sr., Norman C. Heckler & Company, Auction #94
Support Image: Aqua example from Ed and Kathy Gray, greatantiquebottles.com
Support: Reference to Ravenna Glass Company and The Bodine Glass Companies by Bill Lockhart, Beau Schriever, Bill Lindsey, and Carol Serr
Join the FOHBC: The Virtual Museum is a project of the Federation of Historical Bottle Collectors (FOHBC). To become a member.