Mason's Improved Jar
Mason's Improved Jar
Patented May 10 1870

John Landis Mason, Vineland, New Jersey
Amber Quart
Provenance: Darrell Plank Collection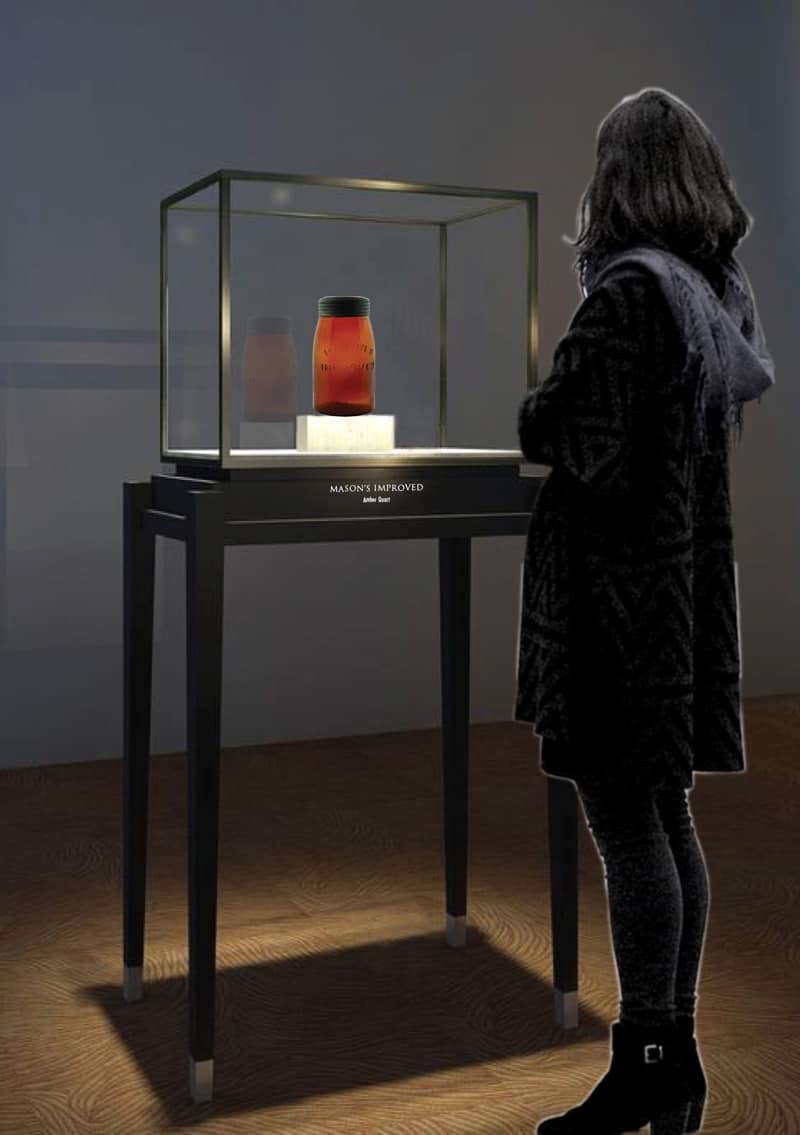 This Mason's Improved quart jar in amber is unique. The jar has 'MASON'S' embossed in an arch over a straight-line 'IMPROVED' on the face of the jar and 'PATENTED MAY 10 1870' embossed on the bottom. It is hand-blown with a ground lip. The closure is a top seal, straddle lip glass lid with a zinc screw band. The maker is unknown. Although these jars have a shoulder seal finish, they are embossed "Mason's Improved."
This jar relates to Patent 102913 which was taken out by John Landis Mason who was a tinsmith, born in 1832 in Vineland, New Jersey. He was the patentee of the metal screw-on lid for antique fruit jars that have come to be known as Mason jars. He is pictured above next to a very large Mason's Improved display jar. The first newspaper advertisements for these jars were actually in 1868.
Many such jars were printed with the line "Mason's Patent Nov 30th 1858". The jar has a glass lid with a metal band and that's what the patent is for and why this is an "Improved" jar over the earlier "Mason's Patent Nov 30, 1858" jars with the zinc lids.
We have another embossed 'MASON'S IMPROVED' pint jar in emerald green in our gallery from Australia that is a different form and shape. See Mason's Improved Jar – Australian

Our museum jar is relatively common in aqua but this is the only known example in amber. The lid should say "MASON'S IMPROVED PATD MAY 10, 1870." Sadly, it didn't come with a lid. The owner knows of at least one amber such lid in existence.
On a side note, this jar came up on a Facebook Fruit Jar page with the seller asking "Anybody know anything about this jar?" The seller said his grandfather found it under a house in Alexandria, Virginia.
Primary Image: Mason's Improved jar imaged on location by the FOHBC Virtual Museum midwest studio led by Alan DeMaison.
Support: We have other Mason jar varieties in our museum that give a pretty good history of the jar. Please see our Mason's Patent Nov. 30th 1858 Jar and Mason's Patent Crowleytown Jar and Mason's GCCo. Patent Nov. 30th 1858 Jar and Mason's Patent Nov. 30th 1858 CFJCo Jar
Support: Reference to Fruit Jar Annual 2020 – The Guide to Collecting Fruit Jars by Jerome J. McCann
Support: Reference to Red Book #11, the Collector's Guide to Old Fruit Jars by Douglas M. Leybourne, Jr.
Support: Information from Darrell Plank.