Willington Pitcher
Freeblown Pitcher
Tableware
Possibly Willington Glass Works
West Willington, Connecticut
Olive Glass
Provenance: Richard S. Ciralli Collection, ex McKearin Collection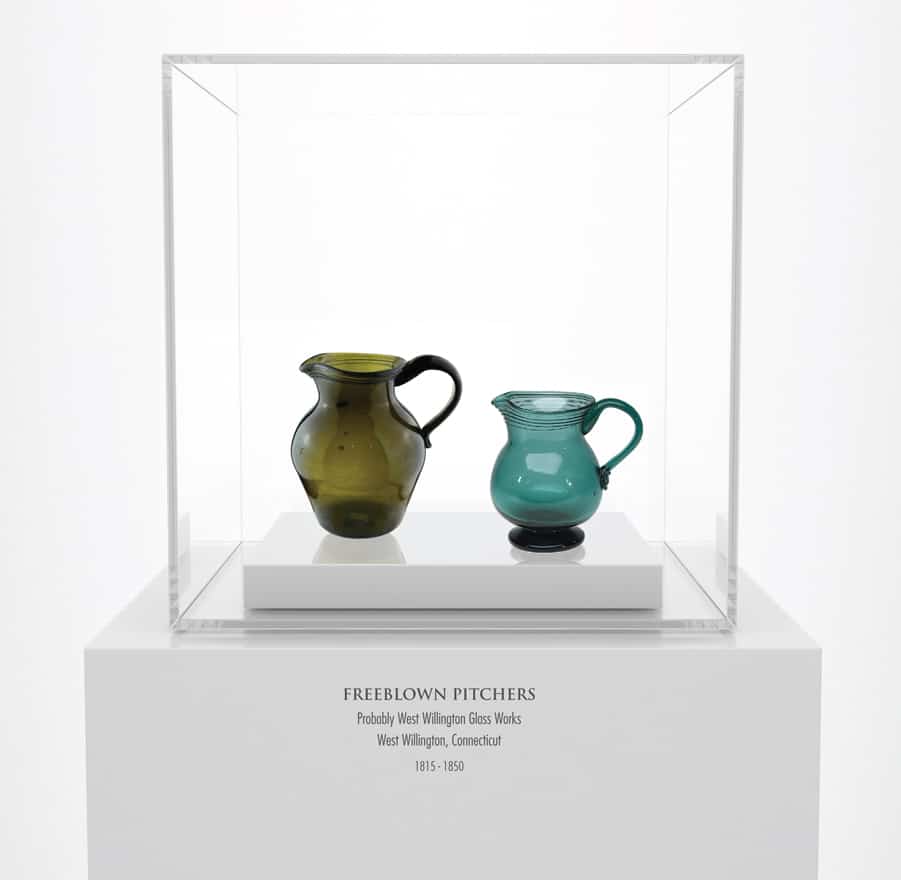 This fine specimen in our Early American Glass Wing – Free Blown & Pattern Molded Gallery – Tableware Room represents a Freeblown Pitcher. This rare piece was probably made at the Willington Glass Works in West Willington, Connecticut, between 1815 and 1850.
The 7 3/4 inch tall yellow-olive pitcher is in excellent condition and has a large bulbous body with an applied solid glass handle, a flared rim with an applied neck threading, and a pour spout. A McKearin sticker is affixed to the body. There are older Heckler auction stickers on the pontil scarred base.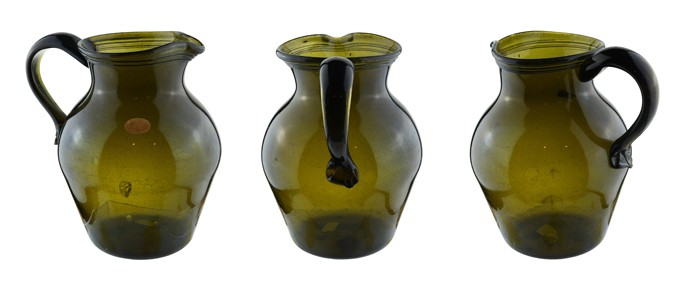 Willington Glass Works and Company
In a small town in Connecticut in 1814, just after the War of 1812, a small glassmaking venture was formed northeast of Coventry and only 26 miles from Hartford. Few facts of the early years of Willington Glass Works are known, though, by most accounts, they were moderately successful.
In 1847, six men purchased the glassworks and incorporated the Willington Glass Company in April of that year. Their capitalization was $6,500 from 260 shares at $25 a share. Their primary purpose was to "manufacture and sell glassware in all its various branches" and to establish a retail outlet for their products..
The concern, for various reasons, did not start producing bottles until the third quarter of 1849. They employed at least 26 men, including eleven glassblowers, one batch mixer, one for a "material borrow," one to fill the wood oven, three to tend the pot oven, one fireman, one choreman, and seven bottle packers. In addition to the core workers were three sets of boys to carry off finished products and one set of boys to break off moils from the blowpipes presumably.
The glasshouse initially produced a wide variety of green and black glassware and bottles such as inkwells, snuffs, demijohns, chestnuts, soda, mineral water, porter, wine, oil, syrup, varnish, druggist, and flasks including some Pitkin types, all blown to order. There were reportedly a few rare sealed bottles as well. From the 1860s to 1872, demijohns dominated the sales with wines, bitters, and even a cabin figural bottle.
Perhaps the most famous of the wares are the Willington gothic cathedral-type pickle jars of varying sizes and colors. They also produced base-embossed cylindrical bottles (nine variants known), different sizes of berry bottles in olive amber and olive green colors, and the popular Liberty Eagle marked flasks in half-pint, pint, and quart GII-61 through GII-65 molds. The Willington glassworks also produced utility bottles, insulators, rolling pins, and assorted tableware. The colors of the glass were similar to Pitkin and Coventry though the shades of greens are among the most beautiful glass ever produced in America.
See the museum example of a Willington Cathedral Pickle in the Food & Sauces Gallery.
See the museum examples of GII-61 Liberty Eagle Willington Glass Co quart flasks.
See the museum example of a blue-green GII-62 Liberty Eagle – Willington Glass Co. pint flask.
Primary Image: Olive Freeeblown Pitcher imaged on location by the FOHBC Virtual Museum midwest studio led by Alan DeMaison.
Support Images: Auction Lot 53: Freeblown Pitcher, probably Willington Glass Works, West Willington, Connecticut, 1815-1850. Large bulbous body with applied solid glass handle and applied solid glass circular foot, flared rim with pour spout and applied neck threading, medium blue-green, tooled rim – bold pontil scar, ht. 6 5/8 inches, greatest body dia. 5 1/4 inches. Form similar to American Glass / The Toledo Museum by Kenneth Wilson, 1994, plate 117 Rare form. Brilliant color. Fine condition. Exceptional. – Norman Heckler Jr. & Sr., Norman C. Heckler & Company, Auction #106
Support: Reference to American Bottles and Flasks and Their Ancestry by Helen McKearin and Kenneth M. Wilson, Crown Publishers Inc., New York, 1978.
Support: Reference to American Glass by George S. and Helen McKearin, Crown Publishers Inc., New York, 1989.
Support: Reference to The West Willington Glassworks 1814-1872 – The Connecticut Museum of Glass.
Join the FOHBC: The Virtual Museum is a project of the Federation of Historical Bottle Collectors (FOHBC). To become a member.