Brummel's Cock-Tail Augusta Ga
Brummel's Cock-Tail
Augusta Ga
Brummel's Fever & Ague Bitters and Brummel's Ladies' Bitters
Joseph Brummel, Augusta, Georgia
Amber Square
Provenance: Walter Smith Collection
Joseph Brummel was born around 1809 in Maryland. He was a well-known citizen of Richmond, and a member of the mercantile house of Stearns & Brummell. From there he ran a liquor business in the second half of the 1860s. He retired from business in Richmond with ample competence, but business complications, chiefly through supposed friends, reduced him to poverty.
Brummel moved to Augusta, Georgia, in the late 1860s with a prearranged business opportunity. When he first announced his bitters in 1871, his advertising said that he had forty years experience in the distilling and liquor business.
We first see advertisements for Joseph Brummel in Augusta as a partner with Wilson Hewitt at W. C. Hewitt & Co. No. 282 Broad Street coinciding with his arrival in town. They were wholesaler liquor dealers in "Brandies, Whiskies, Rums, Gins, Wines, Ales, Porters, Bitters, etc." and "importers of Foreign Liquors and Cigars." The company also had a large rectifying and refining establishment, reported to be one of the largest in the southern states.
On January 6th, 1871, the partnership between Hewitt and Brummel was dissolved by mutual consent. W. C. Hewitt left the company leaving Joseph Brummel as the sole proprietor. At about the same time, Mary Brummel, Josephs wife, sued Wilson C. Hewitt regarding $950 in gold coins she left with Hewitt on May 21st, 1869, for safekeeping. This court case is rather detailed and probably factored in the Dissolution of Partnership, if not more.
On February 7th, 1872, a new "Copartnership" was formed between William D. Davidson and Joseph Brummell for the purpose of carrying on a "Rectifying and Wholesale Liquor Business" located at No. 282 Broad Street, the previous address of W. C. Hewitt & Co.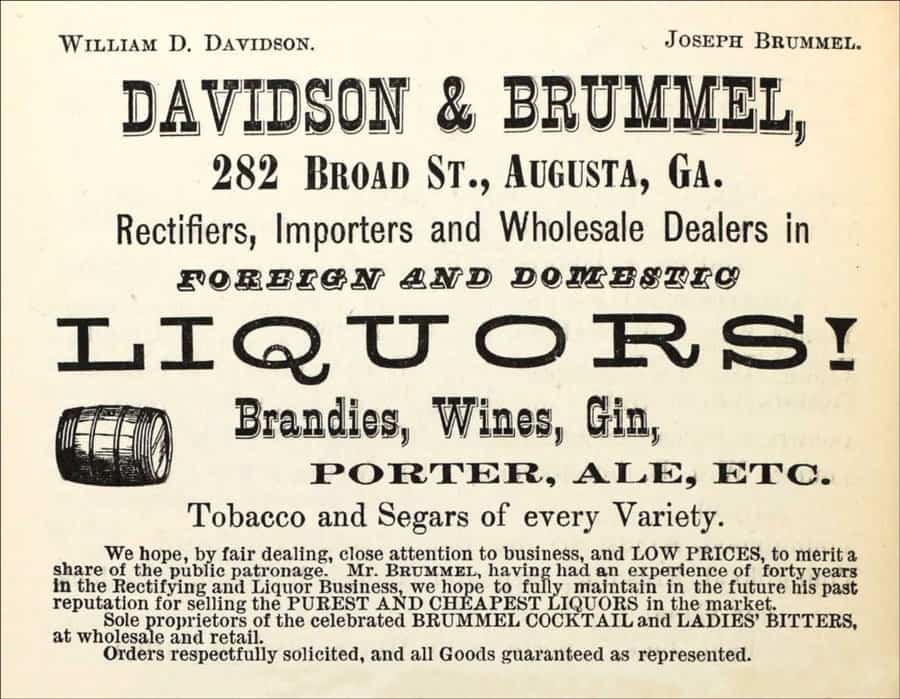 Very similar liquor sales advertising appeared in 1872 Augusta newspapers, except now Brummel was also selling Brummel's Cocktail, Brummel's Fever & Ague Bitters, and Brummel's Ladies' Bitters. These bitters would have been used in the embossed Brummel's Cock-Tail bottles with paper labels to identify the bitters noted above. The bitters are unlisted and will be added to the working draft of Bitters Bottles Supplement 3.
When looking at the square amber bottle there is embossed copy on opposite sides within recesses chamfered panels. The first side reads, in a sans serif copy, from shoulder to base, 'BRUMMEL'S COCK-TAIL' in two lines, while the opposite side reads, 'AUGUSTA, GA.' The other two panels are blank and is where a paper label would have been placed by the proprietor. The neck is prominent with a very nice applied long tapered collar with a ring. The base is smooth.
Joseph Brummel died in 1873 at the age of 63. This may explain the rarity of his bottle and the bitters that he announced in 1871.
Primary Image: Brummel's Cock-Tail Augusta Ga bottle imaged on location by Alan DeMaison, FOHBC Virtual Museum Midwest Studio.
Support: Reference to Bitters Bottles Supplement 3 by Ring, Ham & Meyer.
Join the FOHBC: The Virtual Museum is a project of the Federation of Historical Bottle Collectors (FOHBC). To become a member.