GXI-45 Pike's Peak Prospector – Eagle "Tipppler"
GXI – 45
Pike's Peak Prospector – Eagle Flask
"The Tippler"

Possibly Zanesville Glass Works, Zanesville, Ohio
Red Amber Pint
Provenance: Anonymous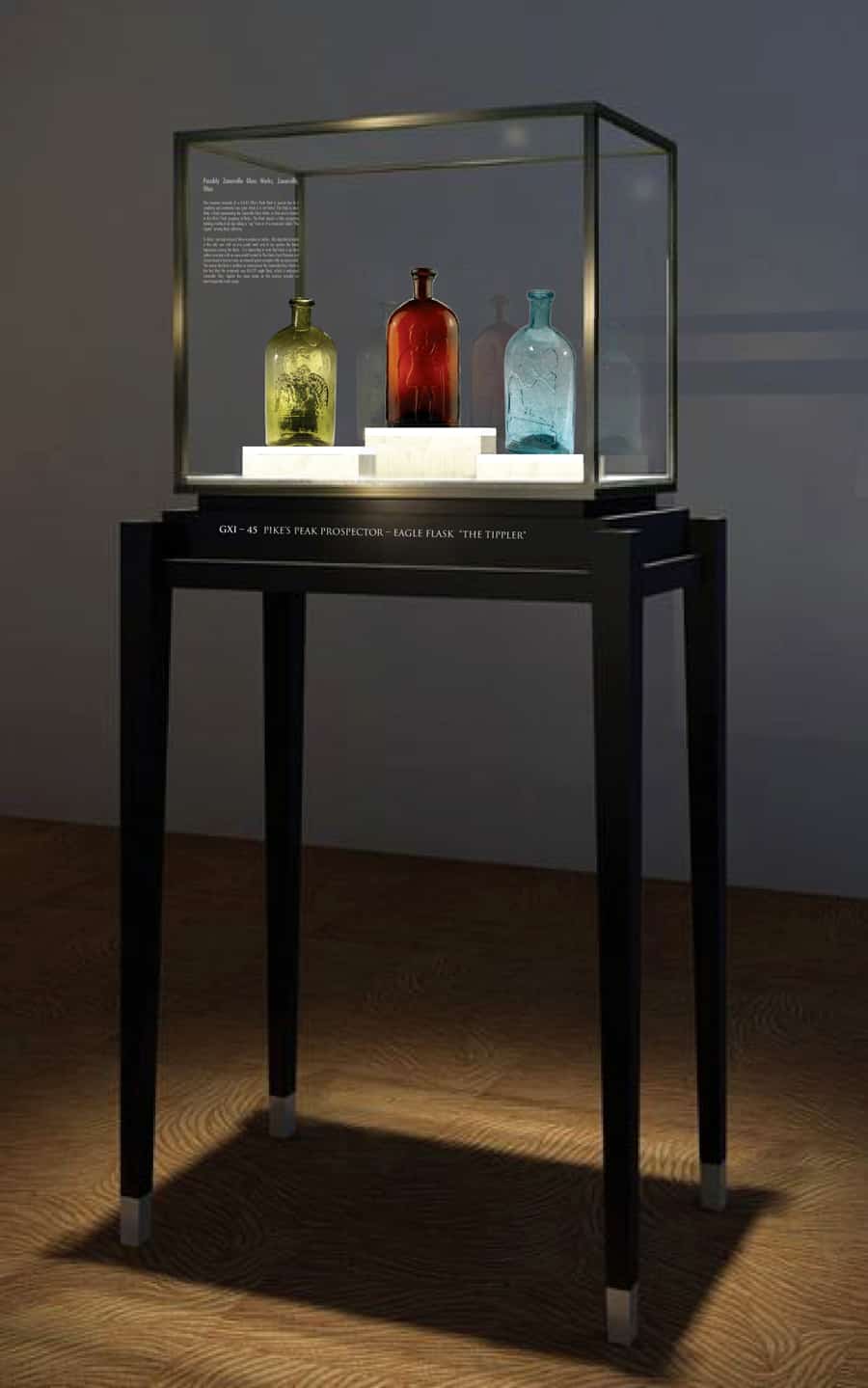 Our museum example of a GXI-45 Pike's Peak Prospector – Eagle flask is special due to its condition and extremely rare color which is not listed. This flask is attributed to the Zanesville Glass Works in Ohio and is charted in the GX Pike's Peak grouping of flasks. The flask depicts a folky prospector holding a bottle to his lips taking a "nip" from it. It is commonly called "The Tippler" among flask collectors.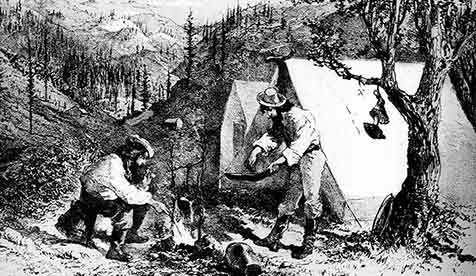 To date, we are only aware of three examples in amber. Our museum example is the only one with an iron pontil mark and is thought to have the finest impression among the three. It is interesting to note that there is an olive yellow example with an open pontil located in The Henry Ford Museum (pictured above) and there is a possibility of an emerald green example with an open pontil, of which no information or image exists. The reason this flask is justified as coming from the Zanesville Glass Works is the fact that the extremely rare GII-129 Eagle flask, which is embossed Zanesville Ohio, depicts the same eagle on the reverse; possibly an interchangeable mold usage.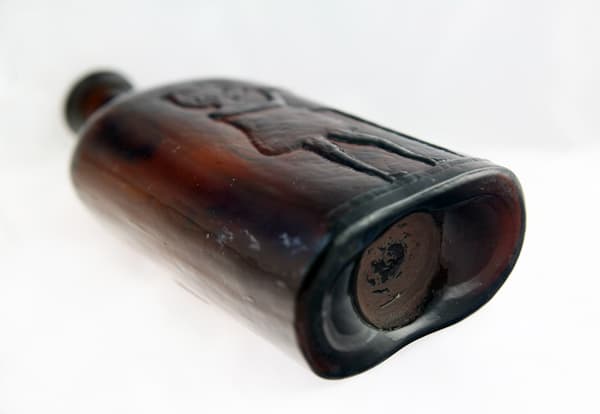 On what is considered the primary face of the flask, you will see an embossed tall prospector with a large head wearing a derby. His hair has been indicated with small depressed dots, while the eye is a large depressed dot. The prospector is facing the right as you hold the flask. He is holding a long neck cylindrical bottle to his open mouth in his right hand. He has thin arms, and spindly legs with tight trousers leading to short boots. The left hand is holding a long cane that comes into contact with an irregular bar representing the ground. He is wearing a a short loose coat flaring at the back.
The reverse of the flask pictures an embossed, medium-sized eagle, similar to GXI-44 with its head turned to the right. The eagle has a small head with a round depressed eye and along beak. His long curving neck is turned to the right and feathered by dots and wings and body by short ribs. The wings are partly raised, spread downward and outward. The eagle has a small shield on his breast with five vertical bars. He has heavy short legs. The well-defined talons are grasping three long feathered arrows, also called thunderbolts. An olive branch is being held in the eagle's beak and curves to left above the eagle's head. A rectangular, very narrow frame (about 2-¼ x 2 ¼") is below the thunderbolts with incurved corners. The mold may have come from the same mold maker that produced the GII-129 Zanesville Eagle flask.
The pint flask is found with a round collar. There are long mold seams from ends to small shallow disk at center of long round ended oblong depression. The flask is found with and without a pontil mark. Known colors are aqua which is considered scarce. Green and yellow-green are considered very rare. As noted, our red-amber example is extremely rare.
Primary Image: The GXI-45 Pike's Peak Prospector – Eagle flask imaged on location by the FOHBC Virtual Museum midwest studio led by Alan DeMaison.
Support Images: Auction Lot 75: Prospector – Eagle Historical Flask, possibly a Zanesville glasshouse, Zanesville, Ohio, 1845-1860. Oval form, bright bluish aquamarine, applied round collared mouth – iron pontil mark, pint. GXI-45 Wonderfully crude glass which is filled with bubbles. Rare. Fine condition. Ex Roy Brown collection. – Norman C. Heckler & Company, Auction #120
Support Images: Flask (Bottle), Olive green , Height: 7.5 in, Width: 3.5 in, Length: 2 in, Weight: 9.8 oz, 1859-1875, United States, Midwest, Pikes Peak figured flask, From the George S. and Helen McKearin Collection. On Exhibit at Greenfield Village in Davidson-Gerson Gallery of Glass – From the Collections of The Henry Ford
Support: Reference to American Bottles and Flasks and Their Ancestry by Helen McKearin and Kenneth M. Wilson, Crown Publishers Inc., New York, 1978.
Support: Reference to Prized Midwestern Flasks, by Mark Vuono, FOHBC 2018 Cleveland National Antique Bottle Show Souvenir Program. Three images are represented in the museum.