X. Bazin Philada
X. Bazin
Philada
Xavier Bazin, Philadelphia, Pennsylvania
Colorless Perfume
Provenance: Eric McGuire Collection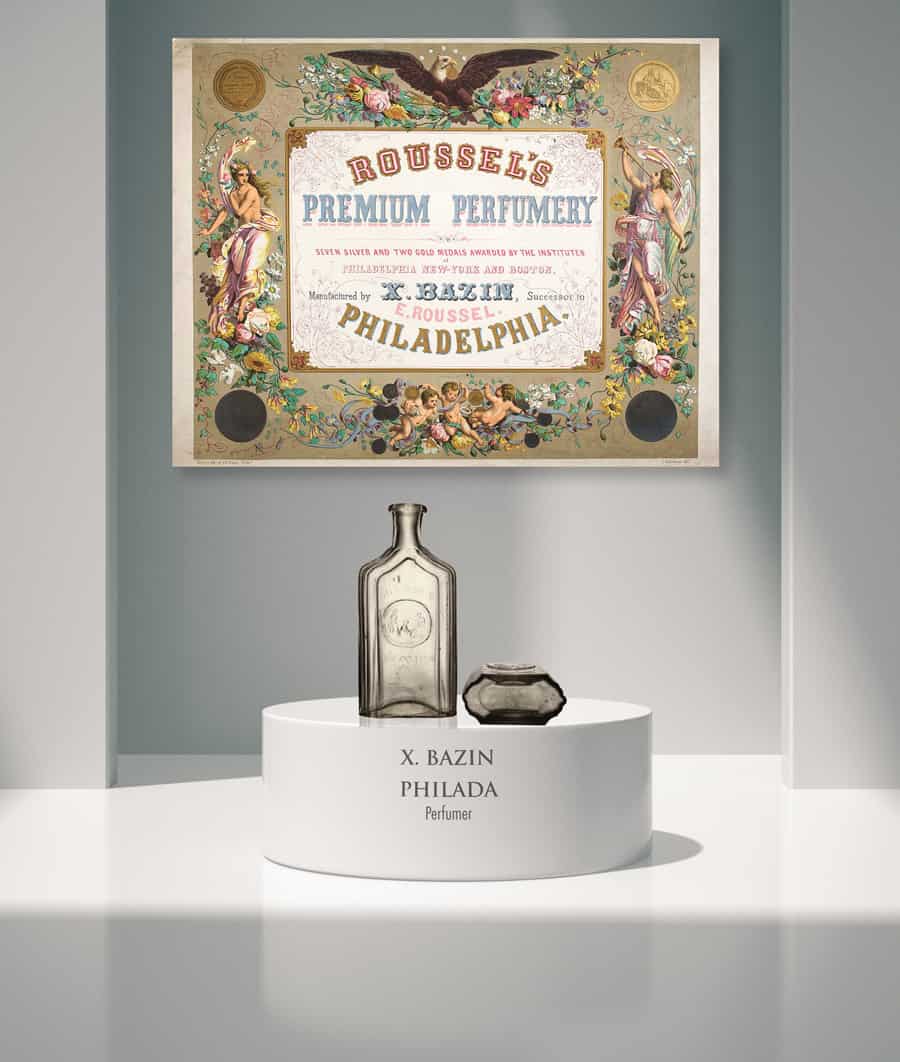 A prolific perfumer in Philadelphia named Xavier Bazin put out this attractive fancy rectangular bottle embossed 'X. BAZIN PHILADA.' The face of the bottle presents a prominent bordered circular motif of three persons, presumably a seated king, a standing queen and a kneeling anointed individual between the both. The sans serif "X. Bazin" copy is embossed in an arch above the motif. "Philada" occurs in a horizontal straight line beneath. The bottle is 8 inches tall by 4 inches wide, was made in a colorless flint glass and has a smooth base. The sides of the bottle have five fancy ribs on each side, flaring to a smooth neck. There is an applied ring mouth.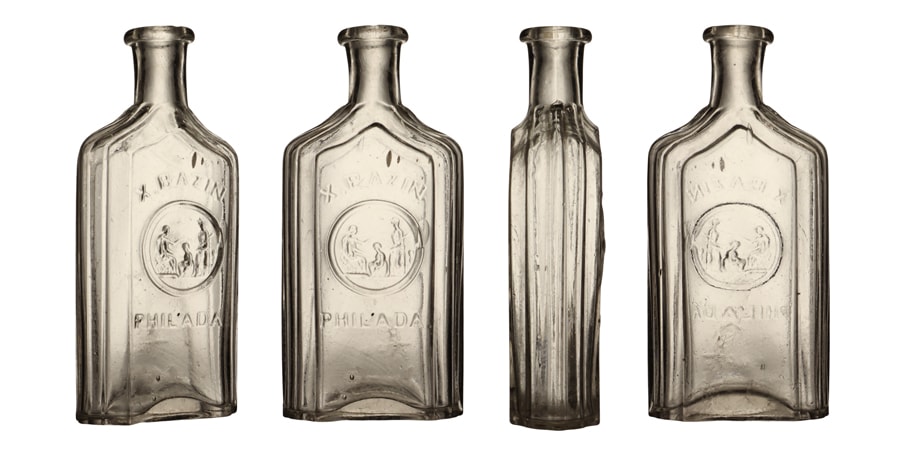 Xavier Bazin established a soap and perfumery business in Philadelphia sometime before 1850. Bazin initially served as the lab director for perfumer Eugene Roussel from 1840 to 1849, when he assumed direct ownership of the business.
Eugene Roussel de Prunay was born sometime around 1811 in France. His family seat was the Chateau de Condi Vailly sur Aisne, which his family held since 1647. During his early years, Roussel worked for the firm of Laugier Pere & Fils in Paris and was the director. He fought against the French Government and was compelled to leave the country. Roussel left Havre, France, on the ship Sully and arrived in New York on July 11, 1838. He soon after traveled to Philadelphia and established a fancy perfume and fancy soap store along with a mineral water operation at 75 Chestnut Street. For more than thirty years, this location was the store of Henry Schively, a cutler and surgical instrument maker.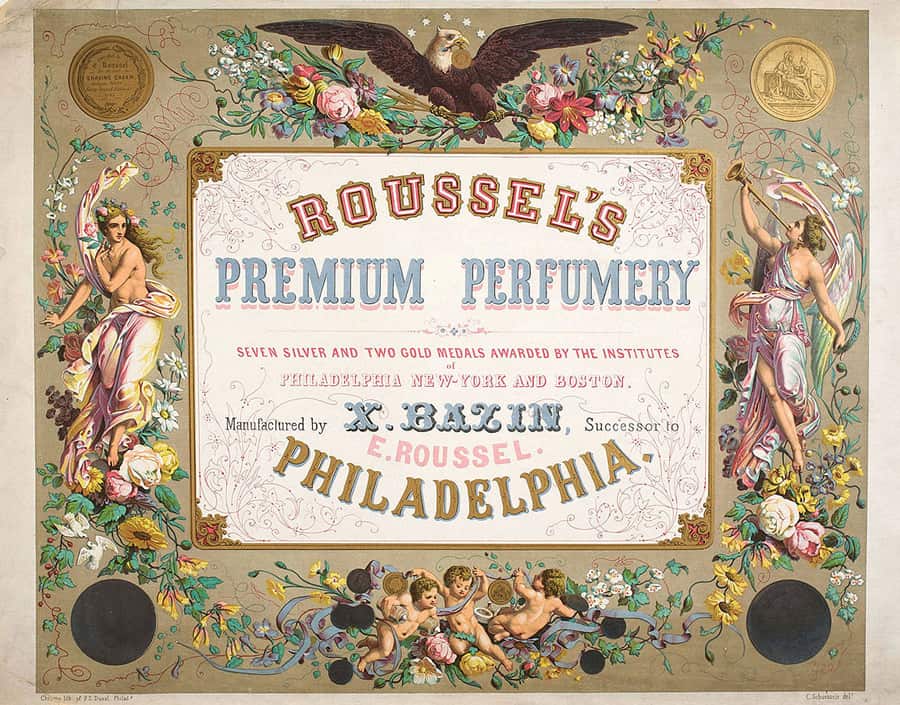 Xavier Bazin bought the perfumery business from Roussel because Roussel wanted to focus on his mineral water operation. In 1838 or 1839, the first syrup soda water was bottled by Roussel. He had a dispensing apparatus in his store, and the idea came to him that there was a legitimate extension of his business in the bottling and selling soda water—or "mineral water," as it was then called. The first syrup bottled was lemon, and Roussel soon established a business and reputation.
Bazin would continue to use Roussel's name until 1853 and, by 1857, moved to a new address at 17 S. 5th Street. There, Bazin continued to be very successful with his perfumeries, especially shaving creams. These Bazin products were put up in ornately decorated pots, the lids of which are very desirable to collectors. Some popular products he advertised were X. Bazin's Celebrated Toilet Soaps, Shaving Creams, Bandoline, Philocome Pomade, Toilet Waters, Cosmetics, Bulk Extracts, Cologne, etc. By 1870, Xavier Bazin occupied a one-block Perfumery Laboratory and Steam Fancy Soap Works located at 917 Cherry Street in Philadelphia.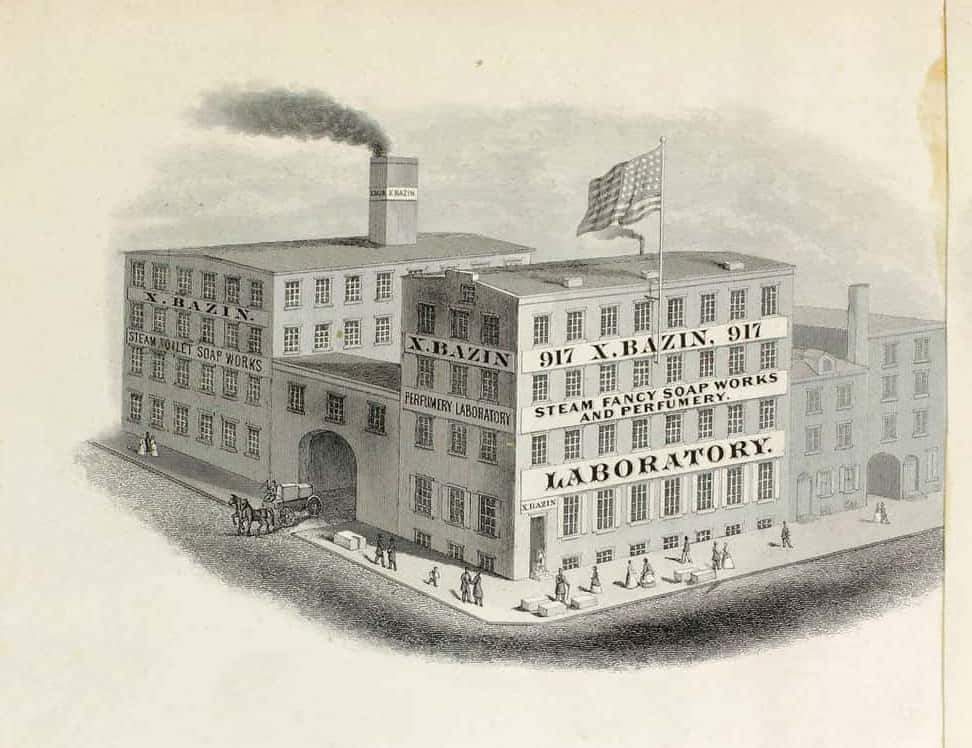 One of Bazin's products, Egyptian Hair Dye, also known as Egyptian Hair Coloring, was for sale in the 1872 John F. Henry catalog and later in the 1885 McKesson & Robbins catalog. The dye formula was 2 ounces of fresh slaked lime, 1 ounce of litharge, 1 ounce of carbonate of lead, 1/2 ounce of hydrated oxide of bismuth, and 1 pint of distilled water. He said the ingredients were well mixed, then allowed to stand for a while, and finally, the larger portion of the water was poured off.
Xavier Bazin was the sole proprietor until the mid-1870s when his sons joined the business. In 1875, Bazin partnered with Robert O. Kilduffe, forming X. Bazin & Co. In 1877, Hall and Ruckel of New York became sole agents for his products. The Bazin family owned the business until 1884 though the products continued to be sold.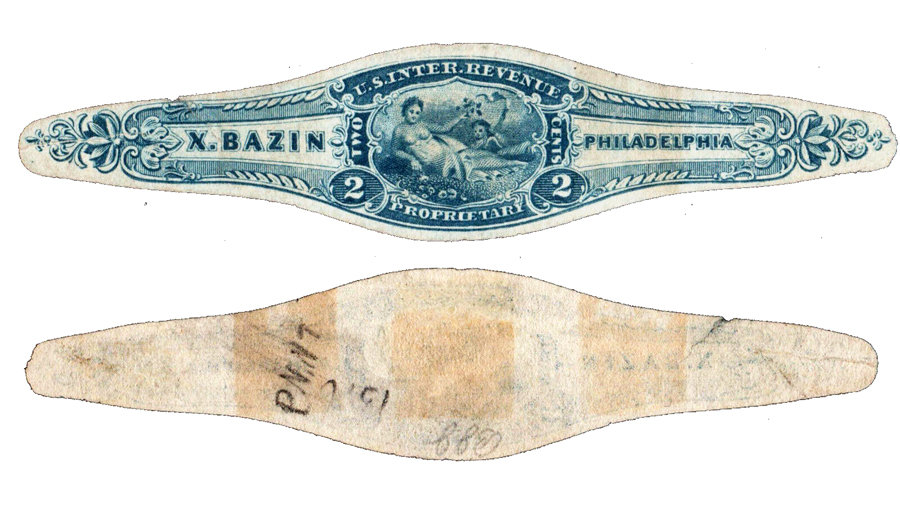 Primary Image: X. Bazin Philada bottle imaged by Eric McGuire, FOHBC Virtual Museum West Coast Studio.
Support: Reference to Xavier Bazin, Steam Fancy Soap Works and Perfumery, Ferdinand Meyer V, Peachridge Glass, August 2013.
Join the FOHBC: The Virtual Museum is a project of the Federation of Historical Bottle Collectors (FOHBC). To become a member.