Standard McCully Jar
Standard
W. McCully & Co.

William McCully & Co., Pittsburgh, Pennsylvania

Sapphire Blue Quart Wax Sealer Jar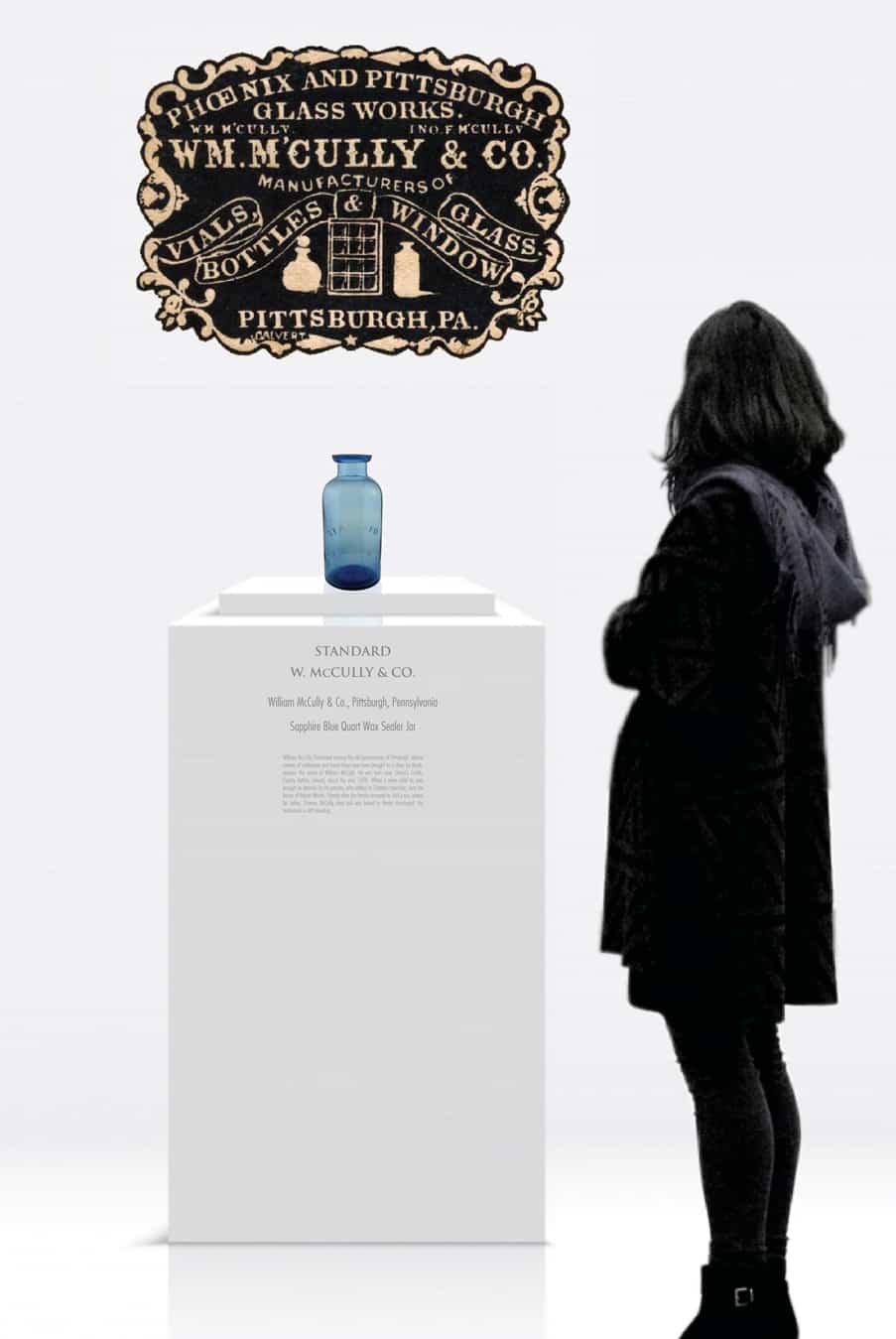 Provenance: Jerry McCann Collection
Here is an example of an extremely rare medium sapphire blue quart jar that is embossed 'STANDARD' in an arch across the front. The reverse side, on the jar heel, is embossed W. McCULLY & CO. in a horizontal straight line. This is considered a groove ring wax sealer jar that has a pressed laid-on ring. A tin lid might read "McCully & Co. Glass Pittsburg." The jar is hand blown with a tooled applied lip. We can date the jar to 1867.
In the mid 19th century, the word "Standard," as related to fruit jars, described a jar that used wax or cement to seal a tin-plated iron lid onto the glass channel that was formed around the mouth of the jar. A number of glasshouses followed this format.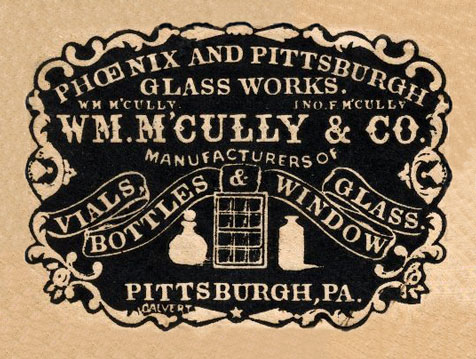 This informative sketch below of William McCully was found in the History of Allegheny County, Pennsylvania, 1889
William McCully. Prominent among the old businessmen of Pittsburgh, whose careers of usefulness and honor have now been brought to a close by death, appears the name of William McCully. He was born near Shane's Castle, County Antrim, Ireland, about the year 1800. When a mere child he was brought to America by his parents, who settled in Chartiers township, near the house of Robert Woods. Shortly after the family removed to Jack's run, where his father, Thomas McCully, died and was buried in Trinity churchyard. His tombstone is still standing.
William McCully received only the rudiments of an ordinary common-school education and first began to learn the trade of a glass-blower with Thomas Bakewell, on the site of the present B. & O. R. R. depot, at the foot of Grant street, blowing flint-glass only. He learned to blow window glass at the O'Hara works on the South Side, opposite the Point. In connection with Capt. John Hay, he erected a flint-glass factory at the foot of Nineteenth street, on Railroad street, and continued there until the works were submerged in the flood of 1832 when he withdrew, and Capt. Hay continued to operate them alone.
In 1833, he built the factory now standing at the corner of Sixteenth and Liberty streets, where he made green and black bottles. In 1834, he became interested with William Johnsen in a window-glass factory at Monongahela City, and in 1836 the firm of William McCully & Co. was founded, consisting of William McCully and F. Lorenz, Thomas Wightman being admitted as a partner two years later. Subsequently, a dissolution took place, and in 1850 Mr. McCully bought of F. Lorenz the stone factory known as the Sligo works, and in 1851 he tore it down and erected the first brick factory in Pittsburgh. The second was built in 1854.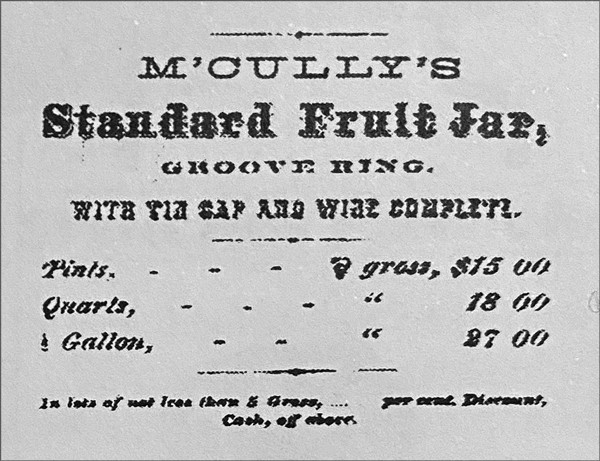 After the erection of the new factory, Mr. McCully admitted his only son, John F. McCully, to the partnership with him, under the firm name of William McCully & Co. In 1852 Mark W. Watson became a member of the firm. John M. King joined the concern as a partner in 1855. In 1869, Mr. McCully died, and the business has since been successfully conducted by Messrs. Watson and King under the old firm name.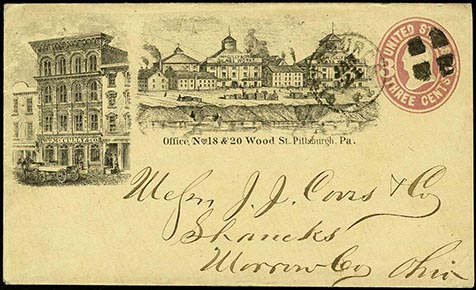 Mr. McCully was one of the fathers of the glass interest, and to the development of that industry devoted all of his energies. He was the first one to build a seven-stone wheel oven, for flattening glass, west of the Alleghany mountains. It was put up by a man named Klein, who was brought from New Jersey for the purpose. Mr. McCully was possessed of a strong character, a decided individuality, and was a man of unblemished integrity. He was interested in many of the institutions of the city serving as a director but took an especial interest in the Farmers' Deposit & Exchange Bank.
His kindly disposition endeared him to all with whom he came in contact, and the news of his demise inspired many hearts with the feeling of a personal loss. In his domestic relations, he was peculiarly happy, and he did all that he could to make his home life cheerful and lovable. He married Martha Zelley, a native of Mt. Holly, N. J., and a representative of the good old Quaker families of Burlington county. Eight children were born to this union, of whom only four attained to years of maturity: John F. was the only son; Margaret became the wife of Mark W. Watson; Jane L. is the wife of John M. King; Lavinia married Herbert Newton, of Newport, R. I.; Mrs. King alone survives.
Please Read: McKelvy's Stomach Bitters – Pittsburgh, Pennsylvania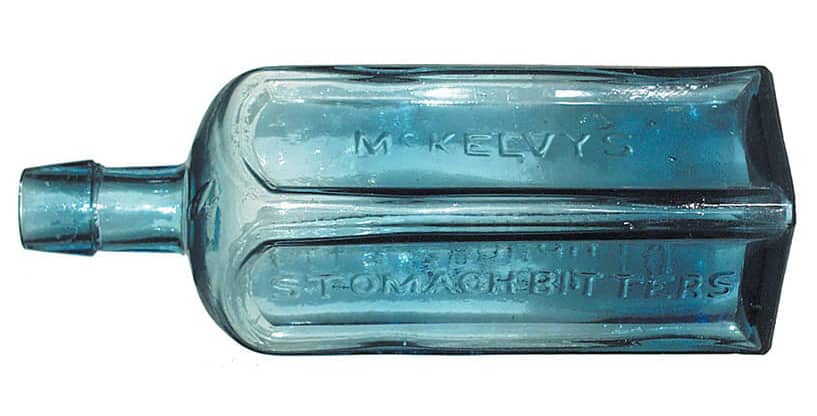 Primary Image: The Standard W. McCully & Co. jar imaged on location by Alan DeMaison, FOHBC Virtual Museum Midwest Studio
Support Images: Auction Lot 188: "Standard" – "W. McC & Co." Fruit Jar, William McCully and Company, Pittsburgh, Pennsylvania, 1860-1870. Cylindrical, light sky blue, applied wax sealer mouth with tin lid – smooth base, quart; (1 inch chip from outer edge of mouth). L #2701 Beautiful light color and bold embossing. Dr. Charles and Jane Aprill collection. – Norman Heckler Jr. & Sr., Norman C. Heckler & Company, Auction #180
Support: Reference to Fruit Jar Annual 2020 – The Guide to Collecting Fruit Jars by Jerome J. McCann
Support: Reference to Red Book #11, the Collector's Guide to Old Fruit Jars by Douglas M. Leybourne, Jr.
Support Images: Sapphire blue quart, Front, top, base, and cap – Greg Spurgeon, North American Glass
Support Image: Sapphire blue quart, Front and back, paired – Jeffrey Evans & Associates
Support Image: M'Cully's (sic) Standard Fruit Jars advertisement, Groove Ring. – Undated, circa 1867 from a Wm. McCully & Co. brochure. – Fruit Jar Annual 2020 – The Guide to Collecting Fruit Jars by Jerome J. McCann
Support Image: M 59 "McKelvy's Stomach Bitters, Pittsburgh, Pa." base embossed "Wm/ MCC&Co.", Square, Aqua, Cornflower Blue, Applied Mouth, Extremely rare – Ferdinand Meyer V collection. Picture from Bitters Bottles.
Support: Reference to History of Allegheny County, Pennsylvania, 1889, Published by A. Warner & Co., Chicago
Support: Reference to William McCully & Co. by Bill Lockhart, Beau Schriever, Bill Lindsey, Carol Serr, and Bob Brown with contributions by Jay Hawkins and David Whitten
Join the FOHBC: The Virtual Museum is a project of the Federation of Historical Bottle Collectors (FOHBC). To become a member.